June 16, 2022
9 minute read

Kayla is a content specialist with a B.S. in marketing. She is certified in Google Analytics and Google Ads Search and Display. When not writing, she enjoys reading, playing with her dog, and baking.
Local marketing is a set of strategies you use to promote your company in a specific area. If you run a local business, you'll want to use local marketing to reach the customers most likely to shop with you.
What if you drive sales online and in person? Local marketing is still perfect! A robust strategy integrates local online marketing with offline tactics to drive the most efficient results.
Ready to learn more? Keep reading to discover 12 ways you can use local marketing to grow your business!
And if you want to learn about more digital marketing strategies that drive results, check out our library of free guides! We've covered everything from search engine optimization (SEO) to social media to help you leverage results-oriented strategies that'll grow your business.
12 ways to use local marketing
The key to any local marketing strategy involves digital marketing tactics that complement your offline approach. Twelve of the most effective online and offline local marketing strategies to grow your business's local reach are:
Jump straight to the strategy you want to learn about the most, or keep reading to see how you can leverage all 12 tips for a robust local marketing strategy!
1. Optimize your site for local SEO
Local digital marketing allows you to reach consumers using "near me" searches, which have increased by over 500% in recent years.
To reach those customers, you'll need to invest in local SEO. Local SEO is the process of optimizing your site to appear higher in the search results for location-based queries and searchers near you.
To optimize your site for local SEO, you should:
Design a mobile-friendly site: Why? Because many smartphone owners use their phones to find local businesses, with location-based searches making up 30% of all mobile searches.
Find local keywords to target: Keyword research forms the foundation for all SEO tactics. If you want to rank highly for specific local searches, you'll need to know what those searches are to respond accordingly.
Create locally oriented content: Once you have those local keywords, create content targeting You'll want pages and posts that center your location to show searchers — and Google — you're part of the community.
Make your location and contact info clear: Ensure any site visitor can quickly see where you're located and how they can contact you.
2. Claim (and use) your Google Business Profile
Have you ever searched on Google for a nearby business and found a box with local business listings in the search results?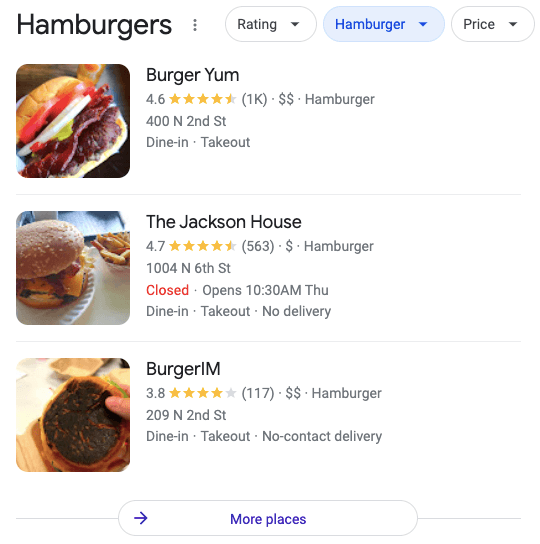 This result uses the company's Google Business Profile. Google often features these profiles in a "local pack" of businesses for many location-oriented searches. You'll want to claim yours and update it with accurate information to appear in relevant local searches.
To start, you should ensure your Google Business Profile has your:
Name
Address
Hours
Phone number
Business description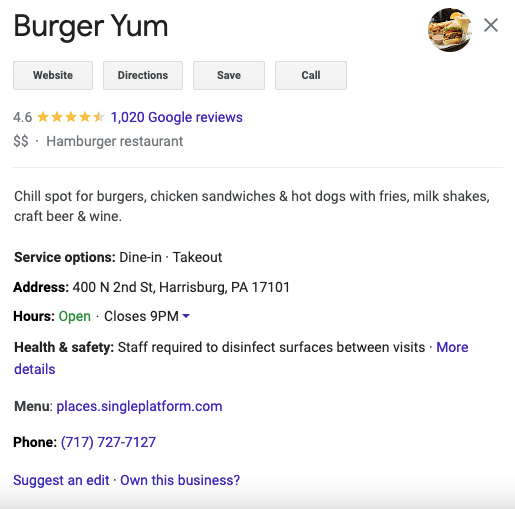 If you want to make the most of your profile, you should also include photos of your physical location and publish location-oriented posts on your page.
3. Manage your citations
Google likes to confirm that local businesses are where they say they are, and they use other sites to back up your site's credibility. You can facilitate this process by claiming and managing your local citations, which involve any pages that mention your business's core information, like location and hours of operation.
Your Google Business Profile and website are great starting points, but you can build your local citations by also:
Getting your business on review sites
Claiming business profiles on other search engines, like Bing
Including your address and phone number on your social media profiles
Pro tip: Use our LocalFX software to manage your citations in over 100 directories. Our software will help you find outdated listings and update them with ease!
4. Engage in local search engine marketing
While local SEO helps your business boost your organic rankings, search engine marketing allows you to pay for placement in the search results. You can even pay for ads in local search results!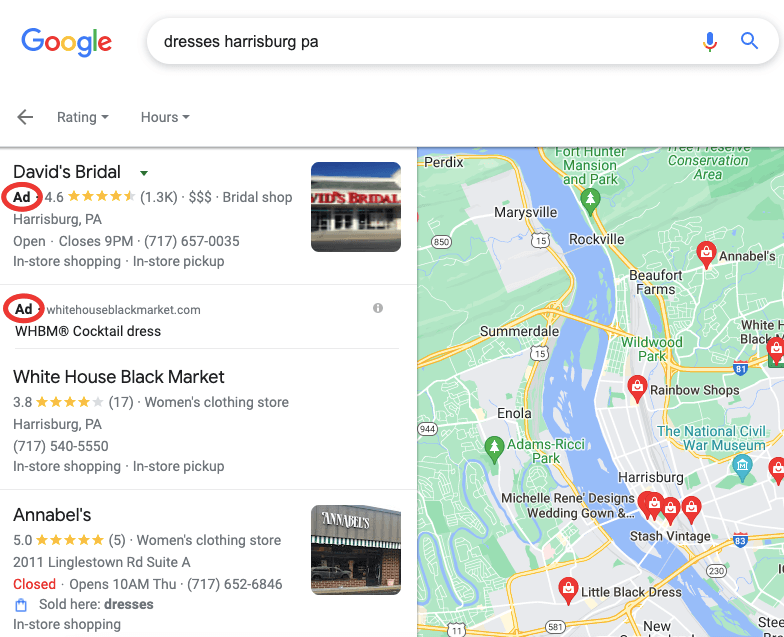 Local search engine marketing is a type of pay-per-click advertising (PPC) that targets local searches. When you target your search ads to local customers, you spend your ad budget more efficiently.
Plus, you're giving the searchers what they want! When they search online, 80% of people like seeing locally targeted ads.
5. Marketing to locals on social media
I've already mentioned including your address and phone number on your social media profiles, but you can also dedicate your social media strategy to reaching local customers. How? Through paid ads targeting and pushing local content that'll attract nearby customers.
Did you recently participate in a town event? Share it! Are there any fun town facts relevant to your business? You can share those, too!
You can also verify your location for Facebook check-ins so users can "check in" at your business when they post.

Check-ins will earn you valuable visibility on Facebook because they'll show all the poster's followers they were at your business.
You can also run ads on apps like Nextdoor, which serve as local social media platforms for people to engage with others in their neighborhood. It's a great opportunity for you to reach locals in your community.
6. Show how much you care about your community
A large part of marketing is building relationships with your audience. When you operate out of a specific location, many customers will appreciate seeing you help the community.
How can you show how much you care about your town? Volunteer at local events and sponsor activities relevant to your business! For example, a pet store could volunteer at the local animal shelter's adoption event.
7. Participate in local events
You should also participate in other local events, such as business fairs and conferences. You can even host events at your business.
As people stop by these events, they'll see your name around town more often, increasing your visibility to local audiences. Plus, you can write about these fairs and conferences and leverage that prime local content for your social media and website!
Pro tip: When you host an event at your business, try using a branded hashtag and encourage visitors to share about the event on social media. These posts will get your business seen by your customers' friends and family who live in the area.
8. Earn backlinks from local media outlets
Because Google likes to confirm a website's authority, backlinks are a primary SEO ranking factor. But what are backlinks? Backlinks are any link to your site from another site.
For local SEO, you'll want to earn backlinks from:
Local media, such as local news sites
Business listings on your town's visitor's bureau
Local events you've participated in, such as volunteer events or conferences
Nearby schools and universities if you offer student discounts
9. Unify your marketing channels
As consumers engage with businesses across devices and in person, omnichannel marketing is becoming more prevalent. Adapt to how customers shop by unifying your marketing channels, both in-person and online.
For example, you can offer "buy online, pick up in store" options and provide coupons to your site visitors to use in-store or online. You can also use an omnichannel marketing platform to organize your channels and keep them consistent.
10. Build relationships with nearby businesses
Find nearby businesses you can partner with for joint events or promotions. You'll draw a crowd from their audience and yours, amplifying your reach.
Plus, this local marketing strategy helps you earn more backlinks. When other local businesses learn about your event, they might link to it on their site. Google's algorithm will love to see your site earning backlinks from relevant businesses in the area.
11. Buy into the local culture
Does your town have a fun history? Popular annual events? Any unique characteristics? If so, use these local cultural elements!
Maybe these local tidbits will inspire an event, blog post, or social media post. When you talk about these facts online, you'll boost your local digital marketing strategy with natural, relevant content and strengthen your relationship with the town residents.
Many who live near your business love their town, so they'll appreciate seeing you participate in the town's fun quirks and personality.
12. Track local SEO across locations
With any marketing strategy, you need to track your results to continually optimize your approach.
For local SEO, you can use Google Analytics to collect site and search ad data according to the user's location. Use these insights to gauge how well your website reaches local users and whether those users convert.
The insights you glean can help you adapt your local marketing strategy going forward so you can drive more leads for your business.
Time to Level Up Your Sales
Our long list of services helps you grow every aspect of your business with marketing strategies that are proven to increase bottom-line metrics like revenue and conversions.
In the past 5 years, we've managed more than 12.9 MILLION transactions across our client base.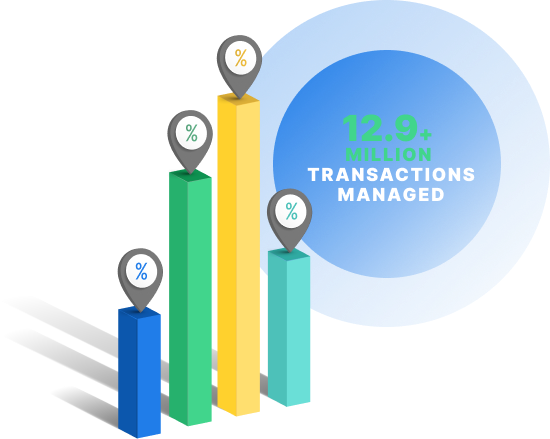 Build your local online marketing strategy with WebFX
Ready to start local marketing for your business? Consider partnering with a digital marketing agency with 25 years of proven results.
At WebFX, we have over 1.6 million hours of experience in digital marketing across our team, and we know local marketing inside-out. Between our local SEO services, PPC services, and social media marketing services, we'll help your local business drive more leads with a higher return on investment (ROI).
Want to learn more? Call us at 888-601-5359 or contact us online to speak with a strategist today!
Kayla is a content specialist with a B.S. in marketing. She is certified in Google Analytics and Google Ads Search and Display. When not writing, she enjoys reading, playing with her dog, and baking.

WebFX is a full-service marketing agency with 1000+ client reviews and a 4.9-star rating on Clutch! Find out how our expert team and revenue-accelerating tech can drive results for you! Learn more
Try our free Marketing Calculator
Craft a tailored online marketing strategy! Utilize our free Internet marketing calculator for a custom plan based on your location, reach, timeframe, and budget.
Plan Your Marketing Budget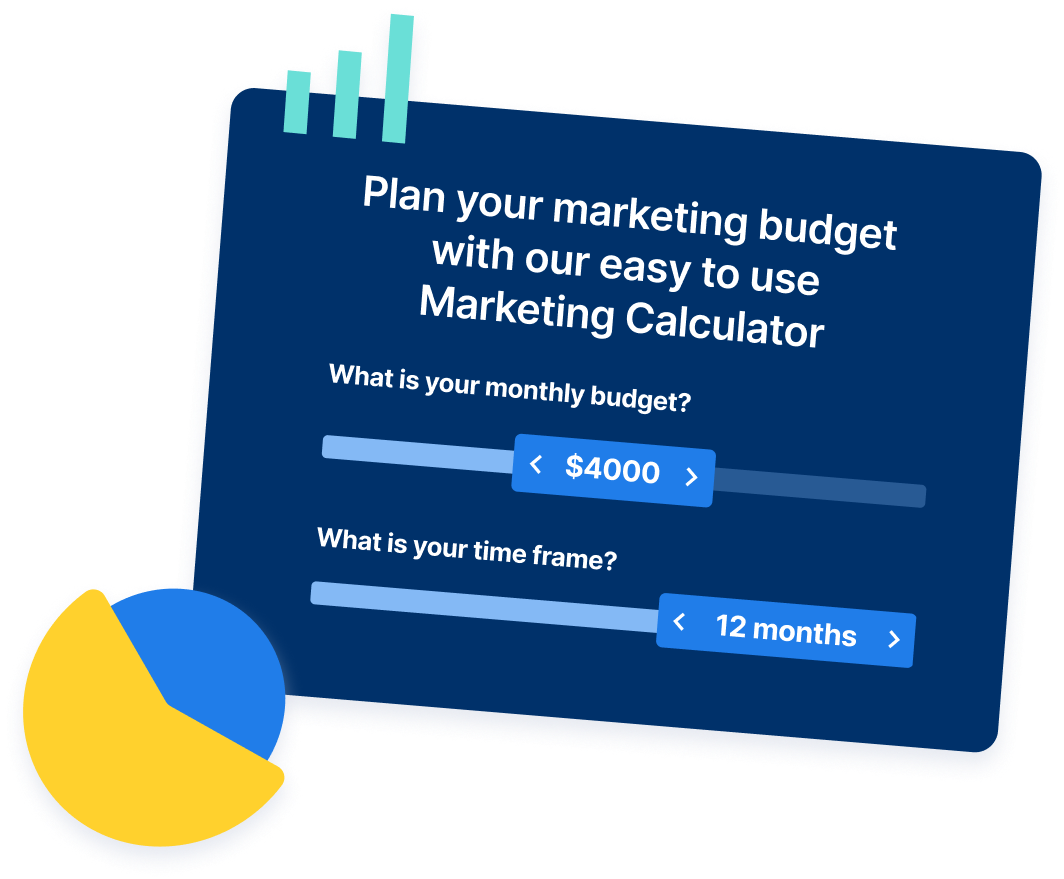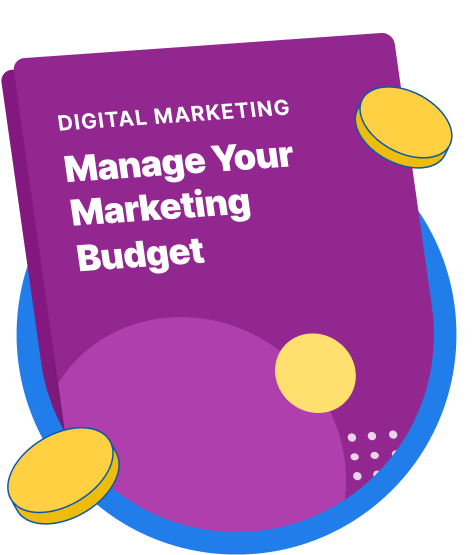 Maximize Your Marketing ROI
Claim your free eBook packed with proven strategies to boost your marketing efforts.
Get the Guide
Try our free Marketing Calculator
Craft a tailored online marketing strategy! Utilize our free Internet marketing calculator for a custom plan based on your location, reach, timeframe, and budget.
Plan Your Marketing Budget