Social media marketing is a great way to reach new leads for your local business. There are numerous platforms you can use to connect with your audience and build a relationship, including Facebook, Instagram, Twitter, Pinterest, and LinkedIn.
You can post all kinds of content on these platforms. For example, you can post links, photos, pictures, polls, and more. Posting on social media allows you to engage your audience and keep them interested in your business.
So, how can you make the most of your social media marketing plan?
On this page, we'll discuss five tips to help you nail your social media marketing plan. If you need help making a plan that works for your local business, call us today at 888-601-5359 to speak with a strategist.
74% of people use social media when making a purchasing decision.
Make their decision easy with a stellar social media presence. See how your brand can level up by requesting a no-obligation proposal today.
One of our experts will be in touch within 24 hours!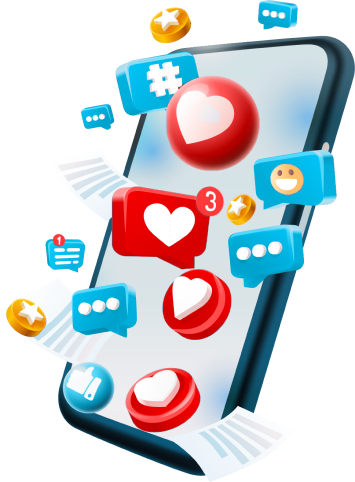 1. Choose your platforms
First and foremost, you need to figure out the right platform for your business. You want to choose a social media platform that your audience uses frequently. This enables you to maximize your engagement with your audience.
If you don't know your target audience, you'll need to think of the people who are most likely to buy your products or use your services. Those people are in your target market and will be the determining factor for which platform works for your business.
Once you know that, you can figure out which platforms they are most likely to use. Some platforms have a predominant age range that use the platform more frequently. While each audience is unique, it's a good starting point to know what platforms your target demographic frequents.
When you know the right platform for your campaign, you can start structuring a social media campaign that works with that social media site.

Hear What It's Like to Work With WebFX!

"Local and transparent in the work they do. There are so many companies out there that offer the same services, we are grateful to have hit it off the way we did with WebFX. Couldn't be happier!"
Waste Management Services
2. Post frequently
If you're going to use social media, you need to post frequently. This is a crucial step that you need to follow if nothing else. Consistency is key when it comes to social media.
Your audience is going to follow many brands. They may even follow some of your competitors, as well as your business. If you want to get your audience to think about your business, you need to post frequently on social media to cut through the noise among other companies.
Posting frequently keeps you in the forefront of your followers' minds. They will see your posts often and think about your business. This ensures that your audience stays actively engaged with your social media pages.
Each social media platform has an acceptable number of posts. On platforms like Facebook, you'll only want to post one to three times a day to avoid clogging up your audience's feed. With platforms like Twitter, you can post dozens of times per day without annoying your audience.
While there is an acceptable amount of posts for each platform, it isn't set in stone. Your target audience will ultimately decide the right frequency for your local business. The average may only be one to three posts on Facebook, but your audience may want four to six posts a day.
With more than 1020 client testimonials, our expert social media team has found that following what the audience wants and needs will help deliver successful results. When you do that, you are more likely to earn conversions for your local business.
3. Vary your content
If you want to maintain successful social media accounts, you need to vary your content. This is important to your audience because they don't want to see the same kind of posts throughout their feeds. They want a variety to keep it interesting and engaging.
Like post frequency, some social media platforms are more flexible than others when it comes to posting content. Facebook and Twitter are extremely flexible with the type of content you can post. They enable you to publish photos, videos, links, polls, and other engaging content.
With Instagram, you are more limited. You can only post photos and videos on this platform. This still means, however, that you should post a healthy variety of both instead of sticking to only one sort of post.
You want to vary your content for two reasons, the first being that you want to keep your page interesting. You don't want your audience to get bored with your content, as it could lead them to unfollow your page.
The second reason is to figure out the kind of content your audience likes. By posting a variety of content, you can see what posts engage your audience the most. If you know what your audience likes, you can post more of that type of content.
4. Consider paid advertisements
While it is free to post on social media, there are paid options available for your local business. Each of these social media sites offer their own paid advertising program. You can use these paid advertisements to earn new followers and conversions.
This is a great opportunity for your local business because you can reach more customers. When you start a social media page, you may not have a lot of followers. There are many people who are interested in your business, but they may not be able to find your business.
By using paid advertisements, you can reach those people. You can bring them to your page and get them to follow your business to get updates. Better yet, you may even get them to convert!
Social media advertisements open doors for your business. You will need to invest a bit of money into running these advertisements, but the results will be worth it. These ads enable you to create different kinds of advertisements, so you can create an ad that will appeal the most to your audience.
Your local business will obtain more leads and conversions by considering paid advertising options on social media. To learn how to build a social media marketing plan, ask our team of 500+ experts, or look on our website for additional help with social media marketing. We're here to help your business succeed!
5. Encourage people to review your business
As a local business, reviews are crucial. It's one of the first things people look at when they find your business. They want to see how others experienced your business, so they can determine if they want to visit your local business.
Social media is a powerful tool when it comes to reviews. People are quick to post their opinions and experiences with a business. It's a great opportunity for you to gain an authentic point of view of your business.
On platforms like Facebook, the review feature is integrated. You can encourage people to leave reviews in that section, so new visitors can find them.
With platforms like Twitter and Instagram, it becomes a little more difficult. There isn't a review section built into these platforms, so you'll need to get a little creative.
You can encourage people to post about your business on their own page. On Twitter, you can retweet their post on to your own page, and on Instagram, you can screenshot and repost their opinion.
Reviews are important to your audience, so you want to make sure you do what you can to garner them. It's a great opportunity to help your local business attract more leads.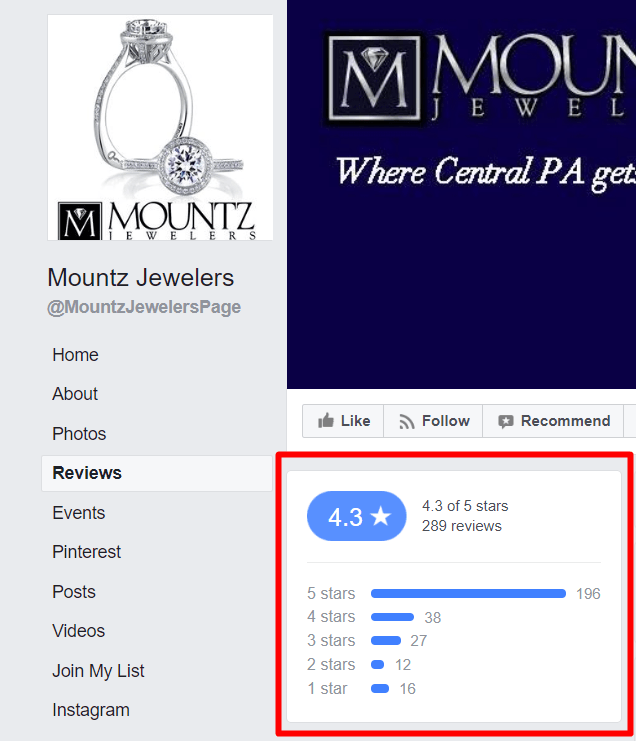 WebFX is a top social media marketing company
Social media is a great way for your local business to connect with local customers. You can form relationships with your leads and nudge them towards conversion. At WebFX, we know how to create social media marketing plans that help you earn better leads and more conversions.
We're a full-service digital marketing company that specializes in customized social media marketing campaigns. We have a team of 500+ experts that are dedicated to your campaign. Our award-winning team of experts is dedicated to creating a campaign that drives in more conversions for your local business.
If you're looking for results, we know how to drive them. To date, we've driven over $3 billion in sales and over 7.8 million leads for our clients. We focus on putting our clients' success before anything else.
Our clients love the work we do, too. In fact, we have over 1020 client testimonials from a variety of industries. Check them out to see what it's like to partner with a top social media marketing company like WebFX!
Learn more about social media for your local business
If you're ready to learn more about how social media marketing can help your local business attract more leads and earn more conversion, contact us online or call us today at 888-601-5359 to speak with a strategist.
We look forward to taking your business to new heights!
Earn a 20% greater ROI with WebFX