Did you know that 74% of people use social media when making purchase decisions?
Social media plays a fundamental role in helping businesses connect with leads one-on-one and nurture them into customers. If you don't use social media in your marketing strategy, you're missing a prime opportunity to engage your audience and build better brand recognition.
On this page, we'll provide you with four tips for using social media for heavy equipment companies. If you need help getting started with your social media strategy, call us today at 888-601-5359 to speak with a strategist about our social media management services.
Growing your social presence with WebFX is a walk in the park.
"WebFX allows growing your social media platforms to be stress-free! They are knowledgeable and adapt to your company needs!"
Learn More About Our Social Media Services

1. Choose the right networks for your heavy equipment company
The first step to starting a heavy equipment social media strategy is to choose the right platforms for your business. You must determine the social media networks where your audience is most likely to engage so you can reach them.
Establish your target audience to find the right platforms. Your target audience contains people with the most interest in your products. This approach helps you focus on marketing to the business buyers that will likely respond to your marketing efforts positively.
If you want to find the right platforms, analyze the demographics of each network.
You can use several popular social media platforms, including:
These platforms each offer a unique opportunity for you to connect with your audience. You can decide to use one platform or multiple platforms. Your audience will help guide you towards the right social media sites.
If you want your social media strategy for your heavy equipment company to succeed, you must decide which platforms you'll use to focus your efforts and reach your audience successfully.

Hear What It's Like to Work With WebFX!

"Our website has experienced a significant increase in traffic since starting with Webfx. Our team is very impressed with the clicks we are experiencing with our Geo-Fencing campaigns and we look forward to seeing our monthly reports with the positive results."
Heavy Equipment Dealership
2. Create content and post it
Post different types of social media formats regularly to maximize the success of your social media strategy. This step is vital if you want to stay at the forefront of your audience's mind, since your audience probably follows other businesses on social media.
It's easy for your posts to get lost in a follower's feed if you aren't posting content frequently. By creating content on a routine basis, you keep your brand top-of-mind and help build brand recognition.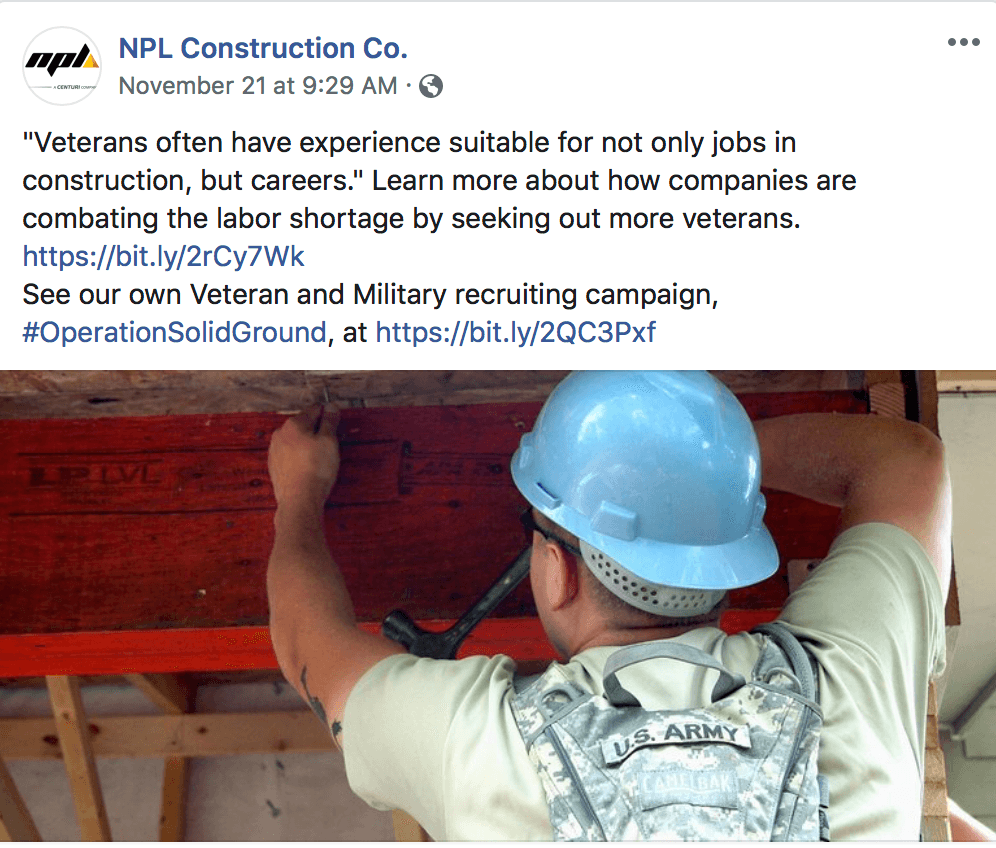 So, what type of content can you post on social media?
The type of content you post will depend on the platform.
Some platforms, like Facebook, allow you to post a variety of content.
For example, you can post:
Photos
Videos
Polls
Links to blog posts
Text posts
Facebook offers a variety of content format options for you to engage your audience.
Other platforms, like Instagram, focus on specific types of content. With Instagram, you can only post photos and videos because the platform focuses on visual elements.
Social media platforms are an excellent way for you to post and share different types of content. You'll want to keep your content industry-focused, so you're engaging and driving the right leads to your page.
Once you have your content ideas, create a content schedule.
A content schedule will help you plan out when to post content. It also ensures you publish content regularly, so you're consistently putting your business in front of your audience and not over-posting.
If you want to succeed with your heavy equipment social media strategy, post content frequently. It will help put your content in front of interested leads and help them build better brand recognition.
The amount of times you post in a day depends on the social media platform.
Let's take a look at the standard number of daily posts for each network:
Facebook: 1-2 posts a day
Twitter: 3-5 tweets a day
Instagram: 1-2 posts a day
LinkedIn: 1 post per day
Pinterest: 3 times a day
It's important to note, however, that you don't have to follow these posting frequencies. Every company is different, so you need to monitor how your audience responds to your posts and adjust accordingly.
3. Run social media ads
A crucial part of social media for heavy equipment companies is advertising.
Social media ads blend into a user's news feed, making the ads look like any other social media post. The only difference is ads appear with a small "sponsored" tag under the advertiser's name.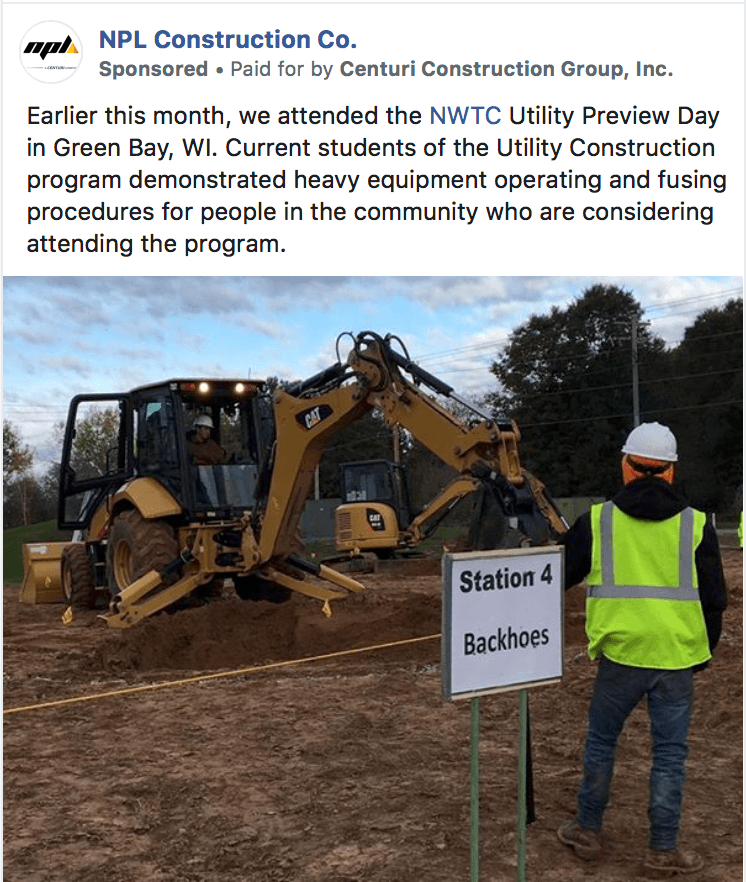 Social media ads help you reach leads that haven't found your business yet.
These ads are crucial because of the way social media platforms prioritize content.
Facebook, for example, prioritizes content from a user's friend over content from a business page. This set up makes it challenging for your business because your audience is less likely to see your content.
With social media ads, you make yourself noticeable, which helps you gain more visibility and grow your online following.
Get started with social media ads by determining your target audience.
The best feature of social media ads is that you can use several targeting options. Social media platforms, like Facebook, offer extremely advanced targeting options that allow you to target people you think are most interested in your business.
Like other paid advertising strategies, you can target your audience based on demographic information like age or gender. Social media platforms also offer additional targeting options, like interests, hobbies, and buying behavior.
Once you set your target audience, you'll choose your ad format. Each social media network offers different types of advertisements. Research your platform to see what kind of ads you can create.
After you choose your advertising format, you'll set your bid amount and budget. Many platforms, like Facebook, give you the option to set a daily budget, so you can make your budget last.
Once you set up your budget amount, you can write your ad copy, upload your ad creatives, and start advertising to interested leads.
If you want to reach people interested in your products, social media ads must be an integral part of your heavy equipment social media strategy. Advertising will help you obtain new leads looking for heavy construction equipment dealers.
4. Engage with your audience
One of the best features of social media is your ability to connect one-on-one with leads. This connection allows you to build a positive relationship with your audience and get leads to choose your business over the competition.
When you post content on social media, you want people to engage with it.
You want them to like, share, and comment on your posts.
If you create quality content that gets people to comment, you must engage and respond back.
When someone comments on your content, for example, write back to them. If someone asks a question, answer it. It's essential to show your audience that you pay attention and hear them.
By engaging with your audience, you'll build a reputation and your brand.
It's a great strategy to help you nurture social followers into leads.
Start using social media for heavy equipment to grow your business online
If you're looking to reach more leads and engage them online, a social media strategy for heavy equipment companies will help you boost engagement. Social media networks create an opportunity for you to connect with your audience and build a better relationship with them.
If you need help building a social media campaign, our team of over 500 social-savvy experts will help. With our social media management services, we'll help you pick the right platforms and post relevant content to boost engagement and brand recognition for your heavy equipment company.
Additionally, our social media advertising services will help you create stellar ad campaigns that generate more followers and leads for your company. We'll help you target the right people with the right message, so you can grow your business through social media.
Want to know what it's like to partner with us?
Check out our 1020+ client testimonials that highlight the remarkable work we do!
If you're ready to start your heavy equipment social media strategy, contact us online or call us today at 888-601-5359 to speak with a strategist!
Earn a 20% greater ROI with WebFX