When you market your paving company online, where's the one place all your strategies lead back to? The answer is simple — your website. That's where the magic happens. It's where you turn users into leads and customers, and where you generate your revenue.
But for that to work, your website has to be appealing and functional. A poorly designed site won't do much to drive conversions. That's why web design for paving companies is so critical for your business.
What exactly is paving web design, though, and how can you master it? Read on to find out the answers to both of those questions! Then partner with WebFX for our expert web design services. Just call 888-601-5359 or contact us online to get started today!
What is web design for pavement companies?
Web design is the practice of creating all the surface-level elements of your website — that is, all the features users will directly experience. That means visual components like color scheme and alignment, as well as functional ones like how quickly the pages load.
Why is paving web design important?
Web design for pavers is critical. To learn more about vital website elements, check out this video:
If you don't design a compelling site, you'll miss out on most of your potential traffic — and consequently, you won't drive much revenue. But with a site that looks attractive and functions smoothly, you'll draw people in and turn them into customers.
6 tactics for improving web design for pavers
Want to give your paving web design a boost, so you can drive more conversions? There are several ways you can do that, and we'll cover the most significant ones below.
Here are six ways to improve web design for pavement companies!
1. Create an intuitive navigation setup
Navigation — the way your site is organized to help users find their way around it — is a vital component of any website. If someone visits your site and can't find the page they're looking for, they won't be inclined to stick around.
To encourage people to stay on your site, you need to make it as easy as possible for them to navigate it. That means sorting your pages into relevant sections and organizing them in a navigation bar at the top of the page.
You can also use breadcrumb navigation to help users see where they are on your site at any given time.
2. Brand yourself on your site
When users visit your site, it may not be the only one they visit.
Some people will jump across several paving company sites to determine who to hire, so your site needs to stand out. Without branding yourself, you'll just blend in with the crowd, and people will quickly forget you.
There are numerous ways to brand yourself on your site, with the most obvious methods being visual ones. You can choose a specific color scheme to represent your brand, as well as a particular font.
You can also brand yourself through your language style, depending on whether you want to sound more professional or relaxed.
3. Improve your page load speeds
No one wants to visit a site where the pages take forever to load.
In fact, 83% of users expect pages they visit to load in three seconds or less. If a page takes longer than that, most people will abandon it. To avoid that happening to you, you need to boost your page speeds.
There are several ways you can help your pages load faster, including:
Caching web pages
Minifying code
Compressing images
When you follow each of the above steps, your pages will load much more quickly, encouraging people to stay on your site.
If you want to see how good your page speeds currently are, you can use Google's PageSpeed Insights tool to score your site. Just submit your URL to get started. You can also use our own SERP Racer tool to compare page speeds across Google search results!
4. Implement responsive design
Did you know that over 50% of all Internet traffic comes from mobile devices? That means it's critical for your site to be mobile-friendly. Otherwise, you'll miss out on most of your traffic since Google ranks sites based on their mobile format.
The best way to make a mobile-friendly site is to use responsive design. That involves setting up your site so it adjusts its structure to fit the screen where it appears. So, a page will arrange its elements slightly differently on a phone screen than on a computer screen.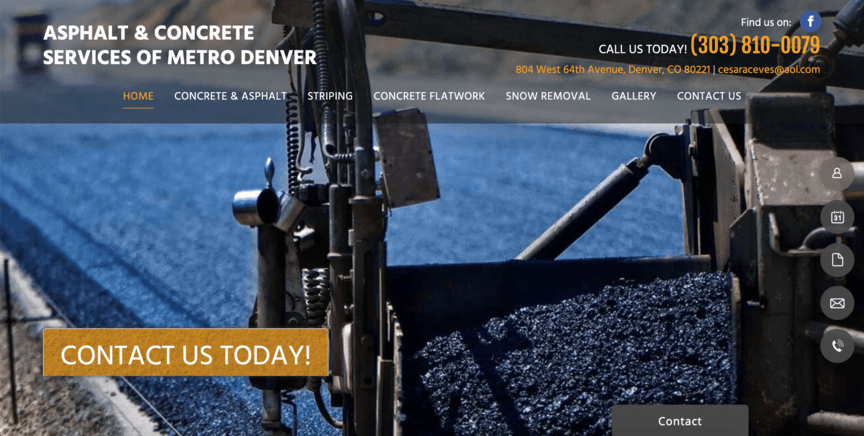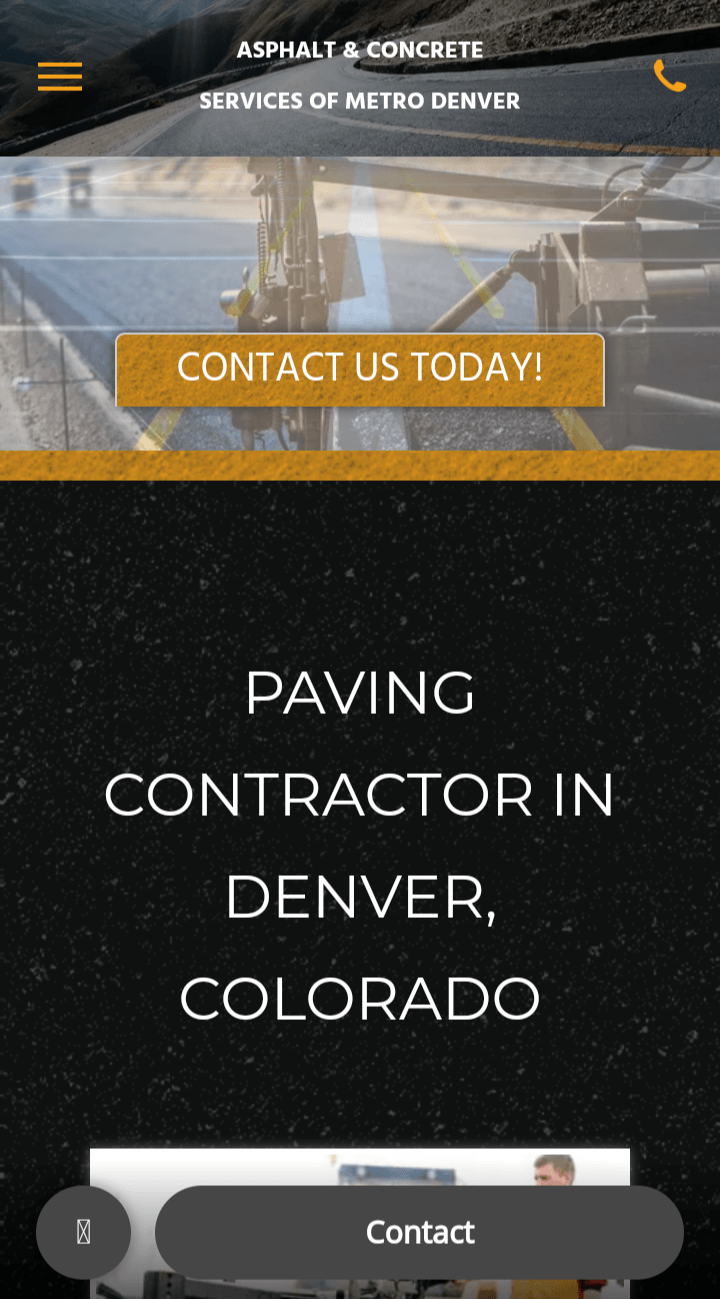 As a result, users will be able to easily access and explore your site no matter what device they use, encouraging them to stick around long enough to convert.
Learn more about making your site mobile-friendly here:
5. Craft compelling content
Your site won't draw people in if all it has to offer is some nice-looking pages. For people to visit it, it has to have engaging content that people will want to read.
The best type of content is written content like blog posts and service pages, since those allow you to insert relevant keywords that will help your site rank in Google. However, you can also create other types of content, like videos.
Your content should be informational, aimed at teaching users about your business and your industry. That way, they'll feel like you provided them with something useful, encouraging them to stick around and eventually convert.
6. Make your site secure
A final way to improve web design for paving companies is to ensure your site is secure. That means users should be able to visit it without having to worry about someone stealing their information.
The best way to do this is to use HTTPS on your site, which is a more secure version of HTTP. In addition to making your site safer, HTTPS will improve its Google rankings, since Google penalizes sites that don't use it.
If you allow users to make payments on your site, you should also be sure to make that process secure via a security plugin. You don't want users to have to worry about their financial information getting stolen.
Web design services from WebFX
If you want help with your web design, WebFX is the agency for you! We've been honing our web design services for over 25 years, making them the ideal way to boost your website's performance.
If you don't yet have a website, we can help you set one up from scratch. And if you do, we can help you redesign it to drive bigger and better results!
We even offer our own specialized package, which we call RainmakerFX, to incorporate your existing branding into one of our own high-quality website themes.
WebFX is the expert at web design for paving companies
Ready to get your paving web design off the ground? WebFX would love to help!
We've built over 1,128 sites for our past clients, making us the experts in web design for pavement companies, and we can't wait to show you firsthand what we're capable of accomplishing.
With our web design services, you'll get help implementing all the tips above and more. You'll also receive a dedicated account representative to keep you informed about everything we do for your site.
To get started with us, just call us at 888-601-5359 or contact us online today!