As a paving company, you're the expert at installing asphalt and concrete driveways and paths. But are your online marketing campaigns paving the way for business success?
Digital marketing strategies — like pay-per-click (PPC) advertising are crucial to the success of your business. Without effective marketing, you'll never attract new leads and customers.
PPC is one of the best ways to market your paving company. It allows you to harness Google search results to display your ads, giving you access to a wide audience. But your PPC will only work for you if you know how to optimize your campaigns and budget.
What is PPC for paving companies, though, and how can you get the best results from it? We'll answer both of those questions below, so read on to learn more. Then partner with WebFX's team of over 500 experts for our PPC services. Just call 888-601-5359 or contact us online today to get started!
Time to Level Up Your Sales
Our long list of services helps you grow every aspect of your business with marketing strategies that are proven to increase bottom-line metrics like revenue and conversions.
In the past 5 years, we've managed more than 12.9 MILLION transactions across our client base.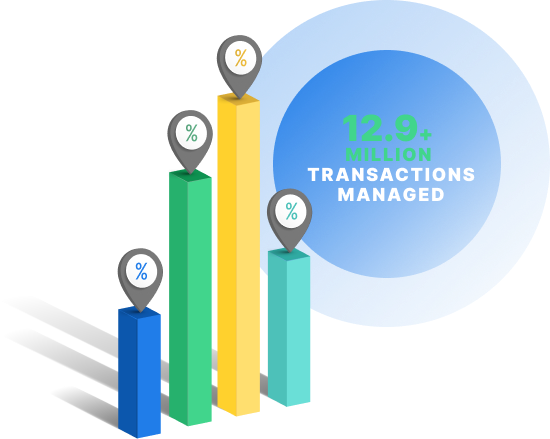 What is PPC for pavement companies?
PPC is a form of online advertising that allows you to advertise in Google search results and on relevant websites across Google's Display Network.
When people click PPC ads, they're directed to designated landing pages that encourage them to convert.
To create paving PPC ads, you can create a Google Ads account. There, you can bid on keywords you want to target with your ads. With an optimal bidding strategy and high-quality ads, you'll be able to get your ads showing for the most relevant keywords in the paving industry.
On top of everything else, PPC for pavers is very cost-effective, since you only have to pay for your ads when people click on them!
7 PPC tips for paving companies
PPC for pavement companies is an incredible strategy, but it only works if you know how to optimize it for the best results. Luckily, there are a few simple things you can do to improve the quality of your Google ad campaigns.
Here are seven ways to boost PPC for paving companies!
1. Target long-tail keywords
Bidding on keywords is a critical part of any paving PPC campaign. But you don't want to target just any keywords. For best results, aim specifically for long-tail keywords — phrases with three or more words.
Usually, with long-tail keywords, it's easier to decipher the intent behind a search. A short-tail keyword like "paving" could mean a million different things — maybe someone wants to know what paving is, or maybe they're trying to learn how they can get into the paving business.
A long-tail keyword like "paving services in my area," on the other hand, has a clear search intent — the searcher wants to find (and likely purchase) paving services near them. Long-tail keywords also tend to come with less competition due to their increased specificity.
2. List negative keywords
While most keywords tell Google which searches to target with your ads, you can also list negative keywords to help it see which searches not to target. Negative keywords are an excellent tool for keeping your ads relevant.
For example, let's say your company specializes in residential paving services. If you target the keyword "paving services in San Antonio," Google may display your ads for different variations of that keyword, including "commercial paving services in San Antonio."
Since you don't offer commercial services, that search isn't relevant to you. By adding "commercial" as a negative keyword in Google Ads, you can prevent your ad resources from being wasted on it.
3. Create custom audiences
As critical as keywords are for helping you reach the right audience with your PPC ads, they're not the only method. Google Ads also offers a few other ways to hone your audience, and one of those ways is to create custom audiences.
To create a custom audience, you can select different demographic features like age, location, and more to compile a particular audience profile. Then, your ads will display only for users who match those criteria.
So, if you determine that your target audience for a particular ad is primarily men between 20 and 40 who live in Tuscaloosa, then you can plug each of those traits into your custom audience for that ad.
4. Harness RLSA
Another way Google Ads allows you to hone your audience targeting is through remarketing lists for search ads (RLSA). RLSA targets people who have already previously visited your website.
The way it works is that you can tell Google to track traffic to particular pages on your site. Anytime a user visits those pages, Google will begin targeting your ads to them in search results.
The reason remarketing is so effective is that it's targeting one of your most receptive audiences. After all, people who have already visited your site have expressed a clear interest in your services, meaning they're more likely than most to respond positively to your ads.
5. Develop display ads
While the PPC ads we've discussed so far have been paid search ads — that is, ads that appear at the top of Google search results — they're not the only kind of ads you can run through Google Ads. You can also create display ads.
Display ads are visual ads that you can display on third-party websites, usually in the form of boxes in the margins. You can run your display ads through the Google Display Network, which is a network of participating sites that let Google show ads on their pages.
You can set up your ads to display only on certain types of sites. When people visit those sites, they'll encounter your ads and visit your website.
6. Use ad extensions
If you've ever encountered PPC ads in search results, you may have noticed some of them that are more than just a heading and a description. Some ads also feature additional elements below the description. These elements are called ad extensions.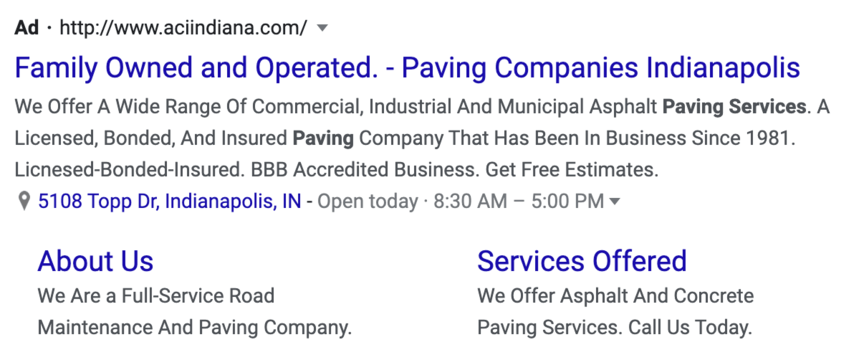 When you use ad extensions in your PPC ads, it allows you to display additional information that might draw in users. Some common ad extensions include:
Site links
Phone number
Business address
And more!
A user might not be interested in your ad's heading, but when they see your contact information or a link to a specific page on your site, they may change their mind.
7. Monitor results
You may think your PPC is all finished once your ads are up and running. But on the contrary — your campaigns are just getting started.
Once you've launched your ads, it's time to start monitoring their results. You can view metrics in Google Ads like conversion rate and click-through rate (CTR) to see which ads are performing the best and which ones need work.
From there, you can improve the underperforming ads and replicate the things that are working well for you. As time goes on, you'll be able to make your paving PPC campaigns better and better!
WebFX knows PPC for paving companies
Need some help getting your PPC campaigns off the ground? WebFX has your back! With over 25 years of experience, we're the experts on PPC for pavement companies, and we have all the skills and dedication to help you drive stellar results.
With our PPC services, you'll get help optimizing for all the tips listed above and more. You'll also receive a dedicated account representative to keep you informed and involved in every optimization we make for your campaign.
To get started with us, just call 888-601-5359 or contact us online today!
Earn a 20% greater ROI with WebFX