Digital Marketing for Gun Stores: Market Your Gun Shop Online
If you're a gun shop owner, you're well aware of the limitations that plague your industry in terms of marketing. With digital ads out of the question, you're tasked with coming up with a firearm digital marketing strategy that takes advantage of other strategies.
But when it comes to digital marketing for gun stores, what can you do to beat out your competitors and get more customers to your shop?
On this page, we'll talk about:
The importance of gun shop marketing
Digital marketing strategies for firearm sales
Why WebFX is a great agency to trust with your gun shop digital marketing campaign
If you're ready to get started, keep reading! To speak directly with a marketing specialist about how WebFX can help you market your shop, give us a ring at 888-601-5359 or contact us online!
See how we can help you GROW YOUR BUSINESS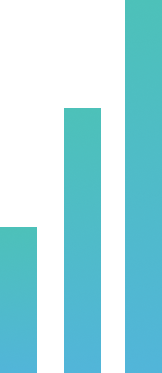 The importance of gun shop marketing
As a gun shop, you may be wondering why we recommend digital marketing for gun stores like yours. After all, you've taken out a billboard on the highway just outside of town for three years now.
However, if you want to keep up with your competition, you must meet your customers where they are — and that's online.
Here are a few reasons that you should opt for firearm digital marketing:
Your competition is online
Chances are the shops you're competing with locally are already using digital marketing as a strategy.
If they use digital marketing for gun stores to reach their customers and you don't, you are undoubtedly losing a high volume of customers.
The Internet is where your customers are, and matter of fact, 93% of online experiences begin with a search engine. If your gun shop's website doesn't show up in search, users won't know you exist.
Getting users to your website to learn about your gun shop and what you have to offer helps you beat out your competition and keep your gun shop alive.
Digital marketing sends foot traffic to your gun shop
With over 70% of people researching a company online first before visiting, it's crucial that your gun shop has a strong online presence and an even stronger firearm marketing strategy.
Being present online is especially important for the firearm industry since you can't sell your products online. Your industry relies heavily on foot traffic, which is exactly what digital marketing for gun shops can help you achieve.
With a combination of gun shop marketing tactics, you'll meet your customers where they are online, build brand awareness, inform them about your products, and ultimately — encourage them to visit your store.
Marketing your gun shop helps customers trust you
A wide variety of marketing strategies for gun shops are based on informing your audience.
For example, one of the most crucial digital marketing strategies for gun stores is search engine optimization (SEO), which we'll talk about later.
The most important part of SEO is creating informative content that ranks highly in Google for terms related to your industry. But creating this content isn't only beneficial for your SEO strategy — it works as a double-edged sword by also helping you inform your customers.
This kind of content shows users that you know what you're talking about and helps to build a trusting relationship between you and your customers. When you inform customers with useful content regularly, they'll begin to see you as a leader in your industry.
This trust between you and your customers is invaluable, and you can build it in several ways:
Creating beneficial, informative content on your website
Sending informational newsletters about topics related to firearms
Sharing content posted by industry leaders on your gun shop's social media profiles
Thoughtfully replying to comments and questions on social platforms
We'll dive into each of these a little later.
4 digital marketing strategies to increase firearm sales
If you're looking to boost gun sales at your shop, you know that you first must get customers through the door. Since you can't ship your products straight to customers' homes, much like ecommerce companies can, you must focus solely on building trust and attracting customers to your store.
Below are four digital marketing strategies for gun stores that you can use to give your brick and mortar location a boost in foot traffic.
Gun shop SEO
Like we mentioned earlier, SEO for your gun shop is one of the most important marketing strategies out there. That's because a gun shop SEO strategy helps you optimize your website so that it ranks highly in Google — where an average user conducts three to four searches every day.
When you opt for SEO for your gun shop, you'll optimize your site in these ways:
Do keyword research to determine what terms your customers search
Create content based on most high-value keywords
Link your content together with a strong internal linking strategy
Ensure that your pages load quickly
Create title tags and meta descriptions that accurately describe your content while including keywords
When you successfully implement an SEO strategy, you'll satisfy Google's algorithms and rank highly in search results for key terms.
If you're feeling overwhelmed by creating a gun shop SEO strategy, WebFX can help!
LEARN MORE ABOUT GUN SHOP SEO!
Gun shop content marketing
Content marketing is one of the best strategies to implement when considering digital marketing for gun stores.
Like we mentioned before, gun shop digital marketing can help you increase trust with your customers, and a strong content marketing strategy is one of the best ways to do so.
When you opt for a content marketing strategy, you'll write about topics that matter the most to your audience.
Before planning your content, you'll want to do some keyword research to learn more about those topics of interest. You can use a tool like KeywordsFX to help.
When you use KeywordsFX to research keywords, your content marketing strategy will benefit greatly from the "Questions" portion of the tool.
As you can see below, we searched for keywords related to "Glock ammo." With that keyword, we were able to see what questions users ask that pertain to that phrase.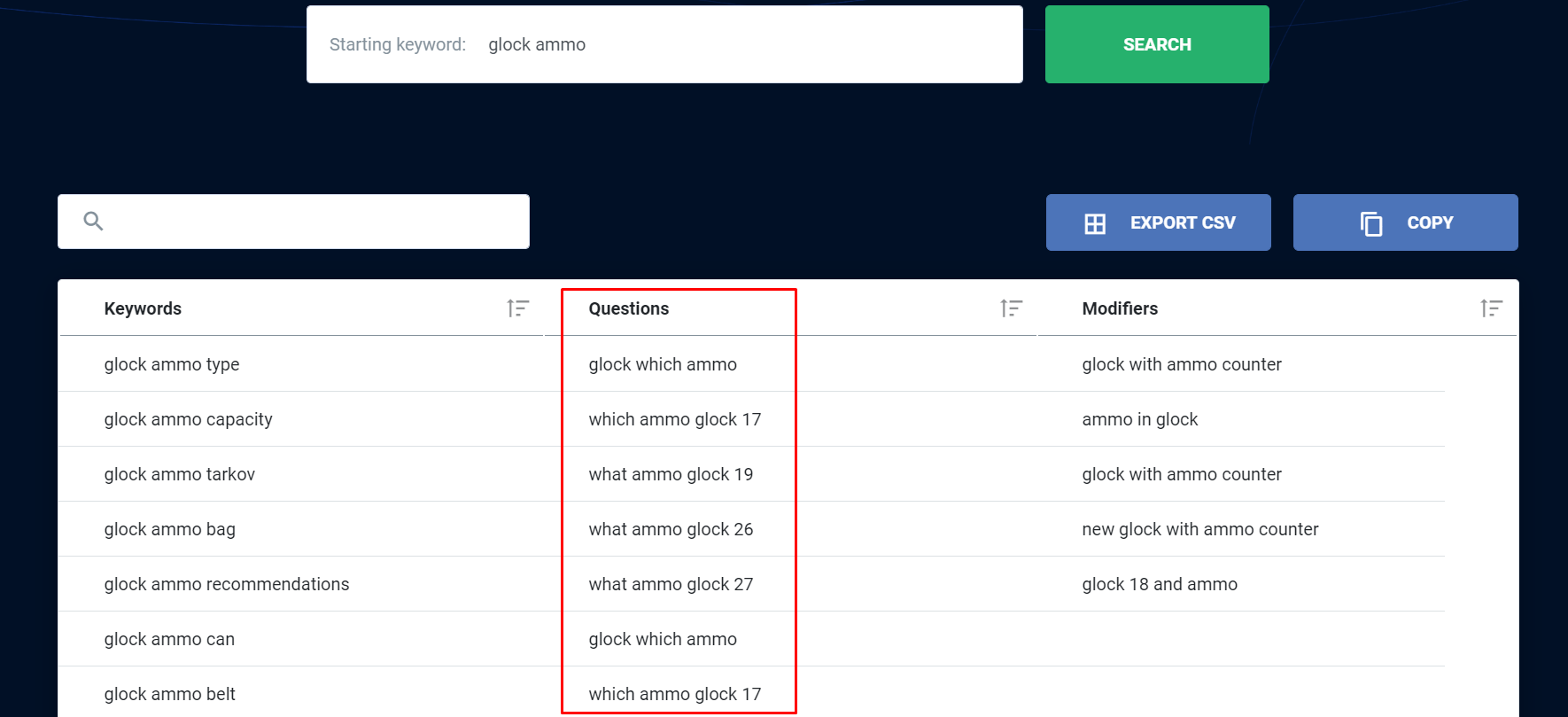 You can use the phrases in the question column of the tool to base your content on — and already know that you're writing about topics that your target audience is interested in learning.
Keyword research is just the first step in content marketing, though.
After you've determined what keywords you want to target, you'll want to follow through with the following steps:
Create content based on your target keywords
Post your content on your website
Share your content in email newsletters
Share your content on social media
Mention your content in a podcast
The idea of gun shop content marketing is to create content that benefits and informs readers, and then share that content on as many platforms as possible.
Firearm content marketing can help you build brand awareness and loyalty, help your gun shop become an industry leader, and most importantly, help your site rank highly in Google.
Email marketing for gun stores
Email marketing is another great strategy to incorporate into digital marketing for gun stores.
Not only does gun shop email marketing have an incredible ROI (4400% ROI), but it also helps you earn that coveted foot traffic to your gun store.
However, for your gun shop to benefit from email marketing, you'll first have to build a subscriber list. You can collect a list of subscribers with a form on your website, through social media, or in person at your shop.
After you've done so, you can use email marketing to share things like:
Website content
Upcoming sales
New guns coming into stock
Product reviews
Videos
Email marketing helps keep your gun shop top of mind, and gives customers a reason to visit — especially when they see things like deals and new product offerings.
Gun shop social media marketing
With 3.484 billion social media users across the globe, you're missing out on a huge opportunity to get your gun shop in front of more potential customers if you fail to use it to your advantage.
But how can you use social media platforms to market your gun shop?
Although you won't be able to advertise your products on social media, you can certainly share your website's content and interact with your followers.
Check out some ways that big-name gun manufacturers use social media to share content with their followers!
Glock on Twitter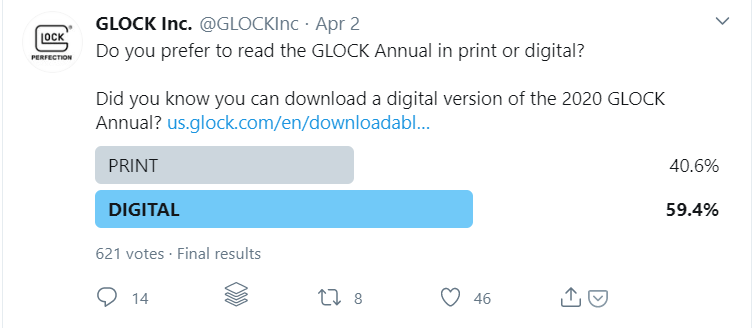 One of the best ways to interact with your followers on social media platforms is to provide them with a poll. Not only do users get to interact with your content, but you'll also glean important information from their answers.
Check out how Glock posted a poll through on their Twitter account about how consumers prefer to obtain their Glock Annual publication!
Sig Sauer on Twitter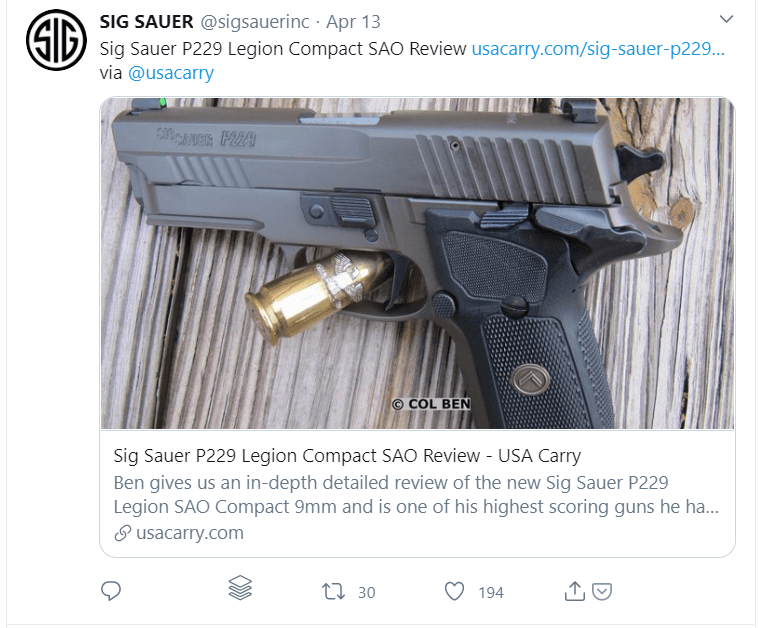 Another way to interact with your followers is to post reviews.
Sig Sauer posted a review of one of their guns that was posted by usacarry.com. Reviews are a great way to get users to engage with your post in the comments — especially if you ask them to share their thoughts!
Remington on Facebook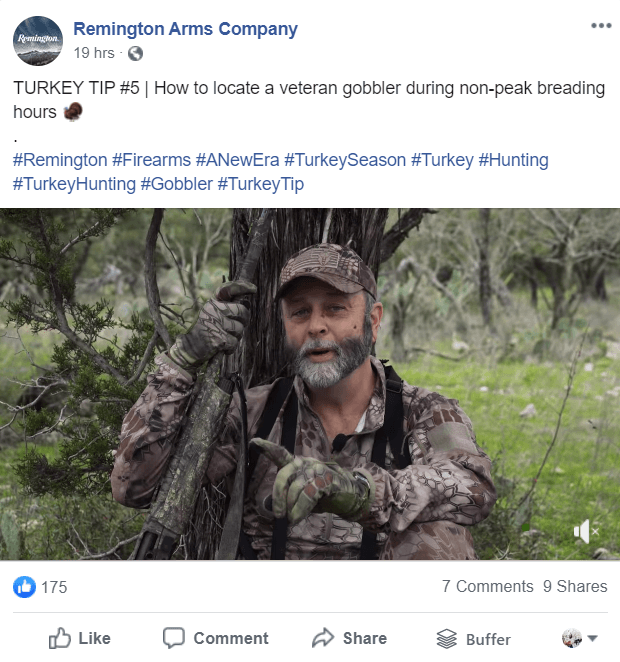 Videos aren't only fun to watch, but they increase engagement on your social platforms as well as help users connect with your brand.
Users feel more comfortable with brands they know personally — and with videos featuring store employees, previous customers, or industry leaders, customers will feel like they know your brand on a more humanistic level.
Check out this example from Remington where they posted an informative video on their Facebook account!
Ruger on Instagram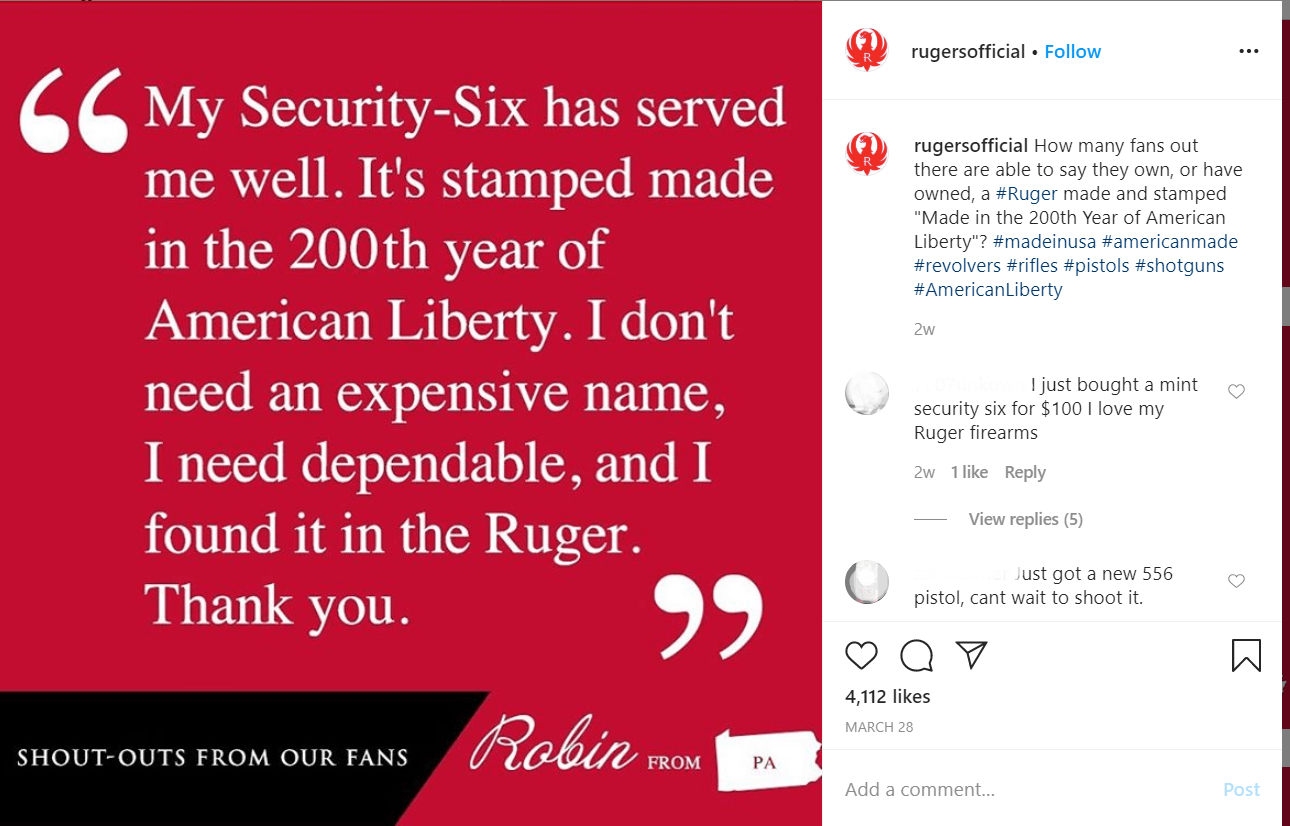 Ruger has a fantastic strategy for sharing customer reviews by writing them out and posting them on their Instagram.
Posting reviews are great conversation starters as well — as you can see in the comments, posting reviews spurred other customers to talk about how satisfied they were with their recent gun purchase as well.
Turn digital into a powerhouse channel for driving revenue.
Call 888-601-5359 or contact us today online today for a free evaluation.
Web design for gun shops
Your website is the online face of your company. Without a beautifully designed and highly functional gun shop website, you will be invisible to potential customers.
Your gun shop's web design not only gives users a look into your brand, but it's home to your written content, your video testimonials, and so much more.
An effective gun shop web design includes the following:
Effective navigation
A blog
Links to your social profiles
Not only that, but the best gun shop websites will load quickly and be mobile friendly so that users on all devices can experience your site in the same way.
If you have an existing website that you're not happy with, or you need a website from scratch, WebFX can help! Check out our web design services!
LEARN MORE ABOUT WEB DESIGN FOR GUN SHOPS!
WebFX knows digital marketing for gun stores
If you're too busy running your business to worry about a digital marketing strategy for your gun store, WebFX has you covered.
We've been driving incredible results for clients for over a decade, and we have more than 775 client testimonials to prove it.
We love getting to know our clients on a personal level — allowing us to get inside your head, understand your goals, understand your competition, and overall, drive amazing digital marketing results for your gun shop.
If you're ready to see what WebFX can do for your gun store, contact us online for a free quote or give us a call at 888-601-5359!