As an in-home care provider, your business revolves around trust. Your clients depend on you for many things, and they trust you to take care of them in a variety of ways. Everything that represents your home care business is a reflection of the services you provide — and this includes your website and online presence.
You want the right people to be able to find your business online, and many of these people are already actively searching for information about in-home care providers. By providing this information, you can attract them to your site and build trust right from the start by showing that you are a caring and trustworthy resource.
In order to do this, you need to make sure that your site ranks well in search engines, and the best way to achieve that is with search engine optimization, or SEO. Keep reading to find why SEO is so important for in-home care providers, and how your business can get started. And if you're ready to start using SEO, give us a call at 888-601-5359 or contact us online.
What is SEO?
SEO is the term used to describe all of the strategies you use to increase your site's rankings in the results of search engines like Google. When you rank well for searches related to your industry and the specific services you provide, you have a better chance of reaching more potential clients and their loved ones.

Hear What It's Like to Work With WebFX!

"WebFX gets it done! They've done a great job working with our changing vision and goals, and their turnaround times are wonderful. All staff are professional, timely, and friendly."
Healthcare
Why SEO for in-home care?
SEO is especially important for in-home care because as we mentioned earlier, your industry is built on trust. And although it's possible to reach potential patients with traditional methods like print ads or billboards, an increasing amount of today's consumers are skeptical of advertisements.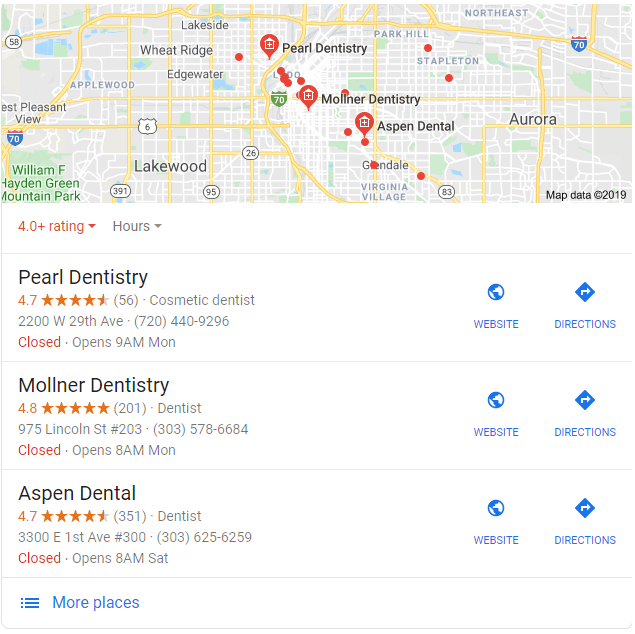 That's why many of them take to the Internet to research their options for in-home care. They want to know what to look for in a reputable care provider, how to choose the right one, and what to expect from in-home care services. They'll also likely want to see reviews and testimonials from current and past patients.
When potential patients are able to find you online, it sends the message that you're trustworthy, especially when combined with positive reviews on third-party sites. But if your online visibility is poor, and people are unable to find you online, they'll be less likely to consider you as a reputable provider.
Reach more potential patients with digital marketing
5 SEO tips for home care
SEO for in-home care involves many strategies, but the following tips will help you get started:
1. Conduct keyword research
Keyword research is an essential part of planning SEO for home care. You need to familiarize yourself with the search terms that potential patients use when searching for care providers. Once you know these terms, you should strategically insert them into your website and other content.
If you're ready to get started with keyword research, consider the following resources:
Google search bar. If you begin typing search terms in Google, it will provide you with popular longtail keywords, which might be useful for your SEO strategy. This is a fast and easy way to pinpoint some popular search terms.
Google Ads Keyword Tool. If you use Google's paid advertising product, you can check your search queries to determine the effectiveness of your keywords.
Download our keyword research guide. Although these tools will help you get started, there are many other ways to identify targeted keywords for your site. For a more in-depth look, download our free beginner's guide to keyword research.
Once you've identified the right keywords, you can begin to incorporate them naturally throughout your site.
2. Increase your site speed
Although keyword optimization is an important factor, it's also important to remember that user experience is now a huge part of SEO. Search engines like Google want to deliver the best results to searchers, and that means showing sites that are fast and user-friendly.
As a result, one of the quickest ways to improve your SEO is to speed up your website. Website users today expect fast load times, and experts recommend that it should take no longer than five seconds. You check your site speed using Google's PageSpeed Tools.
3. Create share-worthy content
Companies with blogs get 97% more inbound links, which are hands-down the most essential component of off-page SEO. So if you aren't yet maintaining an active blog, it's time to get started. Here are a few tips to keep in mind when blogging:
Offer something enlightening. People in the market for home care are probably interested in other similar topics. Think about the various situations that would a cause a person to need in-home care, and then discover new topics to write about. Keep in mind that your goal is to bring something new and enlightening to the conversation, not simply churn out stale content.
Offer something interesting. Consider posting about the most expensive home care services in the world, or something else that's connected to your audience but out of the ordinary. Aim to capture your readers' attention by posting something fresh, new, and interesting.
Remember that humanizing your brand is an important part of any marketing strategy, and it can be effectively integrated into an SEO strategy as well. In addition to blogging, there are other ways to provide your audience with engaging content. Consider the following:
Videos
Interviews
Infographics
Guides
Podcasts
Reviews
Articles
Case studies
4. Optimize every page individually
If you optimize every page on your website, you will make it easier for the search engines to crawl and rank them. There are many opportunities to optimize your pages, such as:
URLs
Title tags
Body content
Image alt text
Meta descriptions
Choose unique keywords for each page on your site, and optimize these elements accordingly. However, be sure to only use them where they fit naturally — avoid keyword stuffing at all costs, as it will only hurt your SEO efforts.
5. Highlight positive testimonials and reviews
There are few things more powerful than testimonials and reviews from your past patients. In fact, 88 percent of consumers trust online reviews as much as they trust personal recommendations. This means that simply surveying your clients and including the highlights on your site could generate huge results for your business.
Ready to get started?
For most business owners, it's simply not possible to handle your own SEO efforts on top of your many other responsibilities. So if you want to launch a successful campaign for SEO for your in-home care provider business, contact us today!
Our team of dedicated Internet marketing professionals is more than happy to assist you in creating and implementing an SEO campaign for your in-home care services.
Increase your leads, sales, and revenue with digital marketing
Find Us Driving Revenue Nationwide