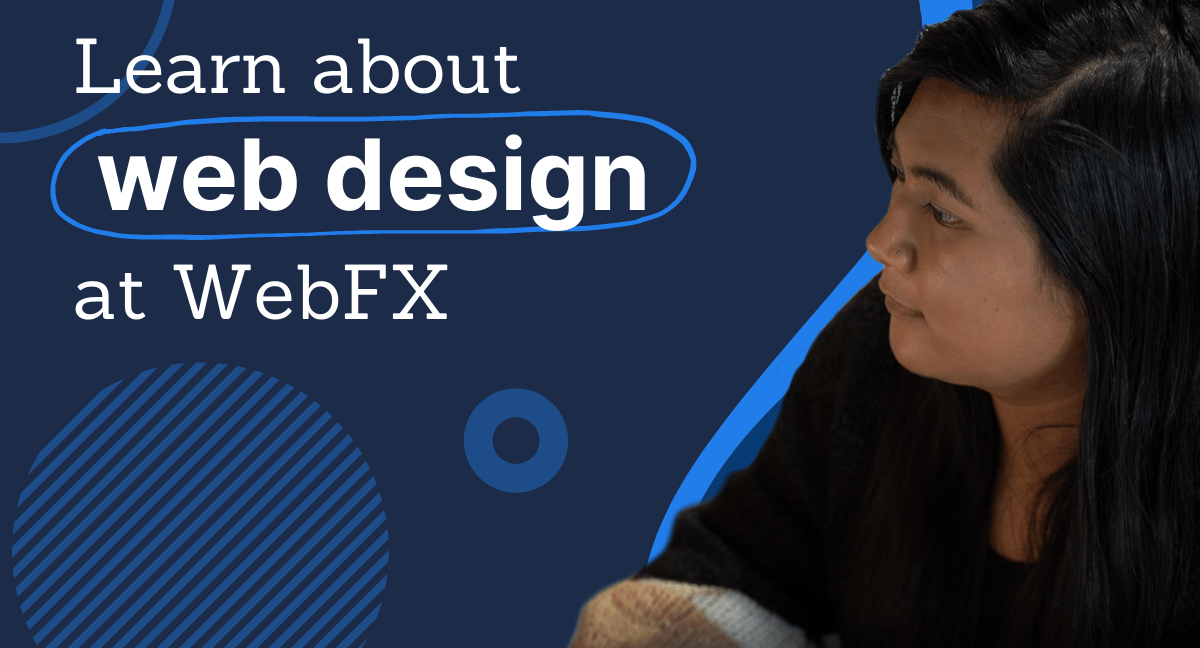 Did you know that 89% of people go to a competitor's website after a poor user experience?
Web design is critical to keeping campers engaged on your website and learning about your campgrounds. If you haven't invested in web design for campgrounds and RV parks, now is the time to improve your website's design and deliver a better user experience.
P.S. Need help designing your website? WebFX has an award-winning team of designers that can build a website just for you! Contact us online or call us today at 888-601-5359 to speak with a strategist about our web design services!
We don't want to tell you about the work we do, we want to SHOW you.
View Our Portfolio

We've built over
Websites
in a variety of industries.
Get the campground web design services you need
Receive a turn-key solution to designing, developing, and maintaining your campground's website with WebFX. With our full-service solutions, you'll receive everything you need to create and maintain a revenue-driving site.
Browse our available campground web design services now:
You can also check out our website maintenance services, which include:
With WebFX, you can also access revenue-driving marketing services like:
Got questions about our plans, pricing, and deliverables? Contact us online to speak with a strategist!
What do campground web design services from WebFX include?
Forget partnering with one agency for design and another for development. With WebFX, you get access to our in-house team of designers, developers, project managers, and marketers so you can build, manage, and maintain a revenue-driving website with ease.
With our campground web design services, you'll receive a site that's:
Custom
Responsive or mobile-friendly
SEO-friendly
Secure with HTTPS
You can also access:
Professional copywriting
Custom developments, like for online bookings
Advanced revenue tracking to measure your site's return on investment (ROI)
And more
See what our full-service solutions look like by browsing our portfolio!
7 elements for successful web design for campgrounds and RV parks
If you want to have a website that attracts and delights users, you must add certain features to your website to deliver a positive user experience. Here are seven key elements to your website's success:
Custom design
If you want users to engage on your website, start by creating a custom web design. A custom web design is best for your business because it helps you deliver a unique experience unlike any other brand.
When you do campground web design, you want your website to stand out from your competition. If someone's searching for campgrounds in your area, they're going to check out you and your competition. You want to deliver an experience that helps them remember your brand.
With a custom web design, you can make your website uniquely your brand's. You can incorporate your brand's color scheme, style, and language to deliver a memorable experience for your audience.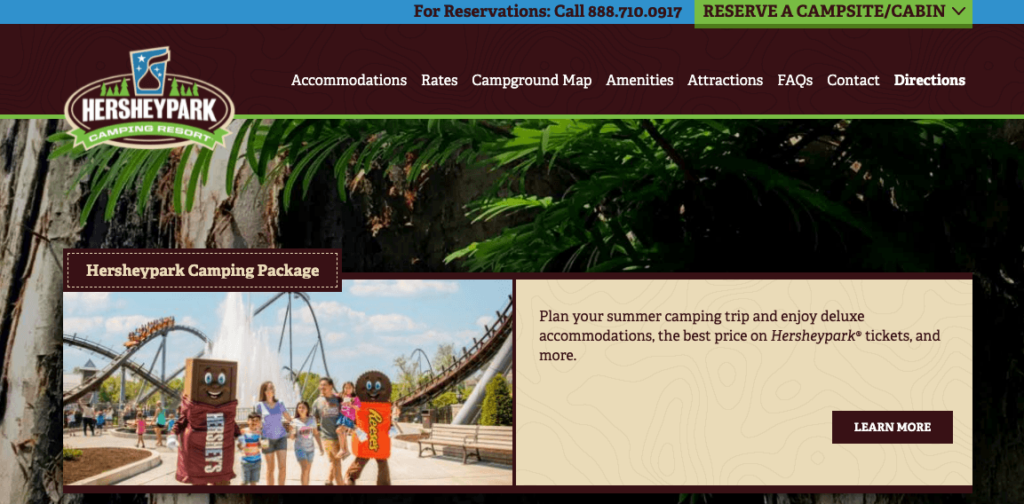 Responsiveness
Another critical part of RV park web design is responsiveness. With over 50% of Internet traffic coming from mobile, you must have a mobile-friendly website for visitors.
Without a mobile-friendly website, your visitors will have to access the desktop version of your website on their devices.
Since smartphones and tablets have smaller screens, a desktop version will deliver a poor user experience. Users will have to zoom in and out to read information, ultimately discouraging them and causing them to leave your website for a competitor.
To prevent this situation from happening, integrate responsive design. Responsive design enables your website to adapt to whatever device your audience uses to deliver the best experience.
With responsive design, you can add hamburger navigation and thumb-friendly elements to deliver the best experience for mobile visitors.
Easy navigation
When you invest in website design for RV parks and campgrounds, you need easy-to-use navigation. Campers come to your website to get valuable information about your campground or RV park. If your navigation is difficult to use or disorganized, you'll discourage campers, and they'll leave your website.
When you create your website's navigation, make it organized and easy to use. Take Hershey Camping Resort, for example — they use straightforward navigation that highlights information customers want most, like rates, amenities, and accommodations.

This navigation makes it easy for visitors to get critical information fast, keeping them engaged longer.
When you build your navigation, think about your audience and what information matters most to them. You can then structure your navigation to make it easy for those campers to find that information.
High-quality visuals
When you do RV park web design, your website information isn't the only thing you need to add. Good campground web design integrates high-quality visuals to catch and hold your audience's attention.
If someone enters your website and sees walls of text, they'll feel overwhelmed and return to the search results. To help break up the text, you'll want to add visuals, like photos and videos.
When you include visuals on your website, make sure they're clear and high-resolution. You don't want pixelated or distorted visuals on your website, as this will hurt your website's credibility.
You'll also want to try to use as many original visuals as possible. While stock photos are certainly an option, having genuine photos of people at your resort creates an authentic experience for website visitors.

Bonus tip: Visuals often come with a heavy file size, which can slow down your site. To ensure images don't slow down your site, compress your image files with a tool like Kraken.io. For videos, host them on a third-party website, like YouTube or Wisitia.
White space
Another critical component of web design for RV parks and campgrounds is white space. When you create your website, you want to share an abundance of information with your audience. When you add visuals on top of it, your website can quickly get cluttered.
That's why white space is essential. White space is space on your website that doesn't have any text, photo, graphics, or design.

White space provides relief for your audience's eyes as they scroll through your website. Additionally, white space gives your website a clean and professional look instead of a cluttered and unprofessional look.
Descriptive call to action (CTA) buttons
Another critical component of campground web design is having descriptive call to action (CTA) buttons. CTA buttons are critical for helping move campers from one step to the next –– they guide users towards choosing to visit your campsite.
If you want users to see your CTA buttons when they visit your website, you must make them stand out on the page. In this example from Yogi Bear's Jellystone Park Camp Resorts, you can see how the orange CTA button stands out against the blue design.

In addition to your CTAs standing out on the page, you also want them to be descriptive. Having a generic CTA button like "Click here" doesn't tell your audience what to expect. On the other hand, a CTA button like "See Cabin Rentals" tells your audience what they'll see if they click the button.

With optimized CTAs, you'll move more people towards converting and visiting your campsite.
SEO-optimized pages
Last on our list of elements for RV park web design is search engine optimization (SEO). Having a beautifully designed website will go to waste if people can't find it in search results. Your web design must include SEO to help people searching for campgrounds find your website first.
One of the most critical components of SEO is keyword optimization. Keywords trigger your website to appear in search results for campgrounds and RV parks. You can find relevant key terms by conducting keyword research.
When you conduct keyword research, focus on long-tail keywords. Long-tail keywords contain three or more words, like "campgrounds in Vermont." These keywords are best for your business because they're specific, so they drive more qualified traffic to your campground website.
Once you identify keywords, integrate them into your website to help your pages rank.
Aside from keywords, there are a few other ways you can improve your website's SEO, including:
Invest in web design for RV parks and campgrounds today
If you're looking to bring more campers to your campsites, it's time to invest in web design for campgrounds and RV parks. With a beautifully designed site that's optimized to rank in search engines, you'll drive more qualified traffic that turns into campers at your grounds.
If you want to work with a trusted web design partner to help you build your dream website, look no further than WebFX. With 25 years of experience, we're the experts clients trust to build their dream website.
We've crafted 1600+ websites that 'wow' our clients. Check out our portfolio to see what we can do!
Ready to get more campers to visit your campground? Contact us online or call us today at 888-601-5359 to speak with a strategist about our web design services!
Earn a 20% greater ROI with WebFX