6 Reasons to Use Wistia to Host Your Videos
Video marketing is one of the fastest growing ways to reach new leads online. Videos can carry large file sizes, so many businesses opt to upload them to video hosting platforms to prevent large files from bogging down their sites. Wistia is one of the best websites for your business to host videos.
On this page, we'll discuss the basics around Wistia and provide you with six reasons why you should use Wistia to host your videos. If you need help creating videos for your digital marketing campaign, give us a call today at 888-601-5359 to speak with a strategist.
Our digital marketing campaigns impact the metrics that improve your bottom line.
See More Results

WebFX has driven the following results for clients:

$3 billion
In client revenue

7.8 million
Leads for our clients

5.2 million
Client phone calls
What is Wistia?
When creating videos, many businesses rely on YouTube to host their videos. The truth, however, is that there are many other options available besides YouTube — including Wistia.
This video hosting site allows you to create professional videos in minutes. You can create videos simply by using your computer's camera.
Wistia offers advanced tools to help marketers make the most of their videos. You'll get a customizable player, which allows you to choose how your video player looks when users see it, and detailed analytics to help you make the most of your video marketing campaigns. With Wistia, you can easily make, market, and measure your videos.
Wistia videos adapt to any screen. You can embed your videos in your emails, share them on social media, and post them on your website. Wistia also allows you to control who can post your videos and where they can post them.
Not only does Wistia benefit your business, it also benefits your audience. Wistia monitors each viewer's connection to ensure that they get the best video quality with their connection. They also ensure that they limit the amount of buffering with your videos.
Wistia videos are a great way to reach your audience and engage them with your content.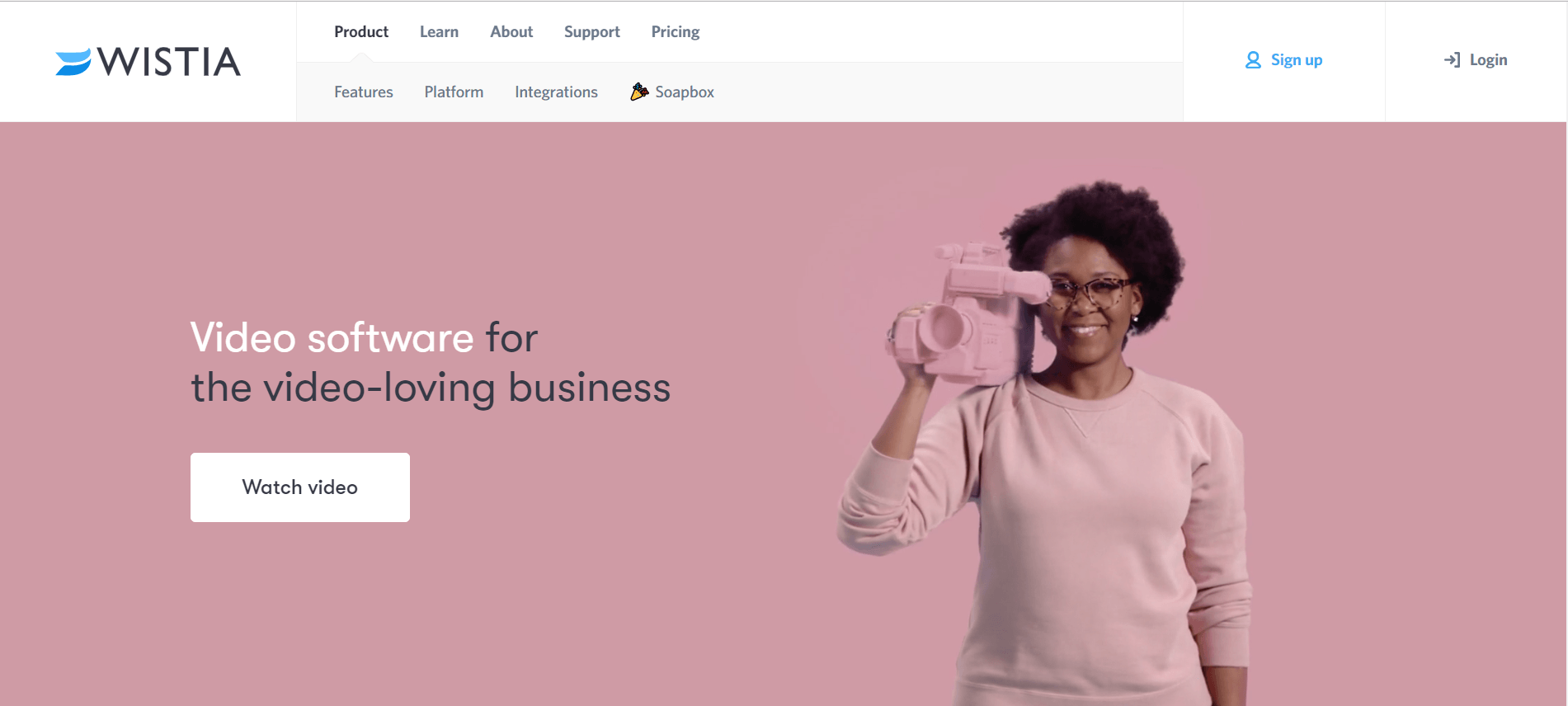 6 reasons to use Wistia as your video host
Wistia videos offer numerous benefits that help your business grow.
1. It's business-friendly
When you choose a video hosting platform, you want it to be business-friendly. You need a platform that is focused on creating professional videos and helps you monitor the success of your videos. It is best to use a platform that provides tools focused on helping businesses create better videos for their audiences.
Wistia is a more business-forward video hosting platform that focuses on hosting videos for professionals.
While YouTube is a great option for your videos, it isn't necessarily business-forward. YouTube is a platform designed to support creators who want to monetize their videos.
Wistia is more geared towards helping companies market their business. It's designed to help you create impactful marketing videos without needing knowledge. It's hosted on a platform whose sole purpose is to help you reach more valuable leads.
By using Wistia, you'll host your videos on a business-friendly website that focuses on helping you get the most out of video marketing.
2. Built-in analytics allow you to monitor your Wistia videos
When you create videos, you need to monitor them to see how they perform. You need to see if your videos are affective for your audience. Wistia makes it easy to monitor your video's analytics.
Wistia shows how your audience engages with your video. You can see a summary of various metrics related to your video. This includes how many people load your video, the number of visitors, hours watched, play rate, and engagement percentage.
One unique feature of Wistia is that they provide a heat map to help you see individual view insights. You can see where people are most interested in your video and parts they skip to view. This helps you understand how your audience interacts with your video.
Wistia makes it easy for you to understand how your videos work for your audience. If you see good results, you know which types of videos engage and interest your audience. On the other hand, negative results can help you work towards making Wistia videos that are more interesting for your audience.
3. You can integrate calls to action (CTAs)
Your videos have a purpose in your marketing plan. Whether it's to earn email subscribers or conversions, you have goals in mind with your videos. So, how do you help your audience achieve those goals?
Calls to action (CTAs) help you guide your audience towards the goals you want them to achieve. CTAs tell your audience how to proceed next. They play a crucial role in helping your business earn conversions.
Wistia makes it easy to integrate CTAs into your videos. You can create clickable CTA buttons that guide your audience to the next step. Once they are done watching your video, you can present a CTA in your video to encourage your audience to take the next step.
This helps you guide people to important pages on your site. Whether it's a sales page or informational page, your CTA will guide them to the right place. It's a great way to earn more conversions for your business.
4. No ads
One of the best features of Wistia is that there are no ads. When you upload your videos to YouTube, they will insert ads at the beginning of your videos and sometimes in the middle of it, too. This disrupts the video flow for your viewers.
Your audience doesn't want to be bothered by ads. They want to get straight to watching your video. YouTube makes this a difficult thing to achieve because much of their revenue comes from ads.
Wistia does not run ads on their platform. This means that your audience can watch your videos hassle-free. They don't need to worry about their video being interrupted by ads.
By using Wistia, you'll create videos that offer your audience an uninterrupted experience with your content.

5. Your videos are SEO ready
Another great feature of Wistia videos is that they are SEO ready. Videos play an important role in SEO, and adding them to your pages can help improve your rankings.
Videos are great for improving your page's SEO. When you host your videos on sites like YouTube and embed them in your site, Google will index the YouTube URL and not your site's URL. Instead, it's better to embed Wistia videos on your site because Google will index your site, so you'll reap all the SEO benefits.
When Google sees that people spend long amounts of time on your page, it views this as a positive signal because it will believe your page is valuable to your audience. This will help you obtain more SEO traffic for your business.
Wistia makes it easy for you to create SEO-friendly videos. You can optimize your title, description, and tags with relevant keywords. This will help your video appear in the right search results.
6. Customization
When you create your videos in Wistia, you have the power to customize your videos. This helps you create a better experience for your audience.
There are many ways to customize your video for your audience. For one, you can customize your video player. You can create a look and feel that fits your site.
When you add videos to pages on your site, you want them to fit your site's theme. In other words, it should look like your videos are seamlessly integrated into your layout. This is a unique feature of Wistia that takes your videos to the next level.
In addition, you can create a custom thumbnail for your video. This is a crucial part of video marketing because it sets your video apart from others.
When you create thumbnails, you have the option to choose still images, and you can customize them to better engage your audience.
Relevant, eye-catching thumbnails will grab viewers' attention and encourage them to check out your videos.
WebFX is a top video marketing company
Videos have a huge impact on your digital marketing campaign. They are great for increasing engagement and getting your audience interested in your products or services. If you're ready to start creating videos that drive results, WebFX can help.
We're a full-service digital marketing company that specializes in video marketing. We'll help you create impactful videos that you can host on Wistia and share with your leads. With a team of 500+ experts working on your campaign, you will feel confident that you'll achieve results.
Our team has over 25 years of experience creating campaigns that drive results. To date, we've driven over $3 billion in sales and over 7.8 million leads for our clients. We'll help you create a campaign that drives results for your business.
Our clients love the work we do for them. In fact, we have over 1000 client testimonials that attest to the great work we do for them. Check them out to see what it's like to partner with a top video marketing company like WebFX!
Create engaging videos today
If you're ready to start creating engaging Wistia videos today, contact us online or call us at 888-601-5359 to speak with a strategist about building your video marketing campaign.
We look forward to hearing from you!