5 Local Listing Management Tools You'll Want to Try in 2023
Did you know that 80% of local searches convert?
This means that if 10 people search for a nearby restaurant, landscaper, or car dealership, eight will convert — by visiting the company's location, contacting them, or purchasing.
With those numbers, your company can't afford to ignore local search — or local listing management.
Local listing management (and listing management software) make updating your online listings, like on Yelp, Google Business Profile, or Facebook, incredibly easy. Not to mention, keeping your online profiles up to date helps your company excel at local search engine optimization (SEO).
If you're ready to bring more foot traffic, leads, and revenue to your business with your listings and local SEO, then this list of the best local business listing management tools will get you started. Keep reading to learn about the five best tools and how they'll help you grow your business in 2023 and beyond!
Try our favorite local listing management tool for free!
1. Moz Local
Price: $129 to $299 / year

Summary: For small, midsized, and enterprise businesses, Moz Local offers a competitive solution to local listing management. Manage all your listings in real-time (and in one place), plus streamline review management and social media posts with this feature-filled tool.
What is Moz Local?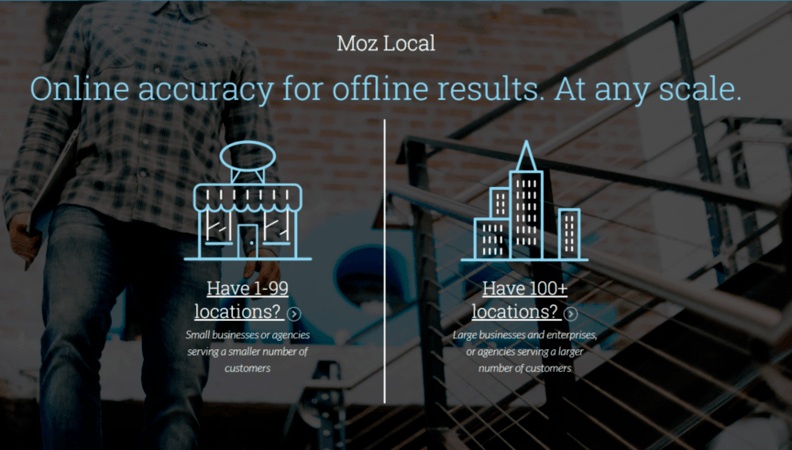 Moz Local is a paid business listing management tool for businesses of all sizes.
With more than 10 years of history, Moz Local is often a reliable and go-to choice for companies of all sizes. The platform offers an array of features too. From removing duplicate listings automatically to sharing updates across all your social channels instantly, Moz Local is worth considering.
How much does Moz Local cost?
Moz Local costs $129 to $299 per year, with custom pricing provided to enterprise organizations. You can choose from the agency's Basic, Plus, or Complete package. Each includes different features, as well as directories.
When looking at pricing for Moz Local, it's important to note that pricing is per year and location. The Basic, Plus, and Complete plans can cover up to 100 locations. If you operate more than 100 locations, you will need to request a custom quote.
Certain features, like social media posting and review management, are only available with the Plus and Complete package. All packages come with the same 13 directories, which include Google Maps, TomTom, Apple Maps, Facebook, and more.
What can you do with Moz Local?
With Moz Local, your team can tackle the following tasks: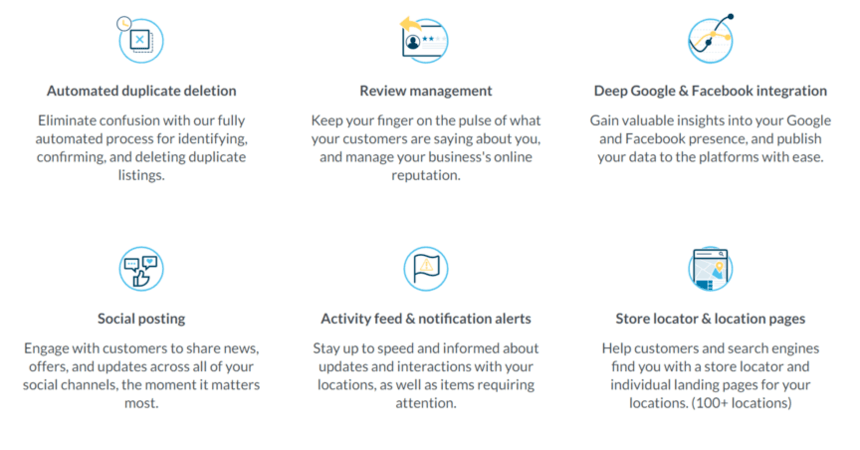 Manage location data
Update online listings
Ensure location data accuracy
Integrate location data with Google and Facebook
Get notifications for location updates and location interactions
Delete duplicate listings
And more
If you have the Plus or Complete plan, you can also:
Streamline review management
Post social media updates
Create store locator and individual store location landing pages
Keep in mind that Moz Local requires your team to complete all these tasks, like responding to reviews, updating location data, or submitting social posts. This local listing management tool provides the software. You need to provide the expertise unless you partner with a local SEO agency.
Why use Moz Local for local listing management?
When it comes to Moz Local, you have plenty of reasons to use this listing management software:
Save time by managing your local online listings in one place
Maximize location data accuracy by updating all your online listings in real-time
Expedite announcements, like a sale, by sharing them to your social media profiles at once
Improve response times to reviews, positive and negative
Eliminate repetitive tasks, like operating hour updates, social media posts, and more
Generate higher visibility in local search results
All these perks can help your business save not only time but also attract more local customers. You want that in a local listing management tool, which can make Moz Local a smart choice for your company.
Is Moz Local worth it?
If you're serious about managing your local online presence, then it's worth trying Moz Local.
Depending on your company, however, you may find that Moz Local isn't worth the price. If you're a small-to-midsized business (SMB), for example, you may use free tools (like Buffer) to post to your social media accounts and take advantage of a cheaper local listing software alternative.
If you plan to use Moz Local and use other Moz tools, like Moz Pro, it's important to mention that these require separate subscriptions. You will need to pay for Moz Pro and Moz Local separately. Moz doesn't offer a combined, discounted price for using both platforms.
2. Yext
Price: $199 to $999 / year

Summary: Yext offers local listing management solutions to small-to-midsized businesses, as well as enterprises. The company's platform streamlines and protects location updates from unauthorized changes. Plus, the listing management software includes performance reports for your online profiles.
What is Yext?
Yext is a paid local listings management software that focuses on single-location management.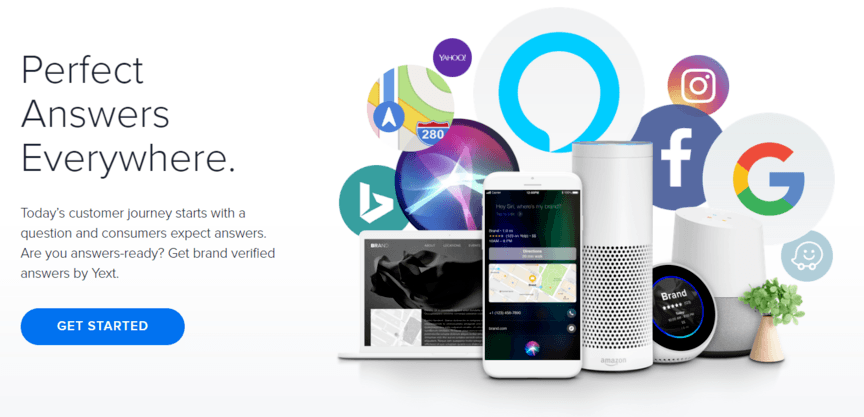 With Yext, your company can streamline, optimize, and protect your location's listings across dozens of platforms, from Google to Bing to Facebook to Apple. In most cases, Yext can update your listings within seconds (though guarantees updates within five business days).
Yext provides insightful reports too, as well as free training from a Yext professional.
How much does Yext cost?
Yext costs $199 to $999 per year, with custom pricing provided for more than one location.
The company offers four plans for single-location management: Emerging, Essential, Complete, and Premium. Packages differ by the number of directory sites and features. Emerging, for example, only includes 40 directory sites, while Essential includes 14 additional directories.
The Complete and Premium packages also offer a few more features, including:
PowerListings+ for publishing products, calendars, and services
Analytics for tracking profile views and traffic numbers.
Review Monitoring for tracking ratings and reviews across listings
Yext Pages for adding enhanced content to your website
If you decide to make Yext your listing management software, make sure to review each plan's features. That way, you can choose the best one for your organization, versus deciding later that you need to upgrade or downgrade.
What can you do with Yext?
With Yext as your local listing management tool, you can take care of the following to-dos:
Update all your local listings at once
Protect local listings from unauthorized changes
Verify the status of local listings
Add promotional links or messages to local listings

If you have the Complete or Premium package, you can also:
View local listings impressions, clicks, and user interactions
Monitor reviews and ratings across local listings
Add enhanced content to your website
Upload products, services, calendars, and team bios to listings
Overall, Yext provides a decent solution to business listing management.
While it doesn't offer all the features of Moz Local, it does cover dozens of directories. As you compare online listing management software, however, it's essential to look and see if those directories matter to your company.
Why use Yext for local listing management?
Using Yext for local listing management can benefit your business a few ways, including:
Access a range of directories
Update listings data in an instant
Protect listings data from inaccurate and unauthorized updates
Decrease the amount of time spent optimizing and updating listings
Monitor reviews and ratings across directories
Track analytical data from one platform
With an online listing management software like Yext, your company saves time while keeping your listings accurate. Maintaining accurate profiles can support your local SEO strategy, which can drive more people in your area to your business.
Is Yext worth it?
SMBs looking for a reliable and in-depth local business listing management platform may find the perfect solution with Yext. The tool covers a range of directories, as well as protects your profiles from unapproved updates.
If you're only worried about updating your listings on the biggest platforms, like Google Maps and Apple Maps, you may find another tool meets your needs. That's why, before choosing your local listing management software, you need to determine which directories matter to your business.
3. LocalFX
Price: $20 to $50 / location

Summary: LocalFX delivers a turnkey local listing management solution to SMBs, as well as enterprises with at least five locations. With the ability to manage up to 1000 locations across 100 directories, businesses can use LocalFX to expedite location updates, review management, and listing performance.
What is LocalFX?
LocalFX provides businesses with an all-in-one business listing management tool.
You can use LocalFX to update your listings and track your rankings in search results, as well as manage and respond to reviews across platforms. LocalFX also features widgets, which you can add to showcase your location and reviews. An analytics dashboard (complete with reports) is available too.
LocalFX includes all these features with your account, versus gating them behind different packages.
How much does LocalFX cost?
LocalFX costs $20 to $50 per location. Businesses with more than 1000 locations receive custom pricing.
Unlike other online listings management platforms, LocalFX does not include tiered packages. Your pricing depends on the number of locations. If you operate five locations, for example, it's $50 per location. In comparison, companies with 150 locations pay $35 per location.
This pricing model allows your business to take advantage of all the features offered by LocalFX.
What can you do with LocalFX?
With LocalFX, your team can check-off several essential tasks, including:
Access dashboard for viewing listings status (listed, unlisted, duplicate, incorrect, etc.)
Update and sync listings across 100 directories
Get notifications for user reviews and comments
Monitor reviews on social and review sites
Respond to reviews and comments
Review listing performance with reports
Add location-specific widgets to websites
Offering all these features in a single package makes LocalFX a turnkey solution to local listing management. You don't have to purchase a more expensive package to access these features. Instead, you can access everything, even if you only operate one location.
Why use LocalFX for local listing management?
As an online listing management platform, LocalFX offers several benefits, including:
Expedite time-intensive process, like updating listings for local search ranking factors
Manage listings across 100 directories
Improve listing accuracy across directories
Get instant notifications about real-time user actions, like reviews
Monitor reviews and comments across directories
Respond to reviews and comments from a single dashboard
Access up-to-date reports on listings and location performance
Share location-specific data and user reviews with widgets
The fact that you can access all the features of LocalFX with one plan also makes the platform a competitive choice for businesses. You don't have to compare different packages. Instead, you get all the features you want for all your locations.
Is LocalFX worth it?
LocalFX offers a complete solution to local listing management, which makes it a top choice.
Not only can you update all your listings across directories, but you can also streamline review management, produce helpful reports for company leaders, and promote locations across websites with attractive widgets.
While you still want to research your options for listing management, LocalFX is a competitive choice.
4. BrightLocal
Price: $290 to $790 / year

Summary: BrightLocal offers a full-fledged and paid solution to business listing management for 3 to 100 locations. With the company's software, companies can monitor and discover citation opportunities, generate listing reports, remove listing duplicates, and practice review management.
What is BrightLocal?
BrightLocal provides an online listing management software that supports local SEO.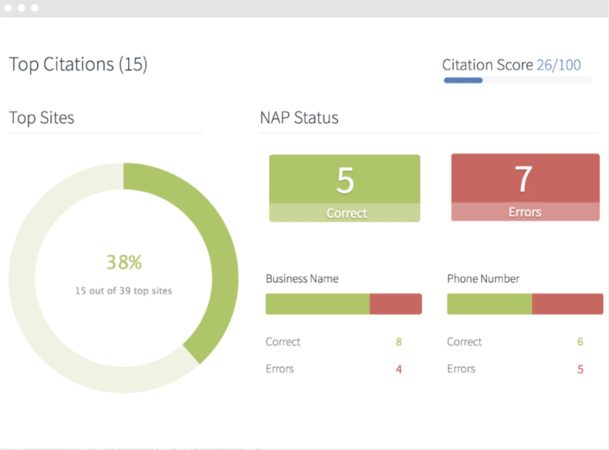 The paid platform includes an array of features, ranging from citation tracking to review management. Not to mention, BrightLocal also integrates withGoogle Business Profile and Google Analytics, which can make assessing your local SEO strategy easier.
For companies experienced with local SEO, BrightLocal offers a decent solution.
How much does BrightLocal cost?
BrightLocal costs $290 to $790 per year, with the cost depending on the number of locations.
| Locations | Cost |
| --- | --- |
| 3 | $290 / year |
| 6 | $590 / year |
| 100 | $790 / year |
Like other listing management software, such as LocalFX, your company can access all the platform's features no matter which plan you select. Your cost depends on your number of locations, versus the features you want.
What can you do with BrightLocal?
With BrightLocal as your local business listing management solution, you can:

Audit existing listings
Monitor location rankings
Discover duplicate listings
Track competitor citations
Uncover citation opportunities
Create custom local listing reports
View location ratings
Check likes, views, and follower growth across social media channels
Sync Google Business Profile and Google Analytics data
Overall, BrightLocal offers your business access to a range of features.
Why use BrightLocal for local listing management?
Companies use BrightLocal for local listing management for a few reasons, including:
Get insight into current listing performance and optimization
Track listing rankings in local search results
Increase citations
Fix duplicate listings
Compile local SEO efforts into one place
Generate listing reports fast
See the impact of social on local SEO efforts
If you're looking to streamline listing updates, BrightLocal doesn't offer this feature. Instead, BrightLocal focuses more on your local SEO strategy as a whole by auditing your approach and tracking your performance in local search results.
Is BrightLocal worth it?
Depending on your business, as well as investment in local SEO, BrightLocal may offer valuable information and dashboards. You can use BrightLocal, for example, to assess your local SEO, monitor your competitors, and more.
However, if your company wants to streamline local listing management, BrightLocal may not offer all the tools you need. For example, with BrightLocal, your team will need to update listings manually versus automatically like with Moz Local or LocalFX.
As you research and compare listing management software, you'll have to think about what you want from a platform. Once you determine which features matter the most, you can narrow your choices and find the perfect program for your business.
5. Whitespark
Price: Free to $960 / year

Summary: Whitespark is a free, minimalist listing management software. Using Whitespark, companies can discover citations across the web (and on directories) and then optimize them for local SEO. While Whitespark requires more manual labor, it does offer some cost savings.
What is Whitespark?
Whitespark offers small-, midsized-, and enterprise-level businesses a free solution to business listing management. Companies can use Whitespark's free or paid plans to find and optimize business mentions.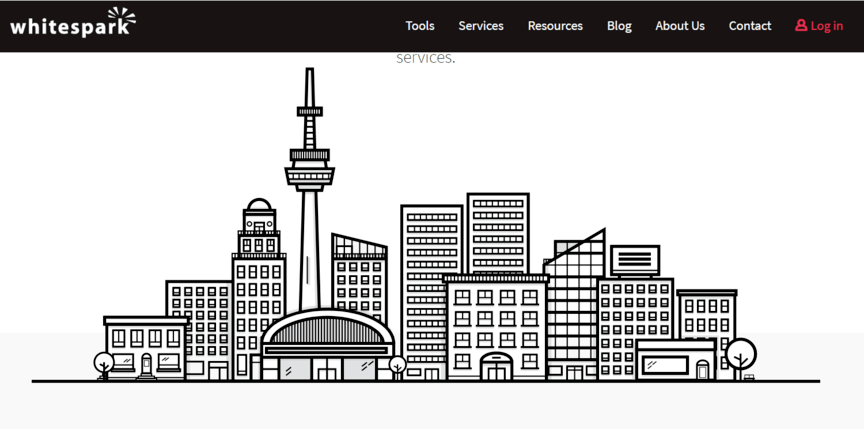 Paid plans provide your organization with some additional tools. You can use Whitespark, for example, to complete competitive analyses, export results to a .csv file, and monitor citation growth and optimization progress.
Overall, Whitespark introduces you to local listing management.
How much does Whitespark cost?
Whitespark is available for free, with paid plans starting at $204 and ending at $960 per year.
Companies can choose between four paid plans:
Small Business
Specialist
Agency
Enterprise
Each plan includes the following features:
Comparison tool
Competitive analysis
Citation monitoring
Progress tracking
Export to .csv
The differences between the Small Business, Specialist, Agency, and Enterprise plans include:
Searches per day: Depending on your plan, your team can conduct anywhere from 20 to 100 searches per day for citations mentioning your business. The free plan includes three searches per day.
Projects: A project allows you to monitor location mentions in one place. Your number of projects (or locations) can range from 5 to 100 with paid plans. If you use the free version of Whitespark, you may only have one project.
Search results: The number of search results generated also depends on your plan. All the paid plans include unlimited search results. In comparison, the free version will only produce a set number of search results.
If you decide to use Whitespark, expect to invest in the paid version later.
According to Whitespark, the free version helps "users who want to understand how the tool works before they commit to a subscription." It's a preview, so keep this fact in mind when budgeting for your business listing management strategy.
What can you do with Whitespark?
With Whitespark, your team can accomplish a few tasks related to online listings management: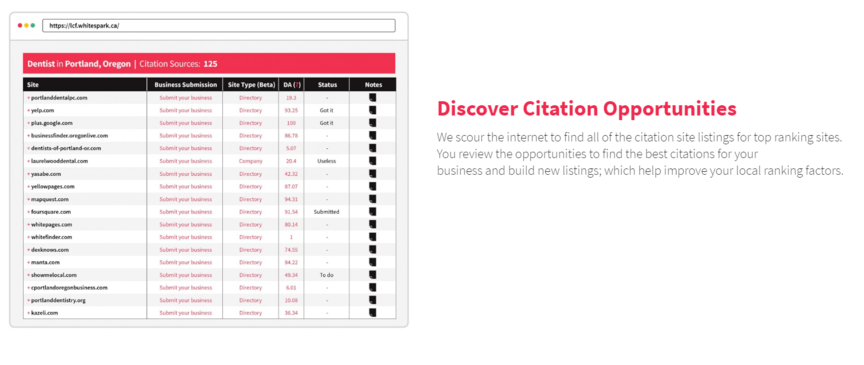 The free version lets your team:
Uncover citations
Find structured citations, like on directories
Discover unstructured citations, like on blogs
In comparison, paid plans allow your team to:
Compile citations, structured citations, and unstructured citations
Complete a competitive analysis
Export search results to a .csv file
Monitor citation growth over time
Track listing optimizations
Make notations
Compare different searches and competitors
Verify citations
The paid plans also come with a 30-day money-back guarantee.
Why use Whitespark for local listing management?
Whitespark offers a few advantages as a local listing management solution:
Get free, immediate insight into your listing statuses
Compile business mentions across the web
Compare company performance to competitors
Track listing performance over time
For many businesses, Whitespark doesn't offer enough perks to justify its cost for listing management.
Is Whitespark worth it?
Compared to other business listing management solutions, like LocalFX and Moz Local, Whitespark doesn't offer enough. It also requires more time from your team. You need to search and find your listings, as well as update them manually.
While Whitespark can help you find business mentions outside your local listings, it doesn't provide the core services that you need with online listings management. You want a platform that can update your listings, which saves you time.
That's why Whitespark, at least for local listing management, isn't worth it.
How to choose the best local listings management tool for your business
Now that you know about some of the top local listing management tools available, how can you choose the best one for your business? You can take a few different approaches when it comes to researching your options, but the following steps can help make the decision process seamless.
1. Determine what you want to accomplish
Before you start researching local business listing management programs, you need to think.
Why are you looking at listing management, for example? Are you spending too much time editing listings? Or, are you struggling to find citation opportunities as a part of your link building strategy for SEO?
Answer these questions, and you can determine what you want to accomplish.
For example, if you're concerned about finding citation opportunities versus streamlining listing updates, you may go for a tool like Whitespark. In comparison, if you want to speed up listing updates, you may choose a listing management software like LocalFX.
2. Count your locations
While you can start browsing listing management software, it's helpful if you know the number of locations that require online listings management. You don't want to find a program, get excited about it, and then discover that it doesn't offer support for your number of locations.
Tally up your number of locations, and then move onto the next step in finding your software.
3. Outline the features you want
Next, you want to outline the features you want in a business listing management program.
Depending on your initial goal, you may want a software that can accomplish the following:
Sync listing updates
Fix listing duplicates
Provide listing reports
When you list the features you want, you can make comparing programs easier. You don't get caught up in the comparison charts between plans. Instead, you review each package and see if it matches your core requirements.
4. Complete trials and demos
As many local business listing management programs require an annual contract, you want to try them first. If you skip this step, you may end up purchasing a tool that features a clunky design and annoys you, rather than meeting your needs.
In most cases, online listing management providers will offer a free trial or demo.
Take advantage of these experiences to see if the tool checks off your requirements. If multiple team members plan to use the platform, make sure they have a chance to try the program too. You want to make sure everyone can use it with ease.
Once you complete these steps, you can choose your tool.
FAQs about local listing management
Are you new to local listing management? Browse our FAQ and get up-to-speed!
What is a local listing?
A local listing, also known as a local business listing, is an online entry that contains your company's:
Name
Address
Phone number
These online entries can appear across sites dedicated to local listings.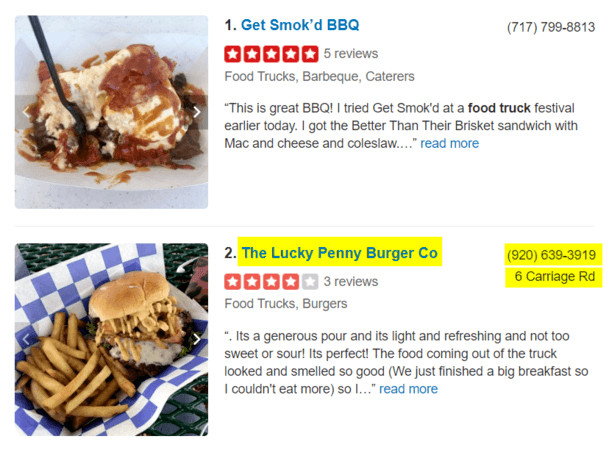 A few examples include Yelp, Google Business Profile, Facebook, and more. Local business listings can share more than your name, address, and phone number. They can also highlight your hours, services, products, and more.
What does a local listing include?
A local listing should include your NAP — your company's name, address, and phone number. If you have multiple locations, your address and phone number will vary by location. It's essential, however, that your company ensures the accuracy of this information.
Most local listings, like Google Business Profile and Facebook, can include additional details like:
Hours
Services or products
Upcoming events
Reviews
And more
These extra features can make local listing management complicated, which is why many businesses use listing management software. Even if they have a single location, companies will make their lives easier with platforms like Moz Local and LocalFX.
Why is a local listing (and local listing management) important?
A local listing, as well as local listing management, matter for a few reasons, including:
People rely on local listings when finding and comparing companies
People use local listings to get addresses and directions to businesses
Search engines reference and use local listings when compiling search results
If you're familiar with local SEO, then the final reason for why local listing management matters may catch your attention. Your rankings in search results depend on more than your on-page optimizations. They also rely on your off-page optimizations, which can include local listing setup and management.
Leaving your local listings unmanaged and inaccurate can result in less online exposure for your company. People won't find your business, which can result in fewer calls, in-store visits, and online transactions as 80% of local searches convert.
Local listings play a massive part in your success, which is why their continuous management matters.
Try our favorite online listings management tool for free!
Are you ready to see which online listings management tool works best for your business?
Get started with our favorite — LocalFX — for free. Just enter your business details, and we'll take care of the rest. The best part? We require zero payment information, which means you can get your results in your inbox faster and without the hassle of entering your credit card information.
Try LocalFX now! If you'd like to chat with a local SEO expert, contact us online or call 888-601-5359!
Earn a 20% greater ROI with WebFX