Who Can Use Pinterest Advertising?
Certain sites come to mind when someone mentions social media. In the past, Pinterest hasn't necessarily been one of them, but recent improvements to the platform have encouraged that to change. The site currently has 175 million active users. Much of this recent growth comes from international markets, where word is spreading fast about Pinterest's unique blend of utility and inspiration.
This comes as a shock to a lot of business owners. Pinterest is where people post pictures — what good would it do for businesses that don't deal with a lot of photos? A lot, as it turns out. Studies show visual content generates more interest and shares than text-based content, so businesses that can find a way to incorporate photos into their marketing strategies outperform those that don't.
So who can use Pinterest advertising, and how can it help them promote their businesses? Keep reading to find out.
Ecommerce
Pinterest has become a marketing powerhouse for ecommerce sites. According to Shopify, 50% of Pinterest users have made a purchase after seeing a Promoted Pin and more than 61% of Pinterest users say they've discovered new brands or products thanks to Promoted Pins.
Even if you don't promote pins, Pinterest is a great channel for sharing photos of — and increasing interest in — your company's merchandise.
Post high-quality photos of product images using the same keywords and phrases you would use in any other marketing strategy. Organize them by subcategory, target market and other criteria so they show up in appropriate searches. Encourage customers to pin photos of themselves using your products, and add the Pin It button to photos on your website so visitors can share them with their followers.
Travel
Over 40 million people in the U.S. browse Pinterest for travel ideas monthly. People use Pinterest to help them decide where to go, how to get there, and what to do once they arrive. It's almost essential for businesses such as resorts, air lines, and local, one-of-a-kind restaurants and boutiques to be on Pinterest. In fact, 3 in 4 travel Pinners say travel Pins from businesses are useful — and nearly all will act on what they see, often booking an unplanned trip.
Travel planning occurs on Pinterest. Here's how you can make sure your brand lands on travelers' itineraries:
Travelers plan ahead of time so be sure to Pin ahead of time. For example, start pinning winter vacation ideas by the end of August.
Pin inspiring scenery to entice wanderlust.
Entertainment
Entertainment is a visual business — even non-visual media like books and music have a visual element to them. Whether you work for a theater company or a film studio, a Pinterest board can raise awareness of your latest production and encourage people to make a purchase.
Post photos of cast members, directors, authors and anyone else responsible for bringing the work to life. Share postcards and flyers instead of sending them via snail mail.
Include photos of dress rehearsals and other behind-the-scenes moments, as well as book covers and movie posters. If it's meant to be seen, it should appear somewhere on your Pinterest page.
Professional service providers
Until recently, Pinterest looked like a better choice for visually oriented businesses like graphic designers and architects than for non-visual businesses like accounting firms or attorneys. However, businesses are relying more heavily on visual content to promote themselves, so Pinterest will take on a larger role in their content and social media marketing strategies.
If your business has ever created infographics, posters, or other visual content, pinning them will get your strategy off to a good start. If you've ever attended a conference or spoken at one, create a board for the event and post photos of yourself with fellow attendees.
You can also post pins that highlight your connections to clients or other industry colleagues, introducing yourself to new prospects in the process.
Local businesses
People are increasingly turning to the Internet to look for things to do locally or places to buy products and services in their towns or neighborhoods. Social media channels can help with this effort, and Pinterest is no exception.
Put a visual spin on your local marketing strategy by using your Pinterest profile to leverage your business and location.
Post photos of your business and staff, and leverage your connection to the area. Post a map of your town, a list of fun things to do, or even your latest print ad featured in local press. Share interesting news stories from local papers and magazines. Follow public figures from your town and ask them to do the same. Remember to optimize each item posted to include the name of your town as well as keywords for your business category or product type so your business comes up in local searches.
Industrial firms
Pinterest is primarily a site for consumers looking for and posting photos of the things that interest them. What could a manufacturing or other B2B company get from pins and boards? A visual boost to your content strategy is one benefit — a chance to leverage existing business relationships is another. These are just two reasons to include Pinterest in your B2B marketing strategy.
Post the same infographics you would post to your blog or social media pages. You can't post eBooks and white papers to Pinterest, but you can post their eye-catching covers with links. Look for photos that showcase your experience, such as a new product line manufactured for a big brand or a photo op with a business partner.
Nonprofit organizations
Photos and videos play a tremendous role in helping nonprofits raise awareness of the organization and the causes they're trying to address. Pinterest can help your organization do both.
In addition to sharing photos for your website, you can also use the site to bring more attention to the people or places you want to help.
Turn your latest appeal into a Promoted Pin. Post photos of your most recent fundraising event or an invitation to your next event. Share heartwarming stories of past clients (with their permission, of course). Create boards for each of the programs and activities related to your organization. One of your goals as a nonprofit is to put a human face on the issues of the day. A Pinterest account will help you do that.
WebFX is a partner businesses trust.
Hear from HydroWorx, who saw a 236% increase in organic sessions with WebFX services.
Watch the Video Testimonial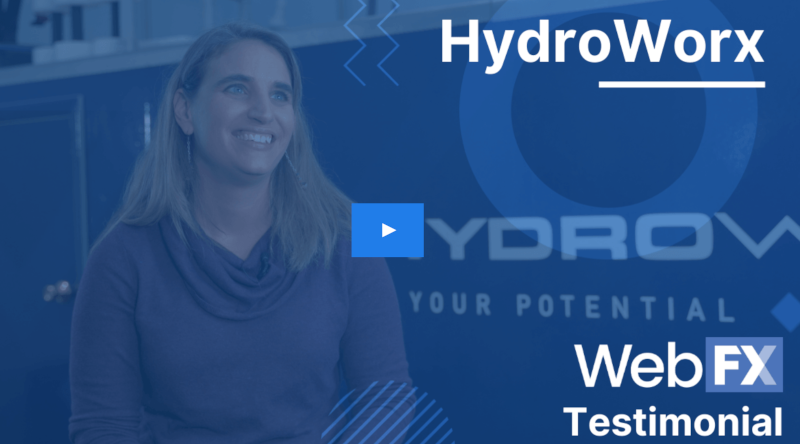 Want to start using Pinterest for advertising?
Who can use Pinterest advertising? The real question is who can't use it. Pinterest has the potential to be a powerful marketing channel if you can figure out how to use it. Look around the site to see how other organizations are presenting themselves on Pinterest and you may discover a new way to generate more business.
Need help using Pinterest to optimize your business? Contact us today to find out how we can help!