Let our SEO web design services give your business a boost
The end goal of all your digital marketing is to drive revenue through leads and conversions. But when you look at where nearly all your lead generations and conversions occur, it's on your website.
When you partner with an SEO web design agency like WebFX, you'll get a team of experts helping you optimize your site to rank better in search and drive more qualified traffic to your page. We offer top-notch, SEO-optimized web design services that include:
Website copywriting
Database integration
Page design and development
And more!
With over 500 client testimonials, WebFX is the SEO web design company businesses trust to drive result with their marketing. In the past five years alone, we've driven over $2.4 billion in sales and over 6.3 million leads for our clients. When you partner with us, our team of experts will take great care to make sure your site helps you thrive online.
To get started with us, just call 888-601-5359 or contact us online today!
[Video] A look at WebFX's top web design services
Want an overview of what the web design services WebFX has to offer? Check out this video for a full breakdown of what makes us one of the top web design agencies available!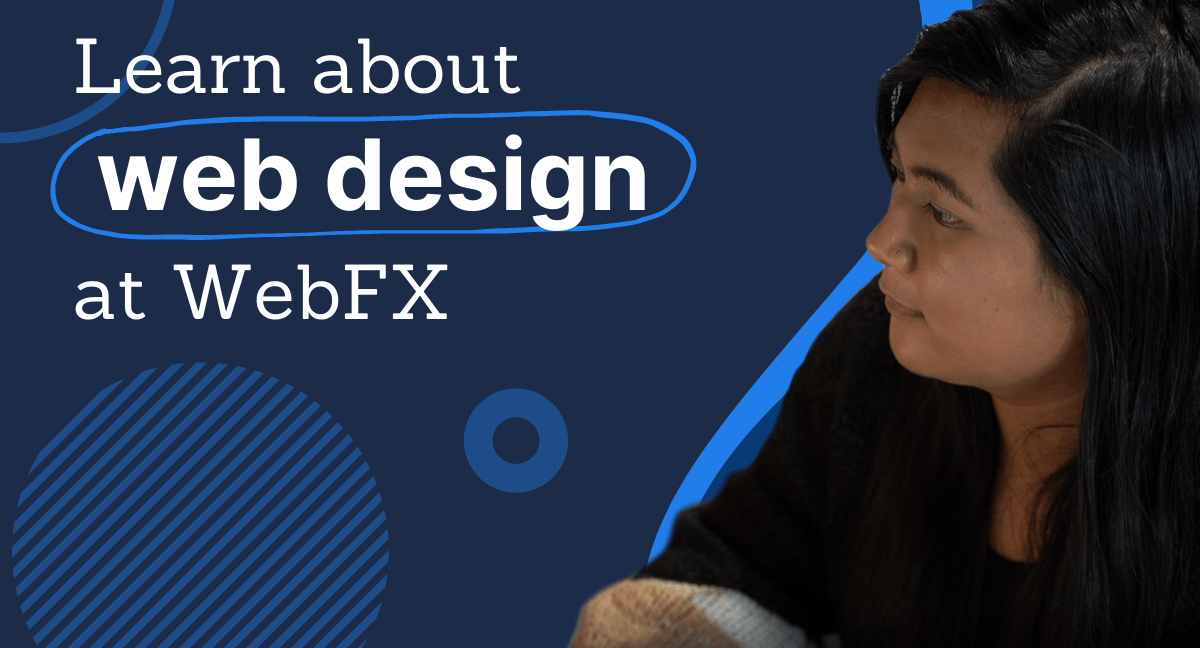 Why partner with an SEO web design company?
Web design is vital to the success of your digital marketing, but you may be questioning why you need to partner with an agency to optimize it. Why not just handle it on your own?
While you could optimize your own SEO web design, it's more beneficial to work with an SEO web design company.
Here are four advantages to working with a web design agency:
1. Web design agencies have greater knowledge
To build your dream website, you need to know the ins and outs of web design. From crafting the perfect design to optimizing your site for search engines, there's a lot that goes into designing your site.
If you don't have the knowledge or experience of building a website, you may find this process frustrating. That's where a web design agency can help. They have extensive knowledge on all things web design, so they can help craft a website that meets your business's needs.
Experience is a large part of this. Most agencies have spent years designing a wide variety of websites for many different businesses.
The result is that agency experts tend to know exactly what they're doing when it comes to designing a website. That knowledge and experience is something you could benefit immensely from having access to for your business.
2. Web design agencies have more time
Your business's marketing isn't a side project. It's the driving force behind every sale you make, and it takes time to get it right. But you have a business to run — sales to make, products to design — and you may not have the time to devote to building a website.
When you partner with an SEO web design agency, though, that's not a concern. You can focus on running your business while your web design company crafts and optimizes your site.
3. Web design agencies have better tools
To design a website that attracts users and boosts your SEO, you need to have the right tools, which you may not have access to on your own. Even if you invest in some high-quality tools, you may not know how to use them.
A web design agency, on the other hand, will be intimately familiar with all the best web design and SEO tools out there — many agencies have their own in-house tools they can use to help craft your website! When you partner with them, you'll get the full benefits of all those exceptional resources.
How can WebFX help your business?
If you're sold on partnering with an SEO web design agency to optimize your website, the next step is figuring out who to partner with for your services. When you look at the options, you'll find no better choice than WebFX.
Our SEO web design services can help you drive leads and conversions. Our team will help you craft and optimize your site to meet your business's goals. Here are five ways you can benefit from working with WebFX!
1. WebFX can help you brand your website
Branding is critical to all your marketing, particularly your web design. Even if you have a beautifully crafted site, it won't benefit your business if users don't remember that it was your site. Every page on your site should communicate who you are.
WebFX can help you implement your brand's unique style into every page. From your homepage to your most recent blog post, we'll craft a visual design that communicates your brand's values to your audience. Fonts, images, color schemes — we'll piece together all these elements to make your site uniquely yours.
2. WebFX can help you attract and retain site traffic
One of the most crucial elements of SEO is driving traffic to your website. WebFX can help you accomplish that by finding and integrating optimal, relevant keywords in your web content. These keywords will get your content ranking so users can find it and visit your site.
Once we've successfully optimized your strategy to bring users to your site, we'll make sure you keep them there long enough for them to become leads or convert.
When users visit your site, you want to make sure they don't immediately feel compelled to hit the back button. We'll improve your page load speeds to deliver a top-notch experience and use internal links to keep your visitors engaged on your site.
We'll also optimize the overall user reading experience on your website with things like white space and bulleted lists. All these elements will also serve to boost your rankings, helping you drive more traffic to start with.
3. WebFX can help you increase sales and conversions
The ultimate goal of your digital marketing is to drive revenue, which you do by generating leads and conversions. Getting someone to your site isn't enough. Once you have them there, you must persuade them to purchase your products or services.
That's where WebFX comes in yet again. We'll structure your site to drive users down the path to conversion.
We'll craft blog posts and service pages that inform and delight your audience. Our top-notch copywriting team can create content about your business and industry that persuades them to convert.
You can also benefit from our video production services as a means of conveying the value of your products or services.
Why choose WebFX?
When it comes to finding an SEO web design agency, you won't find anyone better than WebFX. We have everything you need to get the most out of your digital marketing.
So, why should you choose WebFX as your SEO web design company?
Here are three things that help set WebFX apart from the competition.
1. We drive stellar results
WebFX doesn't skimp on our SEO web design services, and nothing proves that more clearly than the results we've been known to drive. We're one of the top agencies available when it comes to generating leads and conversions, and our past optimizations demonstrate that.
Within the last five years alone, we've done the following for our clients:
Driven over $2.4 billion in sales
Driven over 6.3 million leads
Managed over 11.6 million transactions
These numbers make it clear that our services aren't half-baked — they're fully optimized to drive results.
2. We have a large team with years of experience
Having a large team is a huge asset for an SEO web design agency. Having more hands-on deck allows agencies to do more work in less time, which is great news for their clients. At WebFX, we have a team of over 200 digital marketing experts to help craft a campaign that drives results.
Furthermore, our team brings with it an overall 20 years of experience in SEO. The size of our team makes that experience extremely diverse, allowing us to come up with more creative solutions that can help your business succeed.
3. We have an extensive list of testimonials and awards
An agency with a multitude of results and experience still isn't worth much if it doesn't make its clients happy, which is why we prioritize our client experience at WebFX. If you're questioning whether you'll enjoy working with us, one look at our testimonials should reassure you.
With over 500 client testimonials and counting, we're the agency that small businesses trust to do the most for their SEO web design. We have a 91% client retention rate, and our client recommendation score is 488% higher than the national average.
We've also garnered quite a few awards for our services, including being named the number one SEO agency in the world by Clutch.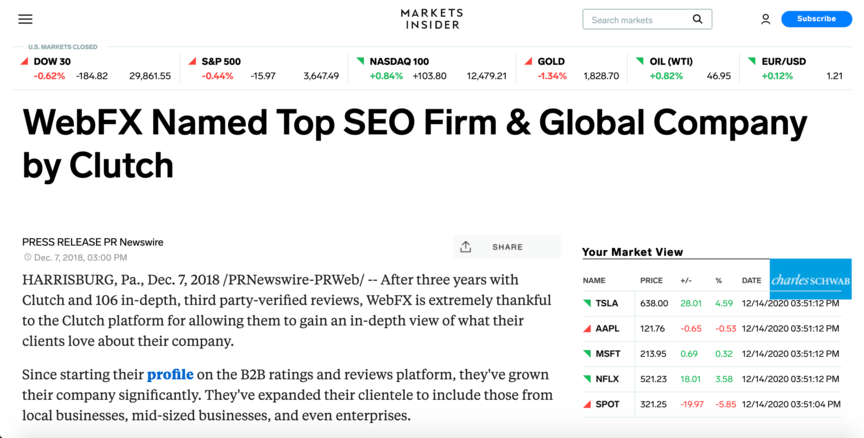 Partner with WebFX for our top-of-the-line SEO web design services
Ready to start driving results with the help of an SEO web design company? WebFX is the agency for you! Located in Harrisburg, PA, we're a full-service digital marketing agency that's been optimizing search engine rankings and websites for over 20 years.
Though our main office is in Harrisburg, PA, we work with businesses across the United States. We have the resources and tools you need to grow your business online —we offer our own digital marketing software, MarketingCloudFX, to help your online advertising reach its full potential.
When you partner with us, you'll receive a dedicated account representative to keep close in touch with you about everything we do for your website. SEO web design isn't all we do, either — we offer a variety of digital marketing services, including the following:
… and much more!
With these services and more, you can get help optimizing every facet of your digital marketing.
To get started with us, just give us a call at 888-601-5359 or contact us online today to learn more about our web design and SEO services!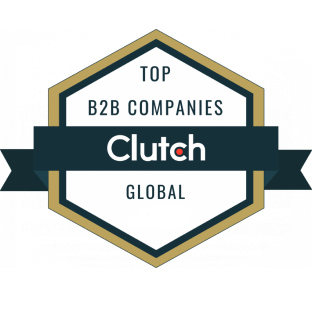 Independent research from Clutch has named WebFX the
top SEO company

in the United States.

Over 200 WebFX clients have been interviewed by Clutch to discuss their experience partnering with us.

Check out more Clutch reviews