Grow Your Sales With Advertising Agency for Amazon
With businesses spending 165 percent more on their Amazon ads, it's become critical for companies to develop competitive, performance-driven campaigns — without them, your sales suffer. How do you compete in an already tough marketplace, though? Partner with an experienced, results-driven advertising agency for Amazon like WebFX.
Our
ad agency for Amazon

grows businesses

Earning more sales and decreasing your advertising cost of sale (ACoS) is a big challenge.

For our ad agency for Amazon, however, it's not a new one.

With decades of experience, plus a dedicated team of Amazon advertising specialists, our agency can provide your business with a custom Amazon pay-per-click (PPC) strategy that optimizes your ad spend, improves your sales numbers, and decreases your ACoS.

Even better, we offer transparent reporting, so you can see the data behind your success.

Learn more about how your company can grow its business on Amazon with the help of our advertising agency for Amazon, below. Or, if you'd like to chat with our team one-on-one about your business and ad campaign, you can contact us online or give us a ring at 888-601-5359!
Supercharge your sales with our advertising agency for Amazon
At WebFX, we help our clients grow their businesses.
In the past five years, our advertising agency for Amazon has helped our clients' companies earn $3 billion in revenue and manage 12.9 million transactions. With our unique, data-driven approach and industry-leading experience, we can help your company maximize its competitive edge.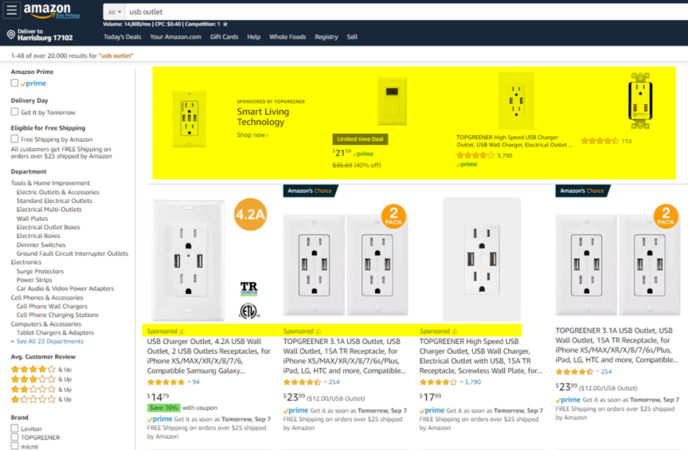 Choose WebFX as your partner, and you can expect the following:
Custom strategy
Receive a strategy built for your business, brand, and goals, and nobody else.
Non-stop optimization
Outmaneuver competitors with ongoing campaign optimization for the best possible ACoS.
Dedicated account manager
Make communication simple with a dedicated account manager that knows your brand and your name.
Proactive management
Keep one step ahead of competitors with recommendations for "Subscribe and Save" and more.
The first step to increasing your SMB's Amazon sales is getting a FREE proposal.
One of our experts will be in touch within 24 hours!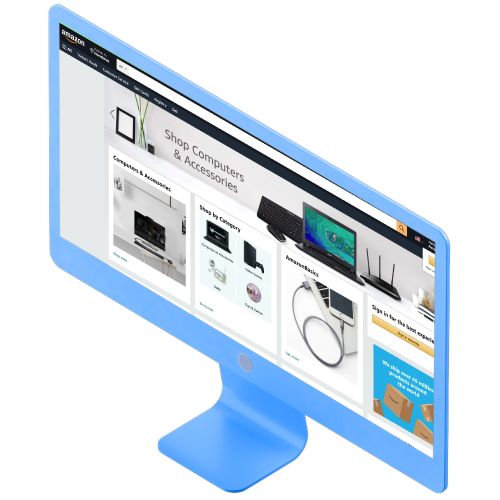 Why make WebFX your PPC agency for Amazon?
For companies across the globe, WebFX is the trusted choice for advertising on Amazon.
With our decades of experience and innovative marketing software, as well as custom advertising strategies for Amazon, we offer an unparalleled experience for clients.
Discover why WebFX is the trusted PPC agency for Amazon's businesses worldwide:
Unmatched experience
With more than 25 years of experience, WebFX is one of the most experienced advertising agencies for Amazon. Our history emphasizes our commitment to not only our clients, but also industry standards. We stay up-to-date on the latest updates in the industry, as well as upcoming trends, to provide the best service and strategies.
Advanced technology
Data is a core part of digital advertising campaigns. Without it, your company is at a severe disadvantage in the marketplace. That's why we developed MarketingCloudFX and ContentGeniusFX, two proprietary platforms that use the innovative artificial intelligence and machine learning power of IBM Watson to deliver data-driven insights into your advertising strategy for Amazon.
Unparalleled client satisfaction
In the last 25 years, we've maintained exceptional client retention and recommendation rates. Our client retention rate exceeds 91%, while our recommendation rate is 488% higher than the industry average. That's why we're a trusted partner to companies across the country.
WebFX offers an unparalleled client experience — and makes choosing an PPC agency for Amazon, easy.
What do our ad company's services for Amazon include?
With our advertising services for Amazon, your business receives a complete advertising solution.
A few of the features that come with our services include:
Keyword research
For your advertising strategy to succeed, it's essential for your agency to invest the time in keyword research. With in-depth keyword research, our agency can discover high-value keywords for your ad campaigns. Targeting those kinds of keywords can lead to increased sales, decreased ACoS, and more.
Agencies approach keyword research in different ways.
While one may rely on Amazon, others use keyword research tools, like Sonar. Some, like WebFX, will use those two strategies, plus machine learning and artificial intelligence (AI) platforms to uncover high-value keywords overlooked by competitors.
Ad campaign setup
As a part of our ad management services, our advertising agency for Amazon provides campaign setup services. For our agency to complete your campaign setup, we will need access to your Seller Central, Marketing Services for Amazon, or Advertising Platform for Amazon account.
In most cases, your business probably uses your Seller Central account.
When setting up your campaign, our agency will take care of the following:
Naming your campaign
Setting your daily budget
Determining your campaign start and end date
Choosing your campaign targeting type
Building your ad group
Entering your default bid
And more
For your business, this process is seamless. It saves your team time and allows you to focus on higher-priority tasks. As an example, maybe your company's launching a new process improvement to expedite your order fulfillment times or designing brand-new packaging for your products.
Ad campaign management
Once our PPC agency for Amazon launches your campaign, we will manage it. Unlike traditional advertising, digital advertising allows for continuous improvements. Based on your marketing campaign's initial performance, our agency can — and will — update it.
This feature helps maximize the performance of your ad spend.
For example, if our agency notices a keyword underperforms — or over performs — we can modify your default bid. We can also add negative keywords to prevent your ads from showing in unrelated, low-value search results. All these performance updates can result in tremendous wins for your company.
Wins can include a substantial decrease in your ACoS or a tremendous increase in product sales.
Competitor ad analysis
With more than one million third-party sellers on Amazon, it's critical for your advertising agency to conduct a competitor analysis.
With an in-depth look at your competition, our agency gains valuable insight into the ad strategies of your competitors.
Our agency uses your competitor's approach to inform and educate your advertising plan. For example, by understanding what keywords your competitor targets, our agency can hone in on phrases that offer not only the best chance of a click on your ad but also a sale.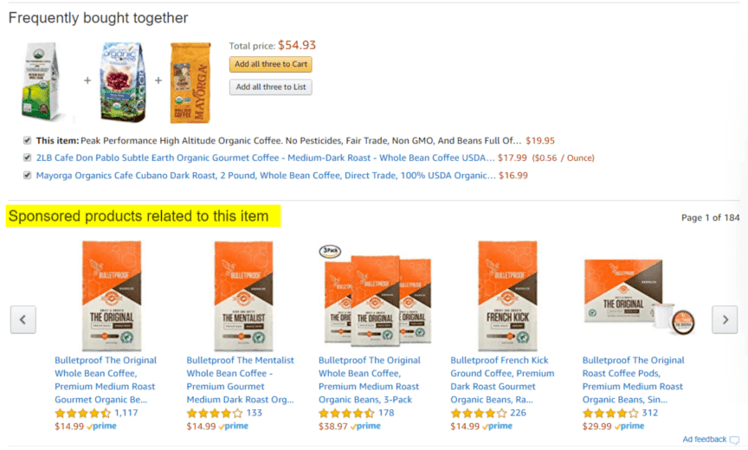 How much does our ad agency's services for Amazon cost?
At WebFX, our ad agency for Amazon publishes its plans and prices online. View our complete pricing, as well as packages, below.
| Features | Bronze | Silver | Gold | Enterprise |
| --- | --- | --- | --- | --- |
| Monthly Ad Spend | Up to $5,000 | $5,001 to $15,000 | $15,001 to $50,000 | $50,000+ |
| Keyword Research (Up to 30 keywords per product) | | | | |
| Dedicated Marketing Specialist for Amazon | | | | |
| Online Project Management System | | | | |
| Product Advertising Suggestions | | | | |
| Campaign Strategy Development | | | | |
| Campaign Setup | | | | |
| Negative Keyword Research | | | | |
| Ad Creation | | | | |
| Bid Adjustments | | | | |
| Sponsored Product Ads, Sponsored Brands (Brand Registered clients only), and Product Display Ads (Vendors only) | | | | |
| Promotion, Coupon, Lightning Deal Management | | | | |
| Subscribe and Save Recommendations | | | | |
| Management of both Automatic and Manual Campaigns | | | | |
| Quarterly Competitive Analysis | | | | |
| Monthly Reporting (2 hours included) | | | | |
| Progressive Monthly Management Cost | $1,000 | $1,250/mo. or 15% of ad spend, whichever is greater | $2,250/mo. or 12% of ad spend, whichever is greater | $6,000/mo. or 10% of ad spend, whichever is greater |
| | GET STARTED | GET STARTED | GET STARTED | GET STARTED |
Why hire an advertising agency for Amazon?
Did you know that Amazon drives more than 40 percent of online sales?
It's the world's biggest ecommerce platform, offering your company a massive opportunity when it comes to reaching new shoppers, achieving all-time highs for sales, and more.
Why do you need an Amazon advertising agency's help, though?
Outrank your competition
Amazon features more than one million third-party sellers, which provides your company with plenty of competition. While search engine optimization (SEO) helps improve the rankings of your products in search results, pay-per-click advertising offers a competitive edge.
With Sponsored Product Ads, Sponsored Brands, and Product Display Ads, you can earn a prime location in search results, product detail pages, and more. For example, the placement of Sponsored Product Ads makes it easy for your company to direct valuable shoppers to your products — not your competitors' products.
To prove this point, consider that the first three products in search results earn 64 percent of clicks from shoppers.
That means only 36 percent of shoppers click on the remaining product listings, placing your company in fierce competition with other sellers. If you want to make selling your products easier, then it's imperative for your products to rank at the top of search results.
With an experienced agency, like WebFX, as your partner, you can improve your ranking in search results. Plus, you can develop compelling ad strategies that place your company front-and-center for relevant, high-value user searches on the Amazon marketplace.
Increase your sales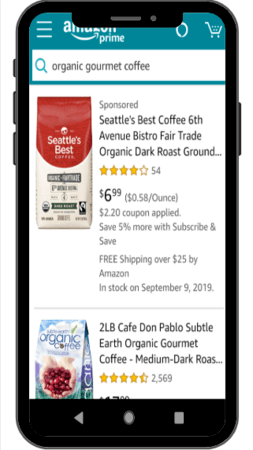 Did you know that Sponsored Product Ads have the highest sales-per-click?
Sponsored Product Ads and Sponsored Brands also convert at three times the rate of Google Shopping ads. Even if you're not advertising on Google Shopping, it's a statistic that demonstrates the "buy" intention of Amazon shoppers — and their willingness to click and act on ads.
That doesn't mean a business can launch an ad and expect instant results.
If you want an ad that performs — one that drives not only clicks but also sales — then your ad strategy needs a strong foundation. How do you build that kind of foundation? Invest in an Amazon advertising agency that researches your audience, learns your products, and backs your ecommerce marketing strategy with data.
That's our approach at WebFX, and it's how we've driven more than $3 billion in revenue for our clients in the last five years.
Browse some case studies shared by Amazon, and you can see how advertising can drive your sales upward.
In one, Green Gobbler, a manufacturer of household cleaning products, offers a one-of-a-kind example of the power of advertising. With an in-house campaign that focused on Sponsored Product Ads, Green Gobbler increased their total sales — year over year — by more than 170 percent.
Decrease your ACOS
As a seller on Amazon, it's critical to maintain a low ACoS. If your ACoS becomes too high, your profits take a massive hit, which can affect your operations at every level. That's why it's imperative to partner with an agency that creates not only results-driven ad campaigns, but also cost-effective ones.
For reference, the average ACoS for Sponsored Product Ads is around 30 percent.
In most cases, depending on your industry and product price, you want to achieve an ACoS lower than 30 percent. Your agency can help you do that, researching and discovering high-value, low-cost keywords that motivate shoppers to add your product to their cart.

A few other ways an Amazon PPC agency, like WebFX, can decrease your ACoS include:
Optimize your product listings for users: Whether you're launching a PPC campaign on Google or Amazon, it's essential to create a user-focused landing page — often, your product page is your landing page. With the help of a full-service Amazon ad agency, like WebFX, you can optimize your product page with a compelling title, informative description, and engaging images.
Advertise your product at the best times: It's essential to understand your audience, from what they want to when they browse. Partner with an agency that makes audience research a priority, and you can discover the best times to advertise your product. This approach helps your business invest its ad spend on the users most likely to buy your products.
Support your ad strategy with tools: When you partner with an Amazon advertising agency, you gain access to a wide variety of tools. These resources can range from keyword research software to ad reporting platforms. All rely on data, and when you power your ad campaign with data, you can expect improved performance.
When you lower your ACoS, your company saves money, which you can reinvest into your ad strategy.
Reach your target market
Today, more than 50 percent of product searches happen on Amazon, not Google. That doesn't mean shoppers rely solely on Amazon. Studies show that consumers take a variety of paths when shopping, including bouncing between Amazon and Google to research products.
No matter the platform, ads are a proven way for reaching your target audience.
That's why businesses now spend 165 percent more on Amazon ads — specifically, Sponsored Product Ads. If you want to maximize the impact of your ad spend, however, it's critical to understand your target audience. Understand what your audience wants, how your audience searches, and why your audience likes your product.
When you do that, you can build a competitive and smart ad campaign that resonates with them. It's tough though and requires a substantial amount of time and resources, which is where an Amazon advertising company like WebFX can help.
With our dedication to custom, data-driven strategies, we invest the time to learn about your audience, business, products, and industry. Our approach is why we've managed nearly 12.9 million transactions for our clients, helping them build their business and market.
Ready to Grow? Get your FREE Quote Today!
"We measure our success by how much we WOW our clients."

Bill Craig
WebFX President
FAQs about advertising agencies Amazon
Do you have additional questions about working with an Amazon advertising agency? Browse our FAQ:
What does an advertising agency for Amazon do?
For your business, an Amazon advertising agency can make a tremendous impact. These agencies focus on developing, launching, and managing Amazon advertising campaigns that promote your company's products and brand, as well as provide you with ad revenue.
How can companies advertise on Amazon?
Amazon offers businesses three ways to advertise on the platform:
Sponsored product ads
Sponsored brands
Product display ads
For the best results from your agency partnership, it's critical that your agency is familiar with each of these options. That way, you can maximize the success and reach of your campaigns on the Amazon Marketplace.
The three advertising options on Amazon include:
Sponsored product ads
With Sponsored Product Ads, you can promote a single product to shoppers as they browse relevant search results and product detail pages. For example, if your company sells wool blankets, your Sponsored Product Ads may appear in search results when users search, "wool blanket throw," or view a similar or identical product.

Sponsored brands
A Sponsored Brands advertisement highlights your company's brand and up to three products. It appears at the top of search results, above Sponsored Product Ads. Like Sponsored Product Ads, keywords trigger Sponsored Brands. A search like, "wool blanket white," for instance, may cause your advertisement to appear.

Product display ads
With Product Display Ads, your company promotes a single product to shoppers viewing specific product pages. Product Display Ads can also appear on Amazon devices, like Amazon Fire TV, and websites owned by Amazon, like IMDb. Unlike other Amazon ads, Product Display Ads use interest- and product-based targeting.

How much does working with an advertising agency for Amazon cost?
Amazon is now the third-most popular advertising platform, which means there are dozens of PPC agencies for Amazon. That's why agency prices vary so much. On average, however, rates range from $100 to $50,000 per month — this amount includes your monthly ad spend.
Curious about our rates for Amazon advertising?
Our services include four packages:
Basic
Aggressive
Market Leader
Enterprise
While we offer the above four packages, we customize each package and quote to your business. For example, we offer flexible ad spend ranges, making it easy for your company and dedicated account manager to tailor your campaign to your unique needs.
Work with a leading advertising agency for Amazon
WebFX is a trusted choice for companies that want to succeed on Amazon. Whether you're looking to increase your orders, decrease your ACoS, or another challenging goal, our award-winning team can help.
Discover how we can improve your success on Amazon by contacting us online or calling 888-601-5359 today!