The Complete Guide to Amazon Advertising Platform (AAP)
Amazon's sales topped over $514 billion in 2022. With the Amazon Advertising Platform (AAP), you can reach even more leads and revenue. So, what is AAP, and how can you leverage it for your business? On this page, we'll explain more about AAP and the difference between AAP and Amazon Marketing Services (AMS) to help you figure out what's best for your business. To learn more about how Amazon advertising (and our Amazon ad agency) can help your business grow, call us today at
888-601-5359
to speak with a strategist about a custom Amazon advertising plan.
What is Amazon Advertising Platform?
Amazon Advertising Platform is Amazon's demand side platform. It's a programmable display advertising program that enables you to buy and manage display and video ads. This program lets you combine your advertising audience with Amazon's shopper audience.
With AAP, advertisers can reach audiences on different third-party sites owned by Amazon, like IMDb.
Let's say you have a listing for a blender on Amazon. Someone looks at that listing but isn't quite ready to convert yet.
A few days later, that same person is looking up an actress on IMDb. While on that page, they see an ad for your blender product on Amazon. Seeing the ad entices them to click on it or to revisit Amazon to reconsider the purchase.
This is how AAP works for your business. You don't directly advertise on Amazon's platform (that's part of Amazon marketing services, which we'll discuss later). Instead, you target people on other sites based on their behavior on your Amazon listing.
AAP helps you reach relevant people after they browse your products on Amazon. You can also create Amazon ads for your products to target people you think may be interested in your products.
This advertising program operates on a cost-per-impression (CPM) model. This means that you pay every time someone sees your ad, regardless of whether they click on it. You're paying for impressions rather than clicks on your ad.
Note: You don't advertise directly on Amazon's site. This advertising program enables you to advertise your products to reach leads on sites other than Amazon.
The first step to increasing your SMB's Amazon sales is getting a FREE proposal.
One of our experts will be in touch within 24 hours!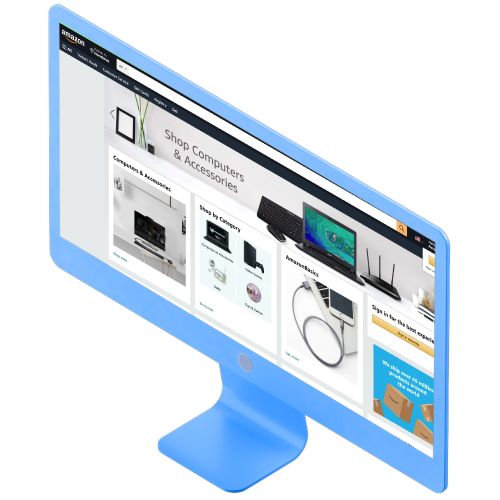 3 benefits of AAP
There are numerous benefits of using AAP for your business. Take a look at three below!
1. Connect with your customers
AAP makes it easy for you to connect with relevant leads for your business. This program allows you to tailor your advertising message to customers at different levels of engagement. You can interact with people who are just learning about your brand or people who are familiar with your brand.
There are four stages in the purchasing process:
Awareness: Becoming aware of a problem or a need for a product.
Consideration: Looking at product options.
Evaluation: Figuring out which product works best for needs.
Purchase: Converting and buying the product.
These are the steps people go through when making a purchase. AAP allows you to target people who are at different stages in the buying cycle. It helps you deliver the right message across different devices, apps, and websites.
2. Deliver your message across multiple platforms
When you're trying to reach valuable leads, you want to reach them as many ways as possible. AAP makes it easy for you to expand your reach and obtain leads through different websites.
You can reach leads through ads on sites like IMDb or GoodReads. Amazon gives you access to advertise on all sites they own and on leading publishers' sites. This makes it easy for you to reach leads through different avenues.
3. Monitor your campaign
Like any other advertising campaign, you want to monitor your results. AAP allows you to see the impact of your advertisements. You can see if your ads are affective and reaching the right people.
It allows you to see how people interact with your ad. You will see impressions and engagements with your ad. It's helpful for seeing your campaign's effectiveness.
3 ad options from AAP
Here are three main advertisements you can run with AAP:
1. Desktop/mobile web display ads
AAP offers desktop and mobile web display ads for your business. These are standard ads that you see on a website that appear within text, on the top of a page, or the side of a page.
You can find more information on Amazon's ad requirements here.
2. Mobile banner ads
Mobile banner ads are another AAP advertising option. These ads allow you to target mobile users on third-party mobile apps, and are compatible with Android, Kindle Fire, and iOS platforms. You can see the specs for these ad requirements here.
Amazon has a few requirements for these mobile banner ads. Your banner background must be simple and not distracting. You can use color and photos in your banner background, but it shouldn't distract users from seeing the important part of your ad.
Text should also be minimal. Amazon doesn't want paragraphs of information with mobile banner ads. Focus on the most important information when you create your ad.
Your text should not be smaller than 16 pt. It needs to be legible when read on a mobile device, so it's best to use bigger font sizes to ensure your audience can read it. You'll want to test your mobile banner ads to ensure they are easy to read.
In addition, you'll need to include a non-white, 1-pixel border or a high contrast background in your ad. This is to distinguish your ad from the site content.
Lastly, you'll also need to include your logo or name on the ad. People who see the advertisement should know who is associated with running it.
These are just a few of the requirements AAP has for mobile advertisements. This is a great option to reach leads on mobile devices.
3. Mobile interstitial ads
Mobile interstitial ads are full-screen ads. These ads appear on mobile versions of sites. Mobile interstitial ads are supported on Android, iOS, and Fire smartphones and tablets.
AAP gives you the option to choose between a medium-rectangle ad or a full-screen image. In your ad, you must include your most important information in the "safe zone."
This is a designated area where Amazon requires you to put your information. The "safe zone" guarantees that your information is visible and clickable. Amazon doesn't want people to miss the most important information, so they designate an area for you to put that information.
With these ads, you'll want to have a prominent CTA button in your "safe zone." Users eyes will be drawn to the "safe zone," so it's important to have a prominent CTA that catches their attention.
These ads don't require a border. You must, however, fill the background of the ad with color, patterns, or images. Amazon does not want any white space with these ads.
In addition, you need to include Amazon's logo in your ad or a textual reference. This lets your audience know that your ad is coming through Amazon.
Mobile interstitial ads feature a prominent close button in the top right corner and an AdChoices button in the left corner. These are important things to account for when you design your ad.
AAP vs. AMS
As you learn more about AAP, you'll come across information about AMS, which is Amazon's marketing services. These two programs can seem very similar, but they serve different purposes for their audiences.
What is AMS?
AMS is Amazon's suite of pay-per-click (PPC) ad products. This is where you run PPC ads on Amazon's platform. AMS does not advertise on third-party websites.
These ads include sponsored products, headline search ads, and product display ads. You manage your ad campaigns through the AMS dashboard or your Seller Central account.
Since AMS is a PPC advertising program, these ads focus on earning conversions. You only pay when someone clicks on your Amazon ad. If people are already searching for a product like yours on Amazon, a PPC ad can help them find your product and convert.
AMS allows you to target shoppers based on specific terms. You can reach people based on how they shop, how they find products, and more. It makes it easy for your business to connect with leads interested in your business.
With AMS, you reach leads with high purchase intent. You garner leads that are ready to convert and just need to find the right product. AMS is great for targeted campaigns that focus on reaching valuable leads.
How does AMS differ from AAP?
These two advertising programs may seem similar, but they differ greatly.
AMS focuses on reaching people within Amazon's site by advertising products through third-party sites. AMS is an internal advertising service, while AAP is an external advertising service.
AAP is the only way to target Amazon shoppers outside of Amazon. It's also the only way to buy ad space for Amazon's site, which makes it extremely useful for advertising campaigns.
These two advertising programs also focus on two different goals. AMS aims to earn conversions with their PPC program, while AAP pays particular attention to ad impressions with their CPM program.
Which is better for my business: AAP or AMS?
After learning about both of these Amazon advertising programs, you may wonder which one is better for your business. To put it simply:
If you're focused on increasing brand recognition, you'll want to use AAP.
If you're focused on earning conversions, you'll want to use AMS.
You also have the option to use both of these advertising services. Using AMS and AAP together can help you create a powerful advertising campaign. It allows you to reach people who are at the beginning and end of the purchasing cycle.
Partner with a team of ecommerce masters!
WebFX campaigns have delivered more than 12,936,451 ecommerce transactions in the last 5 years
Read the Case Studies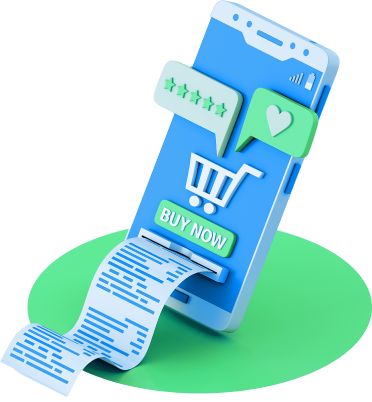 WebFX will help you leverage AAP
AAP is a great way for your business to increase your brand exposure and helps more leads discover your products. Leveraging AAP will help you expand your reach and increase brand awareness. At WebFX, we have more than 25 years of experience helping our clients increase their brand awareness.
We're a full-service digital marketing company that specializes in Amazon advertising campaigns. Our team of 500+ experts will bring their knowledge and expertise to your campaign. We'll help you create an advertising campaign that increases brand exposure and helps you obtain leads.
If you're looking for an Amazon expert that knows how to drive results, look no further than WebFX. To date, we've driven over $3 billion in sales and over 7.8 million leads for our clients. We focus on driving success for our clients first.
Our clients love the work we do. In fact, we have over 1020 client testimonials that attest to the great work we do. Check them out to see what it's like to partner with a top Amazon expert like WebFX!
The first step to increasing your SMB's Amazon sales is getting a FREE proposal.
One of our experts will be in touch within 24 hours!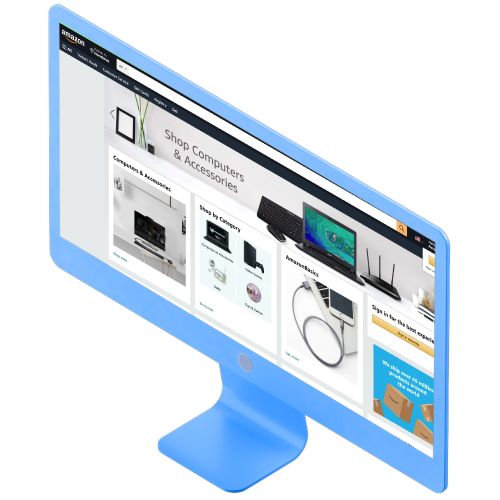 Increase brand awareness today
If you're ready to start leveraging Amazon Advertising Platform to increase brand awareness, contact us online or call us today at 888-601-5359 to speak with a strategist.
We look forward to helping your business grow!
Earn a 20% greater ROI with WebFX