What Is B2B Amazon Marketing?
There are numerous places your business-to-business (B2B) company can sell products online, but one of the best outlets is Amazon. To sell on Amazon, though, you'll need to craft a killer B2B Amazon marketing strategy. Read on to find out how!
A B2B Amazon marketing strategy that drives revenue for your company
Amazon is one of the top ecommerce platforms available online. If you're looking to sell online, it's one of the best places to start. You can set up an Amazon storefront for your B2B business to showcase the products you sell.
With the help of B2B Amazon marketing, you can help more shoppers discover and purchase your products.
So, what is B2B Amazon marketing, and what does it take to put it into action? We'll answer both of those questions below, so read on to learn more.
Then subscribe to Revenue Weekly — our email newsletter — to get more digital marketing tips from the agency with over 25years of marketing experience!
What is B2B Amazon marketing?
B2B Amazon marketing involves using online strategies to promote your B2B Amazon storefront. These strategies help you build brand awareness and persuade people to buy products from your Amazon storefront.
Amazon is commonly used by individual users who shop for business-to-consumer (B2C) products, but B2B companies like yours can greatly benefit from selling on Amazon. You can reach business owners who purchase supplies from Amazon, creating a new revenue channel for your company.
Why do you need a B2B Amazon marketing strategy?
Amazon marketing is essential for any business that sells on Amazon, and that's especially true for B2B companies. You're selling to other businesses, and the decision-makers at those businesses aren't going to make any purchase decisions lightly.
When your potential customers research the products they need, they're going to look extensively into their options. You need to invest plenty of effort into presenting your products as the best out there, as well as explaining why that's the case.
When you do that, you can convince the decision-makers at those companies that your products are their best bet. Then you'll be able to drive far more revenue!
If your business wants to sell anything, marketing is absolutely essential. That's not just the case on Amazon — it's true across the board. Without marketing, no one will discover your business or what you sell.
How can you perform B2B marketing on Amazon?
We've covered what B2B Amazon marketing is and how it can benefit you. So, the next question is, what strategies can you use to market your B2B company on Amazon?
There are several methods you can use to promote your business and products right on Amazon's website. Here are three tactics for Amazon marketing for B2B companies!
Amazon SEO
One of the best marketing strategies for any aspect of your business is search engine optimization (SEO). SEO involves optimizing your product pages to appear in search results, both on Amazon itself and on Google.
Amazon enables shoppers to search the site for specific product-related keywords. When people find products to buy, they usually choose from the first page of results. With Amazon SEO, you can help your products rank higher in these relevant searches.
To do that, you can write plenty of content on your product pages and include relevant keywords. The more information your target businesses have to work with, the more confident they'll feel about buying your products, making them more likely to become customers.
As a result, your rankings will improve and more people will buy your products.
Amazon PPC
Another method for promoting your B2B products on Amazon is pay-per-click (PPC) advertising. Amazon lets you display PPC ads in various locations across the site, helping you reach the right audience. The three major types of Amazon ads are:
Sponsored product ads:

Sponsored product ads appear at the top of Amazon search results, above the organic rankings. They advertise individual products from your store that are relevant to the search query.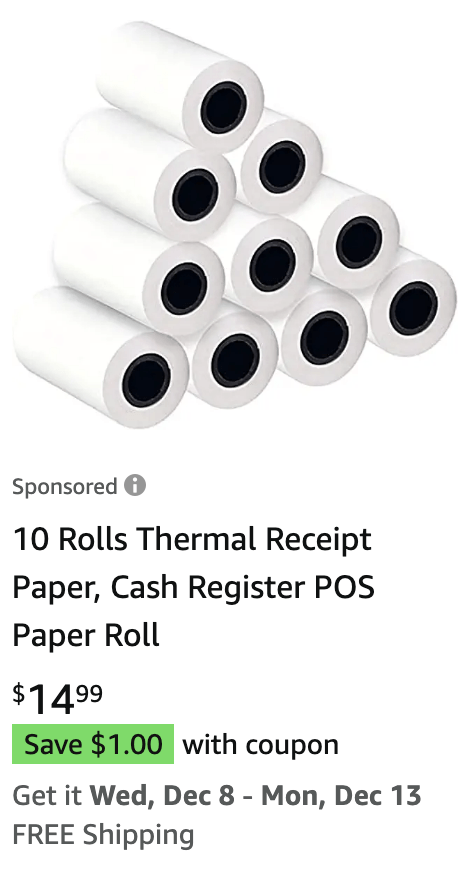 Sponsored brands:

Sponsored brand ads appear at the top of search results, like sponsored product ads. These ads promote your brand's store and contain some feature products you offer.

Product display ads:

Product display ads focus on advertising products based on what users viewed or purchased in the past. A common place for them to appear is in the "Products related to this item" section of product pages.

A strategy that combines the above three types of ads in different ways can work wonders for your B2B marketing on Amazon!
These ads are great for B2B companies specifically, because they keep your business fresh in people's minds.
The B2B sales funnel is extremely long, and it takes a long time to get companies to convert. That means it's important to keep your brand top-of-mind for those businesses, and Amazon ads are the perfect way to do that.
Amazon review management
Another great addition to your B2B Amazon marketing strategy is review management. Reviews are an integral part of the way Amazon works — they're featured prominently on product pages, and decision-makers often take them into account when deciding on products.
Reviews are especially important for B2B companies. Whereas consumers often make one-time purchases, businesses might partner with you for their long-term product needs, so they'll want to be extra certain that you offer quality service, and they'll turn to the reviews to find out.
For that reason, you need to earn plenty of reviews, and you need to make sure they reflect positively on you. Keep a close eye on your product pages, and work quickly to resolve any negative reviews that appear by assisting the reviewer with their issue.
You can earn reviews by using methods like email marketing to encourage your customers to leave reviews for you.
Amazon Business storefront management
B2B companies like yours can sell through Amazon the same way as B2C businesses, but you also have another option available to you. You can join Amazon Business to specifically reach other businesses rather than consumers.
When you set up an Amazon Business profile, you gain access to a set of Amazon tools designed specifically for B2B marketing. For example, you can set separate business and retail prices, so customers can pay less per product when they buy in bulk.
B2B selling also often relies on quotes rather than fixed prices. If that's the case for you, you can use Amazon Business to offer discounted prices for businesses that request quotes from you.
The first step to increasing your SMB's Amazon sales is getting a FREE proposal.
One of our experts will be in touch within 24 hours!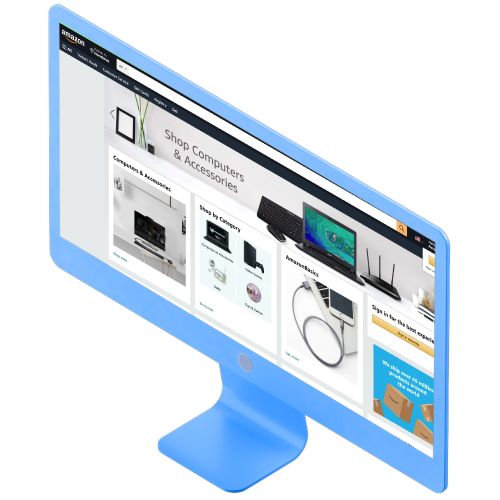 Get help optimizing your B2B marketing on Amazon
If you're ready to start marketing your B2B Amazon store, WebFX is here to help. We've earned over 1020 testimonials from our clients that speak to how proficient we are with online marketing, and your Amazon store is no exception. We have everything it takes to help you start with Amazon marketing for B2B companies.
With our Amazon marketing services, you'll get help implementing all the strategies listed above and more. Our team of 500 experts will work tirelessly on your various campaigns to drive more purchases on Amazon and boost your revenue.
To get started with us, just call 888-601-5359 or contact us online today!