What Is Amazon Marketing for SMBs?
Did you know that Amazon is responsible for 43% of all online sales? That makes it one of the best places for your business to sell online. And if you're selling on Amazon, you'll also want to make sure you're marketing there. But what is SMB Amazon marketing? Read on to find out!
What is SMB Amazon marketing, and how can it benefit your business?
If your small- to medium-sized business (SMB) is looking to drive more revenue, consider selling your products online. Selling from brick-and-mortar stores is effective, but many people prefer shopping online — and one of the best ecommerce platforms is Amazon.
On Amazon, you can list your products and open an Amazon storefront for your small business. When you take the time to market your Amazon store, it will drive significantly more sales for your business!
What is Amazon marketing for SMBs, though, and what can you do to put it into action? We'll explore the answers to those questions below, so read on for more information.
Then subscribe to Revenue Weekly, our email newsletter, to get more digital marketing tips from the agency with over 1020 client testimonials!
What is Amazon marketing for SMBs?
To start, what is SMB Amazon marketing?
As you might expect, SMB Amazon marketing is the process of promoting your company's Amazon store online. It includes a series of tactics that help get your company's products in front of interested customers.
Why do you need an SMB Amazon marketing strategy?
An SMB Amazon marketing strategy is essential for your business because marketing is how you drive traffic to your store. If you don't market yourself, people can't discover and purchase your products.
Marketing allows you to reach shoppers interested in what you sell. It then directs those people to your product pages on Amazon, encouraging them to buy there. This isn't just true of Amazon — marketing is critical for selling anything on any platform.
Amazon marketing also helps put you ahead of the competition. It can boost your search rankings and spread awareness of your brand, so people think of you before they think of your competitors.
SMB Amazon marketing strategy: How to market your Amazon store
If you want to know how to do SMB marketing on Amazon, here are some of the most useful strategies to try!
Amazon SEO
Search engine optimization (SEO) is one of the best marketing strategies you can use. SEO refers to optimizing pages to rank in search results — in this case, both Amazon results and Google results.
Amazon SEO enables you to optimize your product pages to appear in relevant search results. If you sell printer toner, you want your printer toner product pages to appear near the top of searches for that product.
Some of the most effective ways to improve your Amazon SEO include:
Optimizing for relevant product keywords

Optimizing product descriptions to be full and informative

Using high-quality product photos

Setting

negative keywords

Obtaining reviews
When you follow each of the above steps, you'll satisfy Amazon's ranking algorithms and put your pages high in Amazon search results.
Amazon PPC
Another way to market yourself on Amazon is to use pay-per-click (PPC) advertising. With Amazon PPC, you can display ads in various spots across the site to better reach your target audience. The three major types of Amazon ads are:
Sponsored product ads
Sponsored product ads appear in Amazon search results, displaying above all the organic results. They advertise specific products from your store that are relevant to the search query.
Sponsored product ads are great to use if you just want to promote individual products.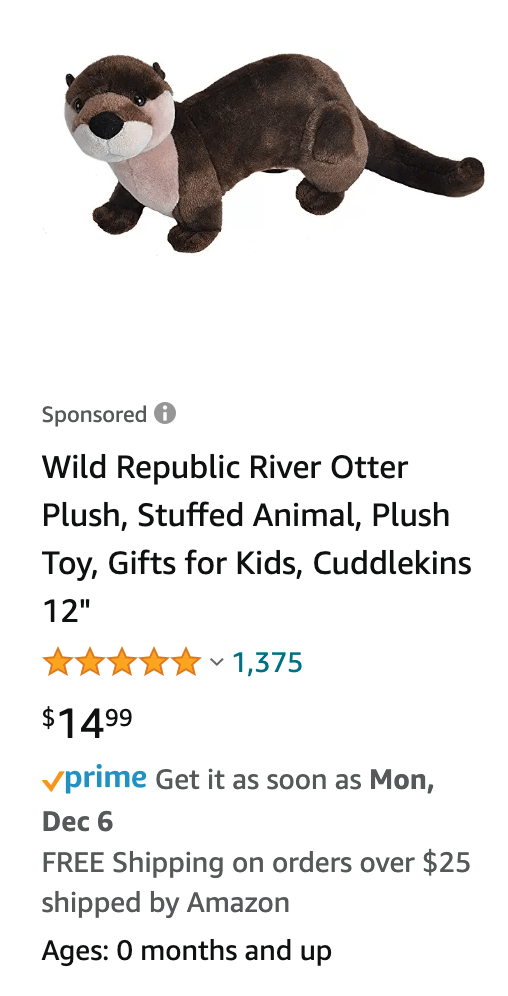 Sponsored brands
Sponsored brands appear at the top of relevant search results, just like sponsored product ads. The difference is that sponsored brands don't advertise individual products — they advertise your entire Amazon store.
Sponsored brands are excellent for helping get people invested in your company.

Product display ads
Product display ads most commonly appear in the "Products related to this item" section of product pages. They operate based on your site history, advertising specific products based on those you've viewed or purchased in the past.
Product display ads are useful for reaching people who are displaying interest in products similar to yours.

Amazon review management
If you want to do SMB marketing on Amazon, make sure you invest in review management. Reviews play a significant role on Amazon — they're featured prominently on product pages, and people use them to determine which products they buy.
If you want people to pick you over other sellers, it's critical that your product page reviews reflect well on your products and your brand. For that reason, you should keep a close eye on all your reviews, so you're aware when people leave negative reviews.
When you do see a negative review, respond appropriately and promptly. Contact the reviewer to apologize for their negative experience and offer to fix it for them. When you do that, you may be able to turn some negative reviews into positive ones, encouraging purchases from other users!
Amazon Store optimization
Your Amazon Store is where people can find all your products on Amazon, so it should be optimized to attract and retain traffic.
One of the best Amazon Store optimization tactics involves creating compelling product descriptions on all your product pages. Be sure those descriptions include valuable information on the size, quality, and functions of your products.
Additionally, optimize the visual layout of your storefront to feature engaging images and an easily navigable layout. It's also a good idea to look at what your competitors are doing, so you can emulate and improve on their Amazon Store tactics.
Email marketing
Email marketing is one of the most effective forms of digital marketing because it reaches people right in their own personal inboxes. Amazon has very limited options for communicating directly with customers, which is why you should create your own email lists to reach them instead.
Your emails can promote your Amazon store or specific products based on your subscribers' interests.
Emails are especially useful for remarketing, which is marketing to people who have already visited your site or your Amazon store previously. If someone buys one of your products on Amazon, you can email them later that recommends an accompanying product you sell.
Social media marketing
Social media is one of the most heavily populated places on the Internet — in fact, 74% of people use it to help them make purchase decisions. That means it's one of the best places for marketing your business, and that applies to your Amazon store as well.
Some great social media platforms to use include:
You can create social media accounts on social media networks where your audience is, and some of the content you post on your page can advertise your Amazon store and products. When interested users see the posts, many of them can click the link to head to your Amazon store.
You can also display paid social media ads, which will appear right in people's feeds. You can even target those people based on demographics like age and location, ensuring you reach your target audience.
The first step to increasing your SMB's Amazon sales is getting a FREE proposal.
One of our experts will be in touch within 24 hours!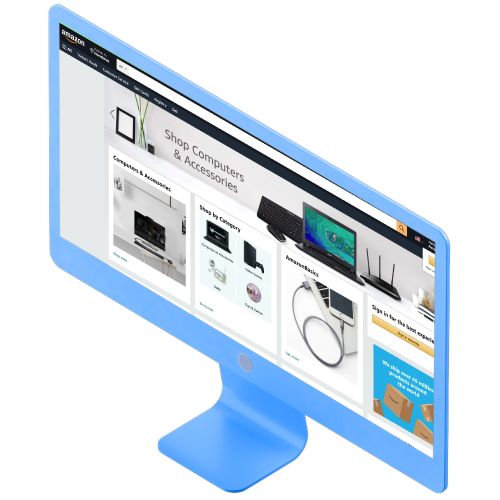 Get help with your SMB marketing strategy on Amazon from WebFX
Ready to start marketing your Amazon store and boosting revenue for your small business? WebFX can help! We've been driving superior online marketing results for over a decade, and we know how to grow your business through SMB marketing on Amazon.
With our marketing services for Amazon, you'll get help optimizing for all the strategies listed above and more. You'll also be paired with a dedicated account representative who will keep you in the loop on everything we do for your campaigns.
To get started with us, just call 888-601-5359 or contact us online today!