With over 1 million small-to-midsized businesses (SMBs) selling on Amazon, the competition is fierce. You need to take every advantage you can to help you earn more sales from your Amazon store. A great way to increase sales? Optimizing your Amazon sales funnel.
In this post, we'll tell you what the Amazon sales funnel is and how to optimize for every stage of it using marketing strategies. Keep reading to learn how you can earn more sales on Amazon!
P.S. Want to get more tips and tricks for selling more on Amazon and other platforms? Join 200,000+ savvy marketers by subscribing to Revenue Weekly!
What is the Amazon sales funnel?
The Amazon sales funnel, also referred to as the Amazon marketing funnel, outlines shoppers' buying journeys on Amazon's platform. This funnel helps you know where shoppers are at in the buyer's journey so that you can deliver helpful marketing materials to them at the right time to drive purchases.
Before you can optimize your Amazon marketing funnel, you need to know the stages of the funnel. The Amazon sales funnel breaks down into four stages:
Awareness: At this stage, you're helping Amazon shoppers get familiar with your brand. They've discovered they have a problem and need a solution. At this stage, you're helping prospects get familiar with what you offer and posing it as a solution.
Consideration: At the consideration stage, customers weigh their options to determine which product best fits their needs. They're looking at you and your competition. At this stage, you're posing your product as the ideal solution and showing prospects how you stand out from your competition.
Conversion: At the conversion stage, customers are ready to buy. They know what they need and where they want to buy it. You're assuring shoppers that your product is the optimal solution at this stage.
Loyalty: At the loyalty stage, you're keeping prospects engaged with your business after they convert in the hopes of creating repeat customers. At this stage, you want to continually engage with prospects about your brand and provide additional customer support as needed.
Understanding how to reach buyers at each stage of the funnel is critical for selling more on Amazon.
How to market to consumers at every stage of the Amazon sales funnel
Now that we've answered, "What is the Amazon sales funnel," it's time to look at how you can optimize your conversion funnel to deliver better results on Amazon.
Here's a breakdown of what you can do at each stage of the funnel after you create your marketing funnel on Amazon:
Amazon sales funnel: The awareness stage
At the awareness stage of the Amazon marketing funnel, it's all about helping customers get familiar with your business. There are two key strategies you'll want to use to help build brand awareness at this stage:
Amazon search engine optimization (SEO)
Amazon search engine optimization (SEO) is an excellent strategy for helping prospects discover your products when they first start looking for what they need. With Amazon SEO, you can optimize your product listings to help them rank higher in relevant search results.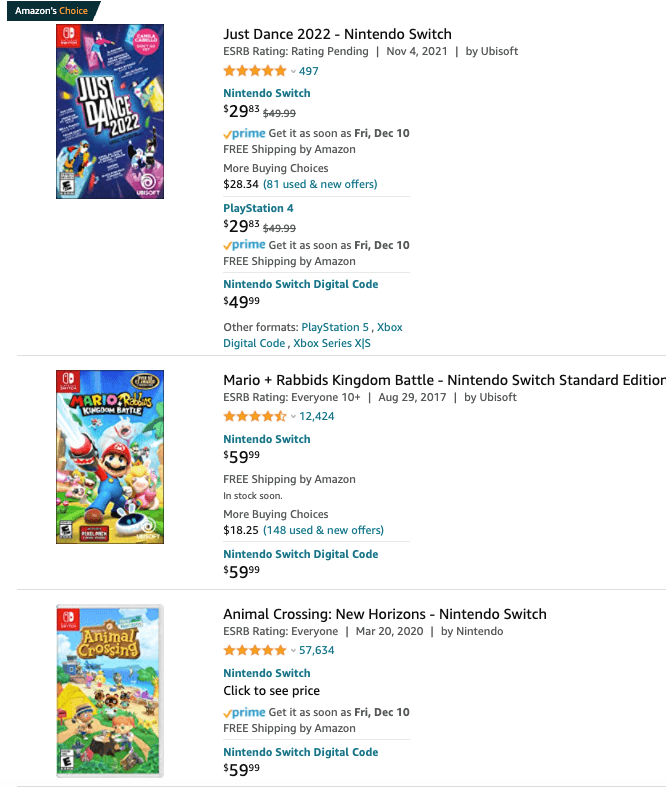 The best way to optimize your product listings is to choose relevant keywords. When users search for products on Amazon, they use keywords to help generate relevant searches.
To help your business appear in these searches, you'll want to conduct keyword research and identify relevant terms. Once you identify terms relevant to your Amazon listing, you'll want to integrate them into your title and product description to help your listing rank.
In addition to keyword optimization, here are some other excellent Amazon SEO best practices:
Amazon storefront optimization
Another way to build brand awareness with your Amazon store is to optimize your storefront. Your storefront is where Amazon shoppers can see everything you offer on Amazon. Optimizing your Amazon storefront will help shoppers get to know your brand and products.
Follow these best practices to optimize your storefront:
Add your brand name and brand logo to show shoppers who you are
Choose a storefront layout that makes it easy for shoppers to browse what you offer
Add custom images to give your storefront a branded feel
Add pages to organize your products and make it easy for shoppers to find what they need
Amazon sales funnel: Consideration stage
When you create an Amazon marketing funnel, you'll include the consideration stage. At this point, you want to remind shoppers of your brand and show them you're the best option for their needs.
Here are two strategies that will help you during this stage of the Amazon customer funnel:
Amazon pay-per-click (PPC) advertising
One tactic you can use to keep your brand and products at the top of shoppers' lists is through Amazon pay-per-click (PPC) ads. There are three types of Amazon ads you can run:
Sponsored Product Ads: These ads are paid listings that appear at the top of search results when people search for products. Sponsored Product Ads help your products appear before your competition, giving you an edge in attracting qualified shoppers.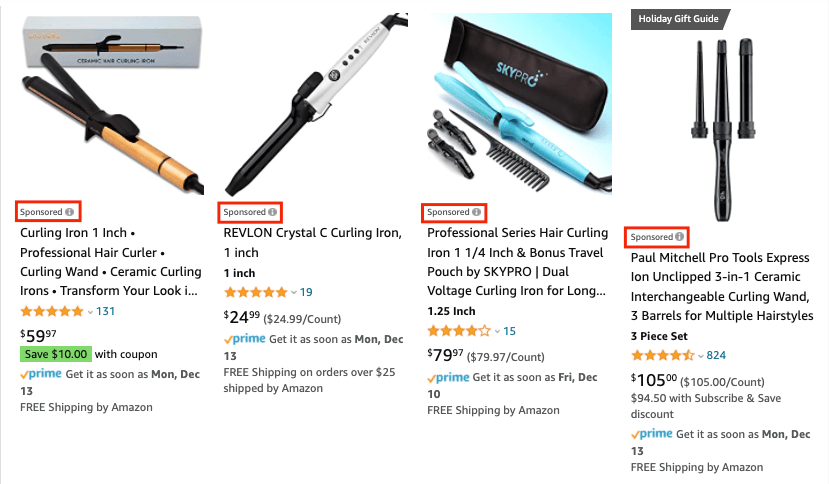 Sponsored Brands: With Sponsored Brands, you can promote your brand of products at the top of relevant search results. Keurig, for example, has a branded ad that appears at the top of search results for coffee makers. This ad option helps attract people interested in what you offer.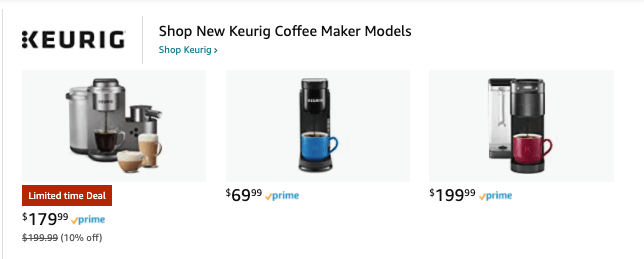 Product Display Ads: Product Display Ads enable you to target specific shoppers who have an interest in what you offer. You can target people based on their interests or target complementary or competitor products. These ads give you a competitive edge and help drive leads to your business.
These three ad options are great if you're looking to put your brand in front of more qualified leads. You can use these ads to help keep your business top of mind as shoppers search for the right product for their needs.
Completed product descriptions
When shoppers are in the consideration phase, they compare products to see which one is best for their needs. If you ultimately want prospects to choose your products, you need to provide them with all the details about what you offer.
You want to provide information like:
Product dimensions
Product materials
Product type
Color
Variety options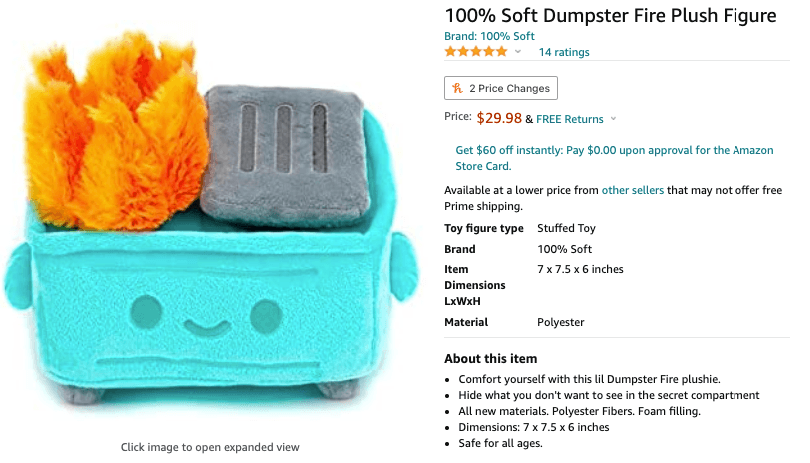 It's also great to list the benefits of your product for the shopper. When people debate which company to choose, they want to know which products will benefit them most and how they will benefit them. You can focus on how your product solves pain points.
Take this example of Bissell. Their listing for their handheld pet vacuum highlights how it removes embedded dirt and pet hair, has an easy to empty dirt bin, and includes specialized tools to pick up more pet hair.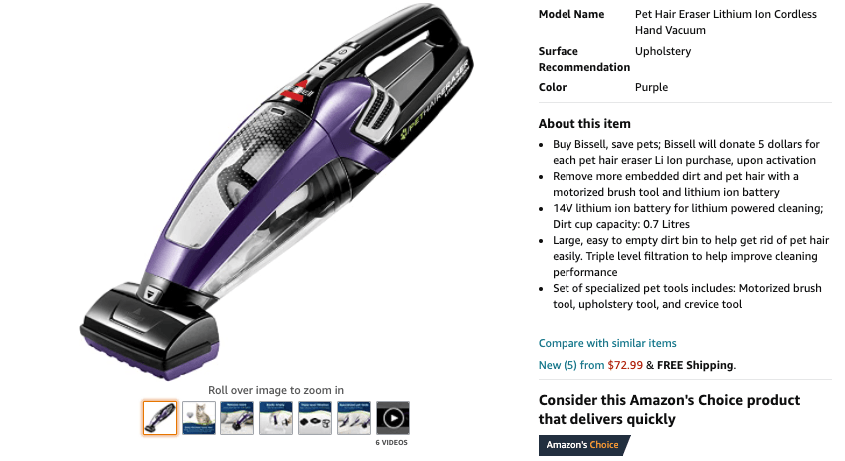 All that information shows the shopper the benefit of choosing their vacuum.
So, when you craft completed product descriptions, you show shoppers why they should choose your product over the competition.
Amazon sales funnel: Conversion stage
The last stage of the funnel is the conversion stage. At this point in the funnel, shoppers are ready to buy and need a final nudge to complete their order. There are two approaches you can take to help solidify the deal:
Review management
If you want to move shoppers through the Amazon sales funnel and get them to purchase, invest in review management. Reviews play a fundamental role in convincing prospects to buy a product.
Did you know that 80% of people say online reviews changed their minds about a purchase? What people say about your business and your products can significantly impact whether new prospects buy.
On Amazon, reviews are incredibly impactful. People consult reviews to see if your product delivers the experience it promises. Reviews can help these shoppers feel confident that your product is the best option to fit their needs.

Additionally, reviews impact your Amazon SEO. Amazon tends to rank products higher that have better reviews, so managing your reviews is a great way to help your products rank higher and reach more qualified shoppers.
The best way to manage your reviews is to monitor what people say about your products. When you receive negative reviews, take time to try and rectify the situation with the shopper. You may turn that negative review into a positive one!
Deals
Another great way to move customers through the Amazon marketing funnel is to make your products eligible for Deals. Deals is Amazon's program where they offer a special, limited-time deal on your products.
Most deals last anywhere from four to 12 hours, but there are 7-day Deal options available.

This program is a great way to get hesitant shoppers to convert. You can offer a small discount that nudges prospects to choose your products and convert by making your products eligible for Lightning Deals.
To run deals, you must ensure you meet Amazon's requirements, including:
Being a Professional Seller
Have at least five Seller Feedback Ratings per month
Overall store rating of at least 3.5 stars
Overall product rating of at least 3 stars
You can find more information about applying for Deals in Amazon Seller Central.
Amazon sales funnel: Loyalty stage
Once customers purchase from you, your job isn't done. The Amazon sales funnel ends with loyalty –– one of the most critical stages. Having loyal customers means you get repeat business, which helps your company continue to grow.
Here are two strategies you can use to keep customers coming back
Email marketing
One great strategy to help you build a loyal customer base is email marketing. Email marketing enables you to communicate with prospects interested in your business continually.
The only issue with Amazon is that they restrict your communication with shoppers and customers.
So, if you want to use email marketing to build customer loyalty, you'll have to make your own list of subscribers. You can do this by inviting customers to sign up for your email list for updates, adding sign-up bars to your website, and more.
When you build your own email list, you're free to interact with subscribers how you want. You can send product recommendations, cross-sell, and provide helpful information about the new product your subscriber purchased.
Email marketing is a great strategy to help you keep in contact with customers and drive them to buy your products again.
Customer support
Another great way to build loyalty is to offer top-notch customer support. If people have questions about your products or run into problems, they want to know they can contact you with any issues.
You can provide customer support both on and off Amazon. If people contact you with questions, complaints, or concerns, make sure you take time to respond to them. When people feel confident that you'll help them resolve issues, they're more likely to buy from you in the future.
Move more customers down the Amazon sales funnel with WebFX
When you know how the Amazon sales funnel works, you can optimize for every stage to help you nudge more prospects towards conversion. If you need help optimizing for the Amazon customer funnel, WebFX can help.
We have a team of over 500 Amazon experts ready to help you optimize your Amazon store. We offer Amazon SEO, Amazon PPC, and Storefront setup services to help you get the most from your Amazon store.
Ready to drive more revenue with your Amazon shop?
Contact us online or call us today at 888-601-5359 to speak with a strategist about our marketing services for Amazon!
WebFX Careers
Join our mission to provide industry-leading digital marketing services to businesses around the globe - all while building your personal knowledge and growing as an individual.