Taking responsibility for your company's Internet marketing can be a stressful endeavor. This is true for any marketing professional, but even more so for those who've never had any formal education in online strategy.
Unfortunately, that's often the case.
Many small business owners and marketing departments simply don't have the resources to hire another employee that specializes in SEO or content marketing, which leaves those tasks for the existing team.
And while there are many helpful resources online that can help even the least Internet-savvy marketer get started, anyone who is just figuring things out is bound to make a few mistakes.
If this sounds like your current situation, read on. If you're making these common mistakes, you could be sabotaging your company's Internet marketing success without even knowing it.
You don't have a plan
In order to do any kind of marketing well, you need to have a plan of action.
And creating a solid plan means starting with goals that are SMART – specific, measurable, agreed upon, realistic, and time-based. Of course, setting goals is easier said than done.
But if you take the time to sit down and figure out what exactly it is that you hope to accomplish with your Internet marketing strategy, you'll have a much easier time figuring out what steps you need to take to get there.
For example, maybe you want to have a certain number of followers on a specific social media platform by the end of the year.
Or maybe you want to attract a certain number of new blog subscribers every month. Or maybe you just want to hit your content production for the year.
Make these goals specific, and hold yourself accountable by putting them into writing.
To take things a step farther, you may even consider breaking your goals down into smaller steps, like we do with our editorial blogging calendar: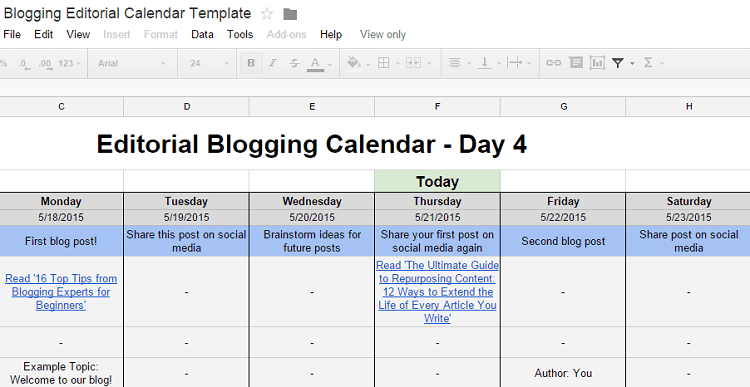 Tasks like "brainstorm ideas" are much less intimidating than "write 100 blog posts this year," and having them on your schedule can make your goals feel a lot more manageable.
If you'd like to use the template above, you can download it for free here! And for more detailed instructions on how to use it, check out this blog post.
You don't measure your results
One of the biggest advantages that Internet marketing has over traditional methods is that virtually everything is measurable.
This means that once you've established your goals, it's easy to see whether or not you are meeting them. For example, let's say your goal is to boost traffic to your site traffic year-over-year.
Thanks to Google Analytics, determining whether or not you've met that goal is as simple as looking at the sessions on your site: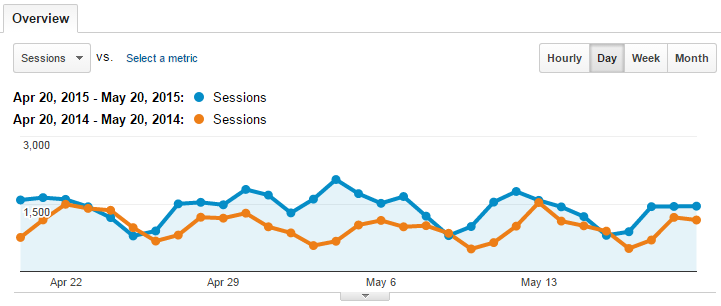 You can also use this data to improve your strategy.
Once you've determined whether your methods are enough to keep you on track with your goals (and whether your goals are still reasonable), you may need to revise them.
If you use the analytics available to you to regularly improve your Internet marketing strategy, you'll have a much easier time making it worth your while.
You don't keep up with Internet marketing
Unlike radio, TV, and print publications, which only undergo major changes every few years at most, the Internet changes on a daily basis.
With the rise of new social media platforms, the constant updates to search engine algorithms, and the introduction of new devices, staying up to date can feel like a full-time job all on its own. If you want to be successful with Internet marketing, you need to be up to the challenge.
It can be a difficult task, but the easiest way is to make it a part of your daily routine. Set aside a few minutes each day to read industry blogs, and jot down any ideas you come across that might be a good addition to your strategy.
At the end of each month, look back on your notes and consider testing one or two of them.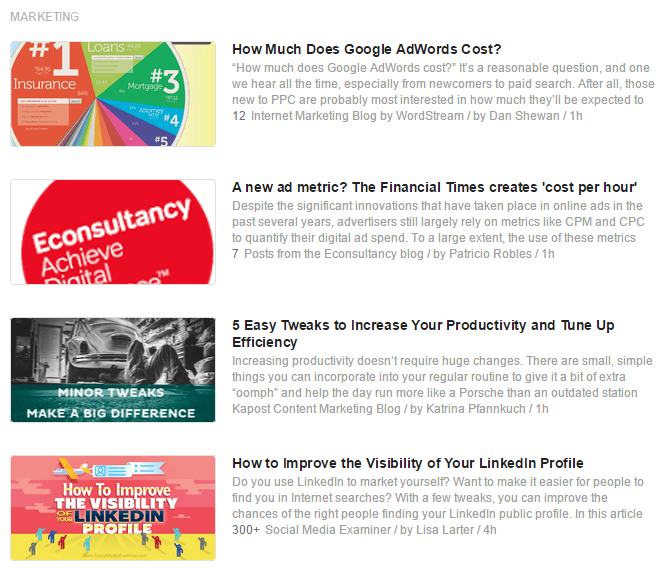 Even if you only test out a handful of things you read about, those few things may be all it takes to make your business stand out online.
And even if they don't, having basic knowledge of the field you're working in is never a bad thing.
For more information on keeping up with the Internet marketing industry, check out this blog post.
You don't have patience
Expecting instant results from Internet marketing is arguably the most common mistake of all. Many inexperienced people begin SEO, social media, and blogging with the expectation that marketing online is much like everything else online – fast. But while it may not take much time to create a few profiles and set up a WordPress account, you shouldn't expect the followers and shares to just start pouring in.
Building a solid site takes time, and your content marketing, SEO, and page improvements can take a while to have a noticeable impact on your rankings and traffic.
Because of this, many marketers quit before they even have a chance to see results.
For example, let's take a look at the traffic overview for one of our long-standing clients:

Initial growth was relatively slow, and our SEO efforts didn't appear to have a huge impact from 2011-2012. But instead of giving up, they gave their site time to develop – and as you can see, it paid off.
Fortunately, a slow build also means that once you start to see results, they'll continue to grow.
Unlike temporary methods like print and radio ads, the work you do won't stop being effective when you stop paying for it.
Because of this, you should aim to focus on the long-term and view your Internet marketing efforts as an investment. It will take time to see the initial payoff, but once you do, you can be confident that it is only the start.
WebFX Careers
Join our mission to provide industry-leading digital marketing services to businesses around the globe - all while building your personal knowledge and growing as an individual.