Recurring SEO Tasks — 7 Tasks You Don't Want to Skip
Search engine optimization (SEO), is one of the best ways to market your business no matter what industry you're in, how many clients you have, or the size of your company.
Brands in the United States alone are expected to spend up to $284,10 billion on SEO services by the year 2023. That being said, if you haven't jumped on the SEO bandwagon, there couldn't be a better time.
When you opt for an SEO campaign, you're opting for better website rankings, more traffic, and increased revenue over time, but there's one small catch.
SEO is far from a "set-it-and-forget-it" strategy. As a matter of fact, it's quite the opposite. When you implement an SEO strategy for your company, you'll have to nurture it over time in order to create positive results.
On this page, we'll talk about some of the recurring SEO tasks you'll need to complete regularly in order to see positive results from your SEO campaign. On the other hand, if you hire an SEO agency to do the work for you, you can gain a better understanding of the items they'll be completing on a monthly basis to keep your website in good standings.
If you'd like to learn more about SEO before reading on, feel free to give us a call at 888-601-5359!
Why are recurring SEO tasks so important?
If you're wondering why you can't simply implement an SEO campaign, leave it stagnant, and watch results pour in, you're not the only one. After all, other marketing strategies, like paid ads and a new website design, are quite different. You can put in the work up front, and aside from a few small items of upkeep and occasional updates, you can essentially leave the projects alone to drive results.
SEO is different, though, and here's why.
The objective of SEO is to improve your ranking on search engine results pages. When this happens, you'll see an increase in traffic and revenue over time.
The problem is that results pages are constantly changing. Rankings change because websites are created, site pages are added to existing websites, and every other company in search results are rigorously trying to beat out their competitors in search.
The search landscape evolves so quickly that it's hard to keep up, so if you want to get to the top of search results and stay there, you have to keep up with recurring SEO tasks. Otherwise, you shouldn't be surprised when your website either doesn't make it to the top of search results or falls directly to the bottom.
Are recurring SEO tasks automated?
When it comes to SEO, you have two main options: you can head the strategy on your own, or you can hire an SEO agency to implement and upkeep your campaign for you.
If you opt for the former, you'll have to take on these recurring SEO tasks on your own. If you run your own business, take care of payroll, pay the bills, and more, heading your company's SEO campaign probably isn't the best idea.
If you want to see real results as a business owner, hiring an SEO agency to do the job is your best bet. When you do so, the agency of your choice will take care of all the upkeep required to ensure that your website is in good standings with Google.
In short, SEO tasks aren't automated, but if you want to get the next best thing, hire a qualified SEO agency to do the job.
7 recurring SEO tasks to keep your website in tip-top shape
When it comes to SEO, there are a lot of moving parts. Here are some of the recurring tasks required to keep your website thriving for years to come.
1. Keep an eye on underperforming keywords
Like we mentioned before, the search landscape changes so quickly that it's important to keep up with every aspect of your SEO campaign. Target keywords are no exception.
For example, you may have posted a blog post a year ago that targets one of your most important keywords. Let's say that keyword was "fresh dried tea leaves." Prior to posting your blog, you, or your SEO agency, did tons of keyword research and found that this keyword was one that would propel you in top search results — and it did!
However, after a few months passed, the search landscape shows that this keyword is no longer one that users are searching for, and therefore, your blog has fallen a few spots in search results. No need to panic, but there is a need to do some more keyword research to find a keyword to replace the underperforming one.
Keeping an eye on your keywords is one of the most important recurring SEO tasks since it dictates whether or not you rank for the terms that earn you business.
2. Create fresh content for Google to crawl
The natural next step after keyword research and existing keyword analytics is creating content. If you've ever heard the phrase "content is king," it's an SEO rule-of-thumb to go by. Content is absolutely king because it's ultimately what ranks in search engine results pages.
Without high-quality, beneficial content, it's unlikely that your site pages will rank at all. So, it's important to ensure that your content meets those requirements.
Something that's just as important as creating beneficial content though, is to ensure that you're creating new, fresh content and posting it on a regular basis.
Google loves to see new content consistently and regularly because it shows them that you're a business that is continuously learning, growing, and providing your site visitors with new information.
It also gives Google even more to rank, so, naturally, the more content you have, the more chances you have to appear in search results.
3. While we're talking about content, review it often
If you want to ensure that your high-ranking content continues to rank well, be sure to review it often for clarity, quality, and relevance.
It's Google's job to provide users with the best-of-the-best when it comes to quality and relevance of information. That's why every few months, you should revisit old content and read through with a fine-toothed comb.
Here are some things that you should be sure to check for when going over your website content:
Time-sensitive data:In order to make an article relevant, it's easy to use time-sensitive data. If you want to provide a statistic, you likely pair it with a date to show readers that it's relevant. However, after a few months pass, that information may not be outdated, but the date is. You'll want to be sure to take care of time-sensitive information in your content so that it doesn't appear outdated to new readers.
Quality issues:You'll also want to check the quality of your content. An intern's articles may have been a great opportunity for fresh content, but after low traffic, you might decide that it's not of the highest quality. In this case, the best option would be to improve on the content that already exists since Google is already aware of the page. Try adding multimedia to break up text, and add some fresh, new keywords.
Outdated keywords:We've already talked about outdated keywords, but they're so important, they're worth mentioning again. When you're skimming existing content, be sure to look for keywords that are underperforming, or that you could replace with new keywords that perform better and mean essentially the same thing.
Update title tags and meta descriptions with new keywords:Don't forget to include new target keywords in your title tags and meta descriptions. When you update the target keywords in your content, also update those two locations to reflect those changes.
Double check for a quality call to action:Providing users with a call to action on your site pages is one of the best ways to get them further down the sales funnel. After reading one of your site pages, you want them to take the next natural step in converting, which would be clicking a call to action button. These buttons can lead to a page that allows a user to convert, learn more, or provide contact information.
Add new links to new pages in old content:One of the best ways to ensure that all of your website pages are indexed by Google is to create a solid internal linking structure. This means that pages on your site reference other pages, so that your entire website is interlaced. This helps Google index your pages quicker and it also encourages users to spend more time on your site.
4. Run page speed tests frequently
Google uses page speed to determine your sites position. That being said, it's extremely important to add "check page speed" to your ongoing SEO checklist.
To do so, you can use tools like Pingdom, which will give you valuable information about your website, including site speed. From there, you can take the steps necessary to help your website run faster for site visitors.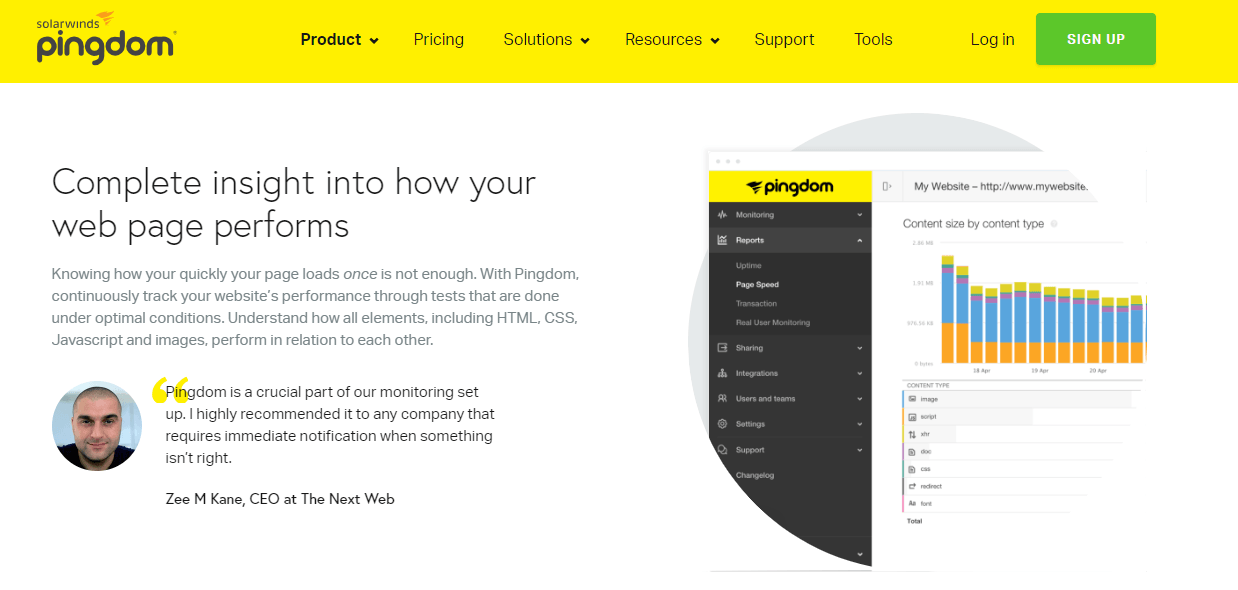 But what if you think your site loads fast enough? Without testing, you can't know for sure just how fast your site loads. With how frequently demand for information changes, "fast enough" might not be fast enough.
Did you know that if your website takes longer than two seconds to load, users may start to bounce? It might be hard to believe, but it's true. We live in a world of instant gratification, and a website load time is no exception.
5. Check for broken links often
Broken links not only look bad to site visitors who read your pages, but they don't look so hot to Google either. In order to keep your pages trustworthy, you need to check for broken links, and do so often.
It happens more often than you probably realize, but if a page on your site is redirected, and you forget to take the necessary follow-up steps, or if an image is deleted from your server, you end up with a broken link.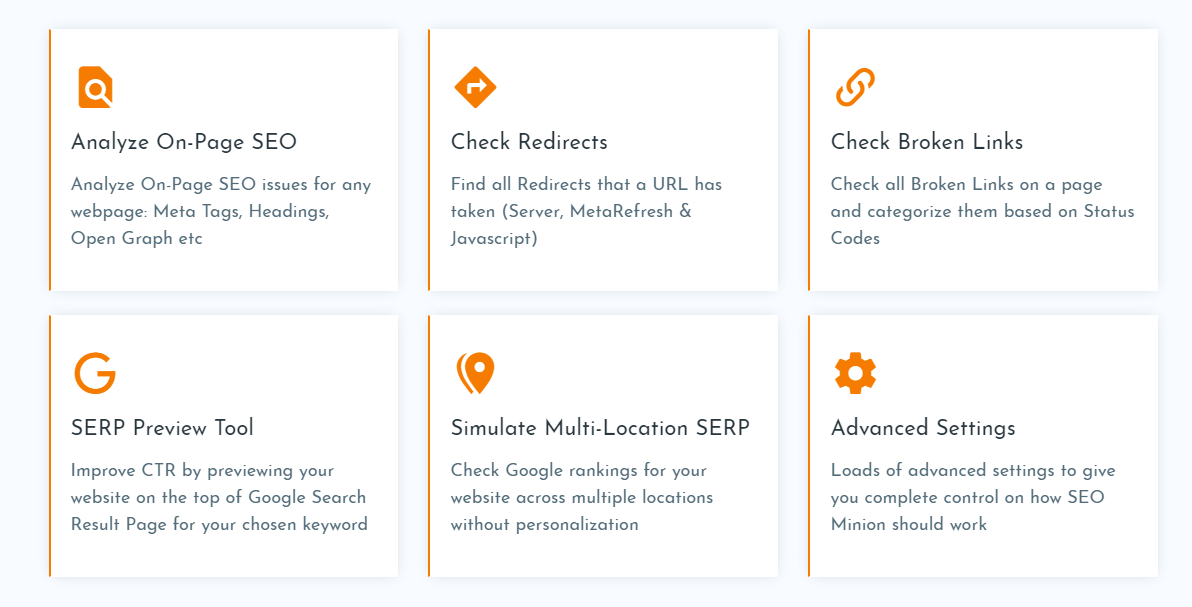 It's not near as difficult as you might think to check for broken links, though. Try using a Chrome extension like SEO Minion to help you track down broken links on any of your pages.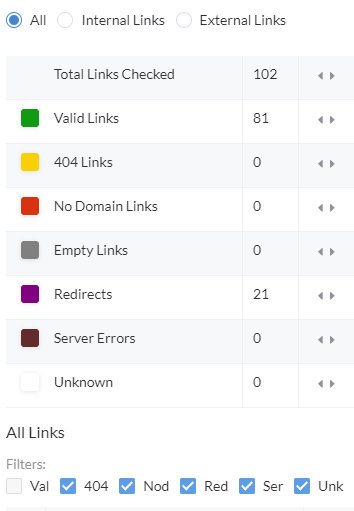 Talk about a handy tool!
6. Consistently track and analyze performance
If you're not tracking and analyzing the performance of your website and its pages, you might as well not have a website at all. When you neglect to check up on how its performing, you'll miss out on key indicators that tell you somethings awry.
For example, without analytics, you won't know if and when one of your pages has a major decrease in traffic. If one of your pages has a drastic decrease, it could lead you to lost revenue and sales — and without analytics, it could be too late when you realize.
A decrease in traffic on a page could be due to broken links, missing content, or something more serious. No matter what the issue is, analytics can help you get the page back up and running before you lose revenue.
7. Be sure that your website design performs properly
Do you have a fancy video that plays when your service pages open? A button that leads you to a landing page with bells and whistles? These exciting and fun elements are crucial to an interesting and aesthetically pleasing website, but you have to consistently check to ensure that they're performing properly.
Sometimes, the "bells and whistles" of our website stop performing as well as they should. You should consistently check these elements of your website to ensure that they're always in tip-top shape for site visitors.
WebFX can help you keep up with your SEO checklist
If you're overwhelmed with the thought of an SEO campaign and the upkeep that it requires, we understand. SEO is a long-term commitment that provides results unlike any other marketing campaign.
If you're looking for an SEO campaign that delivers and an agency that will keep up with your recurring SEO tasks, WebFX can help.
We're the best SEO agency in the world, according to Clutch, and we don't take that lightly. We've been providing extreme SEO results to clients for decades, and we don't plan on slowing down any time soon.
In the past five years alone, we've been able to generate $3 billion in client revenue and over 7.8 million leads. Not to mention our 12.9 million managed transactions and 5.2 million generated phone calls.
Our team of over 500 Internet marketing specialists are experts in their craft and they pride themselves on staying up to date on industry standards and strategies. Because of this, we're able to provide our clients with top-notch SEO services that work.
We don't just provide SEO services though — we're a full-service Internet marketing service which means we do it all.
We also provide the following services, and then some:
If you're interested in working with us for any of your marketing endeavors, we can't wait to hear from you!
Feel free to contact us online or give us a call at 888-601-5359.