Jerry is doing some online research about how home ventilation works. As he's reading, two ads appear in the page margins. The first is for office furniture, which he ignores. But the second is for home air vent installation.
This ad catches Jerry's eye, and he decides to click.
In the above example, the second ad successfully drew Jerry's interest because it had ideal ad placement optimization — that is, the ad was placed in the perfect spot to drive conversions. If you advertise online, ad placement is critical to your paid ad campaigns.
But what exactly is ad placement optimization, and how can you implement it for your paid advertising? We'll go over the answer to both of those questions below, so read on to learn more. Then subscribe to Revenue Weekly — our email newsletter — to get more marketing tips from the agency with over 25 years of experience!
What is ad placement optimization, and why does it matter?
Ad placement refers to the specific spots online where your paid ads appear.
You could run ads in the margins of a sports website, at the top of Google search results, or in users' Twitter feeds, among other places. Don't confuse this term with Ad Rank, which refers to where your paid ads rank relative to other ads in search results.
Why is ad placement optimization important?
It's important to keep track of where you place each ad. The placement of your ads is critical to the success of your campaigns. Consider this: If you're browsing an article about dog training techniques, and you see an ad for a new washer, are you going to be interested?
Likely not, since you're reading about dog training right now. If you see an ad for a new type of dog treat, on the other hand, you might be much more incentivized to click.
Dog treats are useful tools for training — exactly the topic you're interested in at that moment!
Similarly, your target audience won't respond well to your ads if you display them at the wrong time and place. You want to optimize the way you place your ads and take advantage of all the different online locations where you can do that.
Where should you place your paid ads?
One of the great things about advertising online is that you have a wide variety of options when it comes to where you can display your ads. Three locations, in particular, stand out as being ideal for your paid ads:
Other third-party websites
Each of the above options is great for advertising, but how does ad placement work for each one? Read on to find out!
Google ad placement
Google is easily one of the platforms with the largest influence on the Internet. When you launch a campaign in Google Ads, you gain the opportunity to display ads in many places.
Perhaps the most ideal spot, however, is in Google search results. With paid search ads, Google gives you the opportunity to advertise to users at the top of search results pages. Most of these ads look similar to organic rankings, but with an "Ad" label in the top corner — though some appear as image ads for specific products.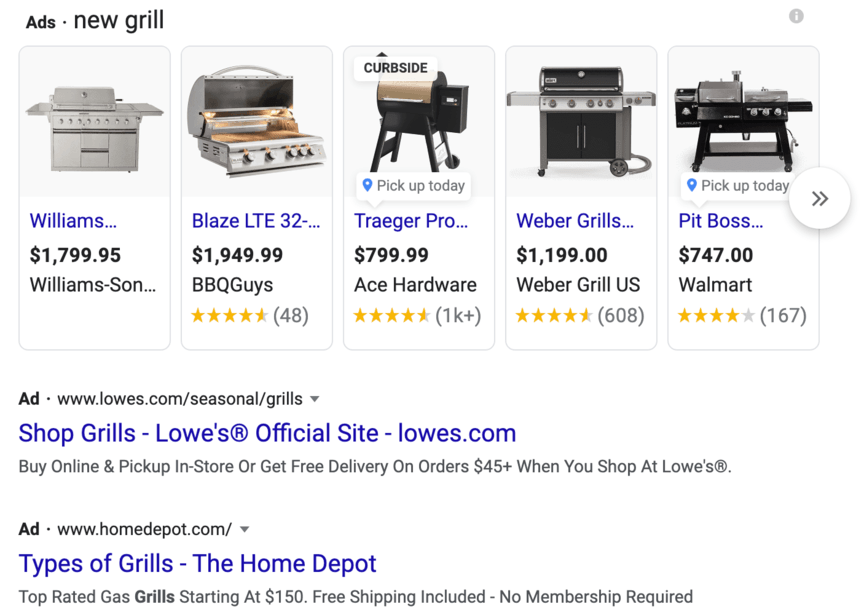 Luckily, it's not difficult to ensure the best possible Google ad placements for search ads. That's because to set up search ads, you bid on specific keywords, telling Google which searches to show your ads for.
Display ads are a different story, but we'll get to those later. The main thing to remember with paid search is relevance. Ensure the keywords you bid on are highly relevant to whatever ads you're showing. If you're specifically advertising a grill, bid on keywords like "new grill," not the generic term "cooking supplies." Since users are already searching directly for what your ads offer, they'll be far more likely to click on those ads than they might be in a less relevant context.
Facebook ad placement
Another fantastic advertising outlet is Facebook. While not the only social media platform available, Facebook is the one that offers the most extensive advertising opportunities, particularly since it also owns Instagram. Whereas Google ad placement is mostly a simple matter of bidding on the right keywords, Facebook ad placement is a little more complex.
If you're looking to learn how to create Facebook ads, Facebook offers three broad, in-platform placement types where you can display your ads:
In each of these cases, ads will appear in the midst of other posts and messages, where users are most likely to encounter them. Keeping your ads relevant on Facebook can be tricky since you have no real way to predict the context in which your ads will appear. For that reason, the best approach is to test — a lot. Anytime you launch an ad, test it in different locations to see where it performs best. With a steady flow of A/B testing, you'll gradually be able to shear up your campaigns for optimal Facebook ad placement.
You can even test your ads on mobile vs. desktop to see what type of device they perform best on.
Ad placement on third-party websites
The final major option you have for attaining ideal paid ad placement is to advertise on third-party websites. As it happens, both Google and Facebook provide options for doing this, as do countless other paid advertising networks. Whatever platform you use, showing banner ads on other websites is a great way to reach people you might miss with your other forms of advertising. These ads can appear in various places on a website, with a common spot being in the margins of written articles.

When it comes to third-party websites, the best way to attain ideal ad placement is to consider which sites display your ads.
For example, a given ad network might allow you to advertise on a boating site — but if your ads are for carpets, that's not relevant. Try to specifically target sites or pages that have some relevance to what you're advertising, so users will have an incentive to click on your ads. You can also prevent your ads from showing on sites with lewd or political content, so you don't come off as endorsing it.
We foster and form long-term partnerships so that your business has long-term results.
Over 90% of WebFX clients continue partnering with us into year 2 of their campaign.

Hear from Our Happy Customers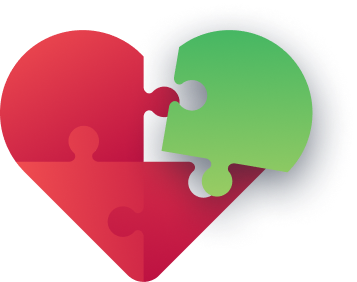 WebFX knows how to optimize your paid ad placement
Want a hand getting your paid ad placement just right? WebFX can help!
With over 1020 client testimonials, we're the agency businesses trust to drive superior results for their online marketing, and we'd love to show you firsthand just how capable we are. With our paid advertising services, you'll get help optimizing for all the recommendations listed above and more. You'll also receive a dedicated account representative to keep you informed about everything we do for your company. To get started with us, just give us a call at 888-601-5359 or contact us online today!
WebFX Careers
Join our mission to provide industry-leading digital marketing services to businesses around the globe - all while building your personal knowledge and growing as an individual.