June 27, 2021
16 minute read

Sam has been writing for WebFX since 2016 and focuses on UX, crafting amazing website experiences, and digital marketing In her free time, she likes to spend time on the beach, play with her cats, and go fishing with her husband.
As a small business, selling products is the root of your success, but opting for a billboard or producing a television commercial can require a large portion of your marketing budget. Not to worry — traditional marketing methods like billboards might be effective for some businesses, but when it comes to small business advertising ideas, digital marketing is the way to go. On this page, we'll answer the question "What is small business advertising?", talk about the benefits of the strategy, and give you some small business advertising ideas to help you get started!
If you've got questions along the way, don't hesitate to contact us online, or give us a call at 888-601-5359!
What is small business advertising?
Small business advertising is the practice of promoting your products and services to an audience — and you'll be most successful if you can advertise directly to your target audience. On this page, we'll be talking about small business online advertising ideas, as opposed to traditional methods. Online advertising will help you reach a larger, more qualified audience, and therefore, see better results.
You can advertise your small business in a variety of ways, and we'll talk about eight of them below.
18 top advertising ideas for a small business
Get started with advertising with these small business advertising ideas:
1. Create social profiles on every major platform
Small business advertising idea number one is to create social profiles on every major platform, including:
You can also opt to create profiles on other popular platforms like Snapchat and YouTube — but each will require a very specific campaign. For example, if you plan to have a YouTube channel for your company, you'll want to ensure that you have a video production plan and a video marketing campaign in the works. Billions of people use social media every day (3.78 billion people, to be exact) — which makes your presence on social platforms a fantastic form of free advertising.
But you won't see success with social media if you don't optimize it. Be sure to completely fill out all the about info on each platform. Typically, this includes things like:
Company bio
Industry
Location
Profile photo
Cover photo
PRO TIP: Make sure your profile photo matches across all platforms! This trick will make your brand cohesive and help build brand awareness! To make the most out of advertising your business for free on social media, you'll also want to be sure that you post content often. When you post often, you'll remain top-of-mind to users and continuously engage them with your content.

When you post links or videos, it will entice them to visit your website or share your content with other users — a win-win for your small business marketing strategy.
2. Engage with customers on social media
Users want to feel heard, and with social media, you can communicate with them directly. Many social media platforms feature baked-in messaging platforms to let you communicate easily with your target audience. You can take advantage of this feature by replying to customer questions in a timely manner or reaching out to customers if they are dissatisfied with a product or service.
You can also use social media to connect with customers directly in their feeds. If users comment on a post, be sure to reply to show them that you care. This continued interaction will show users that you are involved with your business and care about your customers.
Oh, and since you're talking directly with your customers, it's also extremely targeted!
3. Create a Google Business Profile
Creating and optimizing a Google Business Profile is one of the best small business advertising ideas out there. It's free, and it helps you appear in local 3-packs when users search for products and services related to your business. When you claim your business on GBP and optimize your profile, you'll have the opportunity to show up above organic results in searches.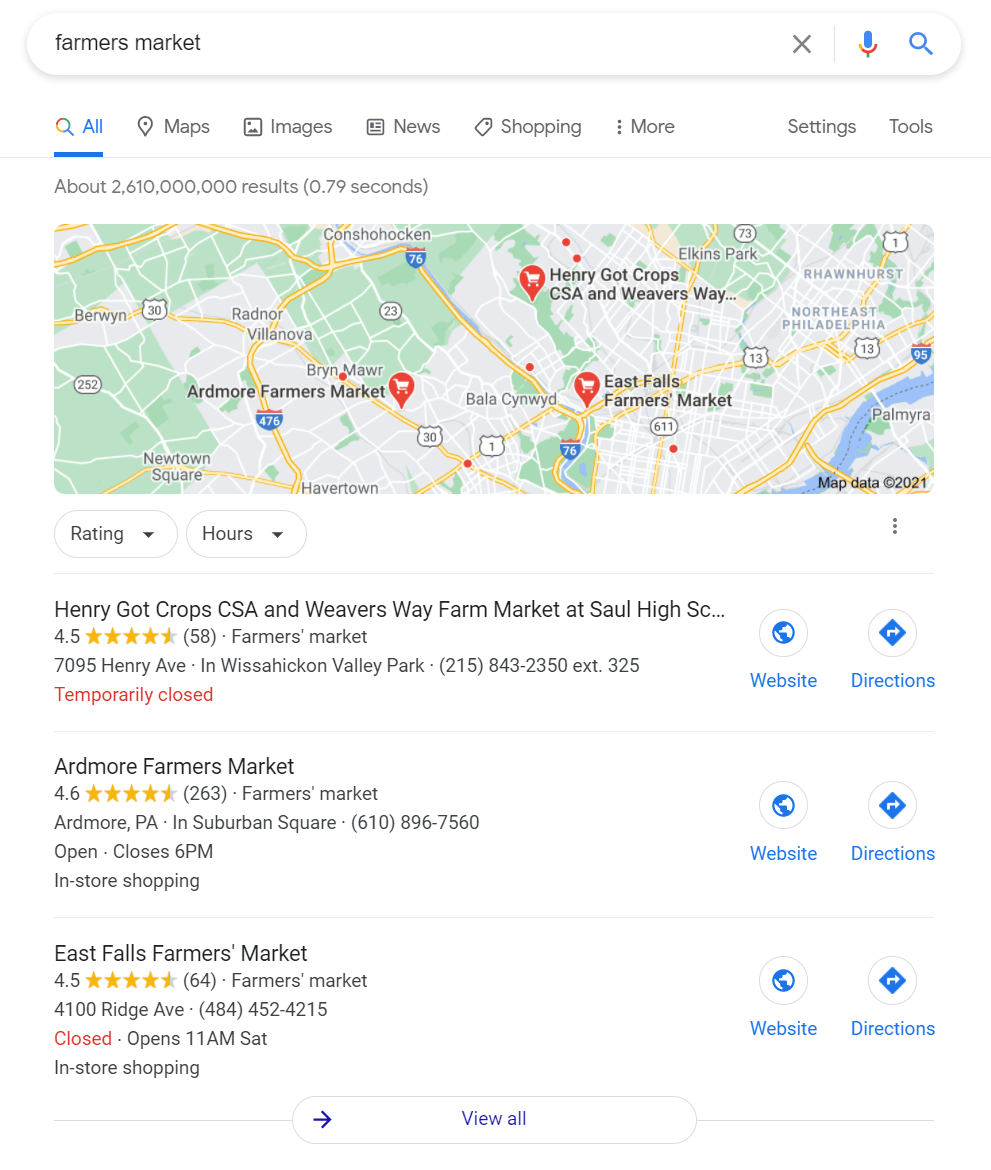 This free small business advertising strategy shows users where you are on the map, among other things like:
Business name
Address
Phone number
Hours of operation
Customer reviews
Product listings
Menus (if you're a restaurant)
4. Create local content
Getting your local small business to rank highly organically is another small business advertising idea that will cost you next to nothing. Creating local content will help you rank highly in search when users search for your products or services in your area. Local content not only targets people within your geographic boundaries but also targets users interested in your products and services — making it one of the most highly-targeted small business advertising strategies out there.
When you combine GMB optimization with the creation of local content, you'll be able to earn double the valuable real estate in search engines. That's because you can rank in the local 3-pack, and also organically. Not to mention, simply ranking on page one with local content will help your company build brand awareness since users will inadvertently encounter it.
5. Opt for email marketing
On average, people receive more than 100 emails per day — proving that email marketing is alive and well. That said, sending emails to a list of subscribers is one of the best small business advertising ideas available. It doesn't cost much — a matter of fact — email marketing has one of the highest returns on investment (ROIs) of all marketing strategies.
You'll stand to make about $44 for every dollar you spend on email marketing. In your emails, you can send things like company updates, new product announcements, upcoming sales, and more. One of the best parts of email marketing is that it's highly targeted — only users who have provided their email addresses will receive emails.
The fact that users sign up for emails on their own accord means that you can be certain that recipients of your emails are interested in your business. You can also segment email campaigns to target different groups, and personalize emails to improve engagement. Sending emails is free (if you do it on your own), and it can help attract users to your brick-and-mortar store, or to your online shop.
Either way, email marketing can help you reach your ideal audience for a low cost.
6. Capitalize on positive reviews
When you build your GBP, users can review your products and services on Google. Make the most out of these reviews and leverage their power by sharing them in your other marketing efforts. Here are some examples of how to leverage reviews you get on Google:
Use a program like Canva to create graphics of your reviews to share as images on social media platforms and in emails
Quote reviews on your website pages
Reply to all reviews — even negative ones — to show that you care about your customers
But how do you get reviews? Try these strategies:
Provide incentives for customers willing to give a review, like a coupon for their next visit
Provide a link to your review site on the bottom of receipts
Send business cards with your review information in every product shipment
Keep in mind that 80% of consumers trust reviews as much as personal recommendations, so leveraging them is one of the best small business marketing ideas.
7. Re-post user-generated content
Next on our list of advertising ideas for a small business is to re-post customer-generated content. When users love your products, posts about them, and tags your company, be sure to repost on social platforms. Sharing content from real-life customers who love your products provides a vote of confidence to other potential customers. Not only can you reshare this content on social platforms, but you can also share it in emails as well (with the customer's permission).
8. Share your knowledge
Last on our list of small business advertising ideas is to share your knowledge. If you've never thought of sharing your knowledge as an advertising strategy before, you're not alone. However, you can earn tons of new customers by simply showing what you know.
The best way to share your knowledge with potential customers is to start a blog. After creating a blog on your website, here's how you can use it to share your knowledge:
Target high-volume keywords in your informational blogs so that they rank in search engines
Share your blogs in emails to get users back to your site and also provide beneficial information to recipients
Share your blog posts on social media platforms
Not only will blogs help you emerge as an industry leader and make users more likely to trust you, but they're also a fantastic way to get users back to your website. More website traffic means more conversions — which leads to boosted revenue year over year.
9. Run PPC ads
PPC is one of the most effective small business advertising ideas since it allows you to directly target your audience, set a specific budget, and monitor your results. The hands-on nature of PPC ads makes them both effective and user-friendly. PPC ads work on a bidding system, and you only pay for an ad when users click.
You'll bid on each keyword that you want to target — letting your ad platform know how much you're willing to spend per click. If you are a top bidder, and your quality score is high, you'll earn ad space. When you earn ad space, you'll appear above organic results in Google — making your company highly visible to interested customers.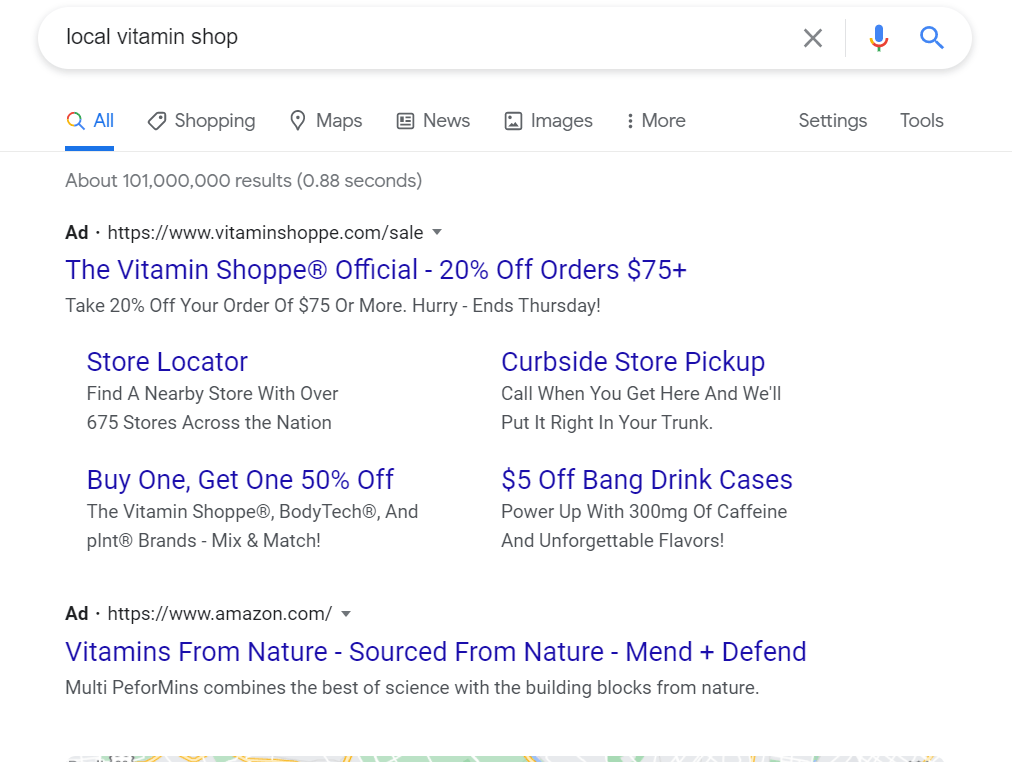 WebFX has created and managed more than 650 PPC campaigns for clients, and we'd love to help you, too!
View WebFX PPC Services
10. Spring for video marketing
We mentioned earlier that YouTube is a fantastic social media platform to advertise on — both for free and with ads. If you have the capabilities to write scripts, film, and edit videos on your own, video marketing can easily be a free small business advertising idea. You can simply post your finished videos to YouTube and share them on social platforms, on your website, and in emails.
However, if you want to take your video marketing to the next level, consider involving an agency. When you hire a video marketing agency, like WebFX, they'll help you create high-quality videos to market your business. Not only that, but they can help you make the most of YouTube ads.
11. Try paid social media marketing
Above, we talked about how you can easily market your business for free on social media by simply creating profiles and interacting with users. However, if you want to put some dollars behind your social media profiles, you can see great success with social media advertising. Social media advertising services from WebFX focus on helping clients create and launch social media ads on a variety of platforms to help them reach their target audience. Social media ads work similar to PPC ads, and can help you earn more clicks to your website and more conversions overall.
12. Run social media contests
If there's one way to attract users, it's by offering them the chance to win something. When you host contests and promotions on social media, you can entice people to engage with your small business. There are various ways to set up a social media contest. You could offer one of your products or services for free, or you could use a gift basket.
For users to enter the contest, you could require them to do anything from entering a photo contest to simply submitting their name and email. However you set it up, a contest is sure to draw in users and give them an incentive to engage with your brand.
13. Build out an email list
One of the best ways to market to people is to send them communications directly in their inbox through email marketing. You can build an email list by creating email calls to action (CTAs) on your website advertising special email perks like exclusive newsletters, special discounts, or something similar. Once you have a list, you can send emails to everyone who signed up. Make sure you send whatever they signed up for — don't have people sign up for a newsletter and then send them ads instead. Emails are excellent for personalization, since they allow you to address each person as an individual.
If you have them submit their names along with their email addresses, you can program each email to address them by their name, making it feel more personal.
14. Write compelling blog posts
Useful and engaging content is one of the most effective ways to draw people to your website, which is why you can benefit from starting a blog. Blog posts give you an outlet to write about various topics in your industry and answer questions users search for in Google. For example, if you sell cameras, you could write a blog post about the best types of camera lenses. When people search for "best camera lenses" in Google, they might find your blog post and visit your site to read it.
There they'll be introduced to your brand and may buy from you down the road.
15. Start a YouTube channel
Video is one of the most effective types of media available online. Something about the moving visuals makes it far more compelling than text or still images, meaning you can use it to reach people you otherwise wouldn't. That's why you can benefit from starting a YouTube channel. From your channel, you can post videos on topics similar to your blog posts.
If you're a roofing company, for example, you could post some video tutorials on basic roof repair techniques, or how to know if you should call a roofing company. Having YouTube videos also provides you with content to share on social media and in your emails, therein benefiting you in multiple ways.
16. Launch a paid remarketing ad campaign
When you display ads to users, you want them to convert. One of the best possible audiences to target, then, is people who already have an interest in your business. And the best way to reach those people is with remarketing ads. Remarketing ads allow you to target users who have already visited specific pages on your site.
In Google Ads, you can track traffic to certain pages and direct tailor-made ads to those users.
Since they've already expressed an interest in you, they'll be more likely to respond positively to the ads and convert.
17. Try Help A Reporter Out (HARO)
Perhaps the most unique of the SMB marketing ideas on this list is to use Help A Reporter Out (HARO). HARO is a website where journalists go when they need to get information from an expert on a particular topic — and you can be one of those experts.
By signing up with HARO, you can provide answers to questions journalists have about topics in your industry. As a result, you'll be credited in the journalists' pieces, helping create a reputation as someone with expert knowledge in your field. That, in turn, will build confidence in people that you're a trusted authority in your industry.
18. Read and respond to reviews
The final item on our list of SMB advertising ideas is to read and respond to reviews of your business online. Depending on what you sell, these reviews could appear anywhere from Google Business Profile to Amazon to your own website. Wherever the reviews may be, try to respond to as many as you can. Thank people for their positive reviews and try to address the issues people cite in their negative reviews.
With enough effort, you can turn many of your bad reviewers into happy customers!
Our digital marketing campaigns impact the metrics that improve your bottom line.
See More Results

WebFX has driven the following results for clients:

$3 billion
In client revenue

7.8 million
Leads for our clients

5.2 million
Client phone calls
4 benefits of small business advertising
Before we talk about our top advertising ideas for a small business, let's first talk about the benefits of small business advertising.
Small business online advertising doesn't break the bank
There are plenty of small business advertising ideas that don't require much of a marketing budget — which is a huge bonus for small businesses.
Keep in mind that you can accomplish many of the small business advertising examples that we talk about on your own — but if you choose to hire an agency, you'll dip into your marketing budget. That being said, when you do hire an agency, you're paying for expertise and knowledge that your team might not have.
Small business advertising ideas are customizable
Our list of small business advertising ideas is not only cost-effective, but you can customize the strategies to nearly any industry. Connecting with your customers online and targeting your most qualified audience are universal goals — and that's what you'll accomplish with our list of small business marketing ideas.
You can easily target your most qualified audience
Our list of small business advertising ideas will help you reach your most qualified audience by way of targeting.
This advanced targeting means you'll waste less money advertising to users who aren't interested and funnel your budget into the people that are. There are a variety of ways to target users with small business advertising, and we'll cover them all below.
You'll improve your revenue year over year
Small business advertising propels your marketing efforts to new heights. That's because advertising, in tandem with other marketing efforts like search engine optimization (SEO), will help you saturate your industry and build brand awareness.
PPC campaigns, for example, can increase brand awareness up to 80%. With a combination of PPC advertising, social media advertising, and more, you'll see an increase in revenue year-over-year.
Ready to put your small business advertising ideas to work?
If you want to help your small business thrive instead of just survive, WebFX is here to help. Whether you want to try some free small business marketing ideas first, or if you want to dive in with some paid strategies, we're ready to answer questions and create a campaign. Our SMB digital advertising agency has more than two decades of experience in the digital marketing space, and we have more than 500 in-house team members who are always up to date on the latest small business marketing trends and strategies.
If you're ready to get started, contact us online or give us a call at 888-601-5359!
Sam has been writing for WebFX since 2016 and focuses on UX, crafting amazing website experiences, and digital marketing In her free time, she likes to spend time on the beach, play with her cats, and go fishing with her husband.

WebFX is a full-service marketing agency with 1000+ client reviews and a 4.9-star rating on Clutch! Find out how our expert team and revenue-accelerating tech can drive results for you! Learn more
Try our free Marketing Calculator
Craft a tailored online marketing strategy! Utilize our free Internet marketing calculator for a custom plan based on your location, reach, timeframe, and budget.
Plan Your Marketing Budget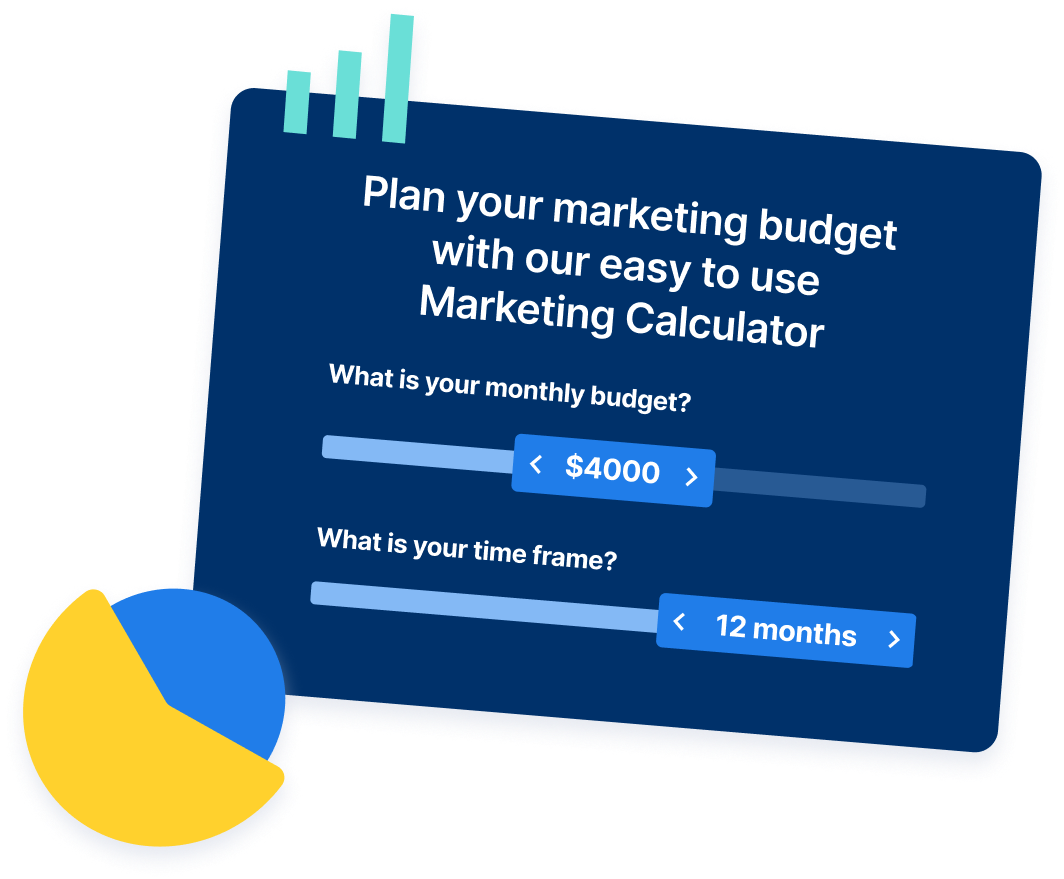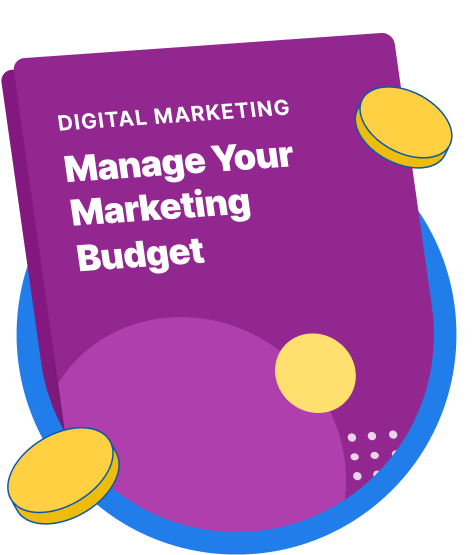 Maximize Your Marketing ROI
Claim your free eBook packed with proven strategies to boost your marketing efforts.
Get the Guide
Try our free Marketing Calculator
Craft a tailored online marketing strategy! Utilize our free Internet marketing calculator for a custom plan based on your location, reach, timeframe, and budget.
Plan Your Marketing Budget