Alexander's company is hosting an event to attract new clients, and this time he's in charge of promoting it. The company's last event had low attendance, so Alexander wants to do a good job promoting and increasing attendance. But where does he start?
If you're like Alexander, you're looking for ways to successfully promote your event online, so you can attract more attendees.
Luckily, you've come to the right place.
On this page, we'll provide you with six ways to do online event promotion, including:
Keep reading to learn more about how to promote your event online!
Online event promotion idea #1: Create a separate page for your event to have an informational hub
The first item on our list of ideas for how to promote online events is to create a separate event page.
To promote your event successfully, you must create a place where interested attendees can get all the information they need. Having this separate page makes it easy for people to find information in one place, rather than digging through your site to find it.
Not to mention, when you create campaigns to promote your virtual event, you have the perfect page to direct people to for more information.
For example, Hersheypark hosts their annual Christmas Candylane experience and has an individual webpage where visitors can get information about the experience.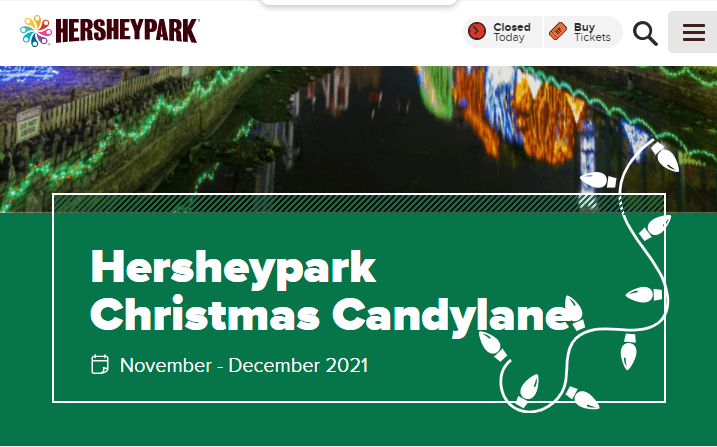 When you create your separate event page, you want to include important information like:
Event date(s)
Event hours
Event location
Special guests/Speakers
How the event works
What attendees can expect to experience/learn
Online event promotion idea #2: Leverage social media marketing to promote your event
If you want to promote an event online, you need to leverage social media marketing for your business.
With social media marketing, you can promote your events through your social media profiles. It's a great way to generate buzz around your events and entice people to attend. When you consider that people spend 28% of Internet time on social media, these platforms are a great place to reach people and promote your event.
Not to mention, these platforms make it easy to share content, which means people can share your event with friends and family they think would want to attend.
You can promote your online event on any number of social media platforms, including:
You can take dozens of approaches with promoting your event, from sharing footage from the event the prior year to highlighting your guest speakers. If you look at Hersheypark as an example, they promote their Christmas Candylane on social media through photo and video posts highlighting what visitors can see.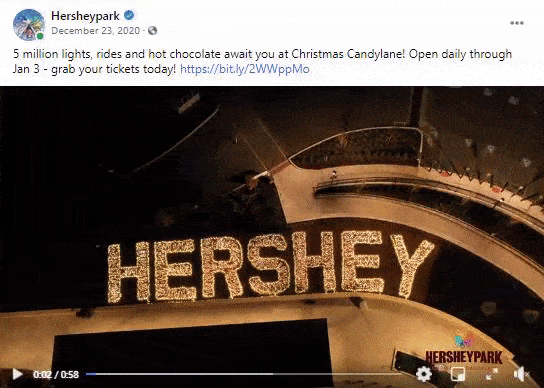 When you promote your online event on social media, you want to ensure you post often enough that people see your posts.
You can use a social media calendar to help you plan when to post your content and ensure you're promoting your event often enough.
Online event promotion idea #3: Use social media advertising to attract new attendees
One of the best ways to promote an online event is to use social media ads to reach interested people.
There are hundreds of people who know about your business and your event, but hundreds more haven't discovered you yet.
Social media advertising helps you reach these leads. You can leverage social media ads to reach people who are likely to be interested in your event but haven't discovered your business yet. With advanced targeting, you can pinpoint people interested in your event and show ads that appear in their feeds.
The types of social media ads you can create vary by platform, but all platforms include the following formats:
You can try different ad formats to get your audience interested in your event and entice them to attend.
When you create social media ads, you have numerous avenues for promotion. You can focus on promoting your guest speakers, a unique feature at your event, or the value of attending your event. Social media ads are a great solution if you're looking to target a more qualified audience that's likely to take an interest in your event.
Online event promotion idea #4: Integrate relevant keywords to appear in relevant search results
One of the best ways to promote an online event is to optimize your event page for search engines. When people want to find an event like yours in their area, they turn to search engines to help them start.
If you want people to see your event when they search, you must integrate relevant terms into your site. To find relevant terms for your site, start by conducting keyword research.
KeywordsFX is a great keyword research tool that can help you identify applicable terms to integrate into your site.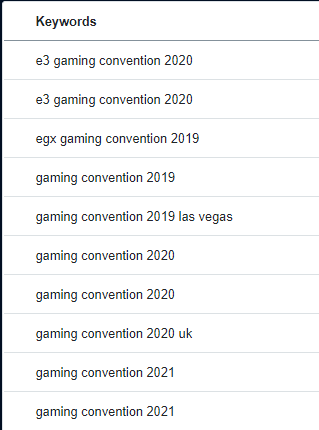 When you look at a list of key terms, focus on long-tail keywords. Long-tail keywords contain three or more words, like "video game convention" or "Boston gaming convention." These keywords are more specific, so you know the search intent behind them.
As a result, you'll drive more qualified traffic to your site that's interested in your event.
Once you identify the keywords, you'll integrate them into your site to help you optimize for relevant search results. PAX is an excellent example of optimizing for relevant terms.
When you search "gaming convention in Boston," their listing for their "PAX East" event appears at the top of search results.
When you search similar terms like "Boston gaming convention" and "Boston video game convention," their site still ranks at the top.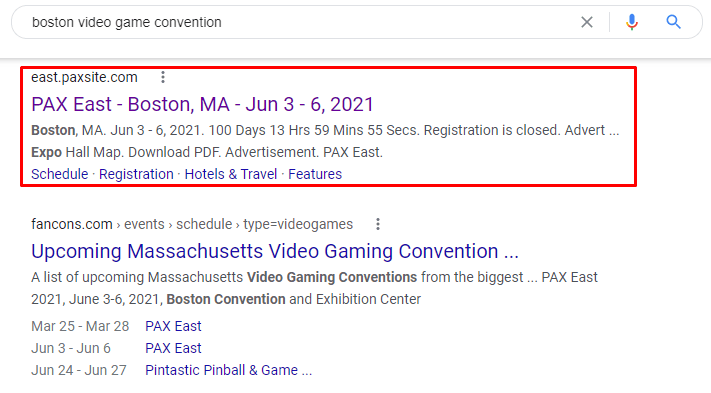 By optimizing your site for terms related to your event, you'll help boost your site's ranking in search results for those terms and drive more attendees for your event.
Online event promotion idea #5: Promote your event to interested leads through email marketing
If you want to know how to promote your online event, start by leveraging email marketing. Email marketing enables you to connect directly with the prospects most interested in your products or services. Since your subscribers are interested in your business, they're more likely to have an interest in your event.
When you do online event promotion through email, you must ensure you create an email that's engaging and piques your audience's interest.
You want to invest time in your email's design to ensure it's on-brand, and it's easy to read the information.
A great example of a promotional event email comes from Apple. Their promotional email for their Worldwide Developers Conference uses a sleek black and white design that mimics the company's style. It also contains an image of a man that looks like the emoticons they offer on their phones.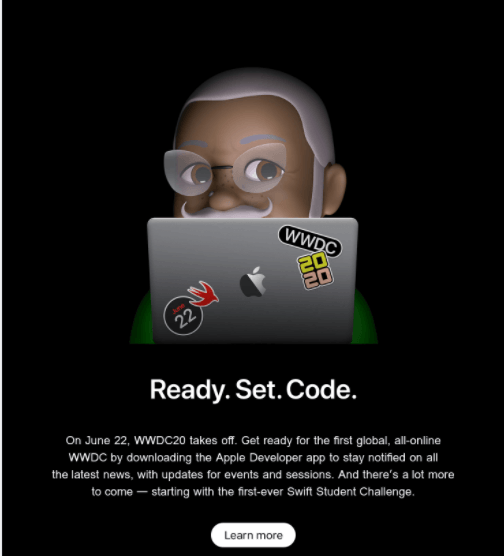 To top it off, they have a call to action (CTA) button that pops off the page and makes it evident what will happen if subscribers click on it. It's a great example to use for inspiration for your event promotion emails.
Online event promotion idea #6: Leverage video marketing to get your audience excited
The last item on our list of the best ways to promote an online event is video marketing.
Videos are a powerful medium for catching your audience's attention and helping them learn about your event. You can create numerous types of videos to share to promote your event. If your event is an annual event, you can create a video highlighting last year's event to help people see what it was like to attend.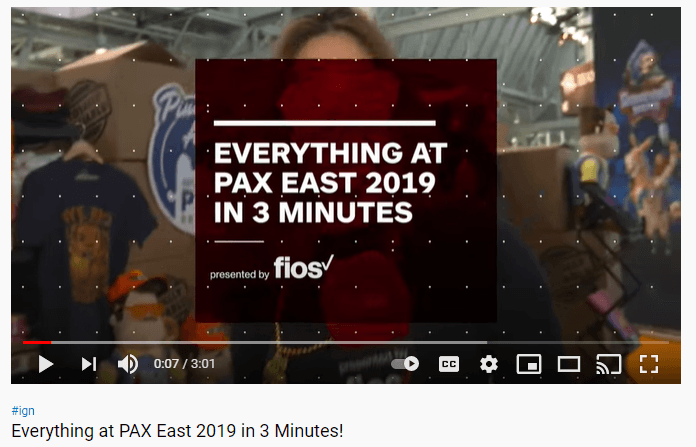 Whether you share an interview with your guest speaker or provide a sneak peek of the event, video marketing can help you get people interested in your event and make them want to attend. Videos are easily shareable, too.
You can post your videos on social media or include them in your emails — it's a great medium that can help you promote an event online through multiple platforms.
When you create videos, make sure you use high-quality video and audio to deliver the best experience. You'll also want to experiment with the length to see what works best for your audience and keeps them most engaged with your promotions.
Want to know how to promote your event?
Partner with WebFX
Online event promotion is no small feat. That's why it's beneficial to rely on marketing experts to handle promoting your events. Luckily, we've got a team of over 500 marketing experts at WebFX that can help you promote an event online.
As a full-service digital marketing company, we can help you promote your event through dozens of platforms.
From social media marketing to search engine optimization (SEO), we can craft a custom online event promotion campaign that fits your business's needs. Ready to earn more attendees at your events?
Contact us online or call us today at 888-601-5359 to speak with a strategist about our digital marketing services!
WebFX Careers
Join our mission to provide industry-leading digital marketing services to businesses around the globe - all while building your personal knowledge and growing as an individual.