Did you know that 38% of all traffic to ecommerce sites comes from search engines? Search engines play a pivotal role in helping drive qualified traffic for your business.
But if you want searchers to find your pages in search results, especially your category pages, you need to invest in search engine optimization (SEO).
So, how do you do SEO for ecommerce category pages? On this page, we'll cover seven tips for optimizing category pages for ecommerce, including:
Keep reading to learn more! If you want more tips for marketing your ecommerce business online, subscribe to our email newsletter!
Independent research from Clutch has named WebFX the
top SEO company in the United States.
Clutch has personally interviewed more than 250 WebFX clients to discuss their experience partnering with us.

Read More Clutch Reviews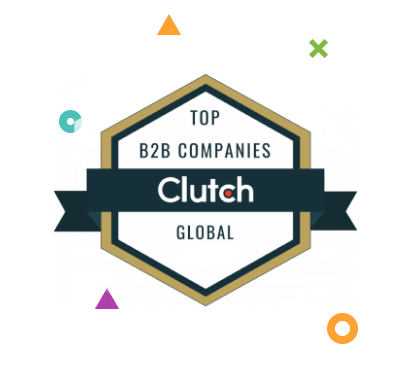 How to do SEO for ecommerce category pages
Want to optimize category pages for ecommerce?
Check out these seven tips for helping your category pages rank better in search results:
1. Integrate relevant keywords
A common ecommerce SEO problem is keyword integration. Like any page, you need to integrate relevant keywords throughout if you want it to rank in relevant search results. When users search online, they use keywords to help them find what they need.
Conduct keyword research using a keyword research tool to find the best terms for your category pages.
A free keyword tool like KeywordsFX can help you find relevant terms for your pages to use in your subheadings and body text.
You'll want to focus on keywords most relevant to your category page when using a Google keyword tool like KeywordsFX. For example, if you have a category page dedicated to lighting, keywords like "LED lighting" or "recessed lighting" are relevant to the page.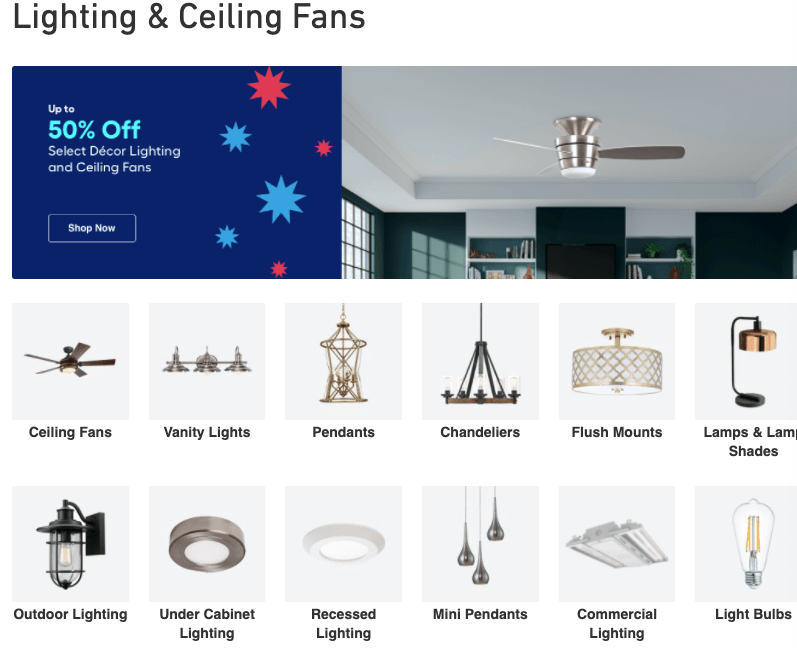 While it's generally recommended sticking to long-tail keywords containing three or more words, it's a little challenging to do so with category pages.
Since category pages are so broad, they tend to use more general keywords, like "LED lighting" instead of "LED home office lamp."
You can still use long-tail keywords if appropriate, though. For example, Lowe's has an entire product overview on its lighting category page that includes numerous relevant long-tail keywords, like "ceiling light fixtures" and "chandelier ceiling fans."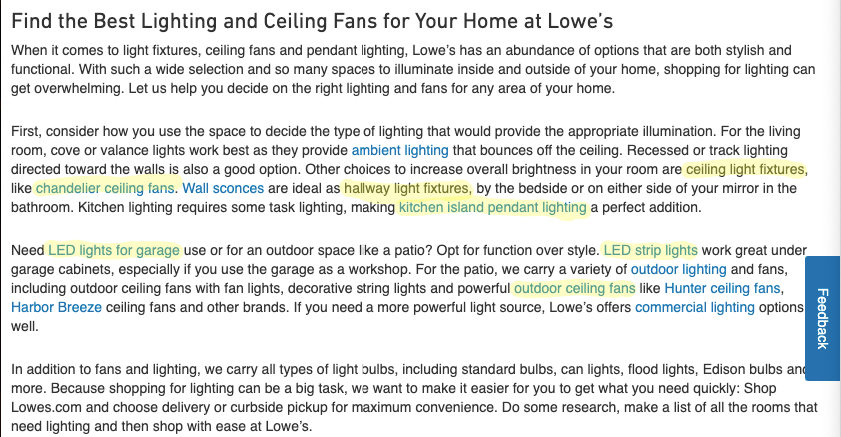 While you may not be able to use long-tail keywords for your subcategory titles, you can find other unique ways to weave in these keywords and help your category pages rank for more relevant search results to drive more qualified leads.
2. Optimize your category headings
If you want to know how to optimize your ecommerce category pages for search engines, start by tweaking your category headings.
Google uses your category headings to help determine the context of your pages ­­–– users look at it to determine if they're in the right place. When you create your category headings, you want to ensure they're relevant and use a keyword related to your page. For example, let's say you have a category page for kitchen and dining products.
Using a category heading like "Cook it up and serve it hot!" is fun and engaging, but it provides no context for the page.
If a search engine crawled that page, it would think it was about cooking rather than kitchenware.
Instead, creating a relevant category heading, like "kitchen and dining" or "cookware and serveware," would work better because it provides context to your page.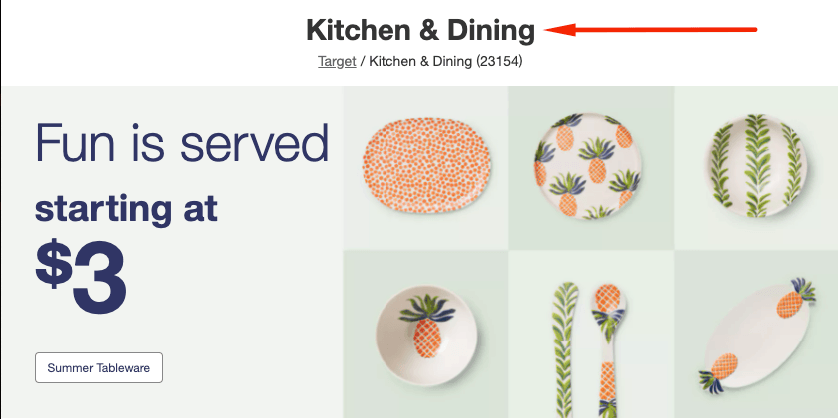 By creating relevant category headings, you'll help provide context for search engines, so your category pages can rank in the right search results.
3. Optimize your metadata
If you want to do ecommerce SEO for category pages, you must optimize your metadata. Your metadata consists of two components:
Title tag: Your title tag is what users see first in the search results. It provides searchers and search engines with context for your page.
Meta description: Your meta description is the short blurb that appears below your title tag. This description gives a brief preview of what to expect on your page.

While search engines only use title tags to determine page relevancy, both components are critical for helping users decide if your category page offers what they need. You want to optimize these tags to get users to click on your listing and engage on your category page, so your page can rank higher in search results.
To optimize these tags, you'll want to:
Stick to their respective character limits (60 for title tags, 155 for meta descriptions)
Integrate your core keyword into both elements
Make your tags descriptive and clear
4. Add category text copy
When you do SEO for ecommerce category pages, you want to add category text copy. When people think of category pages, they often think of pages that have subcategories with icons for each product category.

But your category pages don't have to be limited to subcategories with icons. You can add sections of text to your pages to help make them more descriptive.
This extra description can help you provide more context for search engines, too, so your category pages rank better.
Take Target, for example –– their kitchen and dining category page contains a section with short descriptions of different products.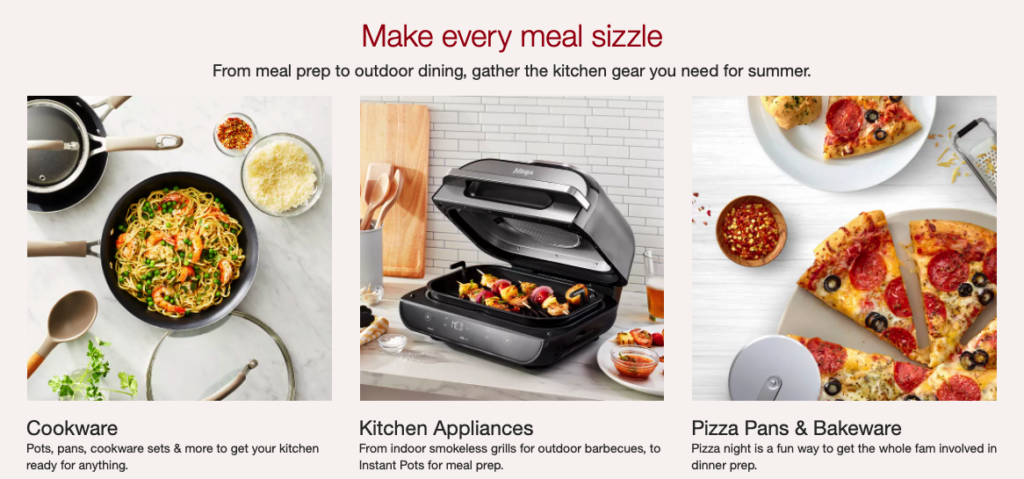 These descriptions are short and sweet, but they provide a little more context to the page. You can add brief descriptions to your category page to help provide your audience with more context and create opportunities to integrate relevant keywords.
As a result, you'll provide more context for search engines, so your pages can rank better in more relevant search results.
5. Integrate breadcrumb navigation
When you optimize category pages for ecommerce, make sure you add breadcrumb navigation to your site. Breadcrumb navigation is beneficial to both users and search engines.

For users, they know exactly where they are on your site. There's nothing more frustrating than getting lost online and trying to navigate your way back to the previous page.
With breadcrumb navigation, though, users know where they are and how to get back.
As for search engines, breadcrumbs provide search engines with a hierarchy of your website, which helps them understand which pages are most important on your site.
Not to mention, breadcrumb navigation can reduce bounce rate because users click on a link within the navigation to go back rather than the back button on their browser.
By implementing breadcrumb navigation, you can help optimize your category pages for ecommerce to provide users with a better experience.
6. Have a clear URL for your category pages
When you do SEO for ecommerce category pages, you must have a straightforward URL. Like your breadcrumb navigation, your URL provides your audience with a clear path of where they are on your site. It's beneficial to have a clear URL, so users can easily navigate your pages.
Not to mention, search engines use your URLs to help determine relevance for your page in search results.
You want to have an optimized URL, so you can insert relevant keywords into it. Think of it like this: Imagine you're browsing on a site and see this URL:
www.kitchencook.com/rehwu-3/hhr323t
Neither you nor a search engine would have any clue where you are on the site. This URL isn't clear and doesn't provide any context for your category page.
Now imagine that same URL, but optimized:
www.kitchencook.com/cookware/pots-and-pans
With this URL, you can see where you are on the site –– the pots and pans category page. Having a clear URL structure makes it easy for visitors and search engines to understand the context of your page and where it is in the hierarchy.
7. Add alt text to images
The last thing you'll want to do to optimize category pages for ecommerce is to add alt text to your images. Search engines can't read images, so they need an alternative.
With category pages being predominantly images, this situation can pose a problem. With alt text, though, you can solve that problem.
Alt text enables you to add a description to the backend of your image. It's an excellent way to get your pictures to contribute to your website's ranking in search. Not to mention, it's great to have if your images don't load or if people use screen readers.
You can use your alt text as an opportunity to integrate core keywords, as long as the context fits.
Don't overstuff keywords to try and help your rankings. For example, if you post a picture of a dark blue pot, you may put the alt text as "dark blue pot on a wooden kitchen counter."
Alt text is an excellent way to optimize your product pages to help them rank better in search results.
Get started with SEO for ecommerce category pages
Ecommerce SEO for category pages is critical if you want your pages to rank in search results and drive valuable traffic to check out your products. If you don't have the time to optimize category pages for ecommerce, WebFX can help.
Our team of over 500+ marketing experts knows how to optimize ecommerce stores to help you sell more.
In the past five years, we've driven over $3 billion in revenue and managed over 12.9 million transactions for our clients.
You can feel confident we'll optimize your category pages to drive results.
Ready to sell more? Contact us online or call us today at 888-601-5359 to speak with a strategist about our ecommerce SEO services!
How is your website's SEO?
Use our free tool to get your score calculated in under 60 seconds.
Get posts by email
Join 200,000 marketing managers and subscribe to Revenue Weekly!
"*" indicates required fields
WebFX Careers
Join our mission to provide industry-leading digital marketing services to businesses around the globe - all while building your personal knowledge and growing as an individual.