Imagine if you could rank higher in search results, drive more qualified traffic to your site, and boost your business's trust and authority with prospects. Sounds like a dream, right? Well, with content marketing, that dream can become a reality.
Creating content for search engine optimization (SEO) is the best way to experience all the perks listed above. There are five types of content for SEO that you can create to experience those benefits, including:
Keep reading to learn more about SEO-optimized content!
We post videos every Monday. Yup. Every Monday.
Join the 5,000 marketers who get their marketing knowledge from WebFX videos.

Subscribe Now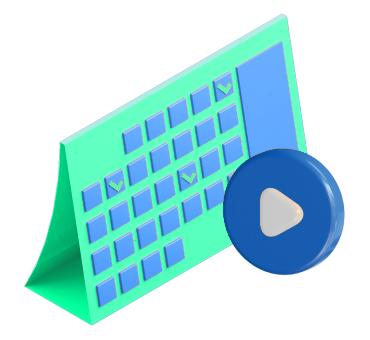 1. Blog posts
First on our list of types of content for SEO is blog posts. When you think of content marketing, this format typically comes to mind. In fact, there are over 600 million blogs across the globe.

As the name suggests, blogging involves sharing information and knowledge through a blog. Blog posts focus heavily on writing, but they can also include pictures, GIFs, and videos. Blogging is a more casual approach to sharing knowledge.
Typically, companies will take a more conversational tone with their blog posts, as if they're talking to a friend or colleague about a topic. It's a great way to connect with readers and have a "conversation" about topics that interest and matter to them. Your blog posts can cover any number of topics related to your business or industry.
For example, on Grammarly's blog, they cover numerous topics related to writing, from outlining to writing a resume to communication channels.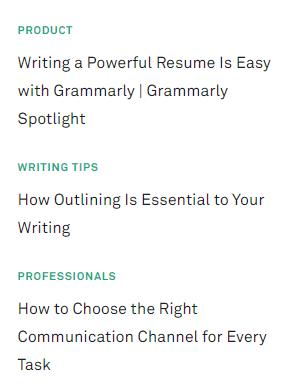 Why blog posts are a great form of content for SEO
Blog posts are great for SEO because they don't take as long to create as other types of content. Blog posts tend to be shorter — around 1000 to 1500 words — which means you can put out more in a shorter amount of time.
Not to mention, publishing blog posts often leads to better results — 60% of bloggers who publish at least once per day report getting strong results from their blogs. When you craft your blog posts, you'll want to create evergreen content, so your blogs can remain relevant and drive traffic continually over time. Evergreen content is sustainable and stays relevant over time — it's not dated or sensationalized content, like news articles.
With evergreen blog posts, you'll have the perfect storm of frequent posting and relevancy to have a steady stream of traffic to your site, which will increase your SEO performance.
2. Long-form content
When you learn how to create SEO content, you find that long-form content is popular. Long-form content involves providing detailed and more in-depth information about a topic. These posts tend to be longer than blog posts and have a more professional tone.
Blog posts might skim the surface of a topic, while long-form content dives into more detail on a subject and helps readers get more information and different angles. Take this example from The New York Times. They created a long-form article that tells the story of an avalanche in Tunnel Creek.
They provide in-depth details about the people's story of experiencing the avalanche, but they also add in background information about the location and previous avalanches in that area.

The post contains in-depth details and background information that help bring context and understanding to the story.
Why long-form content is a great form of content for SEO
Long-form content offers numerous benefits for your SEO. One of the first benefits of long-form content is that it keeps people on your site longer.
Now, you may be thinking, how is that possible when the average user spends 37 seconds on an article? Even though the average user may only spend a little over 30 seconds on a page, some users will spend longer. You will have prospects that read the entire page and absorb all the information you shared.
These people are great leads for your business. Not to mention, long-form content helps deliver all the information prospects need, even if they don't stay on your page long. Instead of having to hop from page to page to get information, they can get everything they need from your one post.
As a result, you become a trusted source of information for your industry.
3. Videos
Another great form of content for SEO is videos. Videos are an excellent, engaging format for delivering tons of information. Here are some stats that show the impact of video:
139% is how much brand association increases after watching a video
92% of users share video with others
86% is how much conversion rate improves with video
Videos enable you to share an abundance of information at once with your audience — one minute of video is equivalent to eight million words. Videos are highly versatile, too. They can stand on their own or be integrated into a blog post or long-form content to give another dimension of engagement.
With video marketing, you can cover numerous topics in your industry. You can also create different types of videos to showcase these topics, including:
Educational videos
Product videos
Product demonstration videos
…and more!
Why videos are a great form of content for SEO
Videos are valuable to SEO for multiple reasons. The first reason is that they increase engagement with your business. People enjoy watching videos — U.S.
adults spend five hours each day watching videos. This SEO-optimized content is excellent for engaging prospects and keeping them engaged. Not to mention, you can use video to boost your page's SEO.
Users spend 88% more time on pages with videos. A longer dwell time sends a positive signal to Google that your page is relevant to searchers, leading to higher rankings for your page. Additionally, you're 53 times more likely to end up on the first page of Google results if you use video on your website.
Video boosts engagement and delivers information users want, which all sends positive signals to Google and improves your ranking.
4. Listicles
Next on our list of types of content for SEO is listicles. Listicles are pages that contain content in the form of a list. This content is extremely popular because it's easy to scan, and users can quickly get information.
When you create listicles, you can take numerous approaches, like how-to lists or lists of tips. Here's an example of a listicle piece of content from Dave Ramsey that contains a numbered list of ways to make extra money.

Why listicles are a great form of content for SEO
Listicles are a great form of SEO content writing because they provide a great user experience.
Users can quickly sift through your content to find the most relevant or most important information. It makes it easy to read, encouraging users to stay on the page longer and check out your information. Additionally, listicles are great for search engines too.
You can insert related keywords into your headings and subheadings to help Google determine your pages' relevancy. It's a great way to help your site rank better in search results.
5. Guides
When you learn how to create SEO content, you'll find that many companies favor making longer pieces of content. Another longer piece of content you can create is a guide. Guides are all-encompassing pieces that provide every detail and nuance to know about a topic.
Guides can either be open or gated content. With gated content, users must input their information to get access to the guide. Typically, once users submit their information, they get an email copy of the guide.
The problem with gated content, though, is that it doesn't count towards your SEO ranking. Since Google can't access the text, it can't impact your SEO. If you want to have SEO-optimized content, you need to publish your guide on your site for Google to access.
In this example of Styles of Man, you can see they provide an in-depth guide on fall fashion. It breaks down the different items of fall fashion to create an outfit.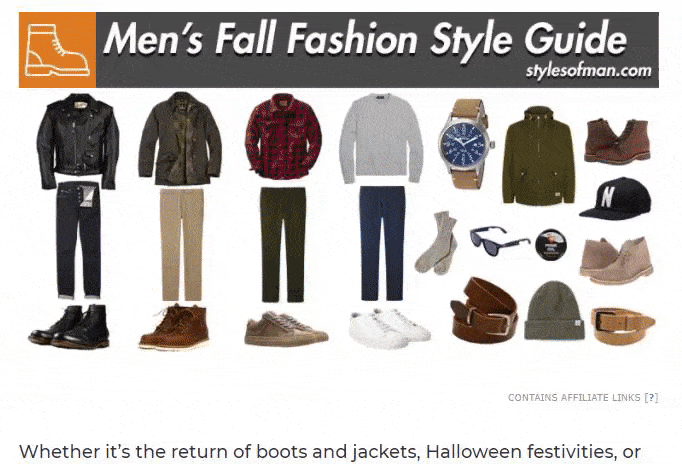 Why guides are a great form of content for SEO
In-depth content is excellent for your SEO, so guides can have a positive impact on your SEO.
Longer content tends to perform better for your business— articles with more than 1000 words receive more social shares and links than shorter posts. While social activity doesn't directly impact your SEO, receiving constant shares and links can increase your site's traffic, which increases your ranking in search results. Not to mention, longer guides can keep people on your page longer, which sends a positive signal to Google that your page is relevant.
Need help creating different types of content for SEO?
SEO content writing can be a big undertaking when you're trying to create multiple content formats. If you're feeling overwhelmed with creating these different types of content for SEO, WebFX can help. We have a skilled team of copywriters and content writers who can help you create SEO-optimized content that drives your business results.
We've driven over $3 billion in revenue and over 7.8 million leads for our clients in the past five years alone. We can help you create content that boosts traffic to your site, drives more leads, and helps you earn sales. Ready to create content that helps your SEO perform better?
Contact us online or call us today at 888-601-5359 to speak with a strategist about our content marketing services!
WebFX Careers
Join our mission to provide industry-leading digital marketing services to businesses around the globe - all while building your personal knowledge and growing as an individual.