If you want people to use your dry cleaning services, you need to meet them where they already are — online. And with 93% of all online experiences beginning with a search engine, Google is the perfect place to start.
When your dry cleaning facility appears in relevant Google search results, you'll reach online users who need of your services and encourage them to come to you for their dry cleaning needs. This practice is called search engine optimization (SEO), and it's a critical marketing strategy.
But just what is SEO for dry cleaners, and how can you use it to drive the best possible results for your business? We'll answer both of those questions in detail below, so read on to learn more.
Then partner with WebFX's team of over 500 experts for our top-of-the-line SEO services. Just call 888-601-5359 or contact us online to get started today!
Independent research from Clutch has named WebFX the
top SEO company

in the United States.

Clutch has personally interviewed more than 250 WebFX clients to discuss their experience partnering with us.

Read More Clutch Reviews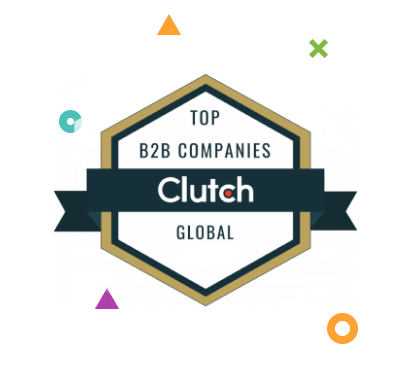 What is SEO for dry cleaning?
SEO is a digital marketing strategy that focuses on getting your web content to rank in Google search results. However, to rank highly, you must satisfy Google's ranking algorithms.
The goal is to get your content ranking for searches related to dry cleaning and the services you offer. More precisely, you'll want to target specific keywords that your target audience searches.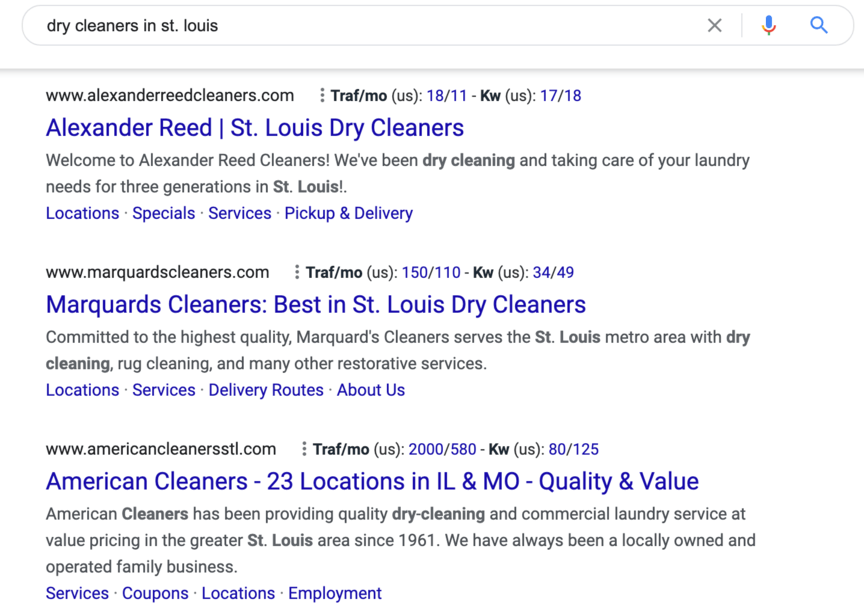 While SEO involves optimizing for various ranking factors, the most prominent feature of SEO involves keyword integration. By including specific keywords in your content, you can help the content rank when users search that keyword.
SEO for dry cleaners is such a valuable strategy because when people tend to be highly receptive to content that comes up in direct response to their query. If you can answer someone's question or fulfill their need, they'll think highly of your business.
Ultimately, the goal of dry cleaning SEO is to draw users to your website. You want people to find your content on Google, follow it to your site to engage, and hopefully become a lead or even convert.
How can you improve your dry cleaning SEO?
SEO for dry cleaning has a simple goal, but achieving that goal can sometimes be complicated. Satisfying Google's ranking algorithms is no easy task, so to rank high in search results, you have to optimize your content in various ways.
Here are five of the best ways to improve your dry cleaner SEO and get your content ranking higher in Google!
1. Focus on user search intent
We've already mentioned how keywords are your primary tool for telling Google in which searches your content should rank. But the real key to a successful SEO campaign is to focus on user search intent — that is, why users searched for a given keyword in the first place.
Imagine that you write a blog post to target the keyword "how does dry cleaning work." Because you include the keyword in the post, it ends up ranking for it. But then users click on it and discover that it doesn't answer their question.
In that scenario, none of your visitors would stick around long. They'd quickly hit the "back" button, and in doing so, they'd inadvertently communicate to Google that your content isn't a relevant search result — which would significantly hurt its rankings over time.
To avoid that, make sure all your content addresses whatever need users have when searching for your target keyword. You can find the user search intent for a keyword by looking at the results that are currently ranking for it.
2. Target long-tail keywords
When it comes to targeting keywords, some are better than others.
You want to find keywords that will reach a relevant audience while simultaneously bringing in large numbers of people. Ideally, you'd also like your keywords to come with as little competition as possible.
So, how do you strike that delicate balance? The answer is, you use long-tail keywords — that is, those that are several words long. Long-tail keywords come with two main benefits:
Specificity: Because they're longer, long-tail keywords are more specific to individual search intents. That means you'll reach a more relevant audience.
Competition: The increased specificity of long-tail keywords means a narrower range of businesses wants to target them, leading to less competition for your business.
As an example, you might aim for a keyword like "dry cleaning services with same-day pickup" over simply "dry cleaning."
3. Earn backlinks
Another factor Google considers when it ranks pages in search results is how authoritative those pages are.
A site viewed as reputable will fare much better than one that appears unauthoritative. That's why you can benefit from earning backlinks for your content.
Backlinks are where third-party sites in your industry link to your content.
One way to earn backlinks is to look through third-party dry cleaning websites for any broken links. When you find one, you can contact the site and recommend replacing the broken link with one to your content.
Aim to earn backlinks only from reputable websites. When Google sees those sites linking to you, it will assume you're reputable as well, and it will rank you higher.
When it comes to backlinks, it's more important to go for quality over quantity.
4. Optimize your page speed
When you visit a website, how long will you wait for it to load before you grow impatient and hit the "back" button? If you're like 83% of online users, probably no more than three seconds. That's why your website should have fast page load speeds.
When your pages load slowly, users won't stick around to wait on them. As more users bounce, Google will notice their behavior and assume that your content is low in quality, ranking it lower. To keep your page speeds fast, you can do the following:
Cache web pages
Minify code
Compress images
With fast-loading pages, you'll be able to retain all your traffic and increase your rankings.
5. Implement responsive design
A final way to improve SEO for dry cleaning is to use responsive design — that is, to ensure that your website works on desktop and mobile devices alike.
Over 50% of all Internet traffic comes from mobile devices, so without mobile-friendliness, you're missing out on the majority of your audience. You don't want people to visit your website on their phones and then find that it doesn't work right on their screens.
Furthermore, Google actually ranks sites based on their mobile format (mobile-first indexing). So, if your site isn't mobile-friendly, it won't have a shot at ranking at all!
WebFX can give your dry cleaner SEO a boost
Want to bring in more leads and conversions with dry cleaner SEO? We can help!
With over 25 years of SEO experience, we know exactly what it takes to drive a successful dry cleaning SEO campaign, and we'd love to show you firsthand.
With our SEO services, you'll get help implementing every one of the tips above and more. You'll also receive a dedicated account representative to keep you informed about everything we do for your campaign.
To get started with us, give us a call at 888-601-5359 or contact us online today!
Earn a 20% greater ROI with WebFX