The 21st century has changed the way companies interact with customers as social media becomes increasingly important to building brand affinity. Tools like Facebook Business Suite (also known as the Meta Business Suite) allow digital marketers to manage their ad accounts, optimize their Facebook pages, and assign user accounts in a single hub.
This free application will help you master social media advertising and take your online presence to the next level.
In this guide, we'll go over everything you need to know about the Meta Business Suite!
Keep reading to dive deep into the world of social media — and remember to subscribe to the WebFX email newsletter for more fresh insights from our digital marketing experts!
What is the Facebook Business Suite?
Facebook Business Suite is a social media management tool that allows businesses to streamline their Facebook and Instagram accounts in a single, user-friendly dashboard. It's free for mobile and desktop users and contains a suite of administrative tools to control your social media presence.
Setup for Facebook Business Suite is easy and convenient. You link your Facebook and Instagram accounts to receive instant access to an overview dashboard of your activity on social media.
In 2021, The Facebook Company rebranded to become Meta. While many people still use the term Facebook Business Suite, the official name is now the Meta Business Suite.
Difference between Facebook Business Suite and Business Manager
Facebook Business Suite and Business Manager share overlapping features. The main difference is that Business Suite offers far more features and flexibility for social media management. In fact, Facebook has phased out the Business Manager and replaced the application with the Business Suite.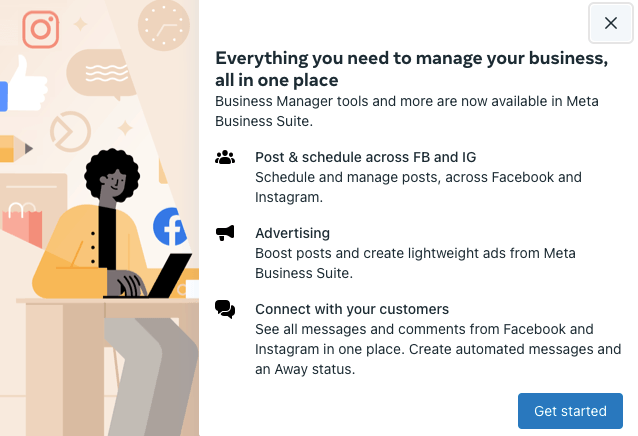 Who should use Facebook Business Suite?
Facebook is the optimal business tool for companies using Facebook and Instagram for advertising and social media marketing purposes. Analytics is the key tool within Facebook Business Suite. These advanced metrics will help your business figure out how users engage with your brand and the impact of your paid social media marketing.
Social media marketers and small business owners receive the greatest benefits from the management tools and data analytics Facebook Business Suite provides.
How to launch a Facebook Business Suite account
You're only a few steps away from optimizing your presence on Facebook and Instagram. The setup process for Business Suite is accessible and user-friendly. We'll walk you through the first several steps:
Launch an account: Visit the Facebook Business website and click "Create a Facebook Business" account to begin the process.
Fill in contact information: The next step is to provide your full name and business email address.
Manage accounts: Select the Facebook and Instagram accounts you have permission to claim. Any Instagram account you claim must be a business or creator profile. You can change the status of your personal account to one of these options.
Delegate page duties: You can run your account solo or assign page admins. An admin can be an employee with limited access to the account or a business admin who runs the account.
Review your account: Now, you have the opportunity to review all of your content, make sure it's correct, and then launch the Business Suite from the dashboard overview.
Facebook Business Suite features
Facebook Business has many benefits that will help you manage and grow your business. Several of the main features include:
Dashboard: The Facebook Business Suite uses a home screen dashboard to provide an overview of your Facebook and Instagram activity at a glance. This menu includes everything from foundational insights like engagement metrics to recent to-do lists.
Content management: You can also create posts to publish to Facebook, Instagram, or both. You can also customize the posts for each platform at the same time.
Calendar view: The calendar helps you schedule future posts to publish automatically. You can adjust the date and time for precision. The Planner tool also allows you to drag and drop posts to move their time slot when you want to make a change quickly.

Stories: The Meta platform features publishing features so you can generate creative Stories with photos or videos, text, and stickers. You can post the Story immediately or schedule it for later.

Ad management: You can set advertising goals with Facebook to promote your content. A selection of different creative options will appear based on your campaign goals. An excellent five-step strategy can help you take your Facebook advertising to the next level.
Insights: The Business Suite provides activity metrics for your Instagram and Facebook accounts, including page reach, audience demographics, and highest-performing paid and organic content.
Messaging: The Facebook Business Suite Inbox is a helpful tool that enables users to access and respond to messages and comments on Facebook and Instagram in a single location. You can even assign conversations to specific team members, organize your Inbox with filters, and create automated messages with keywords.
Partner with WebFX to take your Facebook and Instagram presence to the next level
When you master Facebook Business Suite, you'll boost your business presence online and build stronger relationships with your customers. However, balancing learning the interface and implementing the best marketing practices may seem overwhelming. WebFX is here to help!
Our team of specialists has brought in over $3 billion in revenue for our clients over the last five years. At WebFX, our digital marketing agency is a Meta Marketing Partner that can help you grow your business through social media platforms like Facebook and Twitter.
Ready to boost your business's revenue? Reach out to the WebFX team online today to receive a free quote, or call us at 888-601-5359 to speak with a strategist about our social media services!
WebFX Careers
Join our mission to provide industry-leading digital marketing services to businesses around the globe - all while building your personal knowledge and growing as an individual.