Learn

Should You Use Google Images Advanced Search to Find Images for Your Website?
Should You Use Google Images Advanced Search to Find Images for Your Website?
When you write pages for your website or blog, you need to compliment them with engaging images. One option for your business is Google Images. To get better photos, you need to use the Google Images Advanced Search option.
On this page, we'll talk about different ways to filter your image search results through the advanced search feature. Keep reading to learn more and call us today at 888-601-5359 to learn more about Google Images advance search.
Partner with a team of ecommerce masters!
WebFX campaigns have delivered more than 12,936,451 ecommerce transactions in the last 5 years
Read the Case Studies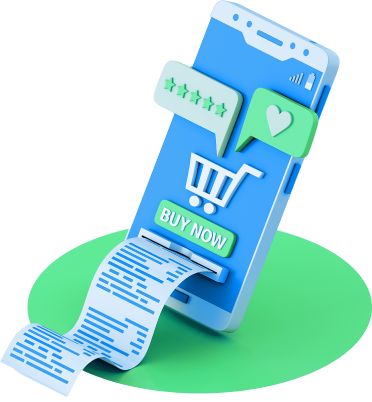 8 Google image advanced search options
When people search on Google for images, most don't use the in-depth search option. They type in their keywords and generate an array of images that fit their search query. Many people don't know that they can go beyond the standard search to find better images.
Google Image's advanced search options make it easier to find specific images that suit your needs. There are numerous filters to help you generate better search results for your images. For example, you can filter by: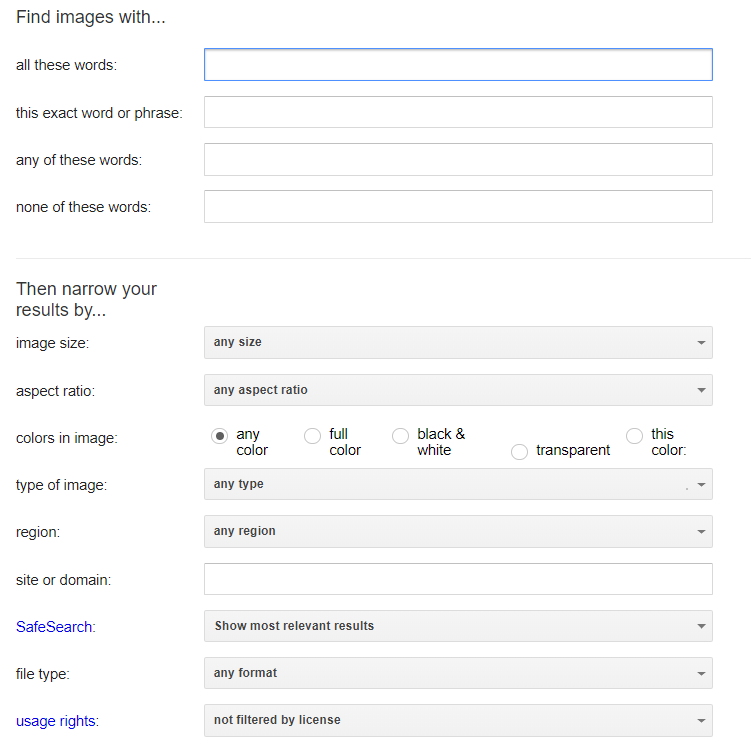 1. License type
This is one of the most important features of Google Image advanced search. Just because an image is in Google does not mean it is free to use. There are certain restrictions to images, so it's important that you pay attention to them to avoid getting into trouble.
By using the license type filter, you can generate results that have only images you can use. Google enables you to filter images by labeled for reuse, free to use or share, and free to share, use or modify. They also offer options that focus on noncommercial and commercial options.
To ensure you don't run into copyright issues, you'll want to stick to using "labeled for reuse" photos. These are photos that fall under Creative Commons License and can be reused on your site without committing copyright infringement. It's best to always use this filter when searching for images.
This filter ensures that you have access to images that you can use. It'll help you avoid a messy situation with copywriter infringement.
2. Word choice
Google gives you the option to create more specific searches. One of these features is in the word choice. Google allows you to create more refined searches with your keywords to generate better image results.
You can search for images using all the words in your query or focus on exact words or phrases. If you were searching "people typing on a computer," you could set "typing on a computer" as an exact phrase if you want to precisely find images of typing on a computer.
Google also enables you to conduct broader searches. You could broaden your search to include any images that include the keyword "computer."
If you wanted to exclude some results, you can do that too. Google enables you to exclude images that contain certain words. You could exclude words like "mouse" or "desktop" when searching for a computer.
3. Image size and ratio
When you conduct image searches, you often run into the issue of finding an image that is the right size for your website. You can waste valuable time trying to find an image you like that fits your image dimensions.
With advance search options, you can search for Google images that fit your criteria. Google enables you to look for basic sizes, like Large, Medium, Small or Icon. You can also look for images based on their dimensions or megapixel size.
This makes it easy and convenient to find images that fit your needs. You'll focus more of your energy on the right image results.
4. Color
Google has refined their image search to enable you to look for an image based on its color. This helps you find an image that fits your vision best.
If you want a full color image, you can refine your search to only show those images. You can also focus on black and white or transparent photos for your search.
There is also an option to search for a specific color photo. Google allows you to pick that color from a pallet to help you generate results that fit your color scheme.
5. Region
One of the unique features of Google Images is that you can search for photos based on a specific region. You may want photos that are reflective of certain countries. Whether it's buildings, nature, or monuments, there's a chance that you may want images that fit with your region or a message you're trying to convey.
Google makes it easy for you to find the right images. You can tailor your search to draw up images that are region-specific. It makes it easy to find the right images for your needs.
6. SafeSearch
Sometimes when you conduct searches, it can generate images that don't fit what you are seeking. It can generate images that are explicit and inappropriate for the workplace. With SafeSearch, you can filter out these explicit images.
This ensures that your image search only shows images that are appropriate. It will help prevent you from generating an image searches that are not suitable for your needs.
7. File type
When you search for images, you may want a certain file type. Photo file types are an important part of choosing your image. A JPG photo may be more appropriate in certain settings than a GIF file.
With Google Image advance search options, you can select the file type you need. You can focus on photos that are JPGs, GIFs, PNGs, BMPs, and more. This makes it easy for you to select the photo format that works best for your business.
8. Time
Sometimes when you search for images, you generate results with pictures that are outdated. When you are on the web, up-to-date and current information is crucial. That means that you need up-to-date pictures to accompany that information.
Google enables you to conduct image searches based on the time frame. You can choose images that were posted within the past 24 hours or a few days prior. This enables you to get fresh images.
What is reverse image search?
When you conduct image searches, you have many options to help you find the right images for your site. In some cases, you may have an image and want to find more images like it. With reverse image search, you can find more images like the one you have.
Reverse image search enables you to upload a photo into the search bar to find related images. The camera icon next to the search bar enables you to upload your photo.

Google analyzes the photo and generates results that fit best based on the image. You'll get results that include similar images, sites that have the image, and other sizes of the image.
This makes it easy to find related images, as well as different versions of your image. It's a helpful tool for finding more relevant images and better images for your site.
To use this feature, you need to search using images that are more likely to appear on other sites. Photos of your family aren't very likely to appear on other pages. You want to pick popular photos or subjects.
Should you use Google images for your website?
Now that we've covered how to use Google Images advanced search to find better photos, you may be wondering if Google images are the best option for your website.
When it comes to designing your site, you want to use images that are unique. It's important that you use images that help your audience connect to your page. If they see images that they've seen on dozens of other sites, it won't create that personal experience for them.
Google images aren't unique. They appear in the search results, sometimes multiple times, because many sites are using them. It won't personalize your site for your audience.
The other issue is the lack of photo results. If you constantly use Google Images to search with a certain keyword, you will eventually exhaust all photo options. This will leave you wondering what to do next.
Google Images is a great option if you post blogs or occasionally need a certain type of photo. You don't want to exhaust this source. It can turn up great images for your business, but it can also create challenges with finding the right images.
If you want to expand your photo options beyond Google, you can sign up for subscriptions like iStock, Depositphotos, or Stock Photo Secrets. There are also free image sites, like Unsplash and Pixabay.
As always, be mindful of the licensing on the photos to make sure they are free to use. Some sites will specify that you can only use photos for editorial use, while others are free to use with the Creative Commons stamp of approval. If you are mindful of what you can and cannot use, you will avoid any mishaps with copyright.
WebFX will help you add impactful images to your page
Adding images to your pages and your content can help you create more impactful pages. Images keep your audience engaged and interested in your page. At WebFX, we know how to use images that make a positive impact on your audience.
As a full-service digital marketing company, we offer numerous services. We have a team of 500+ experts that will bring their knowledge and expertise to your campaign. Our team has more than 25 years of experience creating marketing plans that work.
If you want a digital marketing company that drives results, look no further than WebFX. To date, we've driven over $3 billion in sales and over 7.8 million leads for our clients. We focus on driving our clients' success first.
Want to know what it's like to partner with us? Just ask our clients! Check out our 1020+ client testimonials to see what it's like to work with a top digital marketing expert like WebFX!
Start using better images today
If you want to start using better images for your campaign, contact us online or call us today at 888-601-5359 to speak with a strategist.
We look forward to adding a new visual perspective to your business!