Your company is as unique as your services, but what if your audience doesn't know that? Whether you offer 3D printing services or equipment, your company needs a robust online presence to reach customers.
Search engine optimization (SEO) will help boost your presence in search results and encourage more business. This page will discuss the benefits of SEO and how it applies to 3D printing companies.
Keep reading for more on SEO for 3D printing, or call 888-601-5359 to speak with a specialist about your company's SEO strategy.
Looking for an all-in-one SEO audit tool? You've found it.
SEO Checker provides data on key metrics to give you:
Complete SEO score

Content Grade

Site Speed Analysis

and more.
What is SEO for 3D printing companies?
SEO is the process of altering your website so that it appears higher in the search engine results pages (SERPs). For 3D printing companies, this can involve promoting your services or highlighting your products.
The average click-through rate (CTR) for the 1st position on Google is 40%. That means your goal is to appear at the top — or as close as possible — to get the most clicks. The higher your CTR, the higher your chances at conversion.
In a growing market like 3D printing, there are plenty of competing businesses out there. SEO helps you showcase your materials and highlight your services. You can differentiate yourself from competitors and reach more people by optimizing your site for people and search engines.
Factors that impact SEO
With SEO, your team changes your website to encourage higher rankings. However, you must know what to look for when altering your website, or you could harm your SEO. There are two main types of SEO factors:
On-page SEO: Changes on your website to influence your SEO. This SEO type is entirely under your control.
Off-page SEO: External factors you can use to boost your page rankings. These factors happen everywhere but your website.
You can use on- and off-page SEO to boost your 3D printing website. SEO rankings come from a range of factors, including the following.
Keywords
Keywords for SEO are the words or phrases users enter into the search bar in a search engine like Google. Optimizing your site includes adding keywords related to your products and services.
When users search for "3D printing services," Google will pull the most relevant results for that keyword: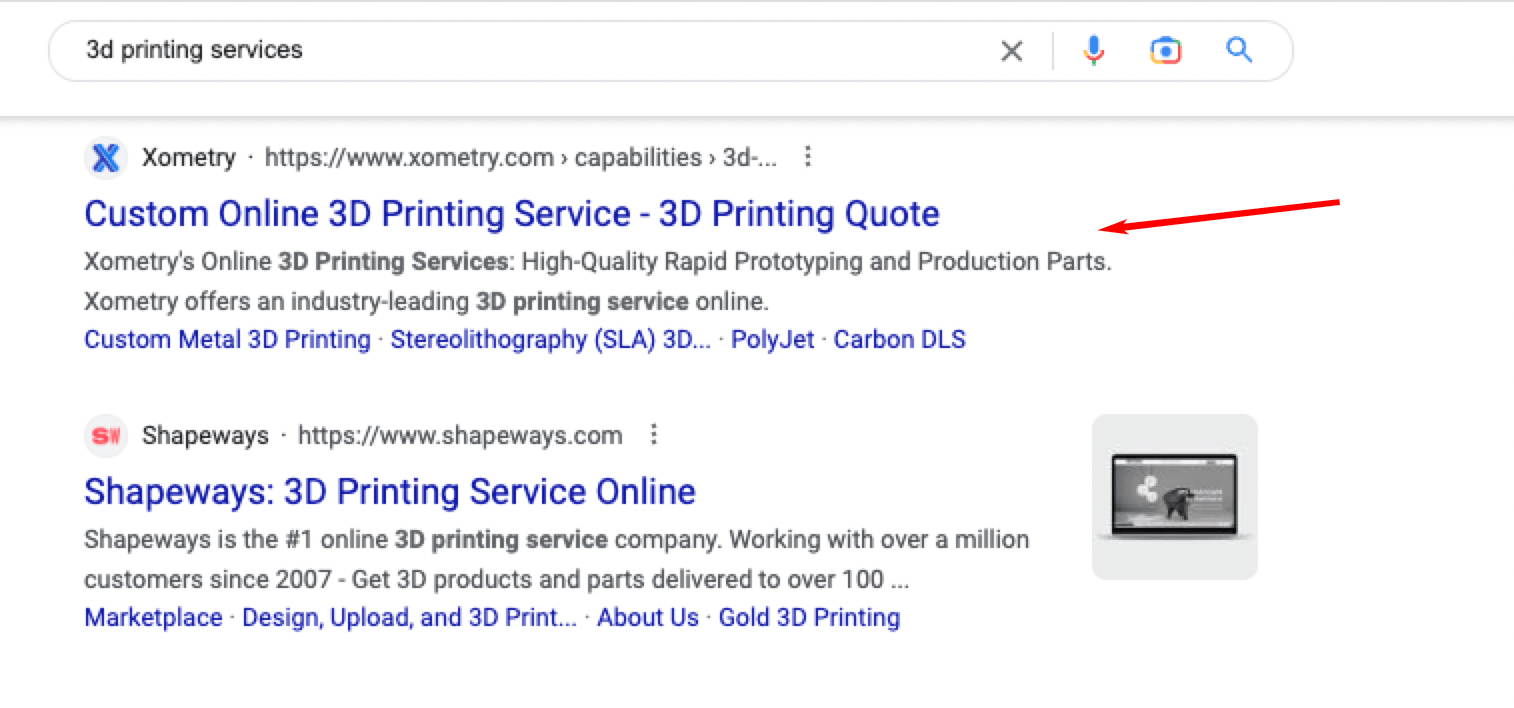 Your keywords should be specific and relevant to your business. Adding too many per page can hurt your SEO, but inserting them naturally once or twice can help you tell Google what your page is about.
Finding keywords for 3D printing is simple with the right tools. KeywordsFX is our free keyword generator that you can use to create keywords for your website.
User search intent
User intent (UI) describes what the user was trying to find when they entered a keyword into the search bar. This feature is crucial when implementing keywords and crafting your pages.
For example, say a user searches "3D printer cost." Based on the search results and top pages, we can assume that the user is looking for information on how much a 3D printer costs: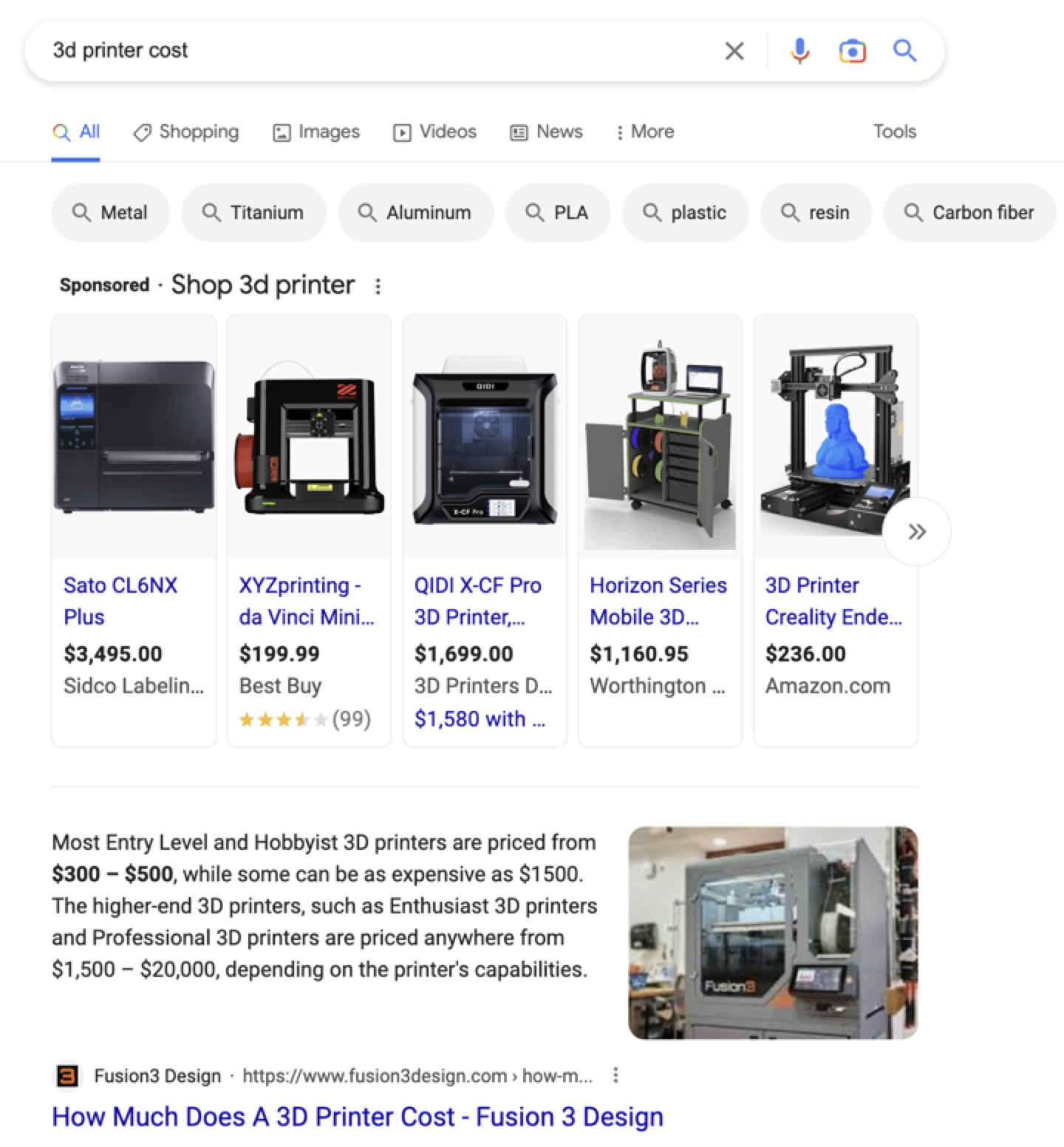 If you write a page targeting the same keyword that doesn't explain how much a 3D printer costs, the user will click away, and Google will deem your page irrelevant. UI will tell you what people want from your pages, forcing you to consider your target audience.
Links
Links tell Google that your pages have value. There are two types of links to earn:
Internal links:Links between two pages on your website.
Backlinks:Links from another website that lead to yours.
Both links can impact your SEO, but internal links are entirely in your control. Internal links help you define your pages.
For example, if you mention the phrase "3D printing in Houston" on one page, you could link to a location page for Houston on your site. You earn backlinks by becoming an industry information source and collaborating with other websites.
Design
Your web design is another crucial factor for SEO. While the website code can affect SEO rankings, so can your visuals. You must focus on your web design if you want people to visit your website and stay.
Some design factors that impact SEO are:
Image resolution and load time
Readability
Many in-house teams don't have the capacity for coding or managing web design. A professional web design agency can ensure your site flows smoothly and appeals to your audience.
3D printing SEO ideas: What does SEO look like?
Many 3D printing companies understand SEO basics, but putting a plan together is still challenging. Now that we've covered the basics of SEO for 3D printing companies, you can start piecing together what a project might look like for your business.
Let's look at an example plan below.
Goals
Say that your company provides 3D printing services for the education industry. Your goals might be:
Narrowing down your target audience
Getting more people to fill out your contact form
Appearing higher in the SERPs for target keywords
Depending on your business size, age, and structure, these goals might look different. Traffic and conversions are two of the most common goals, as these can directly impact your bottom line!
Outline and implementation
Once you outline your goals, you can start planning ways to achieve them. Your plan could include the following steps:
Doing keyword research: You must find the right keywords representing your products. Conducting keyword research and implementing those phrases on your website will tell Google what your company offers.
Creating service pages: Building your service pages will help you target keywords and explain your services to customers. You can also create a sitemap that links all your related pages together.
Adding strong calls to action (CTAs): Each page should have a clear CTA that pushes readers to fill out your contact form. After reading about your service, users can fill out a form with questions. From there, you can create an open line of communication.
Building internal links: As you create more pages for your site, you can use anchor text and internal links to tell Google what each page on your site covers. Adding internal links will also tell Google that your pages have essential information.
This basic SEO plan would target the goals explained above. You can implement these changes yourself, or work with an SEO agency with experience in your industry. Working with a partner like WebFX lets you enjoy hands-off results.
Results
Measuring results is a vital part of any SEO plan. You can use tools like Google Analytics to measure your traffic, conversions, user profiles, and more:

Note that SEO is an ongoing process. As algorithms evolve to serve users better, you must update your website and accommodate new features. You also need to make changes regularly to show Google that you are investing in your website.
SEO can give you lasting results and generate more revenue over time. If you want more 3D printing SEO ideas, you can work with a digital marketing agency like WebFX.
Learn how we increased traffic by over 40%, and conversions by over 100% for an ecommerce client.
Read the Case Study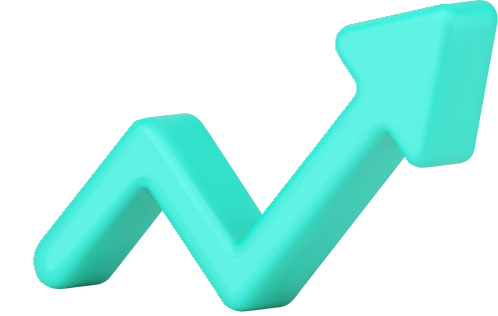 WebFX promotes success with SEO for 3D printing
Once you understand the basics of SEO, you can begin changing your marketing approaches for the better. Working with a professional SEO agency can give you more time to focus on your business while earning the top spots in the SERPs.
Partnering with WebFX grants you a customized SEO approach and an extended team of experts. We have 1000+ clients across 154 industries, all with exceptional results and increased revenue.
Request a free proposal online to see what our results could look like for your business.
Increase your leads, sales, and revenue with digital marketing