Lead generation builds interest in your auto service center through several strategies. Traditionally, lead generation involved telemarketing, door-to-door sales, and attending trade shows. Today, like most marketing strategies, lead generation is primarily an online effort. If you aren't up with the times, you're letting leads slip through the cracks.
Here at WebFX, we specialize in lead generation and other digital marketing tactics. We've contributed to billions of dollars in revenue for our clients, and we hope your auto service center is our next success story. Today, we're sharing some of our favorite lead generation strategies to bring in new customers wherever they may be in their buying journey.
37% of marketers say that generating high-quality leads was one of their biggest challenges.
We want to decrease that percentage.
WebFX can help you generate high-quality leads with a customized marketing strategy.
Learn More About Lead Generation Services
Types of leads you'll attract
The first thing to know about lead generation is that there are a few kinds of leads you may want to appeal to, and all of them are at different stages in the buying process:
Marketing-qualified leads (MQLs):

MQLs aren't quite ready to invest in you yet, but they are interested in learning more about your services. They may sign up for your email list or download a guide about automotive practices.

Product-qualified leads (PQLs):

PQLs are a bit more interested in your services, particularly if you can cut them a deal. A discount or free inspection can go a long way in encouraging them to come in and see what you have to offer, potentially converting them on the spot.

Sales-qualified leads (SQLs):

Like PQLs, SQLs are ready to know more. They're likely to contact you for more details about your current offerings and when they might be able to schedule service.

Service-qualified leads:

These leads have already become buyers. They've used your auto service before and were impressed enough to return. They may expect extra benefits for their loyalty or want you to take on larger projects with them, like upgrading certain car parts.
Guiding leads through the sales funnel
Turning a lead into a customer can be a long process that looks different for every person who receives your services. The buyer funnel depicts this journey and what people need through various stages of exploration.
While some experts will argue the traditional sales funnel model is dead due to the growing personalized nature of the internet, most leads still go through these basic stages as they consider where to go for auto service:
Awareness:

This is the largest demographic of possible leads and the least likely to convert. They may know they'll need auto service eventually, but they probably don't right now. These leads may find themselves on your website to see what services are available in their area.

Research:

When people are in the research stage of their journey, they're looking at your website and several others, gauging your expertise and comparing their options. Some people start the buyer journey at this stage, especially if they reach you through a blog post and follow your call to action to your services or contact page. However, they still may not be ready to commit to a purchase.

Browsing:

In this phase, your lead is looking in earnest. They may have a service light on in their vehicle and are looking for answers on how soon they should get it checked out. These leads read reviews and examine your services closely. Here is your best opportunity to draw them in and get them to schedule an appointment at your service center.

Buying:

Once a lead has gathered all the information they want, they're ready to take action and visit an auto service center. If you've given them everything they need and appear authoritative, knowledgeable, and experienced, they'll call your business or contact you online to set up an appointment.
6 top lead generation tactics for auto service centers
Wherever your leads are in the buyer funnel, some strategies can appeal to everyone. When WebFX launches a lead generation campaign, these are the top tactics we employ for maximum draw and retention.
1. Content marketing
Generating new leads is about more than appealing to people only when they need auto service. If you want to develop new leads, your website should be a comprehensive resource for the entire auto industry, not just the services you offer.
Content marketing, combined with SEO, can help you bring leads, even when they're looking for tangentially related information, like learning how to buy a new car or preparing their vehicle for winter weather. Having a blog to engage in content marketing allows you to reach new demographics and expand your site's authority in your industry.
2. Social media marketing
Social media is where the world makes new connections and discovers information. If you're not there, you're missing out on leads. For businesses in the modern age, having a social media presence is necessary for being found easily and taken seriously.
Posting regularly on platforms like Facebook, Instagram, and TikTok lets new leads discover you and helps current leads stay up to date with your business. The more they hear from you, the better chance they'll remember you when they need auto service.
3. Optimized web design
Whatever you're doing to bring in new leads, you want to draw them to your website and keep them there with user-friendly navigation and responsive design. Before you start your lead generation campaign in earnest, ensure your website is ready to handle any new visitors.
4. Local SEO
Search engine optimization (SEO) is perhaps the best way to appeal to new customers who have never heard of your brand. Local SEO makes your business visible to people searching for services like yours in your area — the people most likely to follow through and become profitable leads.
5. PPC campaigns
Pay-per-click advertising is a form of paid marketing. Essentially, you pay Google, Facebook, or another website to show your ads first. This placement allows more people to find your site through specific and targeted advertisements, creating viable leads.
6. Getting out in the community
While digital marketing is the modern way of appealing to the masses, remember good old word of mouth! Connecting with people in your community means talking with those most likely to use your services. Attend local trade shows, partner with auto supplies stores, and send flyers around town to build strong relationships.
Meet WebFX:
Your world-class, tech-enabled marketing agency with over 1.6 million hours of combined expertise.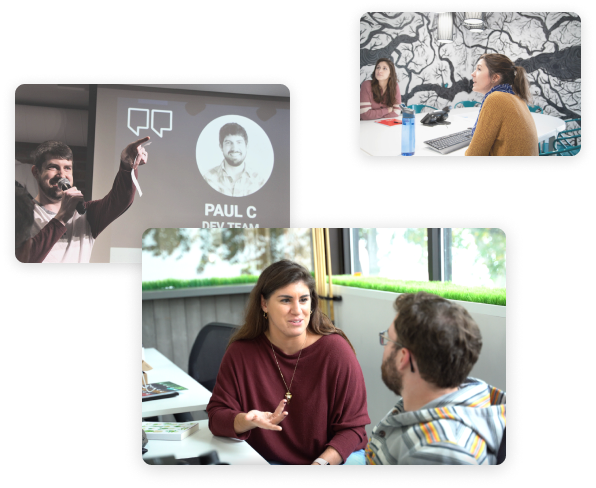 Gain more leads than ever with WebFX
Like your auto services, lead generation can be a full-time job. While it's vital to the life of your business, your focus should be on delivering excellent service first. Thankfully, there's a solution — WebFX's team comprises experts in lead generation for auto service centers.
Our skilled team of strategists has generated thousands of leads for our clients, and we're passionate about expanding your business through the best digital marketing tools. If you're ready to see a boost in your lead numbers, engagement, and conversions, contact us today at 888-601-5359.
Increase your leads, sales, and revenue with digital marketing
Find Us Driving Revenue Nationwide