Lead Generation for Audiologists: 6 Tips to Try
Two separate people — Lily and Tracy — encounter a paid audiology ad from your clinic. Lily, who has never heard of your practice, ignores it. But Tracy — who visited your site last week — recognizes the practice's name and clicks to your website.
The reason Tracy clicked when Lily didn't is that Tracy was already a lead — that is, she had come across your clinic before and recognized the name.
Generating leads is a critical step in online marketing and one that you can't afford to miss. But what exactly is lead generation for audiologists, and how do you generate audiology leads? We'll answer both of those questions below, so read on to learn more.
Then partner with WebFX — the digital marketing agency with over 863 client testimonials — for our lead generation services. Call 888-601-5359 or contact us online today to get started!
37% of marketers say that generating high-quality leads was one of their biggest challenges.
We want to decrease that percentage.
WebFX can help you generate high-quality leads with a customized marketing strategy.
Learn More About Lead Generation Services
What is lead generation for audiologists?
To understand lead generation for audiologists, we first must talk about the definition of a lead.
In short, a lead is someone who has an expressed interest in your practice. Initially, your patients are entirely unaware that you exist until they see your practice in search engine results, in an ad, or on social media. That said, it's a process to guide users through the funnel that transforms them from a lead to a client.
Becoming a lead is perhaps the most significant step in that process, happening around midway through. It's what happens when someone becomes familiar with your audiology practice and develops an interest in your services, but isn't ready to convert.
Lead generation is the process of getting people to that step — the process of turning them into leads. You can't convert people who have no interest in you, so you first have to make them a lead if you want someone to become a patient.
6 audiology lead generation tips
Now that you understand the definition of lead generation for audiologists, how does it work? What tactics can you use to generate audiology leads?
Fortunately, you have several strategy options. Here are six audiology lead generation tips to try in your online marketing!
1. Start a
blog
One of the most effective ways to generate audiology leads is to start a blog on your website. You can write about various audiology topics that aim to provide readers with new information that they might find helpful or interesting.
Creating insightful, beneficial content for your target audience will help you stand out as an authority figure in your field — fostering trust between potential clients and your practice.
You can also incorporate keywords, in your posts to help them rank in Google search results. As a result, people will find your blog posts in response to their queries and visit your site to read them. As they return to your blog for more information, they'll become leads.
Not all those people may be immediately looking to become patients, but if they ever are, you'll likely be the first practice they consider.
2. Create a YouTube channel
Another way to attract users with content is to start a YouTube channel. Many users may not find your site in Google, and of those that do, not all of them will be willing to read an entire blog post. But they may be more than happy to watch a short video on YouTube.
Your YouTube videos can take roughly the same approach as your blog posts, focusing on interesting or helpful audiology topics. You can also branch out a bit more with your videos, using some of them to introduce your team or show behind-the-scenes looks at your clinic.
However you choose to use your channel, it can serve as a viable means of engaging potential patients and turning them into leads.
When you create a YouTube channel, you'll also have the opportunity to leverage YouTube ads for your audiology practice.
3. Harness the power of social media
Did you know that the average user spends 28% of their Internet time on social media? That means that if you want to reach a large audience online, using social media platforms is one of the most effective options available. Available platforms include:
When you create a social media account for your practice, you can begin generating leads from an expansive pool of users. To start, you can post organic content like infographics and videos, or links to your latest blog posts.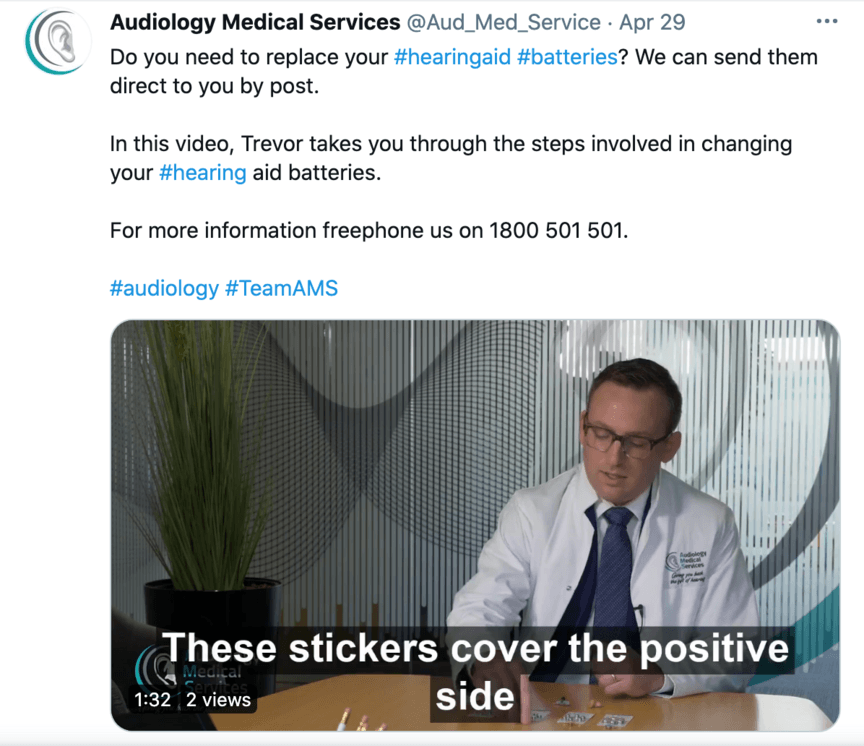 You can also run paid social media ads that appear directly in users' social media feeds, and you can target specific demographics like age and location. Ultimately, your social media ads will likely prove a fantastic way to generate new leads.
4. Run paid search ads
We've mentioned how you can get your web content to rank in Google organically, but you can also reach people in Google search results by running paid search ads.
You can launch these ads through Google Ads, where you can bid on audiology-related keywords where you want your ads to appear.
As your ads appear in relevant searches, they'll draw in new users looking for an audiologist. They may not convert immediately, but encountering your ads will increase brand awareness. Later, when they want to become a patient, they're more likely to remember you.
5. Build out an email list
One of the best kinds of lead is the kind you can maintain contact with to nurture them into eventual patients. That's why building an email list is one of the best lead generation strategies for audiologists.
To create an email list, start by setting up email calls to action (CTAs) on your website. These should appear as short forms that offer a specific benefit — such as a newsletter or special discounts — when users submit their email addresses.
Anyone willing to sign up for your emails is a lead. After collecting their email address, you can send them whatever they signed up for as a means of further encouraging them to become a patient.
6. Set up Google Business Profile
Google Business Profile is a platform that allows you to set up a profile for your audiology practice through Google. You can input information like:
Practice name
Address
Phone number
Hours
And more!
Your Google Business Profile makes it easier for users to find you in Google search results. That's because your profile integrates with Google Maps to show up in local searches such as "audiologist near me." This is known as the local 3-pack.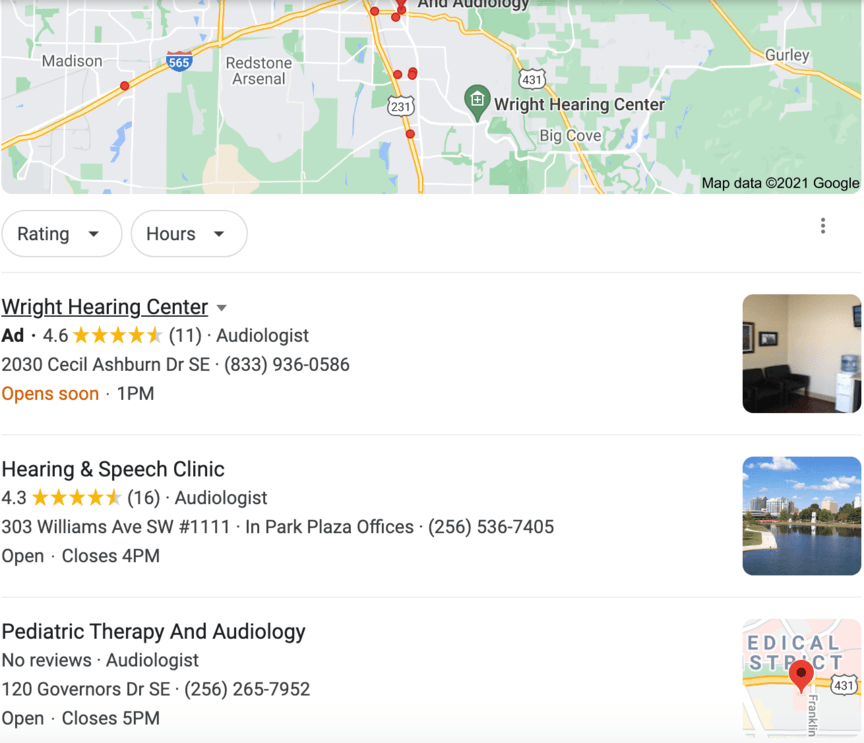 You may already have a profile associated with your address on Google Maps, in which case you can claim it by verifying ownership of your practice.
Partner With a Team of Ecommerce Masters!
WebFX campaigns have earned more than 12,936,451 ecommerce transactions in the last 5 years.
Read the Case Studies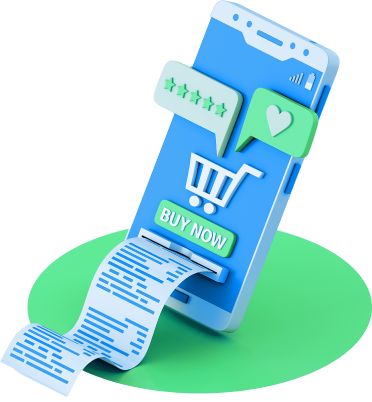 WebFX can help generate audiology leads for your clinic
Looking for help generating leads for your audiology practice? WebFX would love to give you a hand!
With over 25 years of digital marketing experience, we know all about lead generation, and we can't wait to show you how dedicated we are to helping your clinic.
With our lead generation services, you'll get help optimizing your marketing for each of the audiology lead generation tips above and more. You'll also receive a dedicated account representative to keep you informed about everything we do for you.
To get started with us today, give us a call at 888-601-5359 or contact us online today!