As an EdTech solutions provider, your job is attracting K-12 or higher education administrators to your product. Whether you offer a learning management platform or classroom-focused video conference cameras, your company can help educators do their job better.
The question is, how do you show your products to the right people?
Pay-per-click advertising (PPC) can help you optimize your strategy. PPC for EdTech accounts for industry challenges while advertising your products to only those who need your services.
This page covers the following topics:
What is PPC for EdTech?
Why use PPC ads for EdTech?
Example PPC ads
How to use PPC for EdTech — 4 essential factors
Read on to learn more. If you want to start planning your PPC strategy, WebFX can help with that, too! Contact us today to connect with a PPC strategist!
What is PPC for EdTech?
PPC ads are a type of paid advertisement where you only pay for ads when someone clicks on them. These ads use keyword targeting to help users find ads they apply to their searches.
For example, say you run a paid advertisement for your communication software. If a user sees it while searching for similar products, they will likely click, and you will then pay a set fee.
You've likely seen PPC ads on:
Search engine results pages (SERPs)
Amazon and other ecommerce sites
Social media sites
Each channel has different regulations, but you can use text, images, videos, or a combination to advertise your product.
Why use PPC ads for EdTech?
PPC ads offer a unique advertising option for all industries, including EdTech. These ads sell products or services and work with various platforms. Businesses can also experience the following benefits:
More control over your budget: With PPC, you decide how much you want to spend before you launch your ads. Since you only pay when someone clicks, you can get your name out there without paying every time.
Better audience targeting: Since PPC ads use keywords from users searching for services like yours, you will get to advertise to the people who need to find your company most. Instead of using a blanket approach, you can find and reach your target audience.
A higher return on investment (ROI): Businesses can make $2 for every $1 spent on PPC. That means that even if you only spend a couple of hundred dollars, you could still earn a significant profit from your investment.
If you want an advertising option that's going to impress your audience, look no further than PPC for EdTech.
Examples of PPC ads from EdTech companies
Curious about how these ads look on various channels? It helps to see examples of what you can do with your PPC ad designs.
Search engines dominate the PPC market, and 80% of companies focus on Google for their PPC campaigns. When users search for a term like "edtech solutions for universities," these are the results: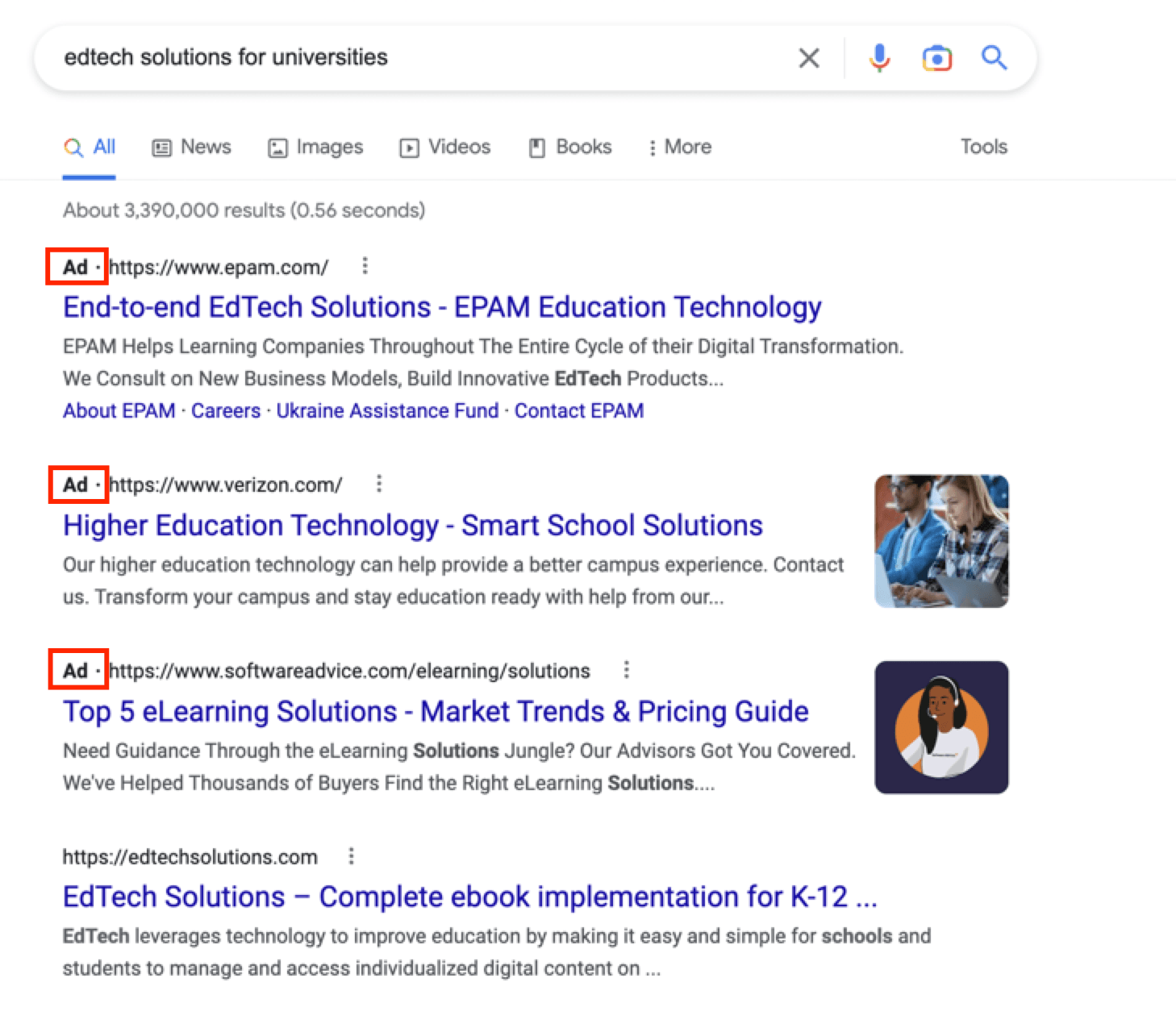 The PPC ads are at the top, and they always have a label to tell users that the content is sponsored.
On a social channel, ads can blend right in with the user's feed. Here is an example PPC EdTech ad from Facebook: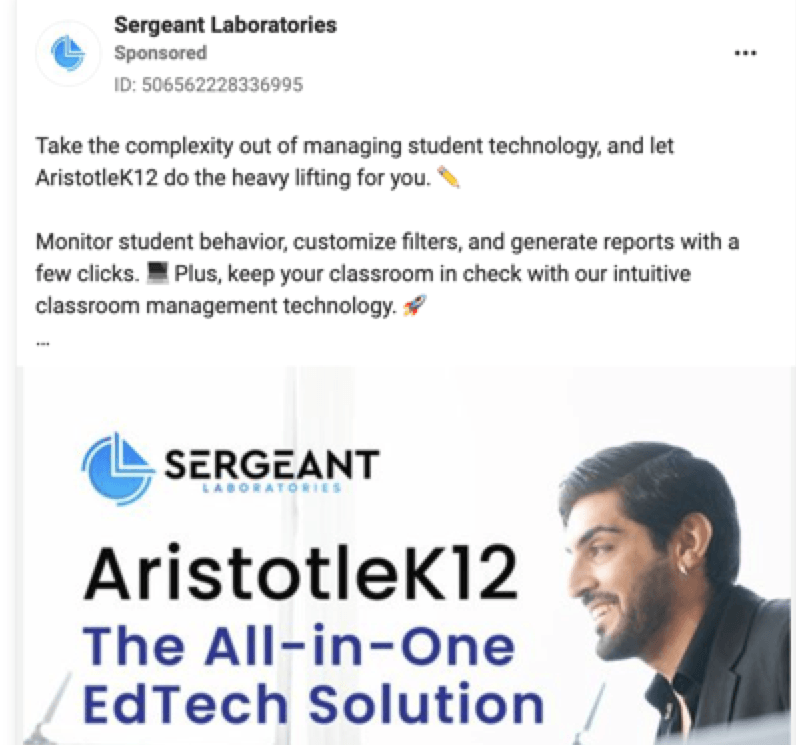 Depending on your target audience, you might use one or multiple channels to reach the right people.
How to use PPC for EdTech — 4 essential factors
PPC ads for EdTech will have unique features depending on your company, branding, and channel. However, there are a few standard factors you can focus on to ensure the best results. Follow the guidelines below to give your ads the best chance of success.
1. Your budget
Before you get started with any ad campaign, you must decide on a budget. With PPC, you control how much you pay per click for every keyword.
When deciding how much you want to spend, you should find a balance between competition and cost. High-value words are going to cost more due to having more competition, while long-tail keywords might cost less for less traffic. You want words somewhere in the middle.
Your PPC campaign cost will vary based on your revenue, goals, ad creation costs, and more. Check out some PPC pricing below to get a better idea about how much a campaign costs.
2. Landing pages
Landing pages are where users end up after clicking on your ad. Once they come to your site, the next move is getting them to convert.
Your landing pages should:
Give a clear call-to-action for users to follow
Pertain directly to the advertisement
Capture attention with images, videos, and copy
Your landing pages make all the difference in your campaign. These pages will make sure that the clicks you pay for turn into converting customers.
3. Ad versions
Depending on what channels you use, you might create different ads for the same product. Beyond that, you can use tools like A/B testing to see what ad version users prefer.
Testing and evaluating your ads can tell you which ones work best. You can also:
Adjust your formatting to suit each channel
Tweak your messaging to see what receives more clicks
Save time and money by optimizing your ads
4. Key performance indicators (KPIs)
After your ads go live, it's time to monitor their progress. Using PPC KPIs will tell you what changes to make to improve each advertisement.
It's best to capture some baseline figures before, during, and even after your campaign. For example, if you have a landing page for a software, see how much traffic it earns before and after your ad campaign. This process will tell you how much influence the advertisement has.
Depending on your channel, you can use in-app services or Google Analytics to measure your traffic and engagement. Or, you can work with WebFX, and have a team of PPC experts manage your campaign from start to finish.
93% of WebFX customers are extremely satisfied with their digital marketing results.
"Working with WebFX, everything is very organized and strategic. We're only a year into our partnership, and our expectations have definitely been met."
View More Client Testimonials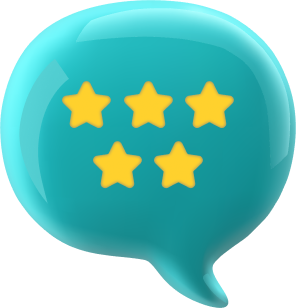 Want help from an agency? WebFX knows PPC for EdTech
If you want to ensure results from your PPC campaign, work with WebFX. As a leading PPC agency, we will develop ad campaigns that reflect your company goals and voice.
Our results speak for themselves. So far, we have managed 650 campaigns and created 355,000 unique ads for our clients.
Ready to see how PPC ads can give you an influx of traffic? Request a quote or call 888-601-5359 today!
Increase your leads, sales, and revenue with digital marketing