As education shifts toward using more technology to help teach students around the world, the need for EdTech increases. Lead generation for EdTech helps attract those educators and organizations in need of EdTech products and services to your business.
With lead generation strategies for EdTech in place, you can ensure your team is constantly bringing in leads looking to enrich their classrooms with your EdTech products.
Want to bring in more leads for your EdTech company? Keep reading to learn more about lead generation for EdTech and its benefits, along with four strategies that are sure to earn you an A+ in lead generation.
See how WebFX helped clients generate over 7.8 million qualified leads by checking out our case studies. Or, give us a call today at 888-601-5359 to chat with one of our digital marketing specialists about how you can start generating leads with WebFX.
37% of marketers say that generating high-quality leads was one of their biggest challenges.
We want to decrease that percentage.
WebFX can help you generate high-quality leads with a customized marketing strategy.
Learn More About Lead Generation Services
What is lead generation for EdTech?
Lead generation is a digital marketing strategy in which businesses identify, attract, and convert people into prospects through different marketing channels. Your leads are the people and organizations interested in investing in your EdTech products.
Why implement lead generation strategies for EdTech?
We can't stress the impact and value of a successful lead generation strategy for EdTech enough. With the help of lead generation EdTech, you can bring in qualified leads for your company and develop a seamless customer journey that takes people from leads to customers without hassle.
You can also enjoy the following benefits:
Generate qualified leads
Having a lead generation strategy for EdTech in place helps your business target prospects who are more likely to convert.
Rather than waiting for a handful of various leads to come to you, lead generation for EdTech focuses on identifying qualified leads who are actively looking for your products and creating marketing campaigns that directly appeal to those people.
Attracting quality leads can help your EdTech company grow strategically and prosperously.
Improve your customer journey
Implementing a successful lead generation strategy for EdTech also helps you to improve the customer journey. With lead generation, you can create a seamless customer journey that offers your prospects a natural transition from lead to customer.
As your lead generation strategy continues to bring in potential customers, you can identify successful touchpoints and optimize them to further improve your customer journey. This way, you can tailor it to your leads in a way that's profitable for them and your company.
4 lead generation strategies for EdTech
With the help of these four lead generation strategies for EdTech, you can start attracting qualified leads quickly.
1. SEO
To attract EdTech leads, you must make your company visible to users online. With search engine optimization (SEO) you can increase the visibility of your company's website on search engines like Google and earn EdTech leads that are qualified and more likely to convert.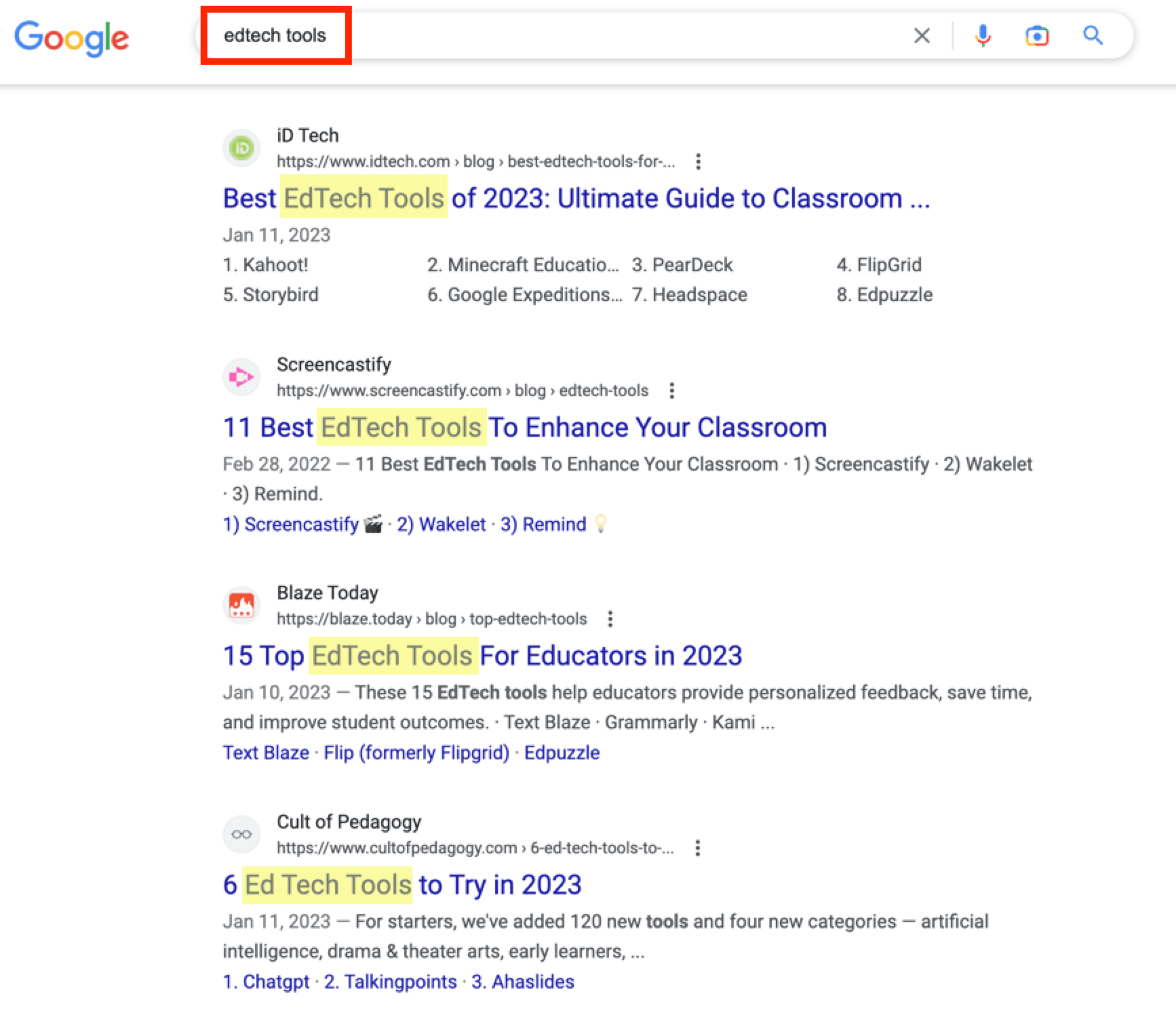 SEO involves optimizing your website for search engines so that it appears at the top of search results lists and in front of the eyes of prospective leads. Specifically, businesses want to optimize their websites for specific keywords users enter into search bars.
By optimizing for keywords and phrases related to your business and others like yours, you can attract users who are actively looking for your products and more likely to convert.
2. PPC advertising
Putting your EdTech company on the digital map organically with SEO is great, but with pay-per-click (PPC) advertising? That's even better.
PPC is a form of paid advertising in which businesses bid on keywords for prime advertising placement on search engines and different websites. When someone clicks on your PPC ad, you pay.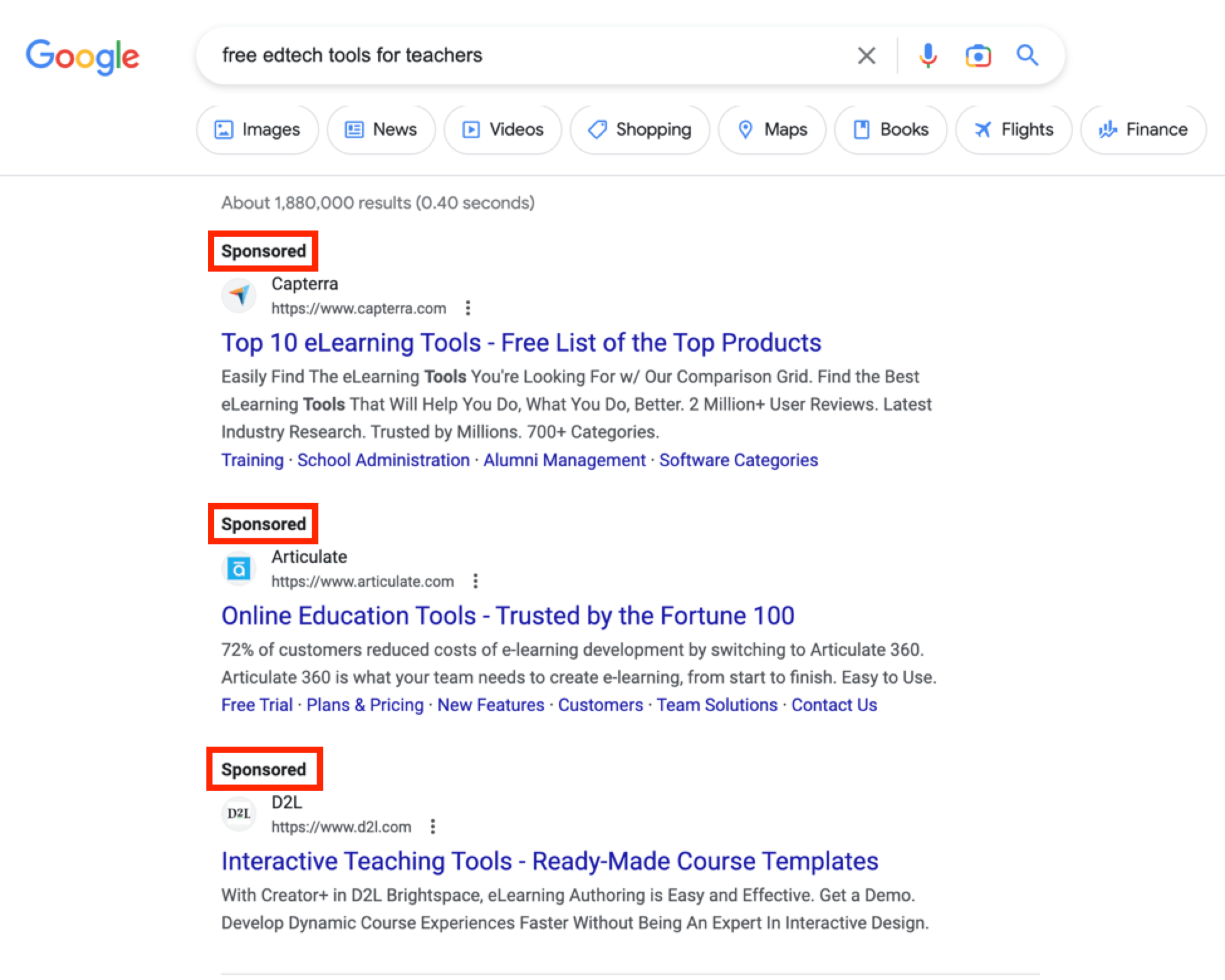 Businesses earn $2 for every $1 they spend on PPC ads, making them an incredibly effective lead generation strategy for EdTech. PPC isn't one-size-fits-all, though. Look at four common types of PPC ads:
3. Social media
Social media is proven to be a powerful asset when it comes to digital marketing and lead generation. With billions of users active across different platforms, social media is a gold mine of leads, making it a valuable addition to your lead generation strategy for EdTech.
On social media, there are two major ways to attract EdTech leads — posting organic content and investing in paid advertising. By posting engaging, original content on your social pages, you can amass a loyal following and attract new leads.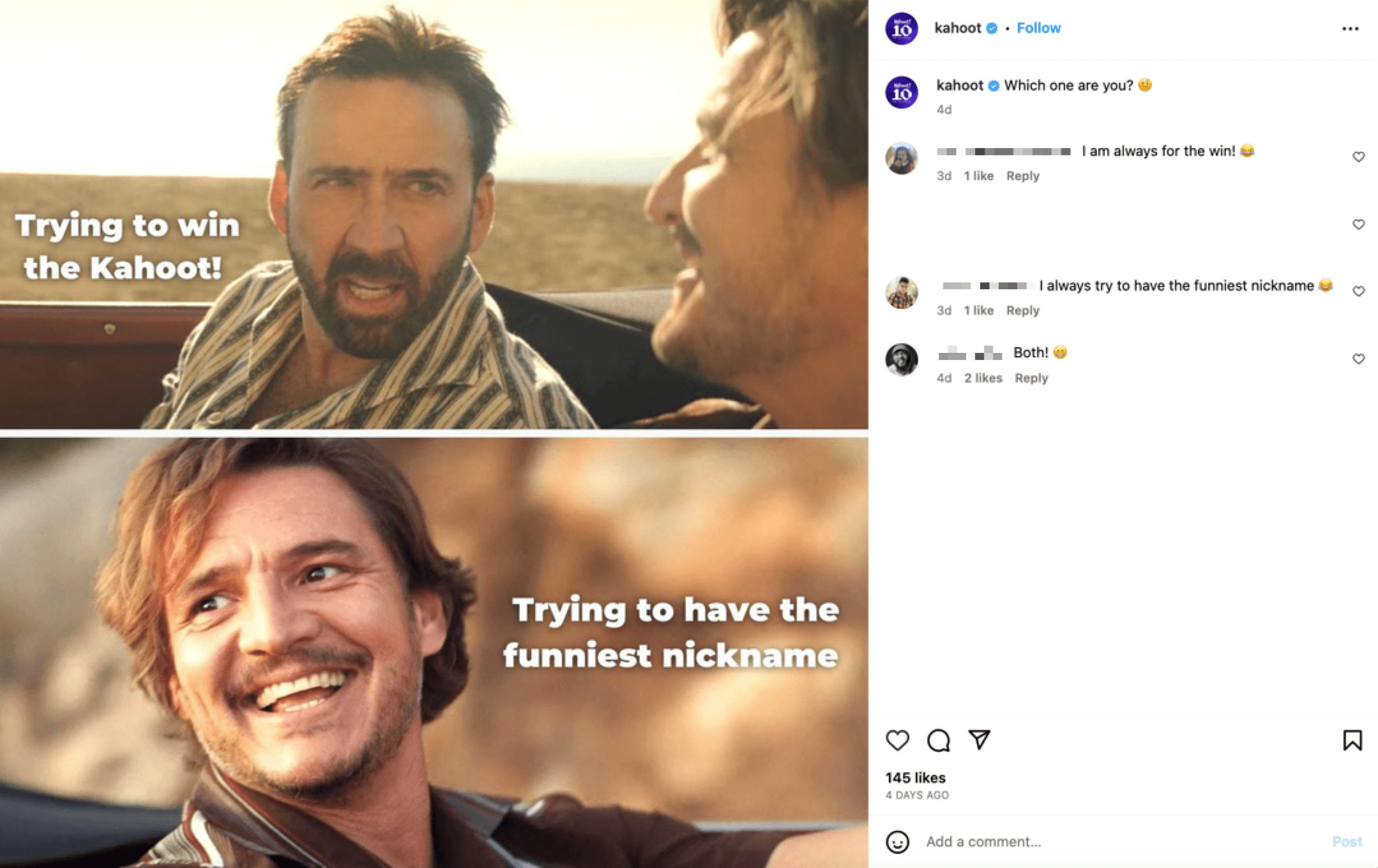 Through social media ads, you can target specific customer segments with ads that appear in users' regular content feeds and more.
Social media ads offer a lot of flexibility when it comes to ad types, too. Whether you want to show off your EdTech products and services through photos, videos, or interactive content, you can snag the attention of prospective leads in a snap.
4. Content marketing
Content marketing drives 3X more leads than traditional marketing, making it a must-have component of your lead generation strategy. Content marketing is the creation of original content that's helpful and audience-focused.
Examples of content marketing for EdTech include:
Blog posts
Videos
Guides
Infographics
Informational articles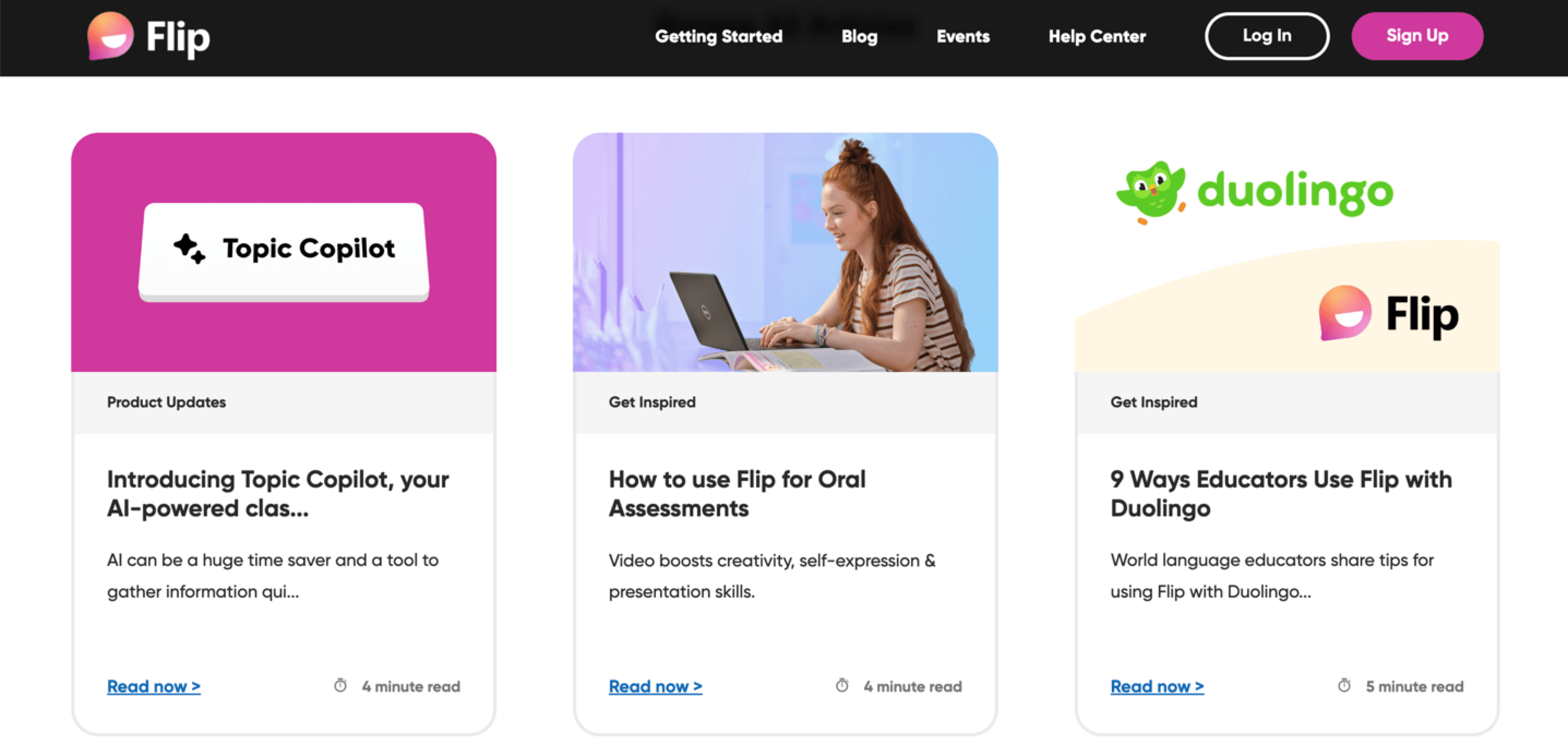 When you engage in content marketing, you offer content that gives value to your leads, whether it's additional information about your products and services or explainers on how to use them.
A content marketing strategy can help you close more sales with leads. For example, blog posts can explore how customers can use your products to their full potential and get the most out of their investment. This process sheds more light on what you have to offer and helps nudge prospects toward purchasing.
Measuring the metrics that affect your bottom line.
Are you interested in custom reporting that is specific to your unique business needs? Powered by MarketingCloudFX, WebFX creates custom reports based on the metrics that matter most to your company.
Leads

Transactions

Calls

Revenue
Learn More

Extra Credit: Partner with an agency that's generated 7.8 million leads for its clients
For over 25 years WebFX has been helping its partners generate over 7.8 million for their businesses. We've helped clients from 154 different industries, and we're ready to add your EdTech company to our growing list of success stories.
Check out our case studies or contact us online today to learn more about how you can partner with the team at WebFX for a lead generation strategy that drives results.
Increase your leads, sales, and revenue with digital marketing
Find Us Driving Revenue Nationwide