The educational technology market was valued at $106 billion in 2021, which will only go up as time passes. With so many tech companies and options out there, how can your clients know they're getting the best? What happens when they can't find your company?
Search engine optimization (SEO) targets web traffic and helps you improve your online presence. As an EdTech supplier or salesperson, you can use SEO to ensure that your audience finds your product, connects with you, and enjoys the experience.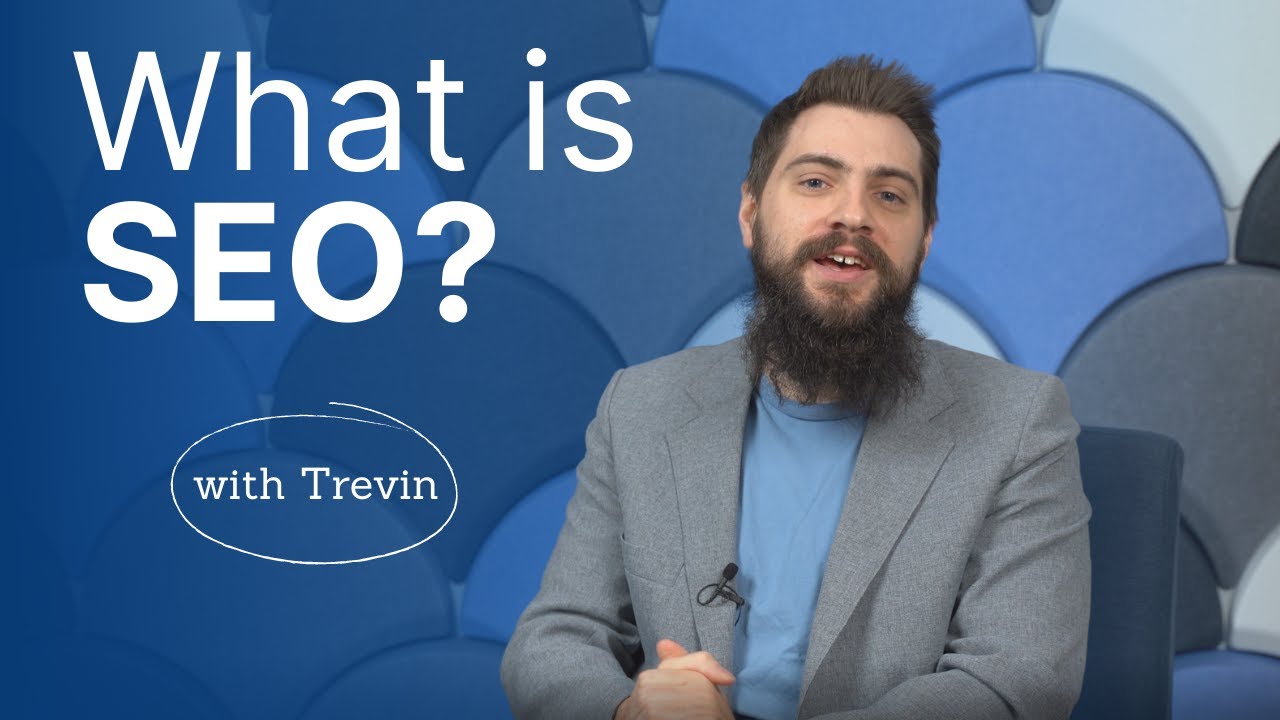 As the EdTech market becomes more competitive, so should your strategies. Read on to learn more about SEO for EdTech and how it integrates with your current marketing strategy.
Want to learn more? Call 888-601-5359 today to speak to a strategist about how EdTech advertising can improve your bottom line!
Looking for an all-in-one SEO audit tool? You've found it.
SEO Checker provides data on key metrics to give you:
Complete SEO score

Content Grade

Site Speed Analysis

and more.
SEO 101
Let's look at the definition of SEO and other common questions from the EdTech industry.
What is SEO for EdTech?
SEO involves improving your website to make it easier for search engines and users to find and access it. This process helps all industries, regardless of business size or target audience.
Your competitors are likely doing SEO already — 89% of marketers say SEO is successful, and the EdTech industry is no exception. EdTech SEO can look like:
When educational institutions are looking for educational software or technology, you want to be the first option in line. SEO can help you earn the traffic necessary to drive conversions.
How does SEO work?
All search engines have an algorithm that activates as users enter their queries. SEO targets specific algorithm features so that Google — or another search engine — pulls your website to the top of the search engine results pages (SERPs).
For example, say that a county board official was looking for educational software to help teachers and parents communicate. They might enter "software for teachers and parents" into Google and get these results: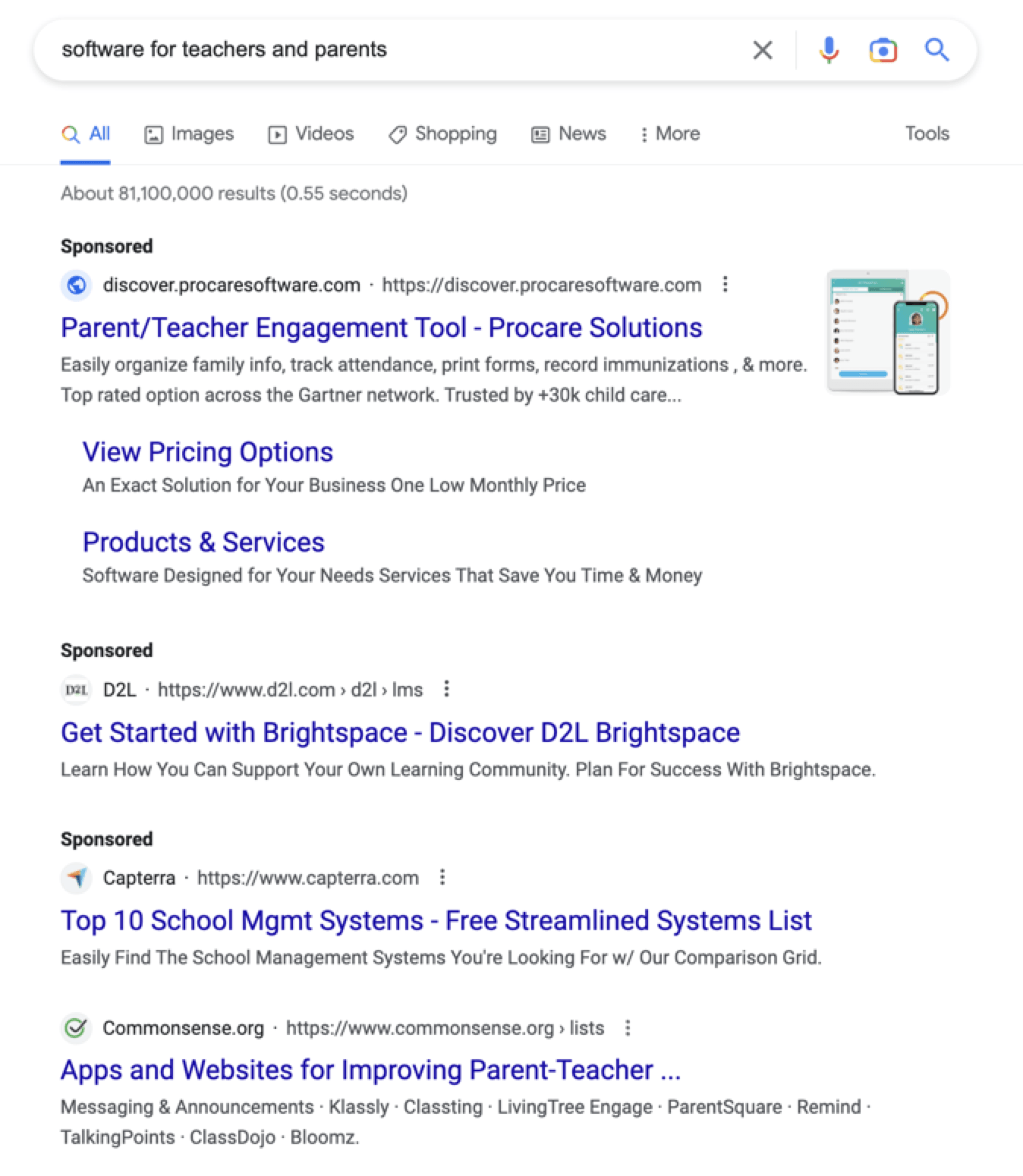 The top results with the "Sponsored" tag come from paid advertising like pay-per-click (PPC) ads, but the first organic result is the option that Google thought would be best for that keyword. This website has optimized that page to appeal to Google's algorithm and user intent.
This page breaks down the Google algorithm timeline, which changes from time to time.
What are the benefits of SEO for EdTech?
While companies across industries use SEO to market their business, EdTech companies can enjoy specialized results. Primary benefits of SEO for EdTech include:
More traffic: Above all, SEO will get more people to your website. When you rank on the first page of the SERPs, more people will see you — 75% of people don't even go past the first page. This traffic gives you the chance to get more sales and customers.
Trackable results: Unlike other marketing methods, you can track SEO key performance indicators (KPIs). Tools like Google Analytics make it easy to see which SEO aspects are working, saving you time and money on ineffective solutions.
Better branding: Part of SEO is positioning yourself as an industry leader. As you work on your website, you can create a consistent brand that users can expect.
Stronger client relationships: Your clients make your business. With so many stakeholders in education, you want your clients to know they are getting the best tech available. SEO can help you prove yourself and create relationships with clients.
SEO is a type of EdTech advertising that scales with your company. Whether you are just launching your site or need to revamp it, SEO can help you achieve your goals.
Note that SEO is an ongoing process, so while you might not see immediate change, the results will endure over time and bring more leads consistently.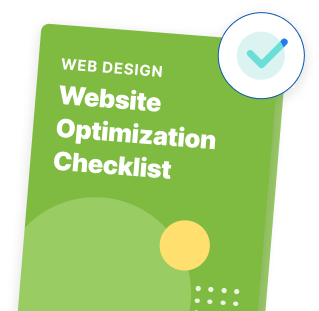 Avoid customers saying
"I can't find your website."
Download our A-to-Z website optimization checklist to increase traffic and conversions!
Get My Website Checklist
SEO strategies for EdTech
Now that you understand the SEO basics, we can look at different types of SEO and how they work for an EdTech company. Below you'll find four different SEO strategies for EdTech that you can use for your website.
Strategy #1: On-page SEO
On-page SEO focuses on changes made to your website. You have complete control over on-page SEO, and these strategies are often the first steps companies take.
Some on-page SEO factors include:
To stand out with EdTech clients, consider starting a company blog and optimizing your product pages. You can write quality content that explains your services, highlights your certifications, and targets relevant SEO keywords for EdTech.
As a bonus, you can also try content marketing — this tactic goes together with SEO to give you quality content that pulls readers to your site.
Strategy #2: Off-page SEO
Off-page SEO encompasses SEO factors that happen outside your website. While you don't have complete control over these factors, they make up about 80% of search algorithms. You can influence and network your way into boosting off-page factors.
Some crucial off-page factors include:
Guest content
Social media accounts
While on-page SEO lets you show Google your value, off-page SEO proves that other websites find you relevant as well. Earning backlinks and writing guest content connects you with other industry names, further enhancing your rankings and SEO.
Strategy #3: Local SEO
Local SEO applies optimization tactics that target a specific region. EdTech companies may be entirely remote, but you may have offices or preferences for certain areas,
Searchers will add a location if they need services nearby. For example, when you look up "edtech options in Harrisburg, PA," the results will be centered around this area: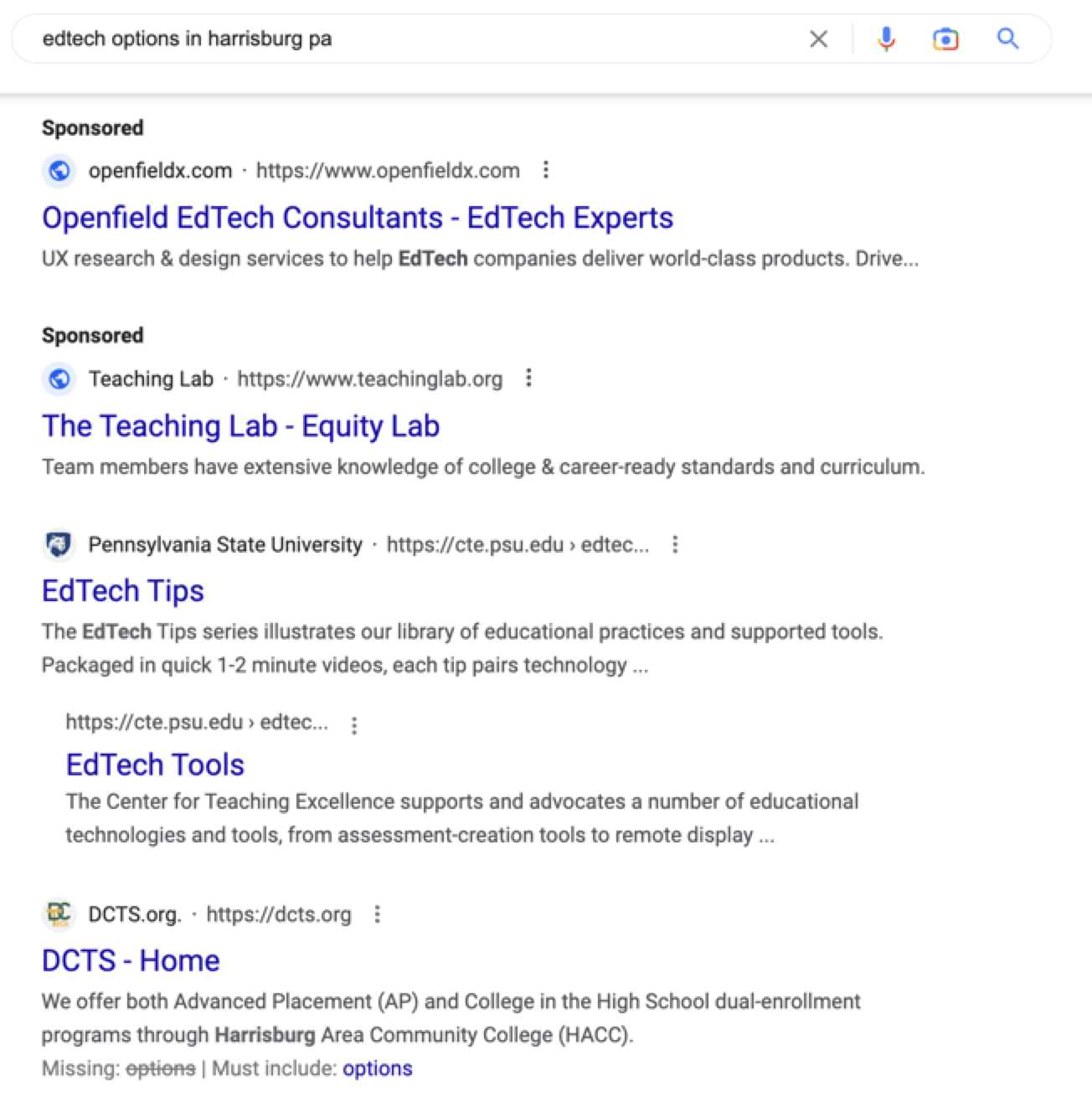 Regardless of your service area — whether it's one city or an entire nation — you need to specify it to prospects. You can set yourself apart from local competitors while ensuring that only those within your service range can find you.
As a Harrisburg-based business, WebFX specializes in local SEO for EdTech. We can help you find the right strategies to attract prospects in your area.
Strategy #4: Technical SEO
Technical SEO covers the backend factors on your website that improve rankings. These technical features can help your site run smoother, helping search engines and users navigate it.
Some technical SEO factors include:
Internal linking
Sitemaps
Page speed
Many EdTech companies understand the work that goes into a seamless technical experience. However, working with an experienced SEO agency can ensure that you are ranking higher with optimized strategies.
These are real SEO results driven for a WebFX client.
You're next.
Learn More About SEO Services


260%
increase in organic revenue

198%
increase in organic transactions
150%
increase in organic traffic

3872%
increase in sessions from SEO
WebFX jumpstarts EdTech marketing campaigns
Whether you are new to SEO for EdTech or want to restructure your approach, WebFX can help. Through our data-backed SEO services, we have generated 7.8 million leads and $3 billion in revenue for our 1000+ clients.
When you partner with us, you will receive a dedicated account manager who determines what changes will impact your SEO the most. You have one point of contact throughout the experience, and you can be as hands-off — or hands-on — as you like.
Ready to get started? Check out our case studies and request a free proposal today!
Increase your leads, sales, and revenue with digital marketing