Looking for creative online marketing solutions to grow your farm?
On this page, we'll look at four farm marketing solutions to help you boost sales and revenue.
Keep reading to learn more and call us today at 888-601-5359 (or contact us online) to speak with a strategist about how you can use custom marketing strategies to grow your farm.
Our digital marketing campaigns impact the metrics that improve your bottom line.
See More Results

WebFX has driven the following results for clients:

$3 billion
In client revenue

7.8 million
Leads for our clients

5.2 million
Client phone calls
1. Use search engine optimization (SEO) to increase traffic to your farming site
One of the most valuable strategies for your farm is search engine optimization (SEO). SEO is the process of boosting your website's rankings in organic search results to reach more valuable traffic.
In other words, SEO helps your website appear at the top of search results when people search keywords related to your farm. Ultimately, this allows more people to find and contact your farm, boosting leads and revenue.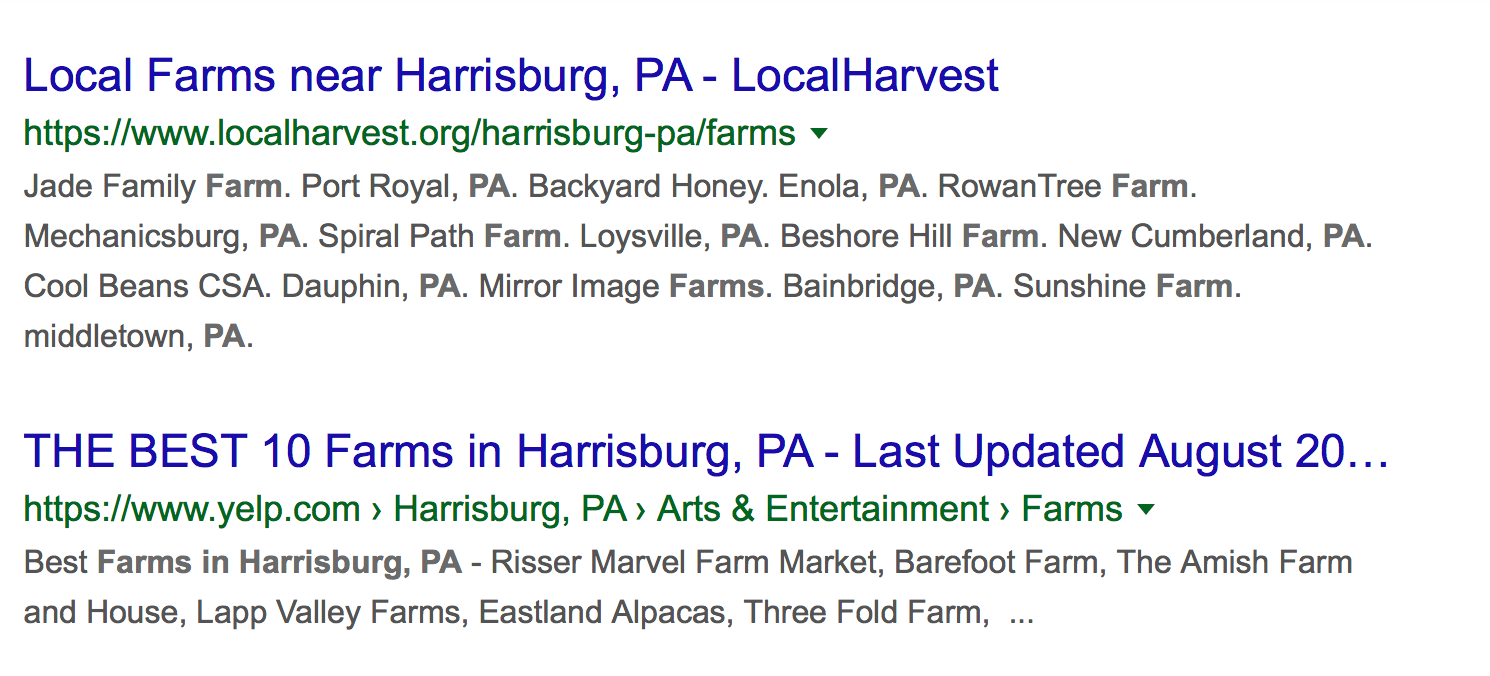 Let's take a look at a few optimizations you can do to improve your SEO campaign:
Conduct keyword research: Your website appears in search results when users conduct searches using specific keywords. Performing keyword research will allow you to find the right keywords for your SEO campaign. You'll generally stick to long-tail keywords, which contain three or more words, to help you drive the most relevant traffic.
Improve your site's load time: Users don't want to wait for pages to load, so slow load times can deter people from remaining on your website. To prevent leads from leaving your site, you'll want to optimize your site to ensure it loads quickly. You can make the changes on your own with Google PageSpeed Insights or by using page speed services from WebFX.
Optimize title tags and meta descriptions: These are two essential components of your SEO strategy. Your title tag and meta description are the first things your audience looks at in the search results to determine if your listing is relevant. Adding keywords and creative descriptions will help you create title tags and meta descriptions that attract more clicks to your site.
There are many more optimizations that will help your site rank higher in the search results. By doing these optimizations, you'll improve your farm site's rankings and traffic.
SEO is an excellent method to add to your farm marketing plan if you're looking to obtain more traffic and qualified leads to grow your farm.

Hear What It's Like to Work With WebFX!

"We have enjoyed and benefited from our growing relationship with WebFX. The communication is strong, the results speak for themselves, and things are often fixed without us even having noticed they were off to begin with. We are grateful to have their support and guidance as we work on SEO, website traffic, campaigns, content, and more."
Agriculture
2. Invest in pay-per-click (PPC) ads to drive more leads to your farm
If you're looking for a cost-effective method that drives leads that convert, look no further than pay-per-click (PPC) advertising. PPC ads are paid advertisements that appear at the top of the search results. These paid ads are an excellent way for you to obtain leads that are ready to convert.

To get started with PPC, you'll want to select your keywords. Keywords trigger your ad to appear in relevant search results. You'll want to choose long-tail keywords for your PPC ads, too, because they drive the best leads for your farm.
Once you have your keywords selected, you'll set your maximum bid. This amount is how much you want to spend when someone clicks on your ad. Keyword research will help you see your keyword's average cost per click (CPC). It will help you can gain an idea of how much to bid for a keyword.

Your maximum bid and quality score will determine your ad's placement in the search results. Once you have your placement, you will launch your campaign and drive leads to your ad.
PPC advertising is an excellent way for your farming business to grow online. Not only will you drive the best leads for your business, but you'll also stay within your budget. You set the budget that works best for your business, although the amount you set will affect the success of your campaign.
Overall, PPC is one of the best marketing ideas for farms. It will help you earn leads that want to visit your farm or buy your products.
3. Use email marketing to connect with customers interested in your farm
Email marketing is one of the most effective marketing strategies for farms. This strategy can help you earn up to $44 for every $1 spent. That's a return on investment of 4400%!
To get started with email marketing, you need to have subscribers. You can earn subscribers by adding an email sign up bar to your website or asking for emails when people visit your farm.
There is an option to buy email lists, but you'll want to stray away from that option. These lists have few leads that are interested in your business. Also, your emails end up in spam folders because users don't sign up to be on your email list.
By organically obtaining subscribers, you'll drive better results with your email marketing campaigns.
Once you have your subscribers, you'll want to segment them to create more personalized email campaigns. You want to group people together based on similar interests, incomes, and more. This process is known as personalization.

Personalization allows you only to send relevant content to your audience. When you send more relevant content to your audience, they're more likely to engage with your emails. Considering dozens of businesses send people emails every day, you want to ensure that you're sending valuable information that makes your emails stand out.
There are dozens of types of emails you can send to your subscribers. You can send farm updates, deals, special events, and more. It's a great way to get your audience to engage with your brand.
If you want an effective marketing strategy that allows you to connect with leads, email marketing is the answer. This strategy will help you engage with your audience and get them to visit your farm.
4. Leverage content marketing to provide your audience with valuable farming knowledge
Content marketing is one of the most effective marketing ideas for farms. With content marketing, you share your knowledge and expertise with your audience. It's an excellent way for you to provide your audience with the information they need while establishing yourself as an authority in your industry.
When you create content, you have numerous format options. These formats include blogs, videos, ebooks, infographics, and more. You want to use a variety of these formats to keep your audience interested.
Content marketing is an excellent way for you to cover topics in the farming industry. You'll want to stick to industry-related issues to ensure you're driving people to your page that are interested in topics surrounding farming. You can use keyword research to help you find subjects for your content.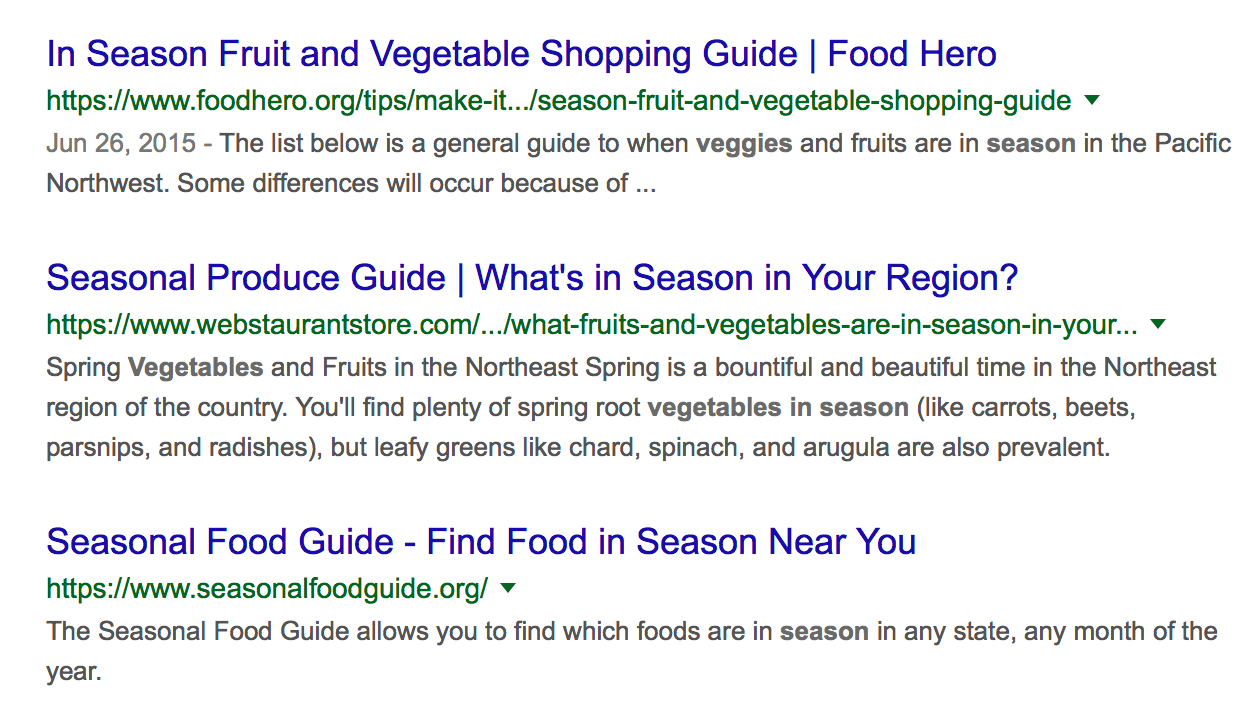 When you create content, make it informative for your audience. You don't want to create content that is weak and only skims the surface on a topic. Go in-depth with your content and provide your audience with as much information as possible.
Content marketing is an excellent addition to your farm marketing plan because it works well with other strategies.
For instance, content marketing helps boost your SEO ranking and improves your SEO campaign. Content helps your site rank in the search results and keeps people on your site longer, which increases dwell time. A longer dwell time sends a positive signal to Google that your page is relevant, so it increases your ranking.
Content marketing helps with your social media marketing campaigns and email marketing campaigns. It provides you with something to share with your audience.
As you build your farm marketing plan, don't forget to include content marketing as part of it. It's a great strategy that will help your farm reach more people and get them engaged on your site.
Let WebFX help you plant the seeds to grow your online presence
When you're searching for farm marketing solutions, you find numerous strategies you can use to grow your business. If you're busy running your farm and don't have time to dedicate to building your online presence, WebFX can help.
We have a team of over 500+ experts that will help you build a marketing campaign that works for your business. In the past five years, we've driven over $3 billion in sales and over 7.8 million leads for our clients. You can count on us to create a campaign that helps your farm earn more customers.
To learn more about our digital marketing plans, contact us online or call us today at 888-601-5359 to speak with a strategist about creating your custom campaign.