On this page, we'll provide you with five tips on SEO for farmers. If you want to learn more about how SEO will help your business obtain more traffic and leads, contact us online or call us today at 888-601-5359 to learn more about how our SEO services will help your business.
1. Select keywords relevant to your farm
Keywords are a critical component of SEO. When users search online, they use keywords to find relevant search results. If you want people to find your farm, you must find the right keywords to help them connect with your business.
The first step involves conducting keyword research. Keyword research helps you find the most relevant keywords to target with your pages.
When you conduct keyword research, you'll get a list of both short-tail and long-tail keywords. Short-tail keywords contain one or two words, while long-tail keywords contain three or more words.
You'll want to focus on long-tail keywords for your farm. Long-tail keywords drive better results because the keywords are more specific.
For example, if someone searches "apple picking farms near Harrisburg, PA," you know exactly what they want to find. The search intent is clear; someone wants to find a farm where they can go apple picking.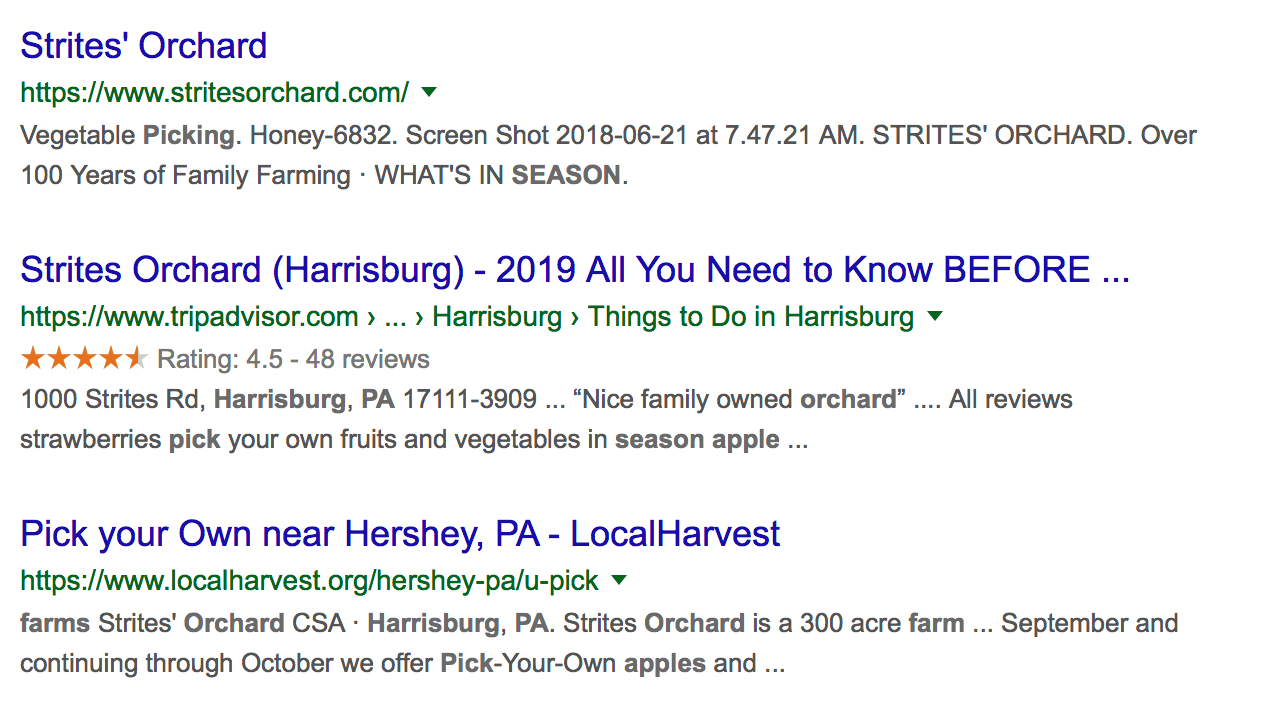 On the other hand, someone searching "farms" or "apple picking" could be searching for numerous ideas. They may be looking at what a farm or apple picking is, local places to do those activities, or other ideas.
Long-tail keywords ensure that you're attracting leads to your farm because they're interested in your business. It's the best way to create an effective SEO campaign for farmers.

Hear What It's Like to Work With WebFX!

"We have enjoyed and benefited from our growing relationship with WebFX. The communication is strong, the results speak for themselves, and things are often fixed without us even having noticed they were off to begin with. We are grateful to have their support and guidance as we work on SEO, website traffic, campaigns, content, and more."
Agriculture
2. Focus on the user experience
User experience is a crucial component of SEO. If you want your farming website to rank higher in the search results, you must provide your audience with a positive experience.
Google wants to generate search results that provide a good experience for searchers. If you want your site to rank on the top page of results, you must focus on improving the user experience.

There are numerous ways to improve the user experience. You can improve the user experience by:
Adding visuals to your site, like photos and videos, to keep your pages interesting
Focusing on matching the user's search intent when creating page content
Having simple navigation that makes it easy for users to browse your site
When you have a user-friendly site, your audience is more likely to stay on it for a longer period. If your audience remains on your website, they spend more time getting to know your farm and become more familiar with your brand.
Not only that, but the longer they're on your site, the more of your content they'll read, and the more they'll become interested in your products and services.
When they're ready to choose a farm, they will select your farm over the competition because they remember all the valuable information that your brand provided.
If you want to do SEO for farms successfully, focus on improving the user experience for your audience. Creating a user-friendly website will allow you to drive more traffic to your page and keep more people on your site.
3. Optimize your title tags and meta descriptions
Title tags and meta descriptions are an essential part of your website. These components provide your audience with valuable information that tempts them to click on your farm's listing.
Optimizing title tags
Your title tag is the first thing your audience sees when they look in the search results. They will use your title tag to determine if your listing is relevant to their search query. Search engines also use your title tag to help determine where your site should appear in search results.
For example, if you're targeting a specific keyword, but it doesn't appear in your title tag, Google may not recognize it as being relevant to that keyword.
A great title tag puts the primary keyword first and provides your audience with insight as to what they can expect on your page. When someone sees a title like "8 Pumpkin Carving Ideas for Beginners," they know your article will share a list of pumpkin carving ideas.

This title is descriptive and tells your audience exactly what they can expect when they click on the article. When you create a substantial title tag, you help your farm rank better in the search results.
Optimizing meta descriptions
The meta description is a small blurb that appears below the title tag in the search results. Your meta description provides your audience with information about what they can expect when they click on your article.
This piece is the second thing your audience will look at when determining if they should click on your listing. You'll want to provide a short and informative description that entices your audience to choose your listing.

4. Create content to boost traffic to your farmer's website
Content is an integral part of SEO. This strategy helps drive traffic to your page and keeps traffic on your page longer. If you want to be successful with SEO, you must create content to drive traffic to your site.
There are multiple formats of content you can create. You can create blogs, videos, infographics, ebooks, podcasts, and more. You'll want to use a variety of content to keep it interesting for your audience.
When you create content, you can gain ideas for topics by conducting keyword research. You can use keywords to create a piece of content that provides your audience with valuable information that they want. There are many formats you can use, including how-to posts, informational posts, tips, and listicles.
As you create content, you want to write for humans first. Many businesses make the mistake of trying to create content that works with search engines first. Companies optimize the content, so search engines will rank their pages higher, but it ends up affecting how users read the content.
By writing for the user, you'll write for search engines in return. Search engines want to rank content that provides a positive user experience, and these days, search engines are smart enough to know which content offers a pleasant experience.

By creating content, you help drive more traffic to your page. Your high-quality content will keep people on your page longer, which increases dwell time.
The increase in dwell time sends a positive signal to Google that your site is relevant. It's a great way to help you improve your SEO campaign.
If you're too busy running your farm to dedicate to creating a solid content marketing plan, WebFX can help. We have a team of over 500 experts that will bring their knowledge and expertise to your campaign. If you want to learn more about our content marketing plans, contact us online or call us today at 888-601-5359 to speak with a strategist.
5. Optimize for local SEO
As you look into SEO for agriculture more, you'll want to focus on developing a local SEO plan. Local SEO is crucial because it helps you drive people to visit your farm from your local area.
To get started with local SEO, you'll want to claim your Google Business Profile listing. When a user conducts a local search, it generates a list of businesses in a box at the top of the search results. This list of three Google Business Profile listings is known as the local SEO 3-pack.

After you claim your listing, you'll want to fill your listing out completely. Verify that your business's name, address, and contact information is correct. You can beef up your listing by adding photos, filling out the introduction on your listing, and adding a link to your website.
Aside from claiming your local SEO listing, you can also use geofencing to attract local customers to your farm. With geofencing, you set up an invisible fence around your farm. When people enter and exit the fence, they can see ads on social media for your farm.
Geofencing is a great way for your business to attract people to visit your farm. Since most people will need to drive to your farm, you can set up a 4-5 mile radius circle to send ads to people as they drive near your farm. It's a great way to entice local leads to visit your farm.
By optimizing for local SEO, you'll help your farm drive more local visitors. It's a great way to grow your business.
Good agencies have more than 50 testimonials.
Great agencies have more than 100 testimonials.
WebFX has over 1000+ glowing client testimonials.
See What Makes Us Stand out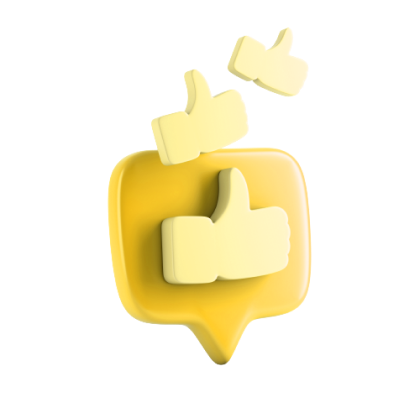 Let WebFX help you create an effective SEO campaign for your farm
When you're busy running your farm, you may not have the time to dedicate to building an effective SEO campaign. SEO offers great benefits for your farm, so you don't want to miss out on the opportunity to grow online. At WebFX, we have a team of experts that can help you run an effective digital campaign.
We're a full-service digital marketing company that specializes in custom SEO campaigns. With over 1020+ client testimonials that attest to the excellent work we do, you can count on us to create a campaign that helps your farm earn new leads.
To learn more about our custom SEO campaigns, contact us online or call us today at 888-601-5359 to speak with a strategist.