The U.S. population is aging quickly, with an expected 22% of the population falling into the 65 and older bracket by 2050. Assisted living and senior living facilities remain an essential option for older adults seeking a comfortable, supportive, and community-driven lifestyle.
An active social media presence is one way your facility can connect with prospective residents and their families while showcasing everything that makes your community a great place to live.
Growing your social presence with WebFX is a walk in the park.
"WebFX allows growing your social media platforms to be stress-free! They are knowledgeable and adapt to your company needs!"
Learn More About Our Social Media Services

Benefits of social media for assisted and senior living centers
A social media account legitimizes your facility and gives potential residents and their families a closer look at how you operate, what your values are, and what kind of environment they can expect. Unlike other digital marketing strategies, social media opens up a two-way street for active, real-time conversations. You can answer questions, advertise events and specials, and engage in conversations with your audience.
Creating a social media account is entirely free, making it an ideal marketing tool for facilities with limited advertising budgets. If you've got a bit more spending flexibility, each platform also offers paid advertising options to generate even more leads.
The best part about paid social ads is the ability to target specific audiences, no matter how niche or specific, so you get more value for your dollar by connecting with those most likely to need your facility.
For example, a specialty assisted living center with a dementia-care unit could set paid ads to target caregivers within a specific proximity, while a senior living community for active adults could gear ads towards those 65 years and older interested in staying active and outdoor fitness.
Choose a platform that fits your demographic and marketing goals
Each social media platform offers something unique that appeals to some demographics more than others, and specific types of content — like videos or written posts — perform differently across each site.
Though some facilities have found success with YouTube and Instagram advertising, Facebook is the ideal platform to focus social media marketing efforts if you're trying to reach older adults and their loved ones.
Consider these age-related stats about Facebook users:
77% of adults in the U.S. between 30 and 49 years old use Facebook.

73% of adults ages 50 to 64 use Facebook.

Half of all U.S. adults age 65 and older use Facebook.
Facebook is also a good place to start if you're new to creating original content and engaging with an online audience as a brand because it supports multiple types of media, including video, pictures, posts, comment sections, event pages, and direct messaging.
5 ways to use social media for assisted and senior living centers
How you use Facebook depends on your marketing goals. For example, many facilities use it as the primary way to drive traffic back to their website by sharing relevant content, like blog posts or infographics. Others leverage social accounts for customer service, lead generation, or brand building.
Here are five ways to use social media for assisted and senior living centers:
1. Highlight resident life
Post videos, pictures, livestreams, and text updates to show your audience what your residents are up to and highlight what sets your facility apart from competitors. Give prospective residents a glimpse behind the scenes at daily life in your facility, like recreational activities, accommodation options, group outings, and similar events. Additionally, families of current residents will enjoy seeing what their loved ones are up to.
You can also highlight how much you care about your residents as individuals by spotlighting specific "residents of the week" or sharing birthday and anniversary wishes throughout the month.
2. Advertise events
Create event pages and share them with your audience to advertise any upcoming parties, fundraisers, open houses, facility tours, or community outreach activities. Generate excitement, answer event questions, encourage signups, connect with vendors, and post thank you notes for attendees when the event is over.
3. Build your brand
Building a brand through colors, values, content, and your community's unique selling points is the best way to promote your assisted living facility in a memorable way and makes it easy to distinguish you from competitors.
Use your social media account to build key parts of your brand by:
Using consistent color schemes, fonts, and logos where appropriate.

Posting employee appreciation content to encourage better retention and attract the right applicants.

Responding to comments and messages with a language and tone that fits your brand's established voice.

Sharing content that exemplifies your brand's values, such as eco-friendly practices or community involvement.
4. Connect with prospective residents and families
Nearly 70% of people use social media as a customer service outlet, and over half of consumers prefer to contact a business via social media instead of making a phone call.
Your social profile lets current and prospective residents and their families reach out to you directly at a time that's most convenient for them to get answers to their questions or reassurance about any concerns they have.
The more active and engaged you are with your audience on a public platform, the more confident prospective residents can feel about your attentiveness. Strong brand and follower relationships also promote more feelings of loyalty and make it more likely your audience will recommend your facility to others.
5. Collect and share reviews
Testimonials and reviews from happy residents and their families are critical for attracting new residents and building trust between you and future families. Eighty percent of consumers consider reviews as trustworthy as recommendations, and nearly 90% read up to 10 reviews before exchanging money for a service.
Social media accounts give users a place to share their experiences publicly. You can also use it to encourage more reviews by having residents and their families tag your facility in any photos or videos they share online and by sharing testimonials from your website or other social profiles with your following.
The importance of a social media policy when marketing a senior living community or assisted living facility
Because your facility deals with sensitive medical information, you must understand many privacy regulations before posting social content about current residents.
Ensure every resident you feature by name or in a photo or video has signed an up-to-date written authorization form that includes the specific media type you're posting.
You can also protect your facility's social media accounts by limiting access to one or two social media managers on staff and having a clearly posted social media policy for all employees and visitors to follow.
74% of people use social media when making a purchasing decision.
Make their decision easy with a stellar social media presence. See how your brand can level up by requesting a no-obligation proposal today.
One of our experts will be in touch within 24 hours!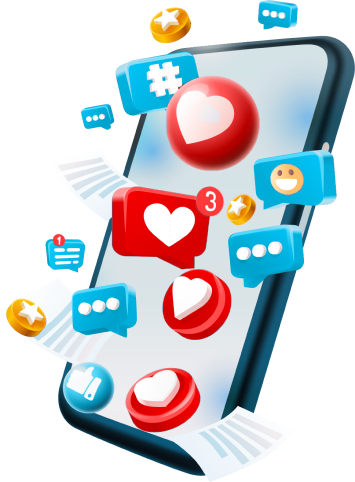 Let WebFX help your facility create a social presence that wins residents
If your facility is ready to reap the rewards of an active social media platform, explore the different social media service plans and custom management options at WebFX. All service plans include strategy and competitive analysis to give your business the edge it needs to win over possible residents.
We also offer social media advertising and ad management services for each platform, including Facebook. Learn more today!
Increase your leads, sales, and revenue with digital marketing
Find Us Driving Revenue Nationwide