Are you wondering how best to market your church online? While outreach via Facebook or Google ads can help, the most cost-effective way to attract, nurture, and build trust with new leads is to use your church's website.
Unfortunately, many church websites act more like billboards for service times than resources for newcomers or new believers. Instead, churches should do online what they do best offline — minister to their community's needs.
This article covers how informative content nurtures your community and generates leads, ultimately helping you earn your community's trust and grow your congregation. We've also included a comprehensive list of lead generation ideas for churches to help you get started.
Want to learn more about church marketing from our internet marketing experts at WebFX? Subscribe to our newsletter, Revenue Weekly!
Don't miss our Marketing Manager Insider emails!
Join 200,000 smart marketers and get the month's hottest marketing news and insights delivered straight to your inbox!
Enter your email below:
Inline Subscription Form – CTA 72
"*" indicates required fields
(Don't worry, we'll never share your information!)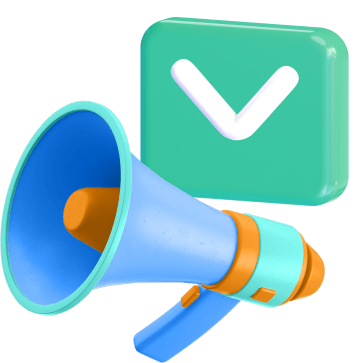 What is a lead?
When it comes to growing your church congregation, you might hesitate to take on a marketing mindset. After all, your church is a ministry. The goal isn't to sell a product or service — it's to evangelize and bring new believers or searching individuals into the church fold.
However, shifting your outreach mindset from "selling" to "lead generation" might put you at ease. In marketing jargon, a lead is someone interested in a company's products or services. But for churches, a lead is someone interested in joining their congregation.
What is lead generation?
Lead generation is the act of finding, nurturing, and converting leads into customers. Businesses often identify their ideal customer's problems and create resources that solve them to generate leads. Doing so builds their brand's "like, know, and trust" factor.
Churches can leverage the lead generation process to deliver valuable resources that minister to their community's needs and grow their congregation. For example, if you know your community struggles with substance misuse, creating resources addressing those issues provides guidance and makes the reader aware that your community exists as a potential support network.
The three types of lead-generating content
Now that you're on board with lead generation as a unique way to serve your community, the next step is to know what kind of content generates leads. There are several ways churches can generate qualified leads with a well-rounded content marketing strategy. These methods include:
Gated content:

Gated content is any content that requires leads to submit their contact information — usually their email address — to access it. Examples include private webinars or online resource libraries.

Ungated content:

Ungated content is any content that is freely accessible on your website or your social media channels. Examples include blog posts or YouTube videos.

Lead magnets:

A lead magnet is similar to gated content because someone must submit their contact information to access it. Examples of lead magnets include ebooks, studies, and in-depth guides.
You should focus on creating gated content if you're trying to capture each lead's email address or other contact information. However, lean into ungated content if you'd like to offer informational, accessible resources for specific community members.
Ultimately, the more high-quality, targeted, and problem-solving ungated content you create, the easier it will be to capture your leads' contact information later.
Understand your community's needs before creating content
Before you begin creating content, you must know your audience. Getting to know your audience might seem tricky, as your doors are likely wide open, but your church is likely intimately familiar with your local community's struggles. So, audit your local community's needs and fill in any resource or information gaps.
You can look to your existing congregation for content ideas, as well. Review your website and social media content to see which sermons or posts had the most interactions, then create content about those topics. You can also send out a survey to your congregation to learn more about their questions early in their faith journey.
21 powerful lead generation ideas for churches
Lead generation is a powerful tool for serving your community and growing your congregation. Once you've done some market research, select the type of content you want to create — gated or ungated — and get started!
To help you generate ideas, we've compiled a comprehensive list of gated and ungated content ideas for your church.
Gated content ideas
Remember, gated content is content a lead receives by providing their contact information. To increase the likelihood of your lead providing their contact information, offer an in-depth explanation of what problem your resource solves using conversion copywriting strategies and strong calls-to-action (CTAs).
Here are some gated content ideas for churches:
Webinars

Courses

Bible studies

Pamphlets

Ultimate guides

Ebooks

Resource libraries

Free counseling sessions

Recorded presentations

Templates

Newsletters
Ungated content ideas
With the help of a well-rounded search engine optimization (SEO) strategy, ungated content can help your church ministry achieve its goals by reaching a diverse audience. Remember to focus on generating high-quality ungated content to still gain leads from freely accessible resources.
Check out these ungated content ideas for churches:
Podcasts

Sermons

YouTube videos

Blog posts

Forums

Infographics

Facebook posts

How-to guides

Checklists

Quizzes and surveys
37% of marketers say that generating high-quality leads was one of their biggest challenges.
We want to decrease that percentage.
WebFX can help you generate high-quality leads with a customized marketing strategy.
Learn More About Lead Generation Services
Generate leads and grow your congregation with WebFX
Are you struggling to market your church online and grow your church congregation? Our digital and content marketing experts at WebFX can help.
We're an award-winning content marketing agency that provides lead generation services for churches and nonprofit organizations. We'll help you minister to your community by creating engaging, informative content that inspires visitors to take action and learn more about your church.
Ready to learn more? Call 888-601-5359 to speak with one of our strategists today. Or, get started by requesting your free quote!
Increase your leads, sales, and revenue with digital marketing