Looking for some fresh ideas to help your hotel stand out online? You came to the right place.
The hotel industry is highly competitive, and you need to convince people that your hotel is better than the competition. Whether it's your amenities or ideal location, your hotel has something to offer that people want. You just need to reach the right people.
On this page, we'll take a look at four digital strategies that can help your hotel attract more customers and earn more revenue online.
Give us a call today at 888-601-5359 if you want to learn more about creating your customized digital marketing plan, or keep reading to learn more!
Our digital marketing campaigns impact the metrics that improve your bottom line.
See More Results

WebFX has driven the following results for clients:

$3 billion
In client revenue

7.8 million
Leads for our clients

5.2 million
Client phone calls
1. Search engine optimization (SEO) for hotels
Did you know that 93% of all online experiences begin with a search engine?

This means that when people are looking for a hotel, they will most likely conduct a search on Google first. You want to rank in the top search results so that visitors can easily find and contact your hotel.
The best way to help people find your website is search engine optimization (SEO). SEO is the process of boosting your website's ranking in the organic search results for keywords and phrases related to your hotel.
There are a few key aspects to focus on in order to make the most of your SEO plan.
1. Target long tail keywords
When users conduct searches, they aren't just typing in "hotels." They use specific keywords to trigger results that fit their requirements.
When optimizing your site and adding content, you'll want to target long tail keywords that help your hotel appear in searches related to the phrases your target audience searches online.
For example, someone may search "hotels in Harrisburg, PA" or "Pet-friendly hotels in Harrisburg, PA."
You can incorporate long tail keywords and phrases that are specific to your hotel in key places on your site like your title tags, headings, and content. This is a great way to help more people find your hotel online. And you have a better chance of achieving top rankings for long tail keywords because there is less competition for those terms.
2. Update your website
If your website is old, outdated, slow, or unappealing, users will leave your website quickly. This can increase your bounce rate, which negatively impacts your website's rankings.
It is important that your website has a modern design. An attractive website will keep users engaged and interested in your site.
Your information also needs to be up-to-date. People don't want to stumble across a page that lists amenities that are five years old and no longer available. Make sure to keep your site current, and give users the latest information.
Slow websites also turn away visitors. Users will turn back to the search results rather than waiting for your page to load. You can use our page speed optimization services to help you get your website running faster.
3. Make your site responsive
People are conducting more searches on mobile than ever. So if you want to make the most out of your online presence and reach more mobile users, you need to make sure your site is responsive.

This will ensure that your site looks and functions well no matter the device visitors use to access it. And it can improve user experience on your site.
Making your site responsive is extremely important because 57% of travel reservations are made on the Internet. Half of all people who book a hotel are using the Internet to do it, so your website needs to be responsive, so they can successfully complete their booking from their smartphones or tablets.
Not only that, but 65% of same-day reservations are made on mobile devices. Since people are using different kinds of devices to book hotels, you want to make sure your website is responsive to whichever one they use.

SEO is a great way to bring traffic to your website. It takes time, but the wait is worth it. By boosting your website's ranking, you'll gain more traffic and conversions on your hotel's website.

Hear What It's Like to Work With WebFX!

"All of my interaction with our account manager has been so positive. I worried about the amount of money I was spending and she has made it worth my while. I understand there is a team behind her as well but I have been so impressed. Her responsiveness is outstanding."
Real Estate Rental
2. Pay-per-click (PPC) for hotels
Pay-per-click (PPC) advertising is a great tool to use in conjunction with SEO. While SEO takes time to show results, PPC ads can start driving relevant traffic to your site the minute your ads go live.
You select the keywords and phrases you want to trigger your ads and set a max bid.
This is the amount you are willing to pay every time someone clicks on the advertisement.
Your max bid, along with some other factors like quality score, will determine the position of your ad.
Many businesses like PPC advertising because it gives them control over their budget. You can set a max budget for your PPC campaign, knowing you will never exceed that amount. There are no hidden costs.
In addition, PPC can help you earn qualified leads since it targets people who are searching for hotels like yours online. In fact, PPC visitors are 50% more likely to convert than those who visit your site from organic listings. By utilizing PPC, you are driving in traffic that is more likely to convert.

3. Email marketing for hotels
Email marketing is a very effective form of advertising. It is cost-effective and has the potential to bring your business $44 for every $1 spent. You're looking at an ROI of 4400%!
This method of advertising is easy with management software like EmailMarketingFX. Email management software makes it easy to create, send, and monitor the effectiveness of your emails.
The first step to starting your email marketing campaign is to compile an email list. You don't want to buy lists, as these lists won't produce very valuable leads for conversions.
It is best to add sign up forms to your website and encourage people to subscribe to your email list. You can place a sign-up in the header or footer of your website. Pop-ups with email sign-ups work too.
Once you have a list of subscribers, you can start sending them emails.
The content of your emails can vary. You can send people deals or promotions you are having. If someone was previously checking out one of your rooms, you can send a reminder email.
Once a guest books your hotel, you can send them reminder emails about their stay and any change in information. You can also send emails with information about things to do in the area (e.g. "Ten Must-See Sights in Harrisburg, PA!").
After guests stay at your hotel, you can follow with an email and ask them to rate their experience.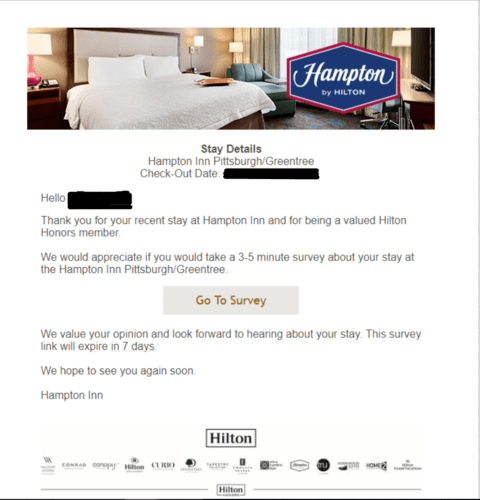 Email offers a great opportunity for you to directly target people who are interested in your hotel. With email management software, you can easily track the effectiveness of your emails. This allows you to adjust your advertising strategy to earn the highest possible ROI.
4. Social media for hotels
Today, 81% of Americans have a social media profile. With so many people on social media, you don't want to miss the opportunity to connect with customers.
Social media profiles are free to create, and the most popular platforms include Facebook, Twitter, Instagram, Pinterest, and LinkedIn.
These platforms are great for sharing information and posting content about your hotel. You can also share pictures on all of these platforms, which can help users see what your hotel really looks like.
Users have the opportunity to share your posts. This means you can gain more exposure from people you may not have been able to reach before.
37% of marketers say that generating high-quality leads was one of their biggest challenges.
We want to decrease that percentage.
WebFX can help you generate high-quality leads with a customized marketing strategy.
Learn More About Lead Generation Services
Book WebFX as your digital marketing company
If you want a five-star digital marketing company, look no further than WebFX. As a full-service digital marketing company, we have the experience and tools to create your ideal marketing campaign.
We create a customized plan for your business. Your hotel is unique, so we create a unique plan that fits your needs.
Other companies hide their prices, but we don't. With our transparent pricing, you'll always know where your money is going. We want you to have all the information you need to make the best decisions for your business.
You will have an experienced team of 500+ people working on your campaigns. Our dedicated team will work with you to attract more guests and earn more revenue online.
Get more bookings with digital marketing for hotels
If you want to find out how your hotel can make the most of your digital marketing campaign, contact us onlineor call us today at 888-601-5359 to learn more about our services!
Earn a 20% greater ROI with WebFX