Liam is looking for a new litter box for his cat. Before he visits a local pet supply store, Liam decides to browse online to see if he can find what he needs and who offers the product Liam wants. But when Liam browses online, he never comes across your business.
That's because you aren't doing digital marketing for pet products.
Digital marketing is a critical component to promoting your business through multiple online channels to help you earn more customers. With more people turning to the web to help them find the right products, you must build your online marketing presence.
But where do you start with pet product marketing?
On this page, we'll provide you with four strategies you can use to grow online, which include:
If you're feeling overwhelmed about where to start, WebFX can help.
As a full-service digital marketing company, we know the ins and outs of running digital marketing campaigns. Contact us online or call us today at 888-601-5359 to speak with a strategist about our digital marketing services!
Our digital marketing campaigns impact the metrics that improve your bottom line.
See More Results

WebFX has driven the following results for clients:

$3 billion
In client revenue

7.8 million
Leads for our clients

5.2 million
Client phone calls
Why is digital marketing important for pet product companies?
More than 5 billion people around the world use the Internet, and the global ecommerce market is expected to reach around $5.5 trillion in 2022.
When someone's looking for pet products, there's a high chance they'll go online to do some research. Digital marketing helps you ensure these potential customers discover your business — not a competitor's.
Digital marketing is also valuable for targeting your ideal customers, increasing brand awareness, and tracking your results so that you can improve them.
1. Optimize your website to rank in search results
If you want to do digital marketing for pet products, start by optimizing your website to appear in search results. With 93% of online experiences beginning with a search engine, you don't want to miss the opportunity for prospects to discover your business.
With search engine optimization (SEO), you can help your business rank in relevant search results and reach qualified traffic for your business.
To get started with SEO, follow these quick SEO tips:
Identify relevant keywords: Keywords help your business appear in relevant search results, so you'll want to conduct keyword research. KeywordsFX is a great tool to help you find long-tail keywords that help you drive more qualified traffic to your site.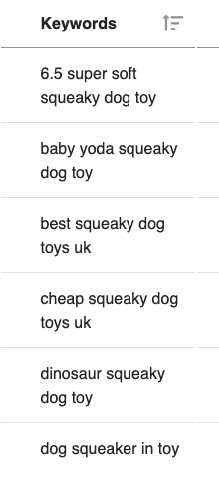 2. Run paid advertisements to reach more qualified leads
Another strategy you can use to sell pet products online is pay-per-click (PPC) advertising. PPC advertising is a great strategy to help your business appear at the top of search results and obtain more qualified leads for your business.

To run PPC ads, you must bid on relevant keywords. Like SEO, you'll want to focus on long-tail keywords. These keywords will help you obtain more qualified leads for your business because they target specific intents or needs.
Aside from bidding on relevant key terms, follow these PPC best practices to launch a successful campaign:
Create relevant ad copy: Your ad copy is what your audience sees first. Therefore, you want to ensure your ad copy is relevant to the keywords you target, so your audience checks out your ad and learns about your products.
Use ad extensions: One way to earn more clicks on your ads is to use ad extensions. Ad extensions enable you to include more critical information for your audience. You can use multiple extensions, from sitelinks to structured snippets.

Use a custom landing page: If you want to get the most from your PPC ads, use a custom landing page. Custom landing pages help you deliver a tailored experience for your audience, so they stay focused on the product of interest.
3. Engage with prospects on social media to boost brand recognition
A critical component of marketing for pet products is interacting with your audience. You want to build relationships with your audience to nurture them towards conversion and build a loyal following.
That's why social media marketing is a critical component of digital marketing for pet stores. This strategy enables you to interact directly with your audience and nurture them towards conversion.
Here are some social media best practices you can follow to launch a successful strategy:
Engage with your audience in the comments: A key social media component is connecting with your audience. When you post content online, interact with your audience in the comments to build a better relationship with them.

Run social media ads: Social media ads are an excellent way for your business to reach qualified leads that haven't discovered your company yet. Use high-quality visuals to attract your audience to your ad and accompany it with informative ad copy.
Post social content often: Posting content often is critical to ensure people see your content online. You can use a social media content calendar to help you plan when to post your content and ensure you have enough content to post.
4. Create content to inform your audience
If you want to do digital marketing for pet products, consider creating content. Creating content can help you sell pet products online by informing and educating your audience on important topics.
Users actively seek out information to answer their queries. When you provide them with that information, they discover your business and spend more time engaging on your site.
If you want to include content marketing as part of your pet product marketing strategy, follow these best practices:
Use different content formats: When you develop your content marketing strategy, use multiple content formats to appeal to your audience. You can use blog posts, videos, and infographics to engage your audience.
Create content often: If you want to have success with your content, you must create it often. Use a content marketing calendar to help you plan when you'll draft, edit, and publish your content. It will help you stay on track and identify any content gaps.
Promote your content: When you create content, promote it on your different channels. You can post your content on social media or send it to subscribers through email to help promote it and get more people to engage with your content.
Time to Level Up Your Sales
Our long list of services helps you grow every aspect of your business with marketing strategies that are proven to increase bottom-line metrics like revenue and conversions.
In the past 5 years, we've managed more than 12.9 MILLION transactions across our client base.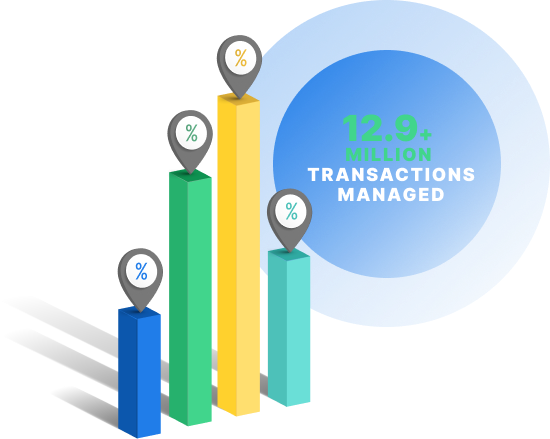 Get started with digital marketing for pet products
If you want to sell pet products online, you need to have a digital marketing strategy. With so many available to your business, you may not know where to start. At WebFX, we have a team of experts that can help you craft the digital marketing strategy you need.
We know how to craft digital marketing plans that drive results. We've driven over $3 billion in revenue and over 7.8 million leads for our clients in the past five years alone. You can feel confident we'll craft campaigns that help your business grow online.
Ready to start growing your business online? Contact us online or call us today at 888-601-5359 to speak with a strategist about our digital marketing services!