Predictive SEO: 4 Best Practices for Doing Predictive Search
Predictive SEO can change the direction of your business. Learn how with our four best practices for doing predictive search.
If you could predict what would rank in the future, you would likely jump at the opportunity.
With predictive search engine optimization (SEO), you can help your business predict topics that will trend in the future and create content now so that you can earn top rankings later.
On this page, we'll answer the question, "what is predictive SEO?" and provide you with four best practices for doing predictive SEO.
If you want to stay on top of the latest tips and trends with SEO, subscribe to our newsletter, Revenue Weekly !
Learn how we increased traffic by over 40%, and conversions by over 100% for an ecommerce client.
Read the Case Study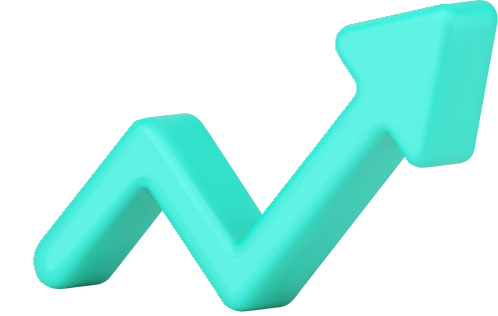 What is predictive SEO?
Predictive SEO is the process of proactively thinking about what consumers are looking for and providing that information before users need it. You use past data and knowledge to help you make predictions for the future.
With predictive SEO, you'll create content and optimize pages to perform better later.
4 best practices for predictive SEO
If you want to be successful with predictive search, follow these best practices:
1. Analyze past data
To rank in predictive search results, you need to look at previous data from tools like Google Analytics. Your previous data will provide you with insights on how things performed previously, so you can predict how they will perform in the future.
From there, you can use that data to make more informed decisions about what you do in the future with your SEO.
So, for example, let's say you look at all the content you currently have published. You want to analyze your content to create a more informed content marketing campaign that drives more leads in the future.
When you analyze the data, you find that your blog posts with videos seem to perform best for generating leads. So, you can compile this data to figure out the correlation between video and leads and use that information to inform your future campaigns.
2. Figure out future content topics
A critical component of SEO is content creation.
Content helps you rank in search results and drive valuable traffic to your page. A core component of predictive SEO is figuring out future content topics that will help you drive traffic to your page.
When you compile valuable data, like dwell time or clickthrough rate (CTR) look at what type of content generates the best results. You can also look at the topic of the content to see if there are any correlations amongst them.
So, for example, let's say you're a wedding planning business. You analyze past data from your different types of content and find that your blog posts perform better than your other content. Knowing this information, you predict that focusing on blog posts in the future will help you drive more traffic to your page.
You decide to take it a step further and look at data for each blog post to see which ones drive the best results. After comparing all the data, you find that your blog posts about choosing wedding themes and color themes are the most popular.
So, based on this information, you can create more content related to wedding themes because you predict it will perform the best.
Additionally, you can also look at the time of the year to predict when it's best to create content. So, for example, you may find that sharing content about rustic weddings performs best in August and September.
Knowing that information can help you predict the best time to publish content, too, so you can maximize your effectiveness.
Figuring out future content topics will help you create a more effective strategy. You can produce content that resonates with your audience and increase engagement and rankings for your business in the future.
3. Find the right tool to gather data
If you're going to use predictive SEO, you need to have the right tool to gather data because you won't appear in the right predictive results.
MarketingCloudFX is an excellent example of a marketing tool that enables you to collect valuable data. This tool allows you to track your SEO and content performance, so you can make strategic decisions about your future SEO strategies.
One great feature of this tool is CompetitorSpyFX. This tool offers projections where you can see what you need to do to outrank your competition. You can use information like this to help inform your predictive SEO and create content that both helps you outrank competitors and engages your audience.
Additionally, this tool provides you with data about your leads, traffic, and rank in search results. You can use this data to help you predict the future of your SEO.
4. Utilize Google Trends
When you're trying to appear in predictive search results, you want to ensure that you're making informed decisions about your data. A great tool to use to help you appear in predictive searches is Google Trends.
Google Trends enables you to input terms and see when a topic is trending, who's searching for it, and more. You can use this data to help inform your campaigns and make better decisions.
So, let's go back to the wedding planner example. After doing some data analysis, you figure out what types of content perform best and what topics you predict will trend.
Now, you can use Google Trends to help you figure out when to post the content.
Here's an example of the trending terms for "country wedding venues."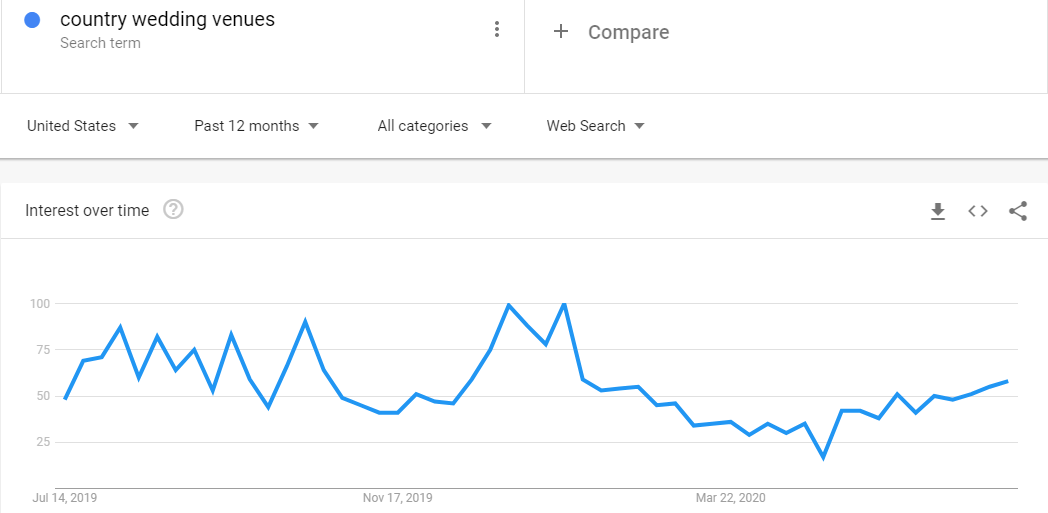 When you look at how this keyword performed in the past, you can see the peak of interest falls around the end of December and midway through January. So, if you were trying to create a blog post about country wedding venues, you would want to publish it around that time to create the best opportunity to drive traffic.
This tool is valuable to use with the data you've gathered. You can use your customer data and Google's data to help you create a better predictive SEO campaign.
Independent research from Clutch has named WebFX the
top SEO company

in the United States.

Clutch has personally interviewed more than 250 WebFX clients to discuss their experience partnering with us.

Read More Clutch Reviews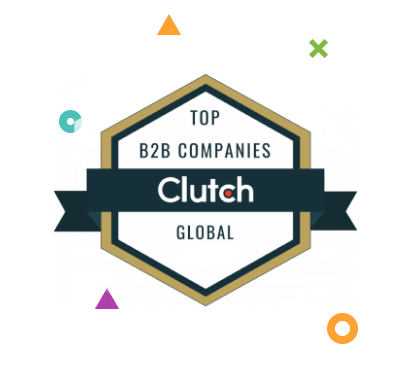 Get started with predictive SEO
Predictive SEO is an excellent opportunity for your business to maximize the effects of your SEO campaign for the future. You can help create more informed campaigns, backed by data, to help drive better results for your company.
At WebFX, we have a team of over 500 experts that can help you with your SEO campaign. In the past five years, we've driven over $3 billion in sales and over 7.8 million leads for our clients. You can count on us to help you develop an SEO strategy that enables your business to thrive online.
Ready to get started? Contact us online or call us today at 888-601-5359 to speak with a strategist about our SEO services!
How Is Your Website's SEO?
Use our free tool to get your score calculated in under 60 seconds.