Amazon Business vs. Seller Account: What's the Difference?
In today's digital world, more people are shopping online, and nowhere is that more evident than on Amazon. In fact, 89% of consumers are more likely to buy from Amazon than from any other ecommerce website. Given this fact, your business can't afford to miss out on the sales opportunities Amazon offers. When you sell your products on Amazon, you expand your market enormously. If you need to purchase products for your company, Amazon is a great place to do that, too.
But as you start looking into creating an Amazon account for your business, you might quickly become confused. Right off the bat, you're presented with multiple types of accounts, and you may not know which one to choose.
You'll have the choice of an Amazon business vs. seller account. But what are those? What's the difference? If you're struggling to figure it all out, no worries! We'll explain it all below.
Read on to find out more, and get help with your Amazon marketing by partnering with the digital marketing agency that's been in the industry for over 25 years! Just call 888-601-5359 or contact us online to get started.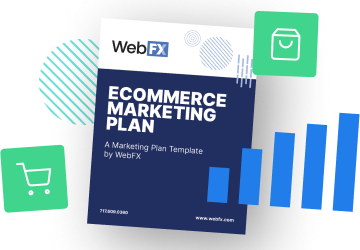 Creating an ecommerce marketing plan can be daunting — but not with our
FREE

guide! Download your ecommerce marketing plan template today! Show Me the Guide
Amazon business vs. seller account
Let's start things off by defining the distinction between a business account and a seller account. Put simply, business accounts are for buying, and seller accounts are for selling.
That's the simple answer, but don't stop reading! The truth is, there's a bit more to it than that.
Business and selling accounts are both distinct from regular Amazon accounts like the one you probably use for personal purchases. To understand what truly sets these different accounts apart from each other, Let's look at them in greater detail.
Amazon business accounts
An Amazon business account is what you create to make purchases for your business. As indicated by the name, though, this account is different from a personal Amazon account.
When you create an account for a business rather than an individual, you get a number of benefits.
However, these differences vary depending on which type of business account you choose. Much like regular Amazon accounts, you have two options: A regular account or a Prime account.
Learn How to Market Your B2B on Amazon
Regular business account
A regular Amazon business account is the free, standard package for most businesses, but it comes with several features unavailable through — and mostly irrelevant to — personal accounts. Among those features are the following.
Business-only prices: With a business account, you can gain access to special business-only prices on certain products when you order in bulk.
Single sign-on: Unlike a personal Amazon account, which you might only use once a month, your business account requires constant attention. For your convenience, you can set up single sign-on (SSO) for your account to let you sign in with a single click.
Integrated workflows: To make sure you never go over your budget or make unauthorized purchases, you can set approvals and spending limits that adhere to your company's policies.
Account management: Managing your business account can be a lot of work, and you may want to have more than one person on the job. Business accounts allow you to add multiple users and control account permissions.
Amazon Tax Exemption Program: When you buy products on behalf of a business, you can often accrue various tax exemptions. The Amazon Tax Exemption Program will allow you to apply those exemptions to all eligible purchases.
Convenient delivery options: Within your account, you can manage exactly how and where you want your purchases delivered to your business.
Business Prime account
Just as Amazon Prime accounts offer special discounts and features for a monthly fee, Business Prime accounts come with several upgrades from regular business accounts. The cost depends on which plan you choose, but it ranges from $69 to $10,099 per year.
On top of all the features from the previous list, Business Prime accounts come equipped with these benefits:
Free shipping: Like a regular Amazon Prime account, Business Prime comes with free shipping on all eligible items. Particularly on bulk orders, this offer can save your business money.
Business analytics: With Amazon's Spend Visibility tool, you can track information about all your purchases. You can generate reports on individual, group, and company spending patterns.
Guided buying: Building on the integrated workflows of a regular business account, Business Prime allows you to set up rules within your account that guide your employees to approved products.
Progressive discounts: With Business Prime, not only can you access special business-only prices on certain products, you can unlock additional discounts on the products you buy the most. As you continue to purchase them, you can bring the price down.
5% back or 90-day terms: For American Express Card members, Business Prime offers the option of either 5% back or 90 days to pay interest-free on all purchases within the United States.
Amazon WorkDocs: When you make purchases for a business, there's plenty of paperwork involved. For your convenience, Business Prime members have access to Amazon WorkDocs, where your employees can collaborate on purchase documents.
Amazon seller accounts
As handy as Amazon can be for buying the materials you need for your business, its main benefit is the fact that it gives you a place to sell your products. That's where Amazon seller accounts come into play.
To create a seller account, you must first have a purchasing account — whether business or Business Prime — to link it to.
As with Amazon business accounts, you have two different kinds of seller accounts to choose from for your company. To help you decide which kind your business needs, let's break down each of them.
Individual seller account
An Amazon individual seller account is the simplest way to sell something on Amazon. These accounts aren't limited to businesses — if you simply wanted to sell a few old items you found in your home, you would create an individual seller account.
Businesses can still use this type of account, but unless your business is extremely small, you probably wouldn't want to do so long-term. Individual seller accounts lack many of the professional account's valuable tools, and are typically less cost-effective.
With that being said, Amazon individual accounts are great for testing the waters. If you want to get a feel for how selling on Amazon works without making a large financial commitment, the pay-per-sale system of individual accounts is a great option.
Here are some of the features that come with individual seller accounts.
Per-item sale fee: As mentioned above, individual seller accounts operate on a per-item sale fee. This setup means the only time you pay a fee is when you actually sell an item. The fee for each item you sell is $0.99.
Product page creation: Perhaps the most basic feature of an Amazon individual seller account is the ability to create pages in the Amazon catalog for all the products you upload to your inventory, with images and descriptions.
Listing deactivation: If you're unavailable to check your account for a certain period, you can set your product listings to be inactive while you're away. That prevents anyone from buying a product while you're unable to ship it to them.
Shipping assistance: When you sell a product, Amazon will notify you with a "Sold, Ship Now" email. The email will walk you through the process of shipping the product to the customer and will provide you with a shipping label and packing slip to print out.
Amazon-set shipping rates: For individual seller accounts, Amazon sets all product shipping rates automatically.
Secure transfers: Rather than making you use a third-party platform like PayPal, Amazon transfers all profits directly to the bank account of your choice. It does this using its secure transaction tool, Amazon Pay.
Professional seller account
While individual accounts are great for selling small quantities of items, they become expensive once you start selling larger numbers of products. For most businesses, a professional seller account is the better option.
Since the fee for each sale on an individual account is $0.99, and professional accounts come with a $39.99 monthly subscription fee, a good rule of thumb is to use a professional account if you sell 40 or more items per month.
Be aware, though, that there are typically additional fees on top of the monthly one.
On top of the difference in account fees, professional accounts come with many useful features not available for individual accounts. Among these features are the following.
Inventory and order management: Professional seller accounts allow you to manage your product inventory and customer orders with a selection of custom spreadsheets, feeds, and reports.
Amazon Marketplace Web Service: The Amazon Marketplace Web Service enables you to perform a variety of API functions within your account, including uploading feeds and receiving reports.
Seller-set shipping rates: Instead of Amazon generating shipping rates for all your products, you get to create your own. This setup gives you more control over the net cost of your products.
Promotions and gift services: With a professional seller account, you can run promotions for your products, including several types of Amazon pay-per-click (PPC) advertisements.
Tax calculation and application: Professional seller accounts let you calculate sales tax and apply them to your orders.
Buy Box eligibility: The Buy Box is the box on each product page that contains the "buy" and "add to cart" buttons. With Buy Box eligibility, you have the chance to be the top seller listed in that box for certain products.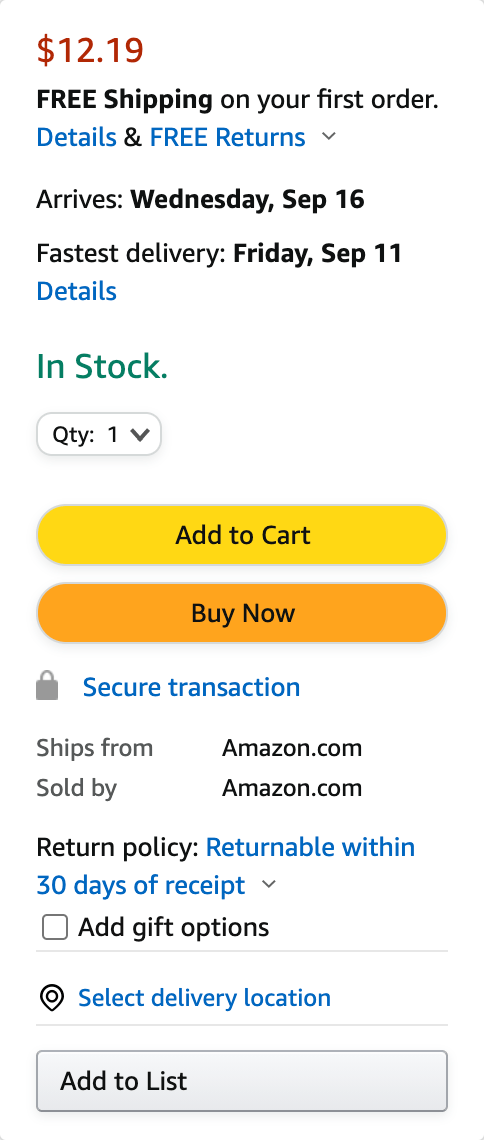 Amazon business vs. seller account — which should you choose?
Having looked at all the available Amazon accounts, the time now comes to decide which one your business needs. To start with, should you get a business account or a seller account?
If you aren't looking to sell on Amazon, you obviously don't need a seller account. In that case, opt for only the business account. But if you do want to sell on Amazon, you'll need to get both types of accounts, since a business account is required to create a seller account.
As for which business and seller accounts you should get, that depends on your specific needs. Look at the prices of Business Prime and professional seller accounts and weigh them against your budget.
As noted above, though, be aware that for your seller account, you'll almost certainly need the professional one eventually, unless your business is exceptionally small.
Start your Amazon business and seller accounts off strong with WebFX
If you now know exactly which Amazon accounts you plan to create, great! But that's just the start. Once you create your accounts, you'll have to put plenty of thought and effort into how you develop and market them, and it won't always be easy.
Thankfully, WebFX can help. Our team of over 500 digital marketing experts is well-versed in the makings of a successful Amazon campaign, and we'd love to bring that knowledge to your business to help you succeed!
To get started with us, just give us a call at 888-601-5359 or contact us online today!
The first step to increasing your SMB's Amazon sales is getting a FREE proposal.
One of our experts will be in touch within 24 hours!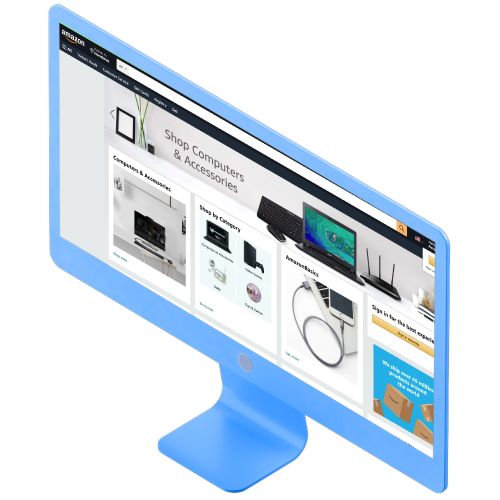 Earn a 20% greater ROI with WebFX