Did you know that 71% of business-to-business (B2B) clients start product research with a search engine like Google?
If you want B2B clients to find your products or services when searching online, you must take advantage of B2B search marketing. B2B search engine marketing will help you build a presence in search results to attract more qualified leads and revenue.
In this guide to search marketing for B2B businesses, we'll answer questions like:
Keep reading to learn more! P.S. Want to get marketing tips from industry experts? Join 200,000+ marketers by subscribing to Revenue Weekly!
What is B2B search marketing?
B2B search marketing involves building a presence in search engines to help boost traffic to your business-to-business website.
With B2B search engine marketing, you can use paid or organic strategies to help promote your business.
The overall goal is to increase your presence in search results, so more people discover your company — and ultimately purchase.
2 key strategies for doing B2B search marketing
With search marketing for B2B businesses, there are two key strategies you'll use to promote your company:
1. Search engine optimization (SEO)
One of the strategies you can use as part of B2B search marketing is search engine optimization (SEO). SEO is the process of boosting your website's presence in search results through organic means.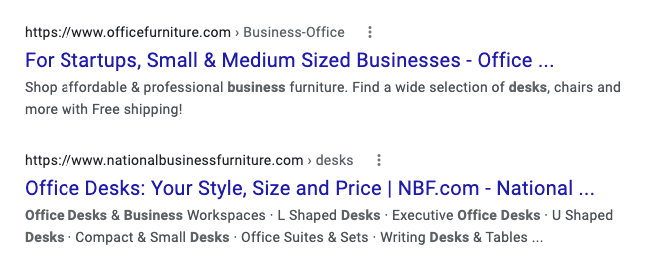 When users conduct searches for specific products or services, they often turn to the organic results to help them find what they need.
With 95% of search traffic going to the first page of search results, optimizing your website to rank is critical. Without an SEO strategy in place, users will miss your website in the top results.
There are numerous tactics that you can use to improve your website's rankings in search results. Some effective strategies include:
2. Pay-per-click (PPC) advertising
Pay-per-click (PPC) advertising is another strategy you can use to promote your business through search engines. PPC advertising involves creating paid ads that appear at the top of the search results with an "ad" tag.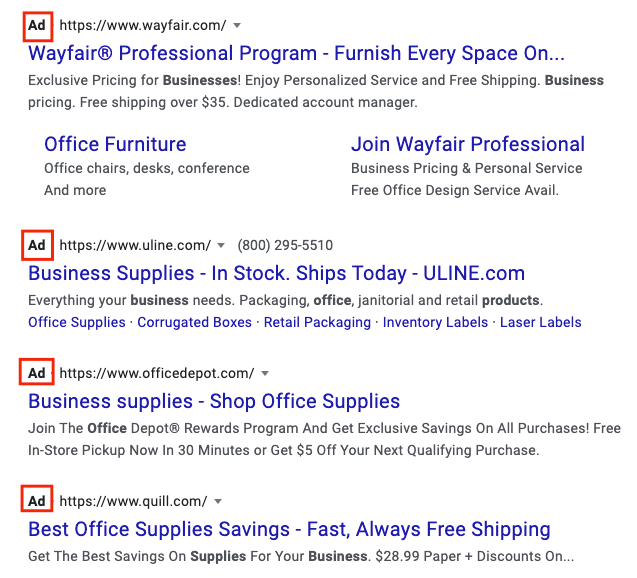 PPC ads are great for getting your business at the top of search results, so searchers see your company before your competition.
These ads are also great for increasing brand exposure because even if prospects don't click on your ad, they can get familiar with your business. To experience success with PPC advertising, you'll want to:
How to do B2B search marketing effectively
Now that you know the two strategies you can use for search engine marketing for B2B businesses, it's time to optimize your presence in search engines! Here are three tips to help you do B2B search marketing effectively:
1. Select relevant keywords
With both SEO and PPC, keywords play an integral role in helping your business appear in the right search results.
For both strategies, you'll want to conduct keyword research to find relevant terms for your B2B company. You can use a keyword research tool like KeywordsFX to help you identify valuable terms for your campaigns.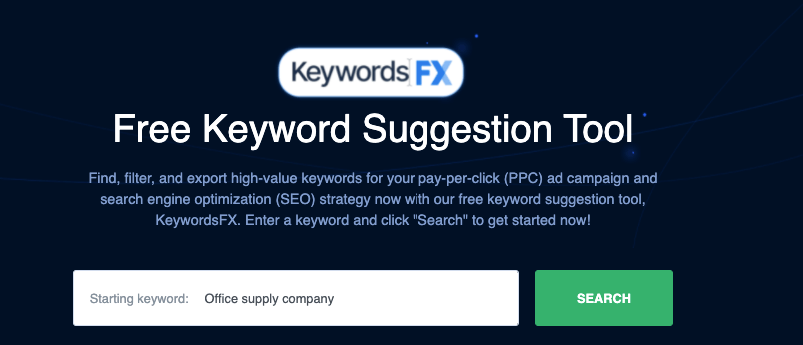 When you look at your list of keywords, focus on long-tail keywords.
Long-tail keywords, which usually contain three or more words, work best for your campaigns because they give you more insight into search intent.
If someone searches a long-tail keyword like "buy office furniture Harrisburg," you know what they want — to purchase office furniture from a company in the Harrisburg area.
On the other hand, a short-tail keyword like "office furniture" is more ambiguous and makes it challenging to understand what your audience wants to find. Are they researching styles of office furniture?
Do they want to buy office furniture?
When you're looking at keywords, you want to think about your sales cycle and what terms people search at different times.
Since people likely spend more time researching your B2B company pre-purchase, you'll want to consider focusing on specific, long-tail keywords they may search as they get to know your business better.
Keywords like "how to buy office furniture" can help educate top-of-funnel (TOFU) searchers, whereas keywords like, "office furniture pricing" can resonate with middle and bottom-of-funnel visitors (MOFU/BOFU).
Targeting both of these kinds of keywords can help you reach people at different points in the sales cycle. Not to mention, you'll drive more qualified traffic and conversions for your business.
2. Create a positive user experience
Another critical component to doing B2B search engine marketing successfully is creating a positive user experience (UX).
User experience is essential for keeping prospects engaged with your business.
If you don't deliver a positive user experience, leads will return to the search results and visit another company's website.
Creating a positive user experience is critical for keeping B2B leads coming back to your business. When you consider how long your B2B sales cycle is, a positive user experience can make the difference in determining if prospects keep coming back to your business to learn more.
So, what does a positive user experience look like? First, make sure you're delivering relevant information to your audience.
For example, if your ad details your office furniture products, don't direct people to your office supplies.
People who click on an ad for office furniture only want to see those products. The same practice follows for search engines.
If you create a piece of content on creating an effective office workspace for employees, that blog post should focus on that information. You must match the search intent to ensure you're delivering the information your audience wants.
In addition to delivering the correct information, another way to deliver a great user experience is to make your website or landing page functional for users.
From using white space to integrating call to action (CTA) buttons to guide users, you can help enhance the user experience through your website or landing page design.
3. Optimize the text that appears in search results
A critical component of search marketing for B2B businesses is optimizing the text that appears in search results.
The text that appears in search results can impact whether someone opts to click on any of your listings. You want to ensure you optimize this component to entice more people to click.
For SEO, you'll want to focus on optimizing your title tag and meta description. Your title tag provides searchers with your page's topic, while your meta description serves as a summary.
To optimize these tags, stay within their respective character limits –– 60 for title tags and 155 for meta descriptions.
It will ensure your listing look clean and doesn't get truncated. Also, make sure you include your keyword in both tags to show relevance.

As for your PPC ads, focus on creating descriptive ad text. You can enhance your ad text by using ad extensions.
Ad extensions enable you to include additional business information, like your phone number or address, to convince more people to click on your ads.

When you choose the text you display in search results, consider who's seeing your ad and what point they're at in the sales cycle.
For example, if you're displaying an ad to someone further along in the sales cycle, you may include relevant, conversion-focused site links to drive leads.
Optimizing the text that appears in search results is your key to generating more traffic and, in turn, more qualified leads to grow your business.
WebFX specializes in B2B client success.
Wheeler Machinery Co., saw 82% higher average time on site after partnering with WebFX for SEO, CRO, web design and development, and website content services.
See Case Study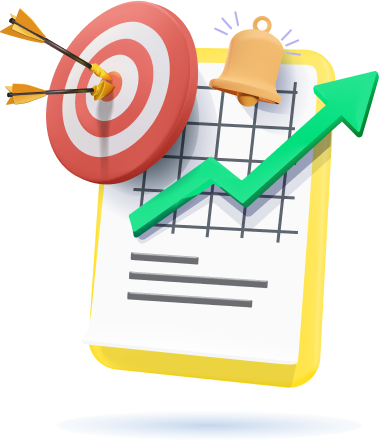 Launch your B2B search marketing strategy today
B2B search engine marketing is critical for helping your company reach more qualified leads. If you aren't sure where to start with your strategy, you can rely on the experts at WebFX to launch a search engine marketing strategy for you.
With over 25 years of experience in digital marketing, we're an unmatched partner for driving success with digital marketing. In the past five years alone, we've driven over $3 billion in revenue and over 7.8 million leads for our clients.
You can feel confident we'll drive results for your business, too.
Ready to obtain new clients for your company? Contact us online or call us today at 888-601-5359 to speak with a strategist about our SEO and PPC services!
WebFX Careers
Join our mission to provide industry-leading digital marketing services to businesses around the globe - all while building your personal knowledge and growing as an individual.