You offer great herbal products to your customers, but your customer base is small.
You're looking for new ways to grow your business and reach clients looking for your products when you come across search engine optimization (SEO). But is SEO a strategy that will help you grow your customer base?
Yes.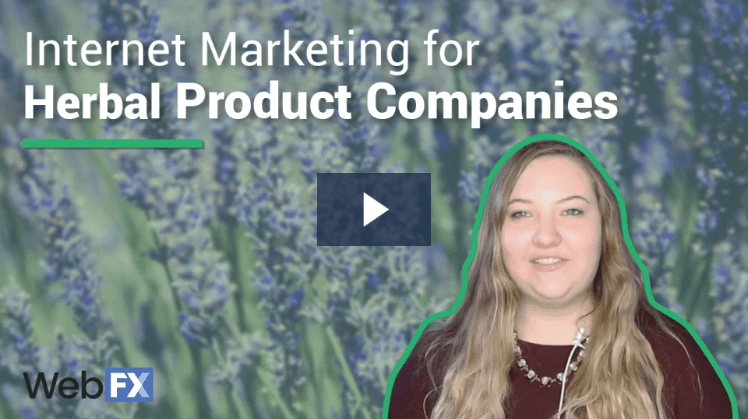 SEO is a digital marketing strategy that involves optimizing your herbal company's website to rank better in search results. When you consider that 93% of all online experiences start with a search engine, it's a no brainer to optimize your herbal website for search.
By investing in SEO for herbal products, you can help your site rank in relevant search results and drive qualified traffic to expand your customer base.
So, how do you get started?
Keep reading to get five tips on doing SEO for herbal product companies. Feel free to give us a ring at 888-601-5359 or contact us online to learn more about how WebFX can help you launch your SEO campaign for your herbal company!
Learn how we increased traffic by over 40%, and conversions by over 100% for an ecommerce client.
Read the Case Study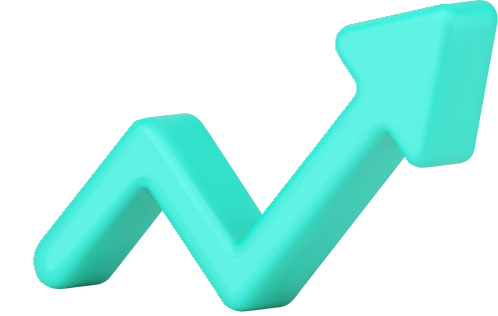 1. Optimize your site for relevant key terms
One of the most essential parts of SEO for herbal products is selecting the right key terms. People search for specific key terms to find relevant information related to their query. That said, if you want your site to appear in relevant search results, you need to find the right keywords to integrate into your site.
To find relevant keywords for your site, you must conduct keyword research. You can use numerous keyword research tools, like KeywordsFX, to help you find the right terms.
When you search for relevant keywords, focus on long-tail keywords. These keywords are at least three words long, like "herbal company in Los Angeles" or "loose herbal tea."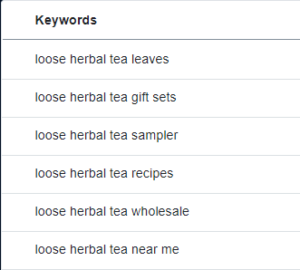 You want to focus on these longer keywords because it will drive more qualified traffic to your site. When people search these long keywords, they have a specific search intent — meaning they know exactly what they're looking for and are likely ready to purchase.
For example, let's say you own an herbal tea shop. If someone searches "herbal," it's uncertain what kind of information they're hoping to find. Are they looking for tea? Medicine? Oils?
With a keyword like "herbal tea shop in Los Angeles," you know what the searcher wants to find, which is why long-tail keywords work better for your site.
Once you find your long-tail keywords, you'll integrate them into your site. Make sure you don't over integrate them, as it will lead to keyword stuffing and negatively impact your site's ranking in search results.

Hear What It's Like to Work With WebFX!

"I work with a couple other companies across our portfolio and I certainly have the best working relationship and success with WebFX. I appreciate the collaboration, patience and always prompt response with our last minute requests. The WebFX team always presents "guinea pig" ideas that we can test on the properties, some of which come from completely different types of establishments. I truly appreciate the ability to pivot and think outside of the box, especially during these most challenging year!"
Restaurant
2. Start creating content
When you do SEO for herbal products, you need to create content. Content is a critical component of your SEO strategy because it's what drives people to your site.
SEO and content creation go hand in hand. If you don't create content, you don't have anything to rank in search results., and if you don't optimize your content for search results, you won't rank.
To help you have the best chance at ranking in search results, you need to start a content marketing campaign.
To get started with content marketing, you must generate a list of topics. You can find topics by using a tool like Google Trends to see what topics users are talking about in your industry.
Once you have a list of topics, you can choose what format you want to use for your content. Some common content formats include:
Ebooks
Guides
Podcast
You'll want to use a variety of these formats to keep your audience interested in your content. Not to mention, people like different types of content, so using these different formats enables you to appeal to a variety of people in your audience.
Once you've decided on your content format and target keywords, you'll want to investigate the search intent. Search your topic on Google and see what other companies are writing about the topic. Checking the search results will help you create content that resonates with your audience.
After you craft your content, make sure you share it with your audience. You can share it through email marketing or on your social media platforms.
3. Focus on earning backlinks
If you want to do SEO for herbal medicine right, focus on earning backlinks. These links are links to your site from another website, and they are critical for helping you rank better in search results.
Backlinks are fundamental to your site's ranking in search results because they help boost your trust and authority. If credible sites link to pages on your website, it sends a positive signal to Google that your site is reputable and authoritative.
So, how do you earn backlinks?
The best way to earn backlinks to create authoritative and informative content. Once you create content, you can reach out to industry authorities and invite them to check it out.
You can also check out industry authority sites and look for broken links on their site. When you find a broken link, you can contact them and let them know the link is broken and suggest your article as a replacement.
When you're trying to earn backlinks, focus on getting quality over quantity. Having ten high-quality backlinks will help your SEO better than having 50 low-quality backlinks.
4. Ensure your site loads quickly
When you do SEO for herbal product companies, you'll also focus on ensuring your site loads quickly. In fact, 83% of users expect your website to load in three seconds or less.
Google also takes your site's load time into account when ranking your pages. Since users don't want to wait for slow-loading pages, and Google also considers user experience when ranking pages, a slow page likely won't earn a top position in search.
You can check your site's load time by inputting your URL into Google PageSpeed Insights. From there, Google will tell you your site's current load time and provide suggestions for improvement.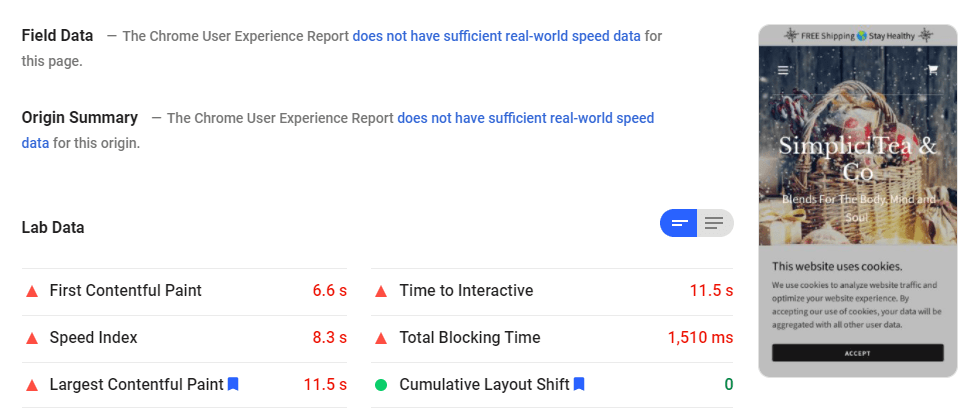 Some suggestions include:
Compress large image files
Use a third-party host for videos on your site
Reduce redirects
Leverage browser caching
Using a content distribution network (CDN)
If you aren't sure where to start with improving your site's load time, you can invest in page speed services to get help.
5. Make your site mobile-friendly
Lastly, when you do SEO for herbal medicine or any other herbal product, you'll want to ensure that your site is mobile-friendly.
People will access your site on desktop, tablet, and smartphones and if your site doesn't provide a positive user experience on all devices, you'll miss out on valuable traffic.
Not to mention, Google uses a mobile-first index, which takes the mobile version of your site into account when ranking.
The best way to ensure you have a mobile-friendly site is to integrate responsive design. Responsive design enables your site to adjust and adapt to all devices. If someone accesses your site on a mobile device, they'll see a scaled version of your site that's easy for users to navigate on a smaller device.
With responsive design, you don't have to worry about someone having to zoom in on site elements, or have trouble filling out a form just because they experience your site on a smaller screen.
Independent research from Clutch has named WebFX the
top SEO company

in the United States.

Clutch has personally interviewed more than 250 WebFX clients to discuss their experience partnering with us.

Read More Clutch Reviews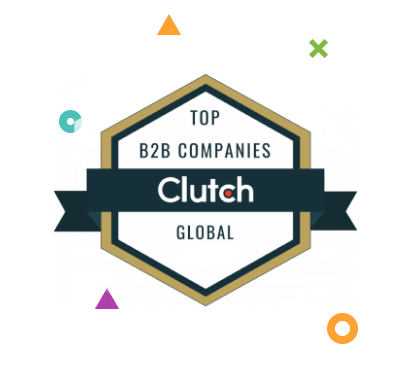 Get started with SEO for herbal products
SEO for herbal medicine is an excellent way for you to help more people discover your business through search results. If you aren't sure where to start with SEO, WebFX can help.
We have a team of over 500 SEO experts that can help you create a custom SEO plan that drives results for your business. In the past five years alone, we've driven over $3 billion in sales and over 7.8 million leads for our clients.
You can feel confident we'll craft an SEO campaign that drives results for you, too.
Want to learn more? Contact us online or call us today at 888-601-5359 to speak with a strategist about our SEO services!
Earn a 20% greater ROI with WebFX