While there may be a high demand for fertility information and services, fertility clinics must practice effective lead generation to attract new patients, stay ahead of competitors, and show their audience that they offer the best services.
WebFX is a leading digital marketing company for all industries. Call us at 888-601-5359 to speak with a strategist about marketing opportunities for your fertility clinic, or read on to learn more ideas for finding leads!
37% of marketers say that generating high-quality leads was one of their biggest challenges.
We want to decrease that percentage.
WebFX can help you generate high-quality leads with a customized marketing strategy.
Learn More About Lead Generation Services
What is lead generation?
A lead is a person who has expressed interest in your services, products, or brand, so to generate a lead is to generate interest. For fertility clinics, attracting new patients and leads for fertility clinics is vital to business operations and growth.
8 ways to grow your practice
Drawing in new patients to your fertility clinic requires dedicated effort in person and online. Check out these tips to learn how to improve your marketing efforts to generate more leads!
1. Invest in your brand
Building a trustworthy, reliable reputation is vital to increasing your leads. Patients should trust you to care for their needs, maintain confidentiality, and help them along their fertility journey.
You can solidify your brand as dependable through several aspects, such as your values or the type of imagery you use in your marketing material and on your website. Be authentic in your messaging and timeless in your designs to promote a professional, reputable image.
2. Construct a professional website design
Another way to improve your brand image is to create a functional and aesthetic website design. The more professional your website looks and behaves, the more likely visitors will trust you and become interested in your clinic. An effective website should be:
Easy to navigate:

Website visitors want to find information quickly, so include elements like a search bar and clear navigational tools to meet their expectations and improve their experience.

Fully responsive:

People use various devices to access your website, so you'll want to ensure your design is responsive, adapting smoothly to desktop screens and smartphones.

Simplistic:

Keep colors to a minimum and include plenty of white space to entice your visitors to stay and keep reading.

Image optimized:

You'll want your website to load quickly to keep your visitors on your page, so ensure your images are optimized.

Authentic:

Whenever possible use real pictures of your staff, building, and patients — with permission — so your visitors can get an accurate view of your clinic.
3. Create quality content
Your website should also contain high-quality content that will inspire interest and turn visitors into leads. To be high-quality, your content needs to be relevant to your target audience's needs and offer value. A few ways to produce helpful content include:
Crafting blog posts to discuss fertility topics.

Writing informative articles about your services or different fertility treatment options.

Offering downloadable educational content.

Posting videos showcasing your clinic, staff, and services.

Creating graphics to explain fertility topics and treatments.
When you give your readers useful information and actionable advice, they are more likely to trust and engage with your clinic.
Quality content also uses search engine optimization (SEO) to generate leads. If search engines find your content relevant, they will promote it in the results. One way to promote content to search engines is by incorporating keywords throughout your copy.
4. Be active on social media
Generate interest in your clinic through your social media presence. People are more likely to work with you if they feel like they know you. Social media provides the perfect opportunity to showcase your brand and help your target audience learn more about you, building the trust needed to turn followers into leads.
A few social media best practices include:
Posting regularly

Engaging with other creators

Uploading videos

Sharing relevant content

Following others

Responding to comments

Asking for interaction
You can also partner with influencers to help educate your target audience about fertility topics or your services. The right influencer will build your credibility and expand your reach, helping you find more leads.
5. Include clear calls to action
Be sure to include clear calls to action (CTAs) throughout your website, social media platforms, and marketing materials. A CTA invites your audience to do a specific action, like subscribe to your email newsletter or book an appointment. Including CTAs in your content will inspire people to act in the moment and follow through with their interest, turning them into valuable leads.
6. Pay attention to reviews
97% of customers read local business reviews, so ensure prospects have access to positive feedback. Include plenty of written and video testimonials on your website, and ask your current patients to leave reviews on various sites such as Google. When appropriate, post reviews and success stories on social media.
Take the time to respond to reviews, whether they are positive or negative. Engaging with those who have left reviews will show them and others who see the review that you are transparent and accessible.
7. Use paid advertising
Take advantage of online paid advertising to reach individuals searching for services you offer. Placing ads on social media puts your brand where your target audience will see and interact with it.
8. Get involved in the community
An effective way to get noticed and generate leads is to be involved in your community. Participate in community events by sponsoring activities or setting up an informational booth. Partner with a charity or local businesses to spread awareness or host educational classes.
The more involved in the community you are, the better reputation you will create for yourself.
Meet WebFX:
Your world-class, tech-enabled marketing agency with over 1.6 million hours of combined expertise.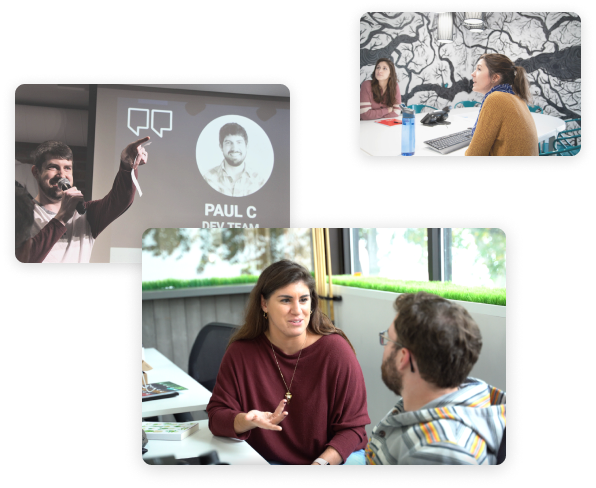 Generate leads with help from WebFX
Ready to expand your fertility clinic and find more leads? WebFX can help!
We've been generating leads and driving revenue for businesses across industries since 1996. Our team of digital marketers and SEO experts is here to help you grow your business — contact us today to get started!
Increase your leads, sales, and revenue with digital marketing
Find Us Driving Revenue Nationwide