On this page, we'll take a look at five benefits of PPC, five PPC tips for oncologists, and how PPC plans from WebFX can help grow your practice.
Let's get started!
Our digital marketing campaigns impact the metrics that improve your bottom line.
See More Results

WebFX has driven the following results for clients:

$3 billion
In client revenue

7.8 million
Leads for our clients

5.2 million
Client phone calls
What is PPC?
PPC is a paid advertising model that allows marketers to bid for placement in search engine results. If your bid is among the highest for one of your target keywords, your ads will appear above organic results.
In other words, PPC lets you pay for clicks and visits to your site. And it's a great way to maintain a presence in search results while you establish organic rankings with search engine optimization (SEO).
If you want to reach more patients online, PPC is an affordable option for your oncology practice.

Hear What It's Like to Work With WebFX!

"WebFX has completely transformed my practice. With their support, I have expanded my practice significantly and grown exponentially. I could not have expanded to this degree, nor this quickly had it not been for the incredible efforts provided by WebFX and my team."
Healthcare
5 benefits of PPC for oncology
Now that you understand what PPC is, let's take a look at five benefits of PPC for oncologists.
1. PPC is affordable
With PPC, you only pay when people click your advertisements. This means that you'll avoid wasting money trying to connect with people who don't need your services.
If you use traditional advertising methods, there is no way to guarantee that your target audience will actually see your ads. However, since PPC targets people who are already searching for your services online, you will receive more qualified leads, and only spend your advertising budget on the people who are most likely to become patients.
2. You set your budget
PPC also allows you to set a max budget, so you avoid spending more than you want on your PPC campaigns.
Depending on the keywords you're targeting, you may need to increase your PPC spend to see results. Fortunately, you can tweak your PPC spend at any time.
Generally, PPC is an affordable option for marketing your oncology practice online, and it can help you reach more patients online.
3. PPC is highly-targeted
Google Ads offers a number of advanced targeting options to allow you to reach your target audience.
For example, you can target searchers based on location, language, and demographics. And you can even target people based on the device they use to search online.
PPC's advanced targeting options allow you to reach your target audience and tailor your messages to resonate with them. This will help you earn more qualified leads and visitors to your site — and ultimately more revenue for your practice.
4. PPC works quickly
PPC ads are fairly easy to create, and they can start driving qualified traffic to your site as soon as they go live.
Unlike SEO, which can take weeks to deliver results, PPC delivers results almost instantaneously. So it's a great way to attract traffic to your website while you establish organic rankings in search results.
If you want to quickly increase traffic to your site and qualified leads, PPC can help.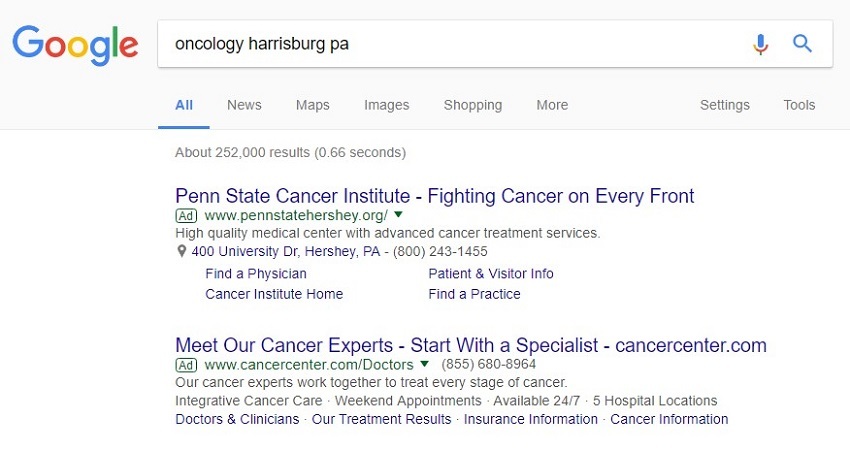 5. PPC data can inform other strategies
You can also use PPC data to make more educated decisions with your other marketing channels.
For instance, if you want to see whether a certain set of keywords converts well, you can test it out with PPC. And if the keywords convert well, you can incorporate them into your SEO campaigns.
This is a great way to maximize your online presence, and it can save you money in the long run.
5 PPC tips for oncology
Next, let's take a look at five PPC tips your oncology practice can start using today.
1. Start with keyword research
First, you'll need to determine the keywords you want to target with your PPC campaigns.
You can start by brainstorming terms that potential patients may search online to find your practice. Tools like KeywordsFX and Keyword Tool provide suggestions based on actual search data, and they can help you expand your keyword list. It's also important to include negative keywords — terms you don't want to trigger your ads.
Then, you can sort your keywords into targeted groups of terms that relate to your ad groups.
Starting with keyword research can help position your PPC campaigns for success and allow more people to find your practice online.
2. Take advantage of ad extensions
Google Ads offers a number of ad extensions that allow you to expand your ads with additional information.
For example, you can add location extensions that display your location, a call button, and link to your details page, which includes information like your hours, photos, and directions. This is a great way to attract more patients in your area.
Ad extensions can help more people learn about your practice and increase ad clicks and conversions.
3. Create mobile ads
Nearly 60% of searches today take place on mobile devices. So if you want to reach mobile searchers, it's important to create PPC ads that are mobile-friendly.
To make sure your PPC campaigns are optimized for mobile, you will need to enable click-to-call on your ads. This will allow mobile users to click your number to immediately contact you on their smartphones. You'll also want to make sure your landing pages are optimized for mobile by ensuring that they are fully responsive and load quickly.
Mobile PPC will help you reach more online searchers and attract patients to your practice, no matter where they're searching from.
4. Don't forget about remarketing
Remarketing allows you to reach searchers who have previously demonstrated an interest in your practice.
If someone visits your oncology website, you can use remarketing to remind them about your practice as they visit other sites on the web. Even if they don't immediately contact you to schedule an appointment, they will be more likely to remember your practice and even recommend you to family and friends who need your services.
5. Evaluate and optimize
Finally, you'll want to continually monitor your PPC campaigns to get the best results.
With Google Ads conversion tracking, you can determine how many new calls, email signups, and more come from your PPC ads. You can also use Google Analytics to determine how many new leads and conversions you earn from your PPC campaigns.
Then, you can use your findings to tweak your campaigns for the greatest impact.
Need help monitoring your PPC campaigns? WebFX can help!
WebFX is a top PPC company
Located in Harrisburg, PA, WebFX is an award-winning PPC company.
We offer custom PPC campaign management plans, and we publish our prices online, so you can evaluate your options and choose the plan that best matches your goals and budget.
In addition to our traditional PPC options, we also offer remarketing and mobile PPC to help you reach more patients and get the most out of your PPC spend.
Our PPC specialists will work to get you the greatest possible ROI for your PPC campaigns. We've driven more than $3 billion in sales and 7.8 million leads for our clients— and we'll help you earn the results you want for your oncology practice.
We also have more than 1000+ clients, and you can hear what they have to say about our work by checking out our reviews and testimonials page.
Learn more about a custom PPC campaign for your oncology practice
Ready to learn more about launching a custom PPC campaign for your oncology practice?
Check out our PPC packages and pricing, and contact us today to speak with a strategist.
We look forward to hearing from you!
Earn a 20% greater ROI with WebFX