Are you seeking ways to generate more leads for your chimney and masonry business? The key is to build a solid online presence through search engine optimization (SEO) and social media marketing, all while leveraging word-of-mouth referrals and networking to expand your client base.
You can leverage lead generation for chimney and masonry to create targeted advertising campaigns that reach prospects searching for your services and offer promotions or discounts to incentivize them to choose your company over competitors.
Doing so can help establish your brand as a trusted, reliable source for chimney and masonry services, leading to more leads, repeat business, and positive reviews.
So, where do you begin? This article covers the basics of lead generation for chimney and masonry, the top lead generation strategies for the industry, and the best lead generation practices to improve performance.
Here's a short outline of what we'll discuss:
Read on to learn more!
37% of marketers say that generating high-quality leads was one of their biggest challenges.
We want to decrease that percentage.
WebFX can help you generate high-quality leads with a customized marketing strategy.
Learn More About Lead Generation Services
What is lead generation for chimney and masonry?
Lead generation for chimney and masonry involves locating and acquiring prospects interested in the services like repair, upkeep, or installation through content marketing, online advertising, referral schemes, and other marketing strategies.
Why is lead generation important for the chimney and masonry industry?
The chimney and masonry sector relies heavily on lead generation to locate prospective clients needing related services. Lead generation for chimney and masonry allows you to concentrate your marketing efforts on individuals most likely to use your services, increasing sales and revenue.
For instance, you can target homeowners in areas with older homes to identify prospects who may require chimney repairs or masonry work. This approach can help you establish a solid client base and increase revenue.
Generating leads for your business is a cost-effective way to reach out to prospects interested in your services and convert them into paying clients. It's also an effective way to streamline your marketing efforts, minimize your budget spend, and increase your return on investment (ROI). By focusing on specific demographics and areas, you can streamline your marketing efforts and attract high-quality leads more likely to convert into paying clients.
Also, nurturing these leads with personalized and targeted communication can help you establish a strong relationship with your clients and turn them into loyal brand advocates who will refer others to your business. This practice can lead to sustained growth and increased revenue in the long run.
Measuring the metrics that affect your bottom line.
Are you interested in custom reporting that is specific to your unique business needs? Powered by MarketingCloudFX, WebFX creates custom reports based on the metrics that matter most to your company.
Leads

Transactions

Calls

Revenue
Learn More

The top 6 lead generation strategies for chimney and masonry
Some of the most effective lead generation strategies for chimney and masonry businesses include the following:
1. Local SEO
Local SEO for chimney and masonry involves implementing strategies to improve your online visibility and search engine rankings for location-specific keywords related to your services. For example, this strategy could include targeting keywords such as "chimney repair near me" or "masonry services in [city name]" and optimizing your website to boost visibility and search engine rankings for those search queries.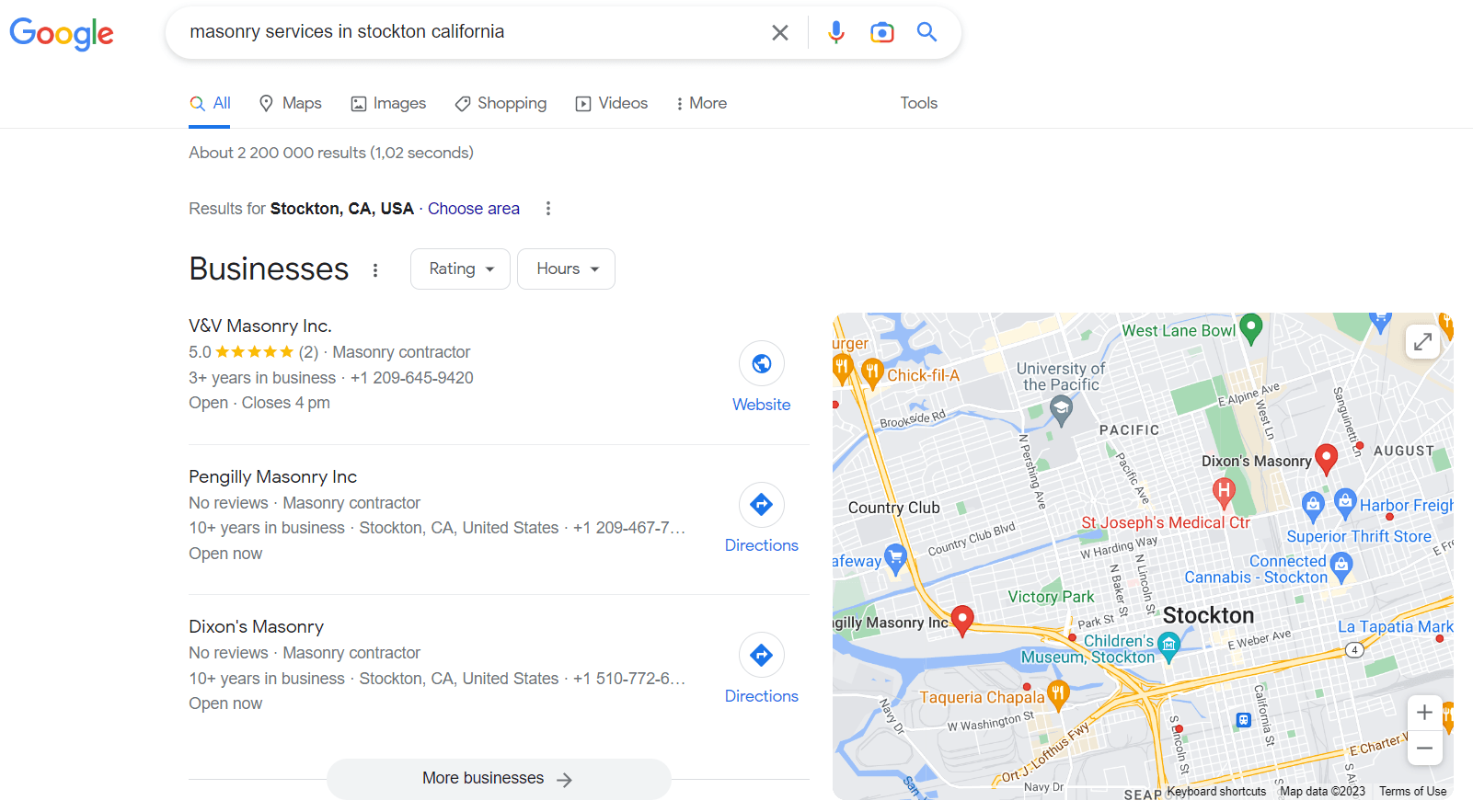 Local SEO is the best strategy for brick-and-mortar businesses like chimney and masonry services that rely on local clients. By optimizing for local SEO, you can attract more targeted traffic to your website and increase the chances of converting those visitors into paying clients.
Some of the best local SEO techniques to implement include the following:
Implementing these strategies can improve your company's online visibility and attract more local clients. Regularly updating your website with relevant content can increase your search engine rankings and drive more traffic.
Get custom SEO services for chimney and masonry Now!
2. Social media marketing
Social media marketing for chimney and masonry leverages various social media platforms to promote and advertise chimney and masonry services, engage with prospects, and establish a solid online presence in the industry.
You can use social media to showcase your previous projects, share informative content about chimney and masonry maintenance, and provide client testimonials to build trust and credibility with your target audience.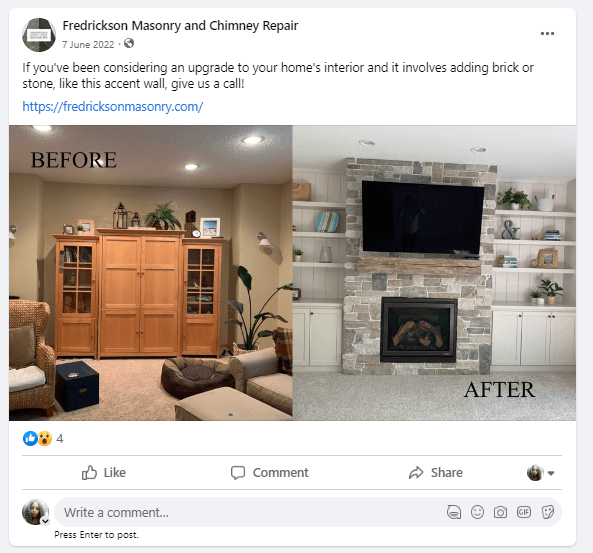 Here are some of the best social media marketing platforms for chimney and masonry companies:
Facebook is an excellent platform for creating business pages and groups, sharing photos and videos of completed projects, and running targeted ads to reach prospects in specific geographic areas.
Instagram is a visual platform that allows you to showcase your work through high-quality photos and videos, use relevant hashtags to increase visibility, and engage with prospects through direct messaging.
LinkedIn is ideal for business-to-business (B2B) marketing, as it allows you to connect with other professionals in the industry, share industry news and insights, and establish your company as a thought leader in the field. It's also the best platform for finding industry events and networking opportunities to attend and expand business connections.
Pinterest is another excellent platform to showcase your work through visually appealing pins and boards and share helpful tips and inspiration for home improvement projects. It can also drive traffic to your company's website through links in the pins.
Social media marketing allows you to reach a wider audience and engage with prospects more personally, increasing brand awareness and sales.
Get Specialized Social Media Services for Chimney and Masonry
3. Referral marketing
Referral marketing is one of chimney and masonry businesses' most effective lead generation strategies. Satisfied clients are more likely to recommend a business to their friends and family, which can result in new leads and increased revenue.
To implement a referral marketing for chimney and masonry businesses, you can offer incentives to clients who refer their friends and family, such as discounts on future services or free inspections. You can also create a referral program that allows clients to share your business with others, such as by providing referral cards or links to share on social media.
For example, if you repaired a leaking chimney for a homeowner, you could offer a discount to clients who refer someone with a similar issue and provide a referral card that includes your contact information and the discount offer. By doing so, you can encourage satisfied clients to spread the word about your services and attract new leads.
Some of the incentives your chimney and masonry business could offer to boost client referrals include the following:
Free chimney inspection: This incentive could be valuable for clients who could benefit from preventative maintenance. Also, offering a referral program that rewards existing and new clients with discounts or other incentives can encourage word-of-mouth marketing.
Discount on future services: You could offer a discount on future services for clients who refer new business. This method can help build loyalty and encourage repeat business while incentivizing clients to spread the word about your service quality.
Gift card to a local home improvement store: Alternatively, you can offer a gift card to a local home improvement store as an incentive for clients who refer new business. This approach rewards the existing client and supports local businesses, potentially leading to partnerships with the home improvement store.
By providing these incentives, you can increase the likelihood that satisfied clients will refer your business to their friends and family, helping to grow your client base and increase revenue.
Offering these incentives can also help differentiate your business from competitors and create a positive reputation in the community as a business that values its clients.
4. Pay-per-click (PPC) advertising and remarketing
PPC advertising allows you to target prospects based on their search queries, while remarketing targets those who have already expressed interest in your company. These strategies can help your chimney and masonry business increase online visibility and generate more leads.
These two strategies go hand in hand, as PPC advertising can attract new prospects. Remarketing can help keep your company top of mind for those who have already shown interest, increasing the likelihood of converting them into leads. By combining these tactics, you can create a comprehensive lead generation strategy that maximizes your company's online presence and drives more business.
For example, if you offer mortar construction services, you can use PPC advertising to target specific keywords related to your services, such as "masonry brick repair in [my city]" or "stone installation." Then, you can use remarketing to show ads to people who have already visited your website or social media pages, reminding them of your services and encouraging them to take action.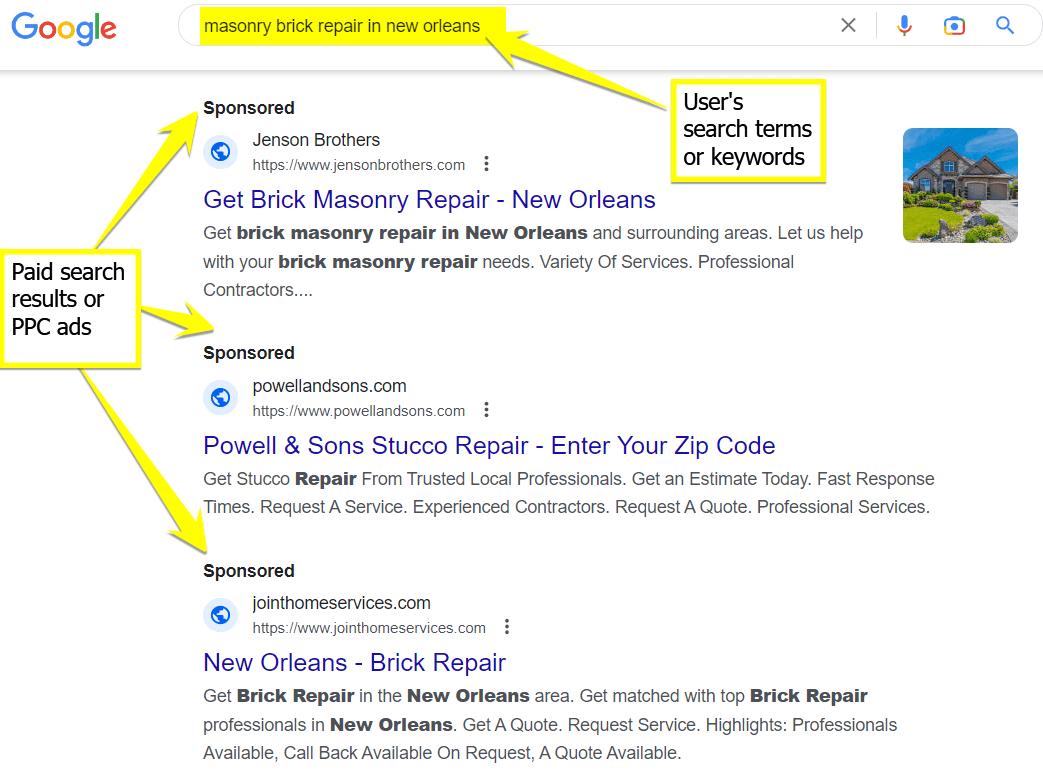 This approach can also help you track your ROI and adjust your advertising efforts accordingly, ensuring that you get the most out of your marketing budget. By constantly refining and optimizing your PPC and remarketing campaigns, your company can stay ahead of the competition and consistently grow its client base.
Need help developing and implementing PPC advertising and remarketing strategies? WebFX offers PPC services for chimney and masonry companies, providing expert guidance and management to help companies like yours achieve their marketing goals and maximize their ROI.
With our data-driven approach, we can help you develop the most effective remarketing campaigns and identify the most effective keywords and ad placements to target your ideal audience.
5. Creating and using lead magnets
Lead magnets are valuable content or offers that attract prospects and encourage them to provide their contact information in exchange for something. You can use lead magnets to build your email list, generate leads, and nurture relationships with your audience by providing relevant and valuable information addressing their pain points and needs.
Lead magnets can help establish your authority in your industry and increase brand awareness among your target audience. Creating lead magnets that align with your business goals and target audience is crucial.
Some of the best lead magnet examples for chimney and masonry companies include the following:
Free consultation or chimney assessment: This type of lead magnet can attract clients interested in inspecting and repairing their chimneys or masonry. It can also help establish trust and credibility with your audience by offering expert advice and recommendations.
Ebooks on the benefits of regular chimney maintenance: These ebooks can educate prospects on the importance of regular chimney maintenance and how it can save them money in the long run.
Checklists for preparing your fireplace for winter: These checklists can provide step-by-step guidance for homeowners to prepare their fireplaces for winter, ensuring safety and efficiency. By offering these resources, your company can establish itself as a reliable source of information and build trust with prospects.
Guide to selecting the correct type of stone for your home's exterior: This guide can help homeowners make informed decisions when choosing the right kind of stone for their home's exterior, considering factors such as durability, maintenance, and aesthetic appeal.
You can also use lead magnets to segment your email list and personalize your marketing efforts based on the interests and preferences of your subscribers. This approach can increase engagement and conversion rates, as clients are more likely to respond positively to relevant content tailored to their needs. By using lead magnets, your company can improve its overall marketing strategy and drive more sales.
6. Complimentary partnerships
By partnering with businesses that offer complementary services, such as HVAC or roofing companies, you can expand your reach and tap into new client bases.
This strategy can also help build trust and credibility with prospects — who may be more likely to choose a business recommended by a trusted partner. These partnerships can lead to cross-promotion opportunities, where both companies can promote each other's services to their respective client bases, further increasing brand awareness and generating potential leads.
Some of the best ways to create these partnerships are by:
Networking at industry events and conferences: You can find these events by joining relevant chimney and masonry associations, such as the National Chimney Sweep Guild or the Mason Contractors Association of America.
Reaching out to businesses with complementary services or products: You can contact roofing companies, HVAC contractors, or home renovation companies to explore potential collaborations and cross-promotion opportunities.
Offering referral incentives to encourage partners to refer new clients: This can be a great way to incentivize your partners to promote your business and bring in new leads actively. Consider offering discounts, free services, or other perks for each successful referral they send your way.
Establishing clear expectations and communication channels is essential to ensure a successful partnership. Regular check-ins and open communication can help address any issues or concerns and ensure that both parties benefit from the partnership. It's also vital to have an explicit agreement outlining the terms of the partnership and any incentives offered.
Time to Level Up Your Sales
Our long list of services helps you grow every aspect of your business with marketing strategies that are proven to increase bottom-line metrics like revenue and conversions.
In the past 5 years, we've managed more than 12.9 MILLION transactions across our client base.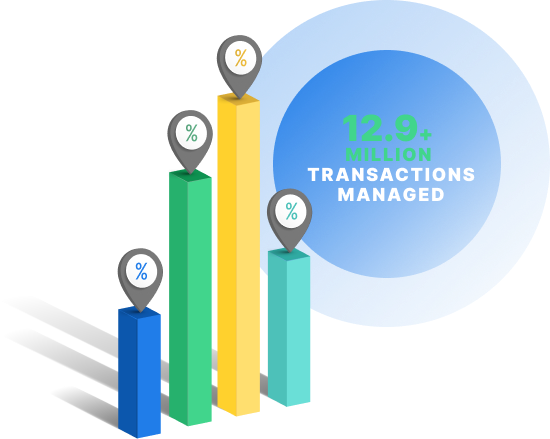 Get specialized lead generation services for chimney and masonry
At WebFX, we have a team of experts with years of experience providing lead generation services for chimney and masonry companies, ensuring you get high-quality leads that convert into paying clients. With our targeted approach and proven strategies, we can help you boost sales and grow your business.
We have a proven record of success in generating leads for chimney and masonry companies. In fact, we have generated over 7.8 million leads for our clients over the past five years.
We use a data-driven approach to optimize our campaigns and ensure you get the best possible results. Let us help you take your business to the next level with our specialized lead generation services.
Contact us online or call 888-601-5359 to speak with a strategist about how we can tailor our approach to meet your specific needs and goals.
Increase your leads, sales, and revenue with digital marketing
Find Us Driving Revenue Nationwide