As a financial insurance company, you protect a business's best interests. But how can you ensure you promote your company's best interest? Digital marketing for financial insurance companies allows you to expand your reach, grow your audience, and build qualified leads that can turn into lucrative conversions.
We're discussing the top digital marketing trends that will benefit your financial insurance company. If you want to receive more information on other topics relating to digital marketing, sign up for our email newsletter!
Don't miss our Marketing Manager Insider emails!
Join 200,000 smart marketers and get the month's hottest marketing news and insights delivered straight to your inbox!
Enter your email below:
Inline Subscription Form – CTA 72
"*" indicates required fields
(Don't worry, we'll never share your information!)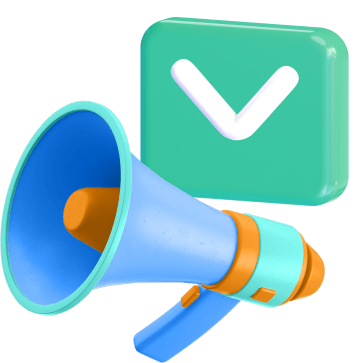 Considerations for financial insurance marketing
Marketing is a complex undertaking with many different moving parts. When you consider marketing for your financial insurance firm, you'll need to think about:
Your niche:

Most financial insurance companies will specialize in a certain niche, whether that be small businesses, large enterprises, or a particular industry. Your niche will dictate the kind of marketing that will work best, and it can guide you in building your target audience.

Your availability:

Digital marketing takes a considerable amount of time and investment. Depending on your strategy, it may require a point person or an entire team to monitor the different channels and evaluate whether they're working or need adjustments.

Your size:

Larger financial insurance companies will likely adopt a different strategy and use different channels than small to mid-sized companies. When preparing a digital marketing strategy for your financial insurance company, your size will play a significant role in how you go about advertising.
Top 4 digital marketing trends for financial insurance firms
There are many ways you can market your financial insurance company online. Take a look at the top four digital marketing trends for inspiration:
1. Search engine optimization (SEO)
If you're looking to boost leads and generate more conversions for your financial insurance company, you need to implement SEO in your digital marketing strategy. SEO strategies can help you increase your search engine results page (SERP) rankings.
Using SEO involves a few different steps, from researching and using the best keywords to optimizing landing pages on your website. Since search engines rank results based on how they fulfill a user's search query and intent, targeting the best keywords and optimizing your website can give you a better chance of ranking higher.
If your financial insurance company focuses on smaller businesses, you might invest in local SEO, a strategy that targets localized keywords so your results appear to users in a specific geographic area.
Overall, leveraging SEO is one of the best ways to increase leads for your financial insurance company.
2. Social media marketing
Social media has quickly become an essential marketing tool for businesses of all industries. While social media's importance may not seem immediately obvious, it can have a huge impact on your business's marketing goals.
The following benefits of social media for financial insurance companies prove how instrumental this strategy is:
Expanding your reach:

With social media, you can expand your reach past what you can do with other channels.

Seventy-one percent of Internet users

have social media, making it the premier method to reach new customers.

Generating organic and earned marketing:

Social media can generate leads through completely free methods. With a free account and self-generated posts, you can increase your reach and build conversions.

Driving traffic to your website:

Posting to social media can draw users to your site, priming them for conversions. You can link your site directly on your profile and include other links on posts.

Gathering valuable insights:

Social media platforms allow businesses to track the analytics on their posts, so you can gather information like how fast your profile is generating followers, how successful specific posts are, and how many users navigate to your website from your profiles.

Building up your brand:

If you're a new company or have a smaller following, social media can go a long way in helping you build a brand that's identifiable and recognizable to your audience.
3. Pay-per-click (PPC)
PPC marketing involves taking ads out on search engines. With PPC ads, you pay a small fee for each click your ad receives. PPC is beneficial because it boosts your landing page ranking so it appears at the top of the search results.
Search engine ads attract about 45% of page clicks. PPC, in particular, can generate $2 for every $1 spent on advertising. PPC is also great for businesses that want more immediate results for their marketing efforts — SEO can have a long-term payout, but PPC can generate clicks and leads almost immediately.
PPC is also great for companies that want to execute a lot of control over their ad spending. You can set a strict budget with this marketing strategy and immediately stop spending if your financial insurance company needs to shift focus or update your strategy.
4. Content marketing
Have you ever wondered why businesses invest so much time into creating blog posts like how-to articles and industry white papers? While these projects don't have a direct sales focus, they can be one of the most instrumental tools in your marketing strategy.
Content marketing involves creating content that is informative and helpful for your target audience. This marketing can take the form of blog posts, email newsletters, or even videos. Your financial insurance company can use content marketing at any point in the sales funnel, such as:
Information about your industry and the kinds of services you offer

Your company's specific service offerings

General information and education on financial literacy and other relevant topics
37% of marketers say that generating high-quality leads was one of their biggest challenges.
We want to decrease that percentage.
WebFX can help you generate high-quality leads with a customized marketing strategy.
Learn More About Lead Generation Services
Build leads with professional digital marketing services from WebFX
At WebFX, we have a hardworking team of marketing professionals who are dedicated to helping your company succeed. With services like SEO, PPC advertising, content marketing, social media management and advertising, and many more, we're equipped to help build leads for your financial insurance company.
To learn more about our services, contact us today! We also provide more educational resources on our blog to help you understand the ins and outs of digital marketing.
Earn a 20% greater ROI with WebFX