Recent research shows an increase in online shoppers with 75% of American consumers looking up a brand or product before finalizing a purchase. Connecting with potential customers before they make up their minds plays a significant role in growing your brand.
If you want to gain more interested buyers through lead generation, you need to stand out amongst your competitors. One way is to provide an enticing and engaging experience for online and in-person visitors so they feel persuaded to buy the products your department store offers.
Keep reading to learn nine ways to increase lead generation for department stores, and subscribe to our free newsletter, Revenue Weekly, to get the latest digital marketing tips delivered straight to your inbox!
Don't miss our Marketing Manager Insider emails!
Join 200,000 smart marketers and get the month's hottest marketing news and insights delivered straight to your inbox!
Enter your email below:
Inline Subscription Form – CTA 72
"*" indicates required fields
(Don't worry, we'll never share your information!)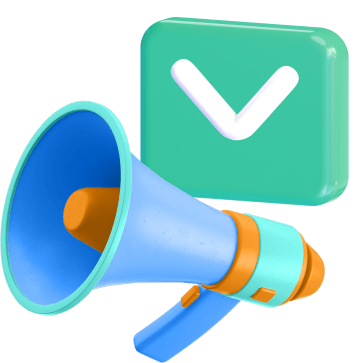 1. Provide ways to save with discounts
Offering a special deal can increase your sales by encouraging first-time buyers or casual shoppers to finalize a purchase at your department store. Provide hand-outs customers can use at check-out or display promotional codes on the homepage of your website allowing shoppers to save when they qualify with a minimum total in their cart.
Ask shoppers to sign up to receive additional discounts by email or mail later at check-out. You could also provide a coupon on receipts, encouraging customers to shop with you again at a specific time before a code expires.
2. Establish a program for customer loyalty
A rewards program entices customers to continue shopping with your department store. When preparing your system, find inspiration from other customer loyalty programs offered by retailers. Allow customers to earn points toward a discount or free item when they:
Make purchases

Fill out a survey

Leave a review

Celebrate a birthday

Visit a certain amount of times

Share your content on social media

And more!
3. Make customers feel special with exclusive access
Before a new launch or a big shopping holiday like Black Friday, grant loyal customers early access. Require shoppers to sign up for an account on your app or website with their contact information to receive notifications. Use email marketing strategies to send codes that allow virtual shopping before deals or products open to the rest of the public.
At a brick-and-mortar location, department stores can offer exclusive opportunities for members to shop in person an hour early before the doors open to general shoppers on certain holidays. Reward the first 50 people in line with a goody bag or a special discount to thank them for showing up and shopping at your store.
4. Offer a chance to win big prizes
When you advertise a prize or giveaway, ask customers to sign up for marketing communications via email or phone in exchange for a chance to win. You'll need their contact information to notify the winner — and you can send other marketing materials, too.
Offer to win discounts, free products, or exciting trips when they:
Tune in to a live video or in-person raffle

Comment or like social media posts

Participate in a social media contest

Play interactive games or trivia

Spin the wheel at check-out

Sign up for emails

Provide referrals
5. Host an in-store event or celebration
A special occasion offers an exciting way to attract more shoppers and develop relationships with them. Use marketing techniques to promote your event online to increase your attendance for product demonstrations, special hours, pop-ups for new brands, and other gatherings you brainstorm.
Collect contact info when visitors arrive to keep track of attendance. Once an attendee provides their contact information, you'll be able to communicate with them about future events and discounts you offer.
6. Promote sign-up incentives throughout the store
Once a shopper enters your department store, you can advertise sign-ups for newsletters, credit cards, or customer loyalty programs. Have your employees implement word-of-mouth advertising and display displays for customers.
Promotional ideas for your store include:
Have greeters mention the daily, weekly, or monthly specials

Play overhead messaging about store promotions and information

Display digital overlays and videos on TVs

Put up signage in fitting rooms, waiting areas, and check-out lines

Have cashiers give a short sales pitch for sign-ups after a sale
7. Offer perks with advanced technology in your store
Many shoppers love the independence technology provides rather than asking for help from a sales associate. Provide an easy way to shop with interactive touchscreens allowing them to look up available inventory and pricing or complete an online order if they pay and fill out their contact information.
Accommodating self-checkouts are another experience shoppers enjoy. They allow customers to pay for their products quickly without interacting with other people. For even more convenience, a delivery service like InstaCart lets customers create an account and pay for what they need without leaving the comfort of home, increasing sales for your store.
8. Engage with customers on social media
Tailoring content to your target audience and posting regularly is another effective strategy when it comes to marketing on social media platforms. Engaging with your followers and subscribers helps turn them into loyal customers.
Consider implementing the following:
Influencer marketing with relatable, trustworthy users

Links to fun and engaging quizzes on your site

TikTok or other social media challenges

Interactive "this or that" stories with polls

Photos and videos relating to your brand

Hashtags for your brand and products
9. Create a newsletter
Newsletters offer a consistent way to increase sales, with about 89% of marketers using them as their primary lead-generation method. Aim to send weekly emails with promotional content about products and deals with links to your website.
The emails you send should always offer value to your customer through engaging or informative content. Make your messages stand out and entice recipients to open them with personalization, such as their names and addresses in the subject line or introduction.
37% of marketers say that generating high-quality leads was one of their biggest challenges.
We want to decrease that percentage.
WebFX can help you generate high-quality leads with a customized marketing strategy.
Learn More About Lead Generation Services
Want help increasing lead generation for your department store?
If you'd like to increase lead generation for your department store, let digital strategists WebFX help. Our knowledgeable and experienced experts customize a marketing plan for your company and your needs.
We've driven over 7.8 million leads for our clients in the last five years. With our award-winning services and proprietary technology platform, we can take your business to the next level.
To learn more, call us at 888-601-5359 or request a free quote today!
Increase your leads, sales, and revenue with digital marketing
Find Us Driving Revenue Nationwide