The retail industry is constantly evolving to adapt to consumers' buying habits, and you must ensure your discount store isn't left behind while the digital landscape changes.
Integrating digital marketing into your retail business will allow you to track your sales performance, secure loyalty among your customers, and cement your place as a strong competitor in your industry.
Keep reading to explore techniques you can incorporate into your discount store's digital marketing strategy. For more insider marketing tips and tricks, subscribe to Revenue Weekly!
Don't miss our Marketing Manager Insider emails!
Join 200,000 smart marketers and get the month's hottest marketing news and insights delivered straight to your inbox!
Enter your email below:
Inline Subscription Form – CTA 72
"*" indicates required fields
(Don't worry, we'll never share your information!)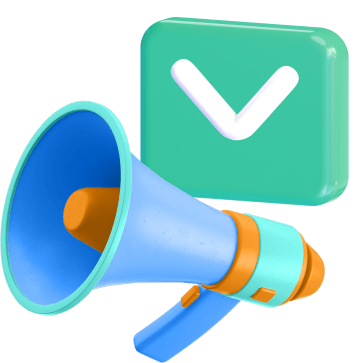 Why use digital marketing for retail stores?
Digital marketing encompasses a wide variety of advertising techniques. While "digital" may seem restricted to the Internet, you can use any digital avenue for your marketing, including television and SMS marketing.
For retail stores, this form of marketing is an effective way to reach your customers where they spend their time away from your premises. An increasing number of customers prefer online shopping, accounting for approximately $5.2 trillion in sales in 2021. That's a market segment you should consider being a part of to retain your customers and add new ones!
Having a stake in online shopping increases your brand awareness and visibility. You boost your revenue by opening up new channels for consistent sales and giving consumers alternatives to getting their hands on the goods you sell.
Which techniques should you explore?
The channels for digital marketing are vast, and the platforms you choose will depend on:
Your

target audience

.

Your preferred engagement.

Your brand personality.

Your budget.
Say you were aiming to reach older audiences who aren't as familiar with using social media to make purchases. In that case, you wouldn't want to spend most of your marketing budget on Instagram advertising techniques.
Types of marketing channels
Regardless of which platforms you deem appropriate for your store, the best approach is an omnichannel strategy that seamlessly integrates the consumer's shopping experience. Every channel should serve a unique purpose that leads to the same goal.
Learn more about the following channels and imagine how they can help your business.
1. Local SEO
Search engine optimization (SEO) aims to increase organic traffic and reach more people by matching their search intent. Local SEO allows your store to appear on the results pages of nearby prospects. With platforms like Google My Business, consumers can discover your business and get directions to visit.
2. Email marketing
People tend to neglect email or assume it's a dead medium, but that is far from the truth. Consumers respond positively to personalized email marketing schemes offering helpful information, discounts, promotional offers, and kind messages that show your appreciation for their engagement.
Utilizing email marketing, you can grant access to exclusive content, establish brand loyalty among your target audience, and strengthen your place as their go-to store for repeat purchases.
3. Social media
With the various social media platforms available, each offering its advantages for brands, exploring social media as a mode of communication is a great avenue to employ. You can talk directly to your consumers and tell them about your company and offerings with paid and free promotion methods.
Whether it's creating a branded hashtag on Twitter or using a community Facebook tab to receive reviews, social media is an opportunity-rich marketing tool.
4. Content marketing
Content marketing involves creating meaningful online content to help your consumers, increase consumer engagement, and boost sales. Content creation could involve posting blog posts about industry-specific information or having a newsletter that acts as an e-brochure on the goods in your store.
You want to ensure your consumers know that you have what they need to minimize their getting information from your competitors. Make content work for you and track data contributing to metrics like your target audience's customer lifetime value.
5. Responsive web design
A consumer wants to feel assured that visiting your website and your ecommerce portal will be quick and worthwhile. Testing your website for a responsive user interface will help.
Slow loading times, unreliable connection, and difficult navigation should be dealt with before launching to assure customers that they will get a reliable user experience.
6. Buy online, pick up in-store
The buy online, pick up in-store (BOPIS) method combines the best of both worlds. A busy person may not have time to browse through aisles physically, and others may not want delivery and service fees. A BOPIS policy will allow consumers to see your inventory and add their visit to your store to their otherwise busy schedules.
Our digital marketing campaigns impact the metrics that improve your bottom line.
See More Results

WebFX has driven the following results for clients:

$3 billion
In client revenue

7.8 million
Leads for our clients

5.2 million
Client phone calls
Learn more from the digital marketing experts
Employing these methods and others streamlines your store's sales processes. Increasing your consumer engagement and tracking the return on investment will give you a clearer picture of what your customers are responding positively to and how it contributes to your revenue earnings.
If you want to work closely with digital marketing experts who understand the online landscape for retailers, we will help. Contact us online or call 888-601-5359 to speak to an FXer directly!
Earn a 20% greater ROI with WebFX