Everyone loves getting a good deal on products they need, which is why discount stores are so popular. However, as a business, you can constantly find ways to attract new customers and increase your sales as a business. That's where lead generation comes in.
Lead generation focuses on identifying, attracting, and converting online users into customers using various marketing channels. If you want your discount store to continue to grow and flourish, you need to start implementing a high-quality lead-generation campaign.
Want to start generating leads for your store? Give our specialists a call at 888-601-5359 today!
Meet WebFX:
Your world-class, tech-enabled marketing agency with over 1.6 million hours of combined expertise.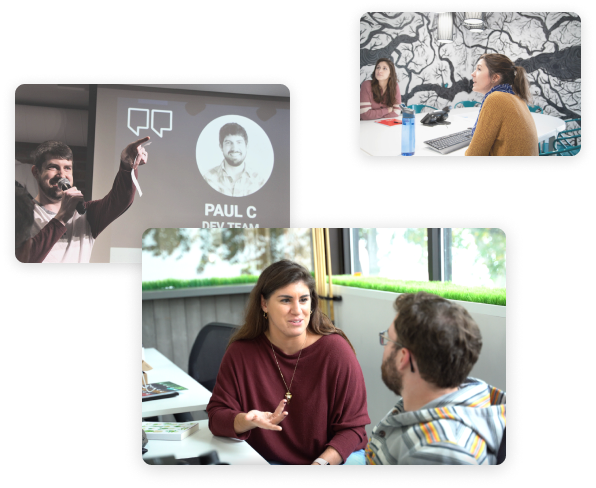 Why is lead generation so important to your discount store?
Lead generation is essential to healthy business growth, with a proven track record of increasing sales and boosting revenue. You may wonder how an online strategy will flood your physical store with more customers.
Rather than calling residents or leaving flyers in their mailboxes to get their attention, the Internet offers an organic interaction with consumers, resulting in a seamless transition to becoming a customer. More than five billion people will use the Internet worldwide in 2023, so you'll be meeting your customers where they are.
Lead generation helps you attract qualified leads and nurture them toward becoming paying customers when executed successfully. This process positions you as a brand they can count on and trust, answering their questions and satisfying their needs as they move further through the customer journey.
5 strategies to generate leads for your discount store
You'll generate meaningful leads and expand your customer base with the right strategy and tools. Whether you're starting out or looking to enhance your current strategy, check out some lead-generation tips below.
1. Get active on social media
Having an online presence is one of the best things you can do for your business. 43% of online marketers believe it's the most challenging area to find and understand their audience, but social media offers exceptional benefits when you get it right.
Platforms like Facebook and Instagram bring in billions of monthly users waiting for you to reach out to them. Your business can expand your following through advertisements and nurture your current followers by offering informational posts, promoting engaging content, and driving users to visit your website.
Social media is the avenue to put your brand identity on display and interact with other online users, getting users invested in your work. For example, Walmart, one of the largest retail stores, routinely posts on platforms like Twitter to offer discounts, share funny photos, and remain at the forefront of people's minds.
2. Create content about your products
Content marketing is another effective way to generate meaningful leads. Content marketing aims to position you as a knowledgeable brand, helping users solve their problems.
Your content should come in many forms and answer users' questions at every stage of the sales funnel, from awareness to decision time. Many companies post blogs, release videos, and create viral infographics for their website or social media. As a retailer, you could create:
Comparison articles for some of your inventory.

Video demonstrations that show how your products work.

In-depth buying guides for people on a budget.
This content should also drive users to take the next step using a call-to-action (CTA). These CTAs will bring your users to a dedicated landing page where they can accept a special offer, such as a coupon. CTAs help businesses increase their conversion rates and smoothly move them further toward a customer.
3. Advertise online
Gone are the days of giant billboards and announcements in the local newspaper. Most businesses advertise through digital media outlets, offering enhanced versatility and reach.
You can start running paid ads across social media, search engines, and websites to get your business in front of more eyes. Investing in digital advertising will help you get your business in front of a targeted audience so you can focus on generating valuable leads with solid chances of converting.
Paid ads are unique as most use pay-per-click configurations, meaning you'll only pay when a user clicks on your ad. Or, you can set it up to pay based on conversions or views. Either way, you're positioning yourself to increase visibility and traffic to your website.
4. Start an email newsletter
Creating an email newsletter will reach people who have already shown an interest in your business. These individuals would have voluntarily given you their email addresses as part of a special offer, making them qualified leads.
A regularly scheduled email campaign allows you to communicate directly with your audience to continue strengthening your relationship. Your business can create audience segments to target different groups' interests, needs, and questions.
Add their names and supply them with relevant information, which will give more success at converting them. Offer product updates and weekly coupons, or remind them you're still here and ready to help!
5. Optimize your website
When trying to reach an audience, you must ensure users can find you. Search engine optimization (SEO) is the best strategy to ensure your website ranks well within the search engine. Improving how high you are in the search engine results pages (SERPs) is critical — 75% of searchers don't move past the first page using engines like Google or Bing.
Consider your keyword research first. Targeting certain words and phrases in your headings, titles, meta descriptions, and copy will help your site rank when a searcher uses them. If trying to reach users in a particular area, consider using "discount store in [location]" throughout your site.
Link building is also essential to establishing you as a credible site, which engines like Google put a lot of emphasis on. The more other sites link to your content will place you as an authority, giving you the boost in visibility you're looking for. Building your web of links will take some time, but it is still worthwhile when creating high-quality content.
You should tailor your site for user experience. Your website's speed, navigation, and design will make a huge difference in where Google puts you in the SERPs. The faster your loads, the easier to explore it is, and the better it looks, will reduce bounce rates and increase engagement, showing the search engine you're providing a valuable experience.
37% of marketers say that generating high-quality leads was one of their biggest challenges.
We want to decrease that percentage.
WebFX can help you generate high-quality leads with a customized marketing strategy.
Learn More About Lead Generation Services
Start generating more leads with the team at WebFX
WebFX is an innovative lead generation agency and digital marketing company with years of experience driving meaningful leads for our clients. To date, we've generated more than 7.8 million leads resulting in over $3 billion in sales.
As your partner, we'll work with you to create a personalized lead generation strategy to reach and convert your audience into actual customers in your discount store. Our team of more than 500 specialists dedicates their time to learning your business and providing solutions that make a difference.
If you're interested in how we can help you, contact us online to speak with a professional today!
Increase your leads, sales, and revenue with digital marketing
Find Us Driving Revenue Nationwide